Food-lovers take note: the annual Dine Around festival is set to kick off this Wednesday, January 15, giving you the perfect reason to get out and explore the ever-expanding food scene in and around Kelowna.
Running until February 2, more than 50 restaurants throughout the Okanagan will be participating in Dine Around, serving up delicious eats with multi-course menus, priced from $15 to $55.
Whether you want to revisit old favourites or try out new spots, Dine Around has something for every budget and every palette. To help kick off your planning, here is a sneak peek at some of the menu offerings: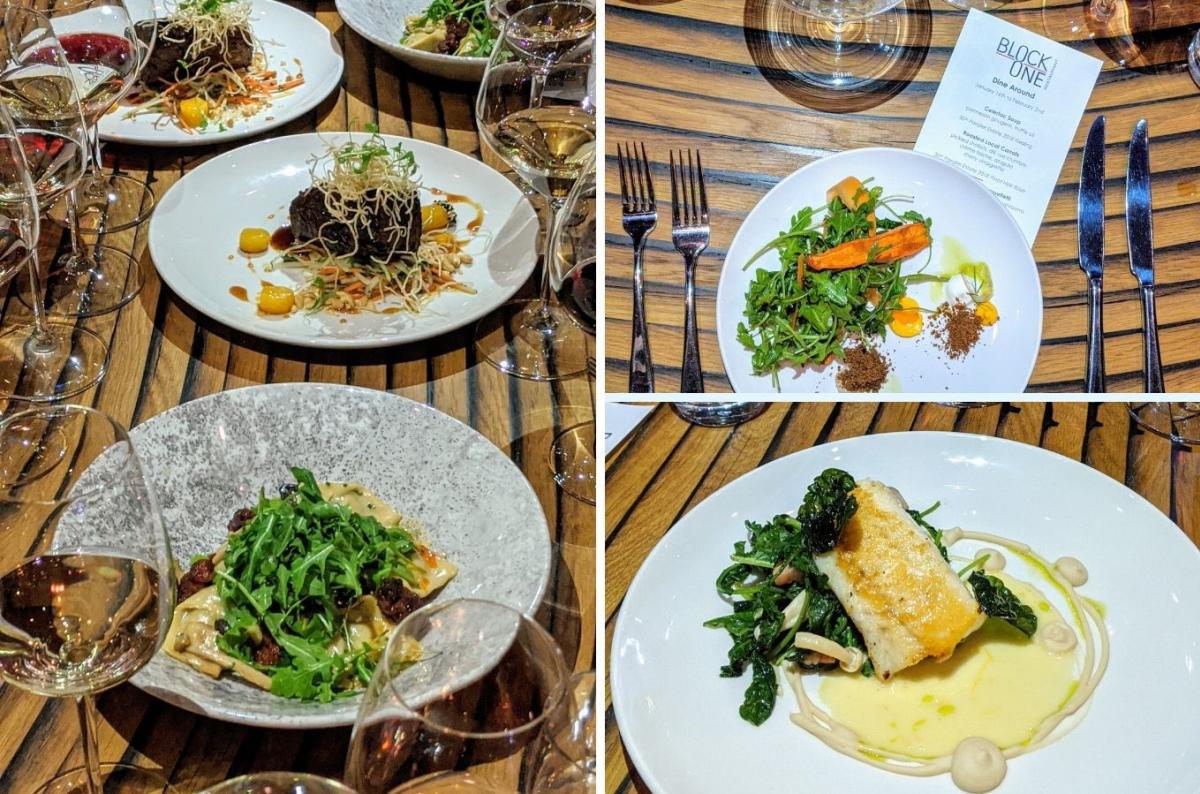 The options on the $45 dinner menu at BLOCK ONE will have you drooling. The Roasted Local Carrots deliver a nice mix of flavour and dimension, while the Braised Two Rivers Beef is so tender you can cut it with a fork. The Pan-Roasted Lingcod and Smoked Gouda Cappelletti are equally scrumptious main course options, especially when accompanied with the suggested wine pairings. Round out the meal with the pumpkin sponge cake and you'll be in foodie heaven.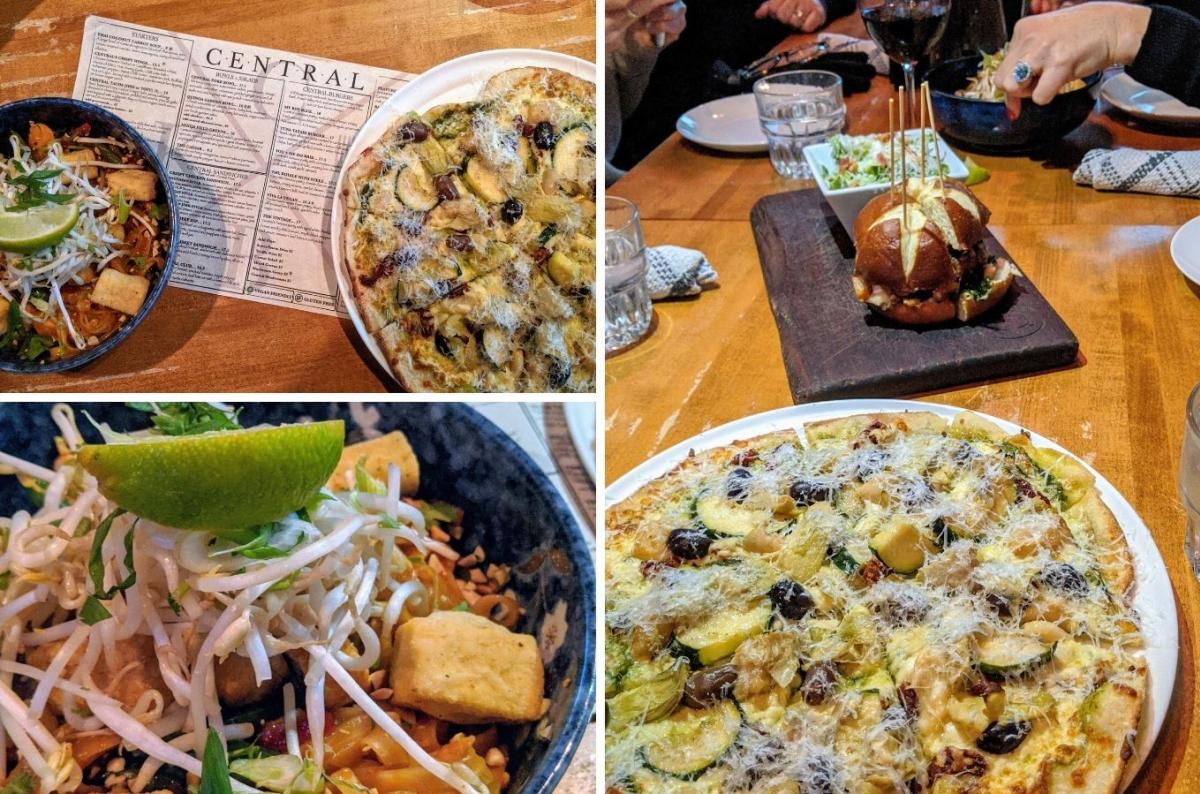 Known for some of the best burgers in Kelowna, Central Kitchen & Bar is offering two menu options, one at $25 and one at $35. The "You + Me Do Brie" burger piles cinnamon roasted apples, crispy kale, creamy brie cheese, and more onto Central's signature patty, all served up on a pretzel bun. If you like spicy food, the Tofu Pad Thai might be more up your alley, with a creamy peanut sauce and just the right amount of kick. Other main course options include the Mediterranean Pesto and "Grazie Lazio" pizzas. Regardless of which main you choose from, the first course and dessert options will also be sure to please.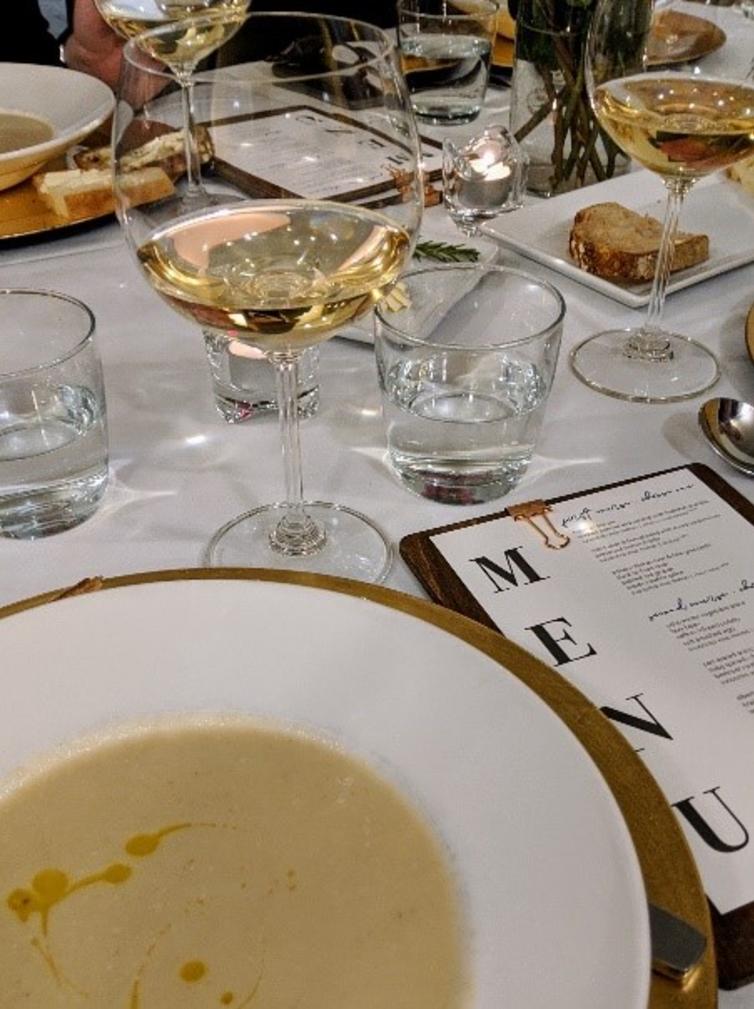 Chaos Bistro's delectable menu, priced at $45, offers up three scrumptious options for both the first and second courses. The hazelnut bisque, with roasted celeriac and parsnip, is a hearty and warming first-course option, perfect for winter weather. Second-course options include a winter vegetable plate, pan-seared arctic char, or elk osso buco. Add on the suggested wine pairings to fully experience all that Ex Nihilo has to offer.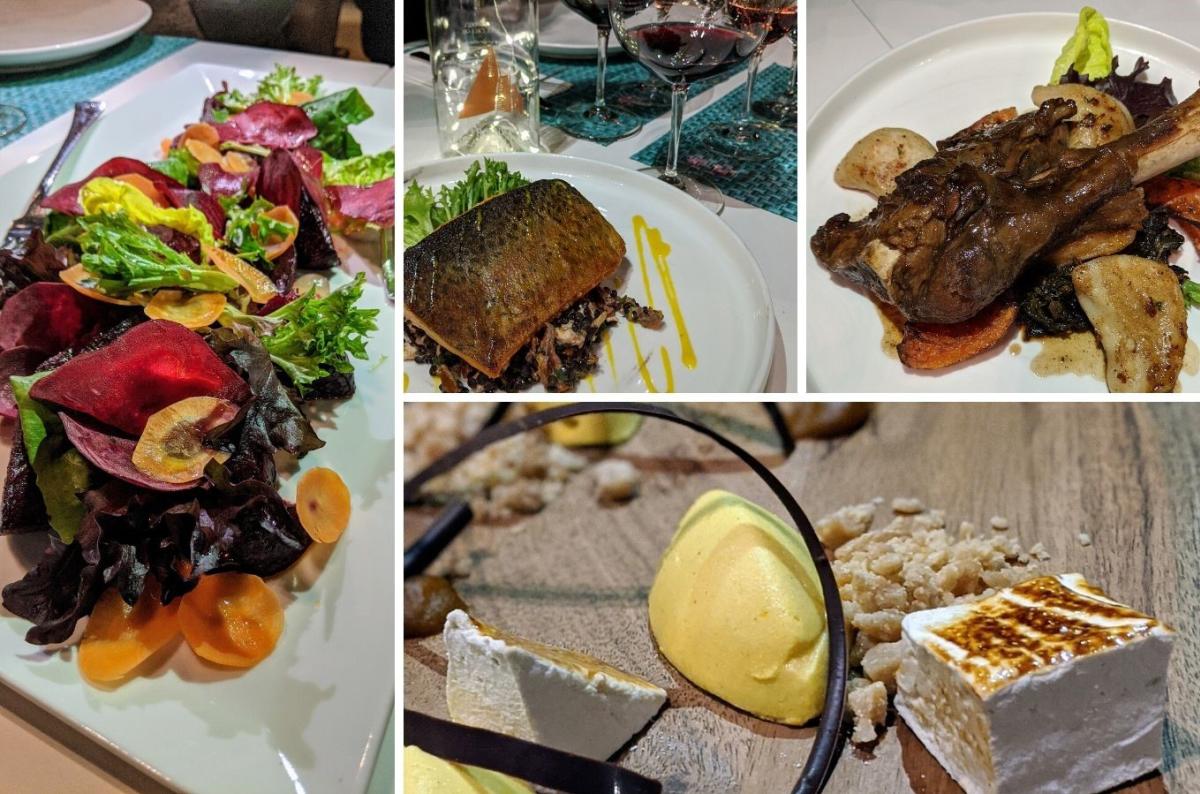 Choose from a $25 lunch menu or $45 dinner menu at The Garden Bistro. Kick-off dinner with either smoked tomato soup or the colourful beet trio, which includes roasted, shaved, and creamed beets. Crispy perogies pair perfectly with the lamb shank main course option, while the pan-seared steelhead trout is accompanied by savoury black beluga lentils. Finish off your meal with the beautifully plated, and equally delicious, pumpkin mousse, which is described as a deconstructed pumpkin pie.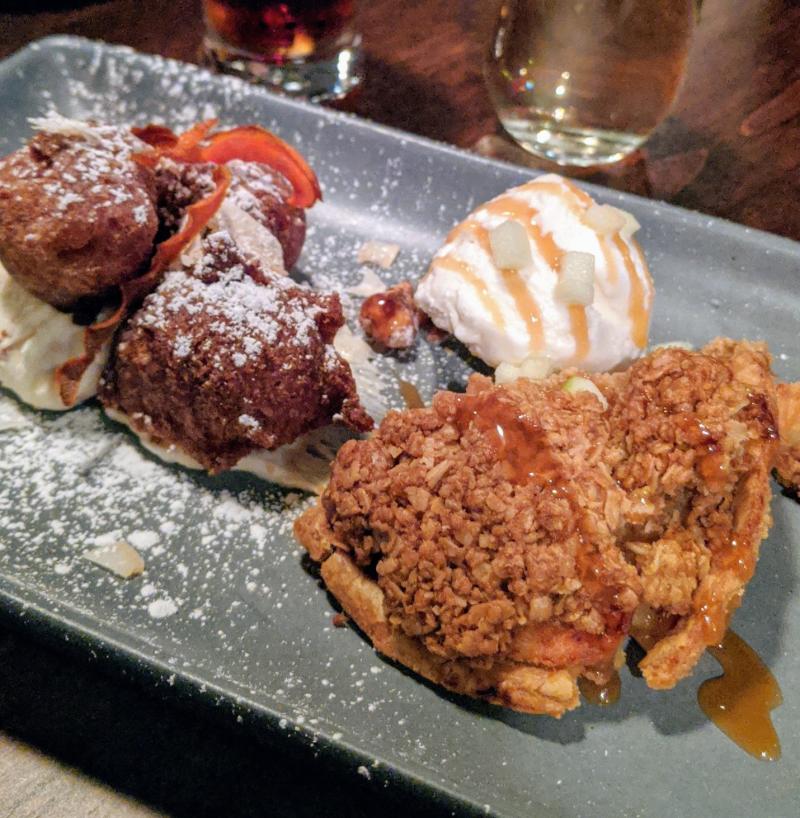 Train Station's $25 dinner menu brings some international flair with Bao Buns as a first-course option and the Katsu Burger as a second-course option. The other main course options are the Prawn Mac and Cheese or the Baked Prosciutto Pesto Sandwich. Choosing between the two dessert options, pictured above, will be tough — pick the Carrot Cake Fritters, served on top of a yummy whiskey bacon cream cheese, or the Caramel Apple Pie, with an oat strudel crumble topping and vanilla ice cream. You can't go wrong either way!

Waterfront Restaurant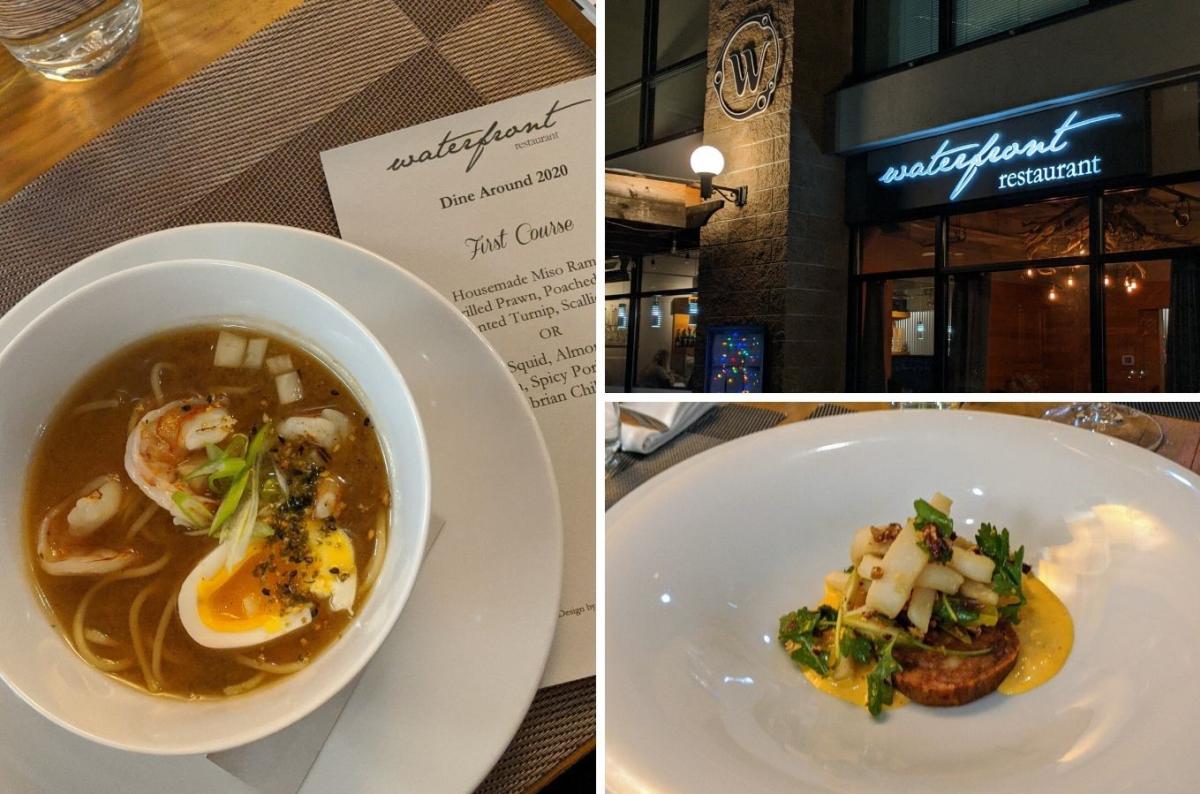 A meal at Waterfront Restaurant is always a treat and during Dine Around you can sample exciting dishes like the Housemade Miso Ramen, with a perfectly balanced broth and delicious poached egg, or the delightful Crispy Squid, with Spicy Pork 'Nduja and Calabrian Chili Aioli. Main course options on the $45 menu are equally mouthwatering with Squash & Roasted Garlic Perogies — perfect for the vegetarians out there — or Sterling Springs Roasted Chicken Breast. Last, but not least, the Backhand of God Chocolate Cake or Lime Curd Tart will be the perfect sweet finish to your evening.
Get out there and taste Kelowna! Explore all of the Dine Around menus at: dinearound.ca/restaurants/ 
Passport Contest: Get your passport stamped at two participating restaurants by February 2, 2020, to be entered for the chance to win $350 in restaurant gift cards. Pick up your passport at participating restaurants
Taste, Sip, and Stay in Kelowna during Dine Around with these great accommodation / dining packages. View packages.