Sterling Springs Chicken is owned and operated by Lisa and Hans Dueck based in Falkland BC. Their chicken truck can be found  bi-weekly at the Kelowna Farmers' & Crafters' Market currently on Springfield. The outdoor market will be moving indoors at the end of the month and will again be set up inside the Parkinson Rec Centre. Sterling Springs frozen chicken products as well as their delicious line of cold cuts and chicken sausages will be available year round and make a wonderful addition to your local cheese and charcuterie plates when entertaining.
Visit their website for more information or to preorder delicious, locally grown chicken and chicken sausages from this wonderful farming family!
---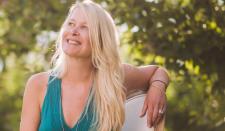 Jennifer Schell is a writer, editor of BC Food & Wine Trails Magazine and internationally award winning author of three cookbooks titled: The Butcher, The Baker, The Wine & Cheese Maker. Born and raised on an orchard in East Kelowna, Jennifer's family roots run deep in agriculture. An advocate for all things local, she focusses on shining the spotlight on the people of the food, wine and farm scene.