The arrival of cooler weather and snow can make it tempting to hibernate at home; however, staying active and engaged with those around you is vital for physical and mental health. Late fall and early winter in Kelowna offer numerous ways to keep your body moving, to get creative, and to connect with friends and family while having fun.

Make the Most of Kelowna's Outdoor Playground
Kelowna's typically mild winter climate means you can make the most of the region's outdoor playground all year round. Since Kelowna sits at a lower elevation in the Okanagan Valley than the surrounding mountains, there is generally less snow accumulation—many days, the snow falls and melts immediately, perfect for those who like their winter with a little bit less of the white stuff!
Those who do want to dive deep into snowy adventures can head to higher elevations, including local ski hills, Big White Ski Resort and SilverStar Mountain Resort. In addition to alpine and Nordic skiing, both resorts offer a variety of tour options—think horse sleighs, snowmobiles, and dog sleds—as well as a ton of fun for the whole family including tubing, snowshoeing, skating, and fat biking. Fun fact: Big White has Canada's highest outdoor skating rink!
Along with the outdoor rinks at area ski hills, visitors and locals can once again tie up their laces and skate lakeside at the Stuart Park ice rink in downtown Kelowna. The rink is set to open on December 1, with skate rentals and food purchases available onsite. Pre-registration is not required as the rink will be available for casual use (drop-in) from 6 a.m. to 11 p.m. daily, with the exception of Mondays when it is closed from 6 a.m. to 8 a.m. for maintenance.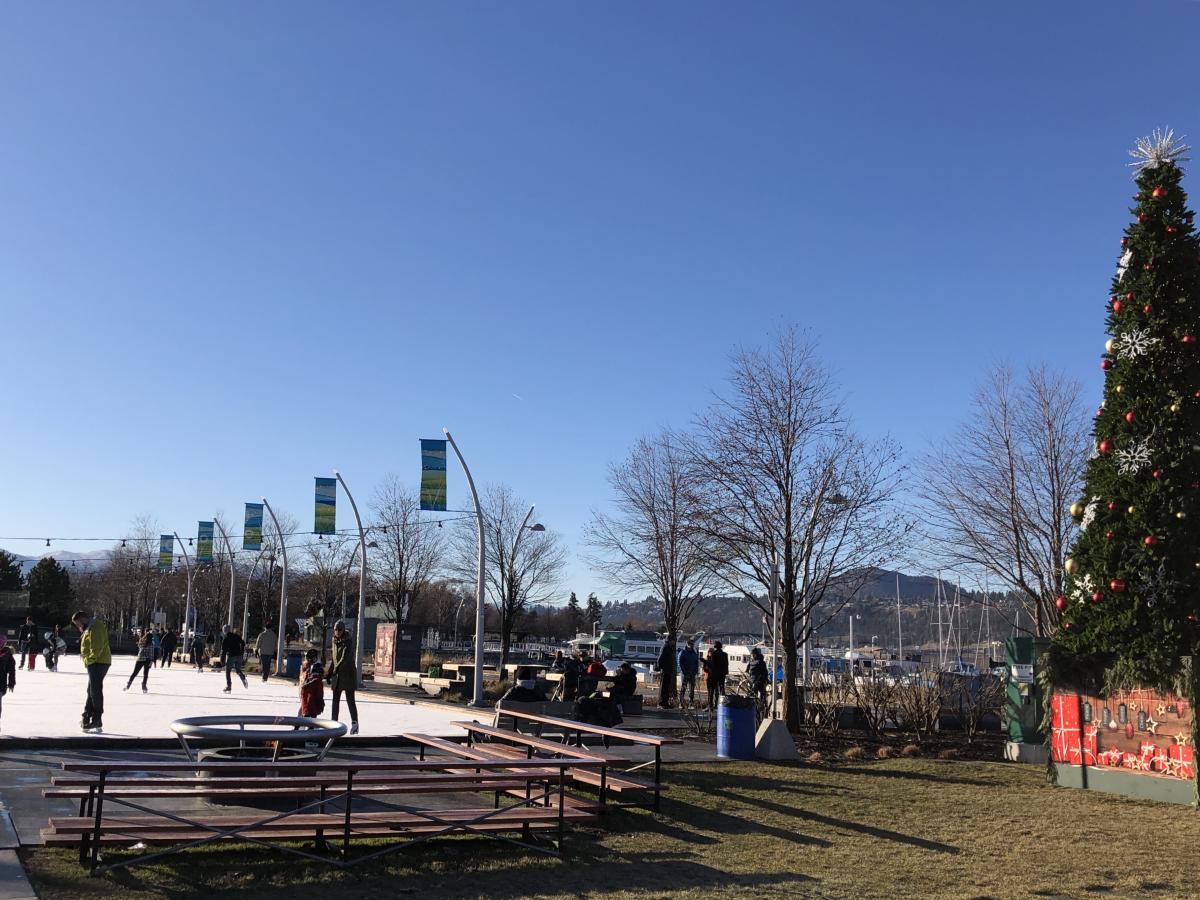 Stuart Park ice rink, December 2019
There are also numerous places to clear your head, breathe in the fresh air, and admire views of the snow-capped mountains surrounding Okanagan Lake—set out a short, easy winter hike on Dilworth Mountain or take a peaceful stroll along the downtown waterfront boardwalk or through nearby Mission Creek Regional Park. For a bit more of a challenge, check out Okanagan Mountain Park and Johns Family Nature Conservancy, or head to West Kelowna to hike Mount Boucherie or hit the trails in Goats Peak Regional Park.
Remember, no matter the activity or the length of time you plan to spend outside, always practice the Three Ts: Trip planning, Training, and Taking the essentials. Visit AdventureSmart's website to learn more about the Three Ts and for winter activity safety tips.

Exercise Your Creativity
Tapping into your creative side can help boost your spirits and contribute to positive mental health, which is important no matter the time of year.
During the holidays, you can try your hand at crafting seasonal décor. On Sunday, November 28, take your pick from a weaving workshop at SpearHead Winery, where you'll create a decorative wreath and ornamental star, or a wreath-making workshop at The Vibrant Vine. Both workshops include all supplies and a glass of wine.
In the coming weeks, you can also put your creativity to good use by joining one of the Rotary Centre for the Arts' one-day classes for adults—learn how to upcycle old clothing or find out what it takes to craft a compelling story—or by taking part in community programs like the Jazz Jam or Feel the Rhythm Drum Circle.
If you have little ones that you want to get crafty with, head to Family Sundays at the Kelowna Art Gallery. Each week offers something new to create—upcoming activities include expressive painting, Inuit-inspired printmaking, and creating Christmas-theme art.
Tourism Kelowna's Calendar of Events is updated regularly with the latest happenings—check back often so you can fill your schedule with creative and fun things to do! 

Connect with the Local Community
Events are back in (almost) full force this winter, creating opportunities for visitors and residents to reconnect with friends and loved ones, while also nurturing a sense of community that many of us are craving this holiday season.
You'll be sure to experience Kelowna's welcoming hospitality at the Rutland Winter Light Up on November 28 and the Downtown Kelowna Winter Market on December 4. Both family-friendly outdoor events are free to attend, with a variety of vendors and live entertainment as well as delicious food and drink to savour. Plus, you can reserve your spot for a photo with Santa!
If twinkling lights are your favourite part of the holiday season, there are several more spots you'll want to visit. The Tree of Hope, a well-recognized seasonal display located in the Landmark District that raises money for local non-profit organizations, will be lit from November 25, 2021, to January 2, 2022, for all to visit. No matter where you're located, you can join the tree lighting event that will be held virtually on Thursday, November 25. In West Kelowna, Gellatly Nut Farm Regional Park's Light Up in the Park kicks off December 10, running each evening through until December 20, while Mission Hill Family Estate's Season of Trees—a portion of the event's proceeds go directly to youth mental health programs offered through BC Children's Hospital—takes place from November 29 to December 23.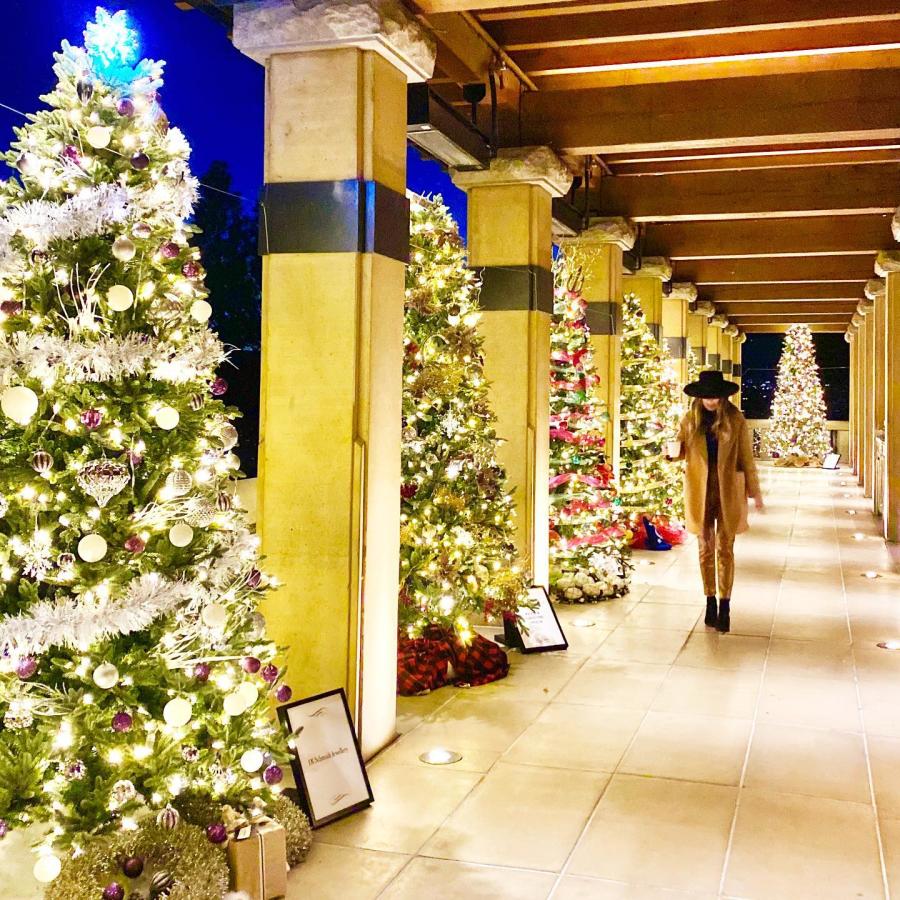 Mission Hill Family Estate, December 2020 - Photo by Meaghan Smith (@hashtagmeag)
Connect with the community and support local at other seasonal events including:
A Reel Christmas Market | November 27 & 28 | Inspired by traditional German Christkindlmarts. Held at Rustic Reel Brewery.
Table's Holiday Barn Market | November 27 & 28 | Held at Barn Owl Brewery; admission is by cash or food donation to the Central Okanagan Food Bank.
East Kelowna's Country Christmas Markets | November 28 & December 12 | Held at East Kelowna Hall with more than 45 local vendors.
Craft Culture Holiday Market | December 3-5 | Browse 180 vendor stalls in Prospera Place.
Christmas in the Country | December 4 & 5 | Held at the wineries, cideries, and distilleries in East Kelowna.
Grizzli Christmas Market | Saturdays and Sundays, from December 4-19 | Hosted by Grizzli Winery in partnership with Beacon's Furry Fundation Society.
Tree of Dreams Holiday Market | December 7-9 | Hosted out Hotel Eldorado at Eldorado Resort. All proceeds from ticket sales will be donated to Food for Thought.
You can find additional holiday event listings here (listings will be added as events are announced).
As you're out exploring the best of Kelowna this holiday season and beyond, be sure to share your adventures through social media by tagging Tourism Kelowna and using #exploreKelowna.
Note: With several public health orders still in place, be sure to confirm protocols/vaccine requirements for any businesses you plan to visit or events you plan to attend. Capacity limits are also in place for most events, so pre-registration may be required.