To borrow from the Soup Sisters charity organization, soup is basically a hug in a bowl and who doesn't crave a warm hug during chilly days? Kelowna has a wide array of delicious local restaurants ready to help you get your soup on. Here are five of my favourites:
1. Ramen: Wasabi Izakaya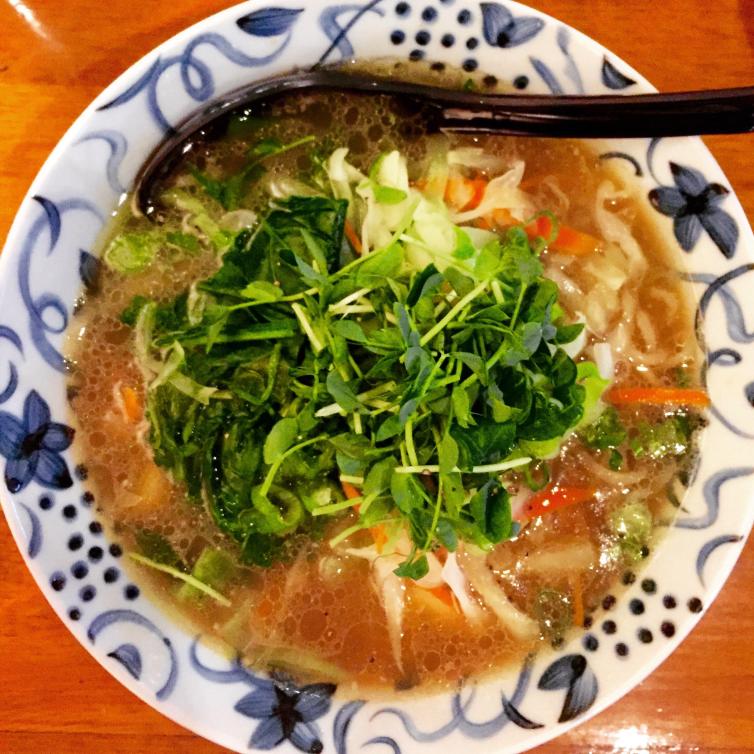 This soul-soothing, flavour packed soup features luxuriously long Japanese noodles that many of us consumed by the bucketful in our youth as the Ichiban pre-packaged variety. This is the REAL deal and it is all the rage on the international food scene for good reason. Chef/owner Junya Nakamura at Wasabi Izakaya downtown Kelowna brews up a menu of different delicious options all featuring his 'made from scratch' noodles and nurturing bone broths (BONUS health benefits!). My favourite is the original chicken broth with veggie toppings. You'll say, "Whoa I can't eat this huge bowl!" Um, just try to stop yourself.

2. PHO (pronounced 'fuh'): Hoang Gia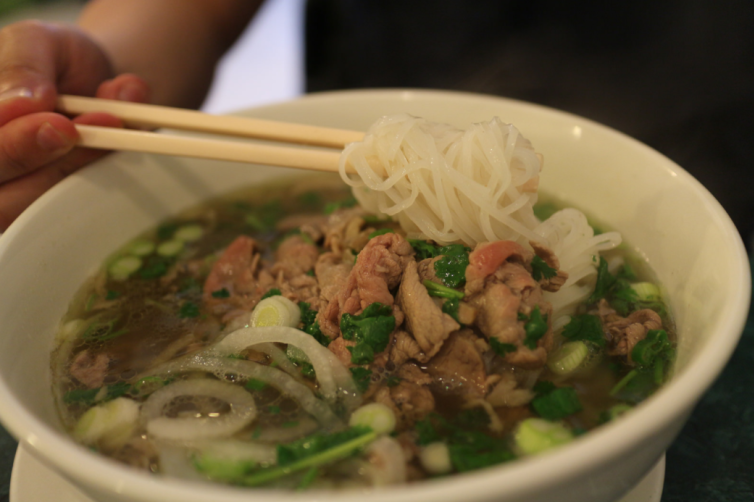 This famous Vietnamese noodle soup is another awesome mood booster any time of the year. The super fragrant broth (either beef or chicken) comes loaded with noodles, your choice of veggies and/or meat and comes with fun garnishes like bean sprouts, green onions, Sriracha, lime wedges, Thai basil and hoisin sauce. My favourite haunt is Hoang Gia located in the mini-mall in front of Costco.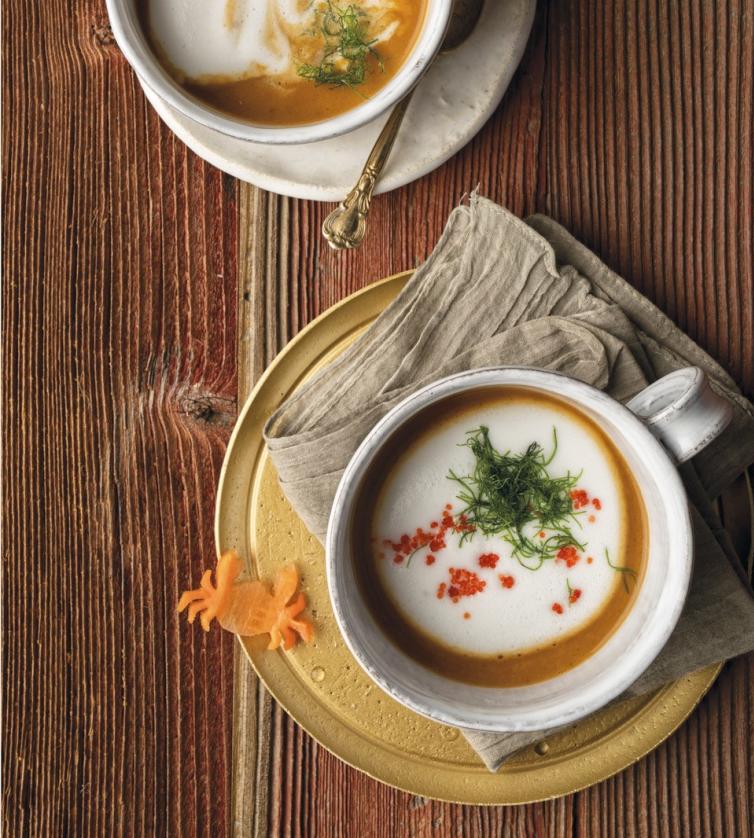 Raudz Regional Table has many legendary favourites on their menu including this mouth-watering crab soup served in a cute cappuccino cup. Fans can recreate this baby at home because Chef Butters has graciously included the recipe in his new cookbook The Okanagan Table!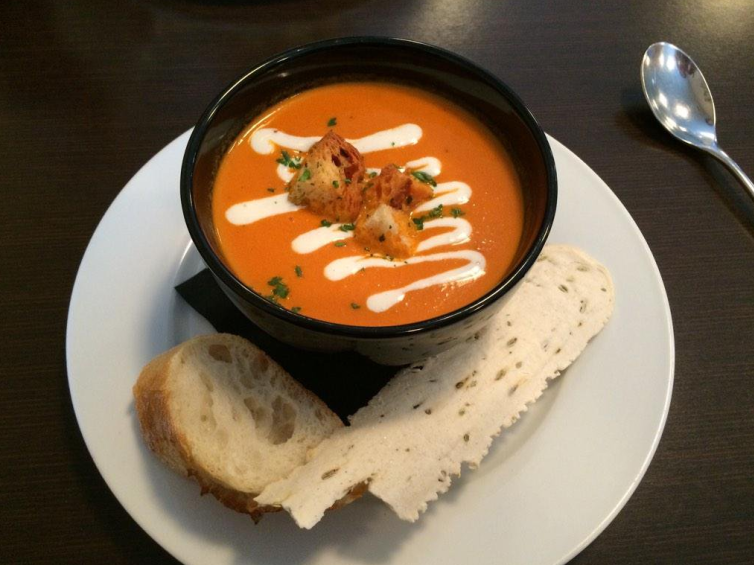 Photo by: Okanagan Street Food
Chef Neil Schroeter and his Okanagan Street Food have become synonymous with the word soup for two reasons. One is that this comfort food chef always has a great soup feature on his menu as well as a range of frozen soups AND a variety of frozen soup stock in the freezer. The other is that he is our beloved local Soup Sisters chef and his restaurant the HQ for the original Soup Sisters chapter here. Chef Neil has literally led hundreds of big-hearted community members through monthly soup-making sessions to feed the Kelowna Women's Shelter over the last few years. If you want to make soup with the Sisters, go to www.soupsisters.ca to check out the calendar for the two local chapters.

5. Soup of the day: Waterfront Cafe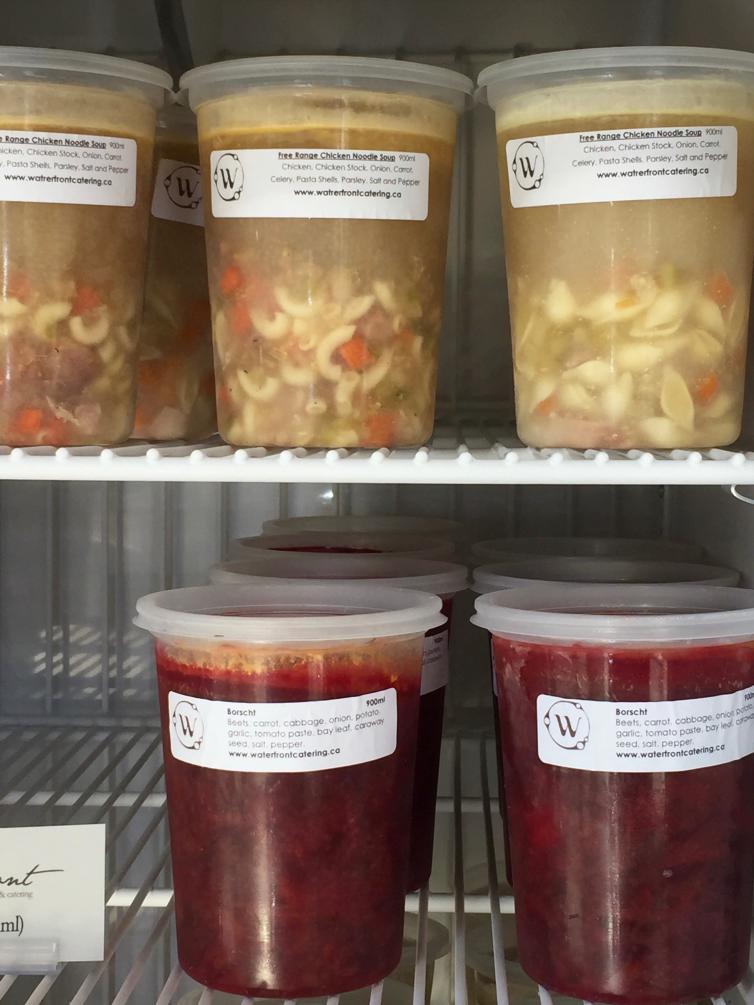 Chef Mark Filatow is also a fab soup maker who always features local ingredients. His delectable takeaway frozen soups have until recently only been available in the freezer section at Okanagan Grocery in Guisachan Village. Now that his second restaurant Waterfront Café is open behind the hospital, we have the choice to grab a table at this beautiful little lakeside café (open breakfast, lunch and now dinner), and/or hit his takeaway freezer and fridge section for home. They are also baking up fresh daily loaves of bread that pair just perfectly with your soup.

More tasty food to try in Kelowna: