As I write this, I can see the golden yellow leaves of a giant maple tree dancing merrily in the breeze from my office window. Fall is here in Kelowna, and it's beautiful as ever. With all the excitement of a sold-out BreakOut West earlier this month now behind us, you may be wondering, "What next?" Well, here are a couple of noteworthy art and culture events for your fall calendar.

Kelowna Museums Society — La Nostra Famiglia Italiana: Our Legacy in Kelowna
Where: Okanagan Heritage Museum (470 Queensway Avenue, Kelowna)
When: Now through February 2024
Admission: By donation—suggested donation: $10 per person/$25 per family
More Info
The Okanagan Heritage Museum is currently home to a new temporary exhibit showcasing Italian history in our area. Developed in partnership with the Kelowna Museums Society and the Kelowna Canadian Italian Club, the exhibit is called La Nostra Famiglia Italiana: Our Legacy in Kelowna. La Nostra Famiglia Italiana translates as Our Italian Family.
The Italian-Canadian community has a long history in Kelowna. In the 140 years since Giovanni Casorzo and Carlo Guaschetti arrived, Italians have contributed to shaping agriculture, industry, business and culture in the Okanagan. Their legacy remains integral to the region's past, while new generations continue to enrich Kelowna today.
When visiting the exhibition, visitors explore four key eras of Italian immigration to the region. Within each era, artifacts, archival photographs, personal stories and multimedia elements provide examples of how the Italian community has contributed to the Okanagan. A kitchen table in the gallery's centre connects the eras through Italian food traditions and symbolizes bringing people together.
Amanda Snyder, Curatorial Manager of the Kelowna Museums Society, says attendees may leave with a new perspective and appreciation:
"We're all excited to share with our visitors historical photos, special objects, original videos and fascinating stories, some of which are told directly by the Italian community in their own voice... and, of course, cherished recipes!
I have a new appreciation for what it must've taken to get from Italy to Kelowna during the turn of the 19th century, and I'll never look at the terrazzo floor of Peter's Independent Grocer the same way again! Come on down and check out this fun and fascinating new exhibit at the Okanagan Heritage Museum."
The exhibition is the culmination of years of work, so check it out while you can! The Kelowna Canadian Italian Club is also hosting a special debut film screening about local Italian family, the Casorsos, at the Mary Irwin Theatre on October 30. More on that here. While you're at the Okanagan Heritage Museum, you will also have the opportunity to learn more about the history of Kelowna and the syilx people who have called our region home since time immemorial.

Ballet Kelowna: Rising Action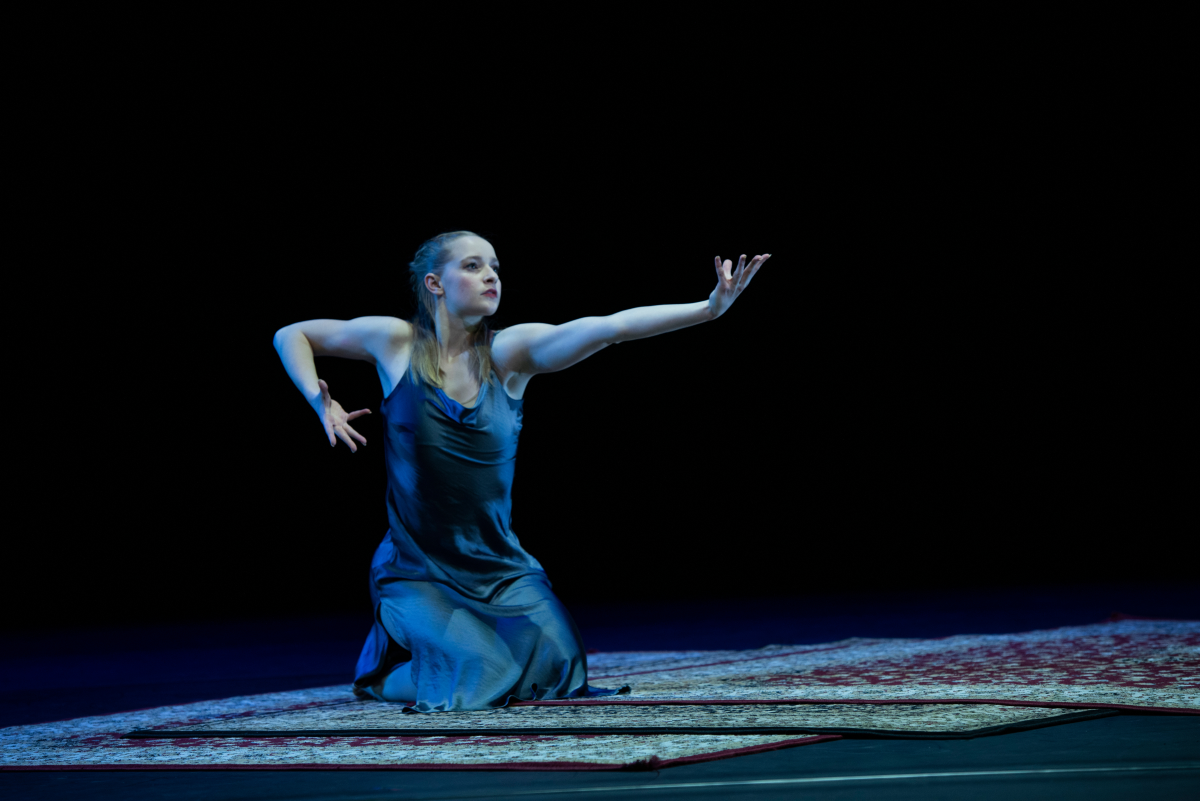 Ballet Kelowna: Rising Action. Emily Murray in The Forever Part. Credit: Sylvain Senez
Where: Kelowna Community Theatre (1375 Water Street, Kelowna)
When: Friday, November 3 to Saturday, November 4, 2023. Starts at 7:30 p.m. on both evenings.
Admission: From $57 (Adult), $50 (Senior), $32 (Student/Child)
More Info
Ballet Kelowna opens its 2023/24 season with a compelling triple bill, Rising Action, at the Kelowna Community Theatre on November 3 and 4. The program features the remount of Kirsten Wicklund's ethereal The Forever Part, as well as Studies of Cash, a soulful exploration of country legend Johnny Cash, from Ballet Kelowna's own Artistic Director and CEO Simone Orlando, who celebrates her 10th anniversary season with the Company. The mixed programme concludes with the world premiere of The Royal We from Montreal-based dancemaker Jake Poloz, who makes his choreographic debut with Ballet Kelowna. 
"Reflecting on a decade as Artistic Director and CEO with Ballet Kelowna, I feel incredibly honoured to have had the opportunity to bring more than 40 new works from emerging and established Canadian choreographers into the Company's repertoire, including our first commissioned full-length ballet, Macbeth," says Simone Orlando. "Since the beginning of my tenure at this Company, my mission has been to create opportunities for Canadian dancemakers to share their vision and craft with audiences in Kelowna, the province, and across the country. There's no better way to mark my 10th season than with the engrossing lineup of works represented in Rising Action, including Kirsten Wicklund's exhilarating The Forever Part and the world premiere of Jake Poloz's cathartic The Royal We."
In addition to the exciting works, Ballet Kelowna welcomes three new dancers to its Company for the 2023/24 season, including Avery Grierson and Riku Hirakoba. Samuel Ramos will join later in the season. Jake Poloz will also dance with Ballet Kelowna as a Guest Artist, and Cameron Fraser-Monroe – Ballet's Kelowna's 2022/23 Artist in Residence – will be an Associate Artist. 
Founded in 2002, Ballet Kelowna is the sole professional dance company in BC's Interior. The organization is committed to its role as a leader in the region through encouraging, promoting, and developing Canadian dancers and choreographers. The Company performs annually for more than 12,000 audience members in Kelowna and on tour and provides unique dance training opportunities and outreach programs. Its Artistic Director and CEO, Simone Orlando, is an award-winning choreographer and former dancer with Ballet BC and The National Ballet of Canada. 
Get your tickets for Ballet Kelowna's season opener today!

To see even more Kelowna events, visit the Tourism Kelowna events calendar here. See you out and about!
Header Image: Ballet Kelowna's Rising Action. Seiji Suzuki in The Forever Part. Photo by Emily Cooper