Sip Into Summer with Wesla & Duane as they #exploreKelowna's plentiful wine offerings!

Don't forget to enter Tourism Kelowna's #sipKelowna contest when out wine tasting. Tag Tourism Kelowna, use the hashtag #sipKelowna, and include your location on Twitter and Instagram to enter. Full contest details here.
---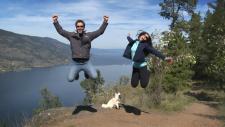 Wesla Wong & Duane English are meteorologists based in Kelowna. When not looking at weather charts, you will find the couple skiing, playing music or hiking with their dogs - enjoying everything that the Okanagan has to offer.