Supporting local takes on a whole new meaning in the Okanagan where area farmers grow some of the freshest and most flavourful produce around. Purchasing from farms and markets is not only delicious, but it's also sustainable, supporting the local economy and creating less travel for your food, which in turn helps the environment. The abundance of fresh fruit and vegetables during fall harvest—think apples, pears, late-harvest tomatoes, winter squash, and more—coupled with scrumptious recipes from local (and visiting) chefs and culinary aficionados will have you eating well and sustainably throughout the day, all season long.

Breakfast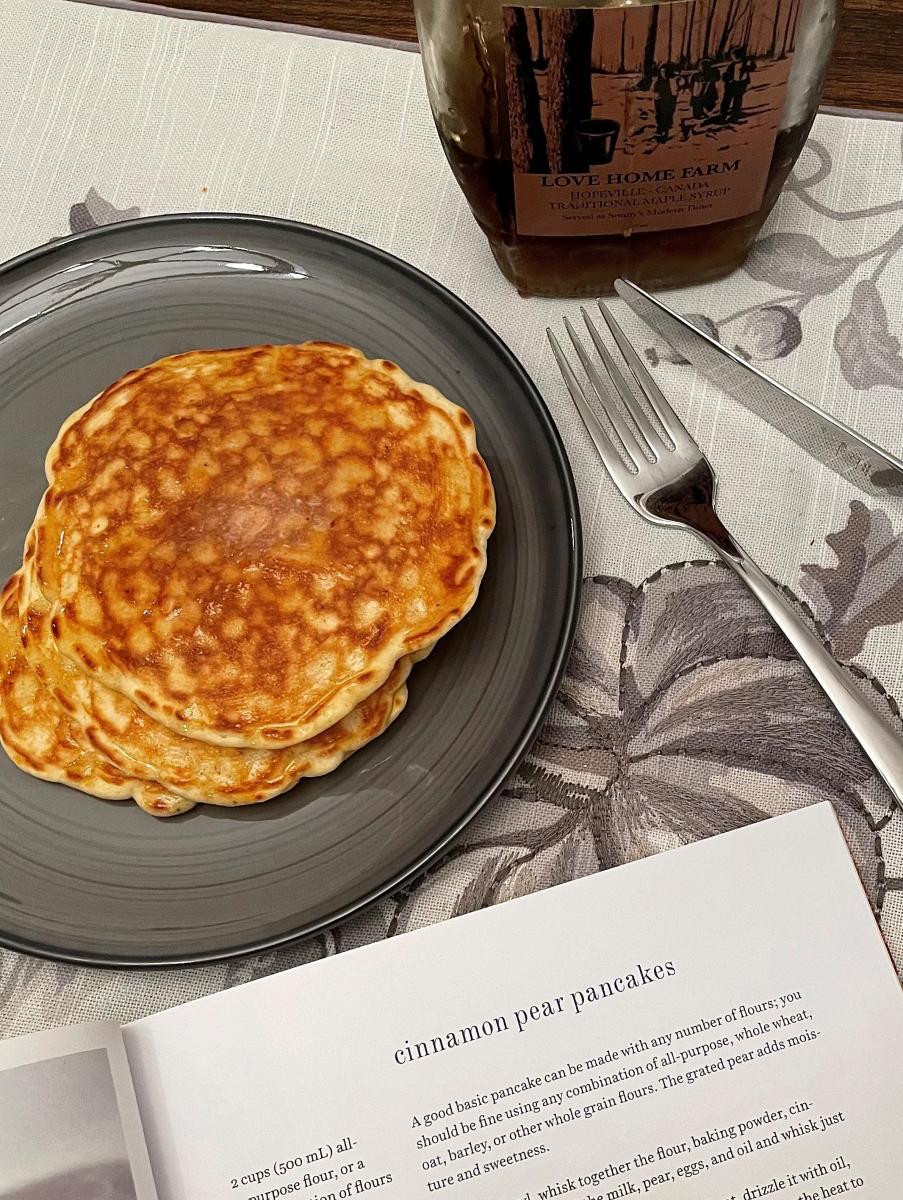 Homemade with pear from Day's Century Growers, The Paisley Notebook's Chai Spice (instead of cinnamon), and topped with Love Home Farm syrup (of Sunny's Modern Diner fame) from The Okanagan Table. 
Why not start your day off with a hearty meal made with fresh Okanagan fruit? Pick up some local pears for the Cinnamon Pear Pancakes recipe from the Out of the Orchard cookbook, written by bestselling author and food editor, Julie Van Rosendaal—they are light with a touch of sweetness from the pear. If you prefer a more savoury breakfast, with just a hint of sweetness, the Potato Apple "Cake" recipe from The Okanagan Table—written by award-winning Chef Rod Butters, who co-owns several acclaimed Okanagan Valley restaurants, including RauDZ Regional Table and Sunny's - A Modern Diner—topped with farm fresh eggs will do the trick.

Lunch
As the temperature drops—though it never gets too cold with the Okanagan's mild winters—digging into a bowl of delicious, savoury soup for lunch is a no-brainer. Combining two staple fall items, Chef Mark Filatow of Waterfront Wines offers up this step-by-step recipe for Ambrosia Apple and Roasted Squash Soup. Fun fact: The Ambrosia apple was registered by the Mennell family in 1993 after it was discovered on their orchard south of Kelowna in the Similkameen Valley.

If you are unable to find red kuri squash for Chef Filatow's recipe, butternut squash would be an equally delicious option.

Supper
Stew screams fall and winter, plus it's easy to let it simmer away while you unwind after a day of exploring. In The BC Wine Lover's Cookbook, written by award-winning food and wine author, Jennifer Schell, Kalala Organic Estate Winery's winemaker, Tibor (Tibby) Erdelyi, shares his recipe for Hungarian Harvest Goulash. Source local potatoes, onions, tomatoes, garlic, butter, and more to make this savoury and filling meal. Be sure to pick up a loaf of fresh, artisan bread from Sprout Bread so you can soak up all the deliciousness from your plate!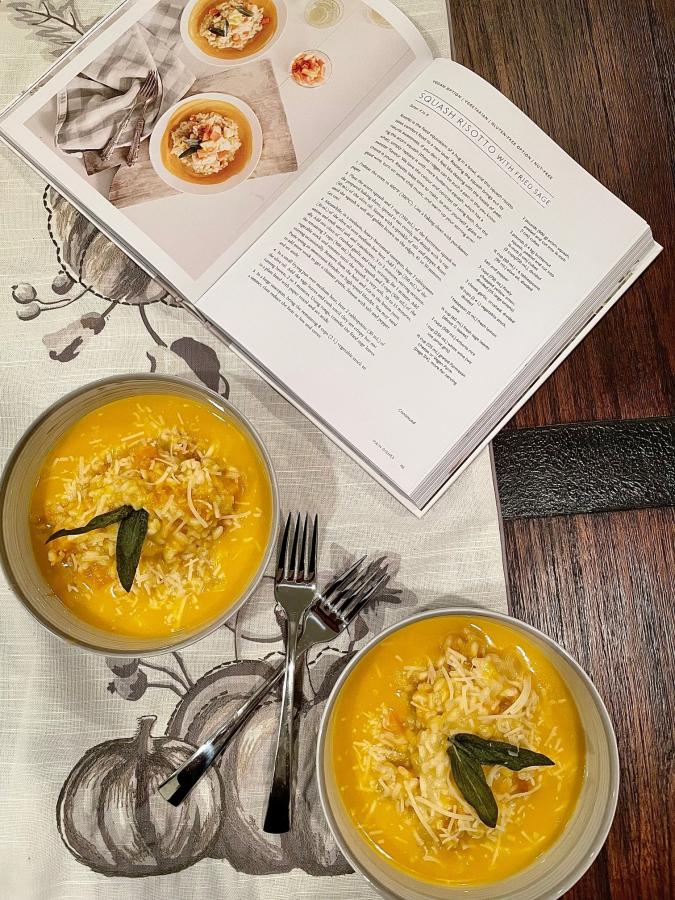 If you prefer a meatless option, why not try Squash Risotto with Fried Sage? From Jillian Harris and Tori Wesszer's cookbook, Fraiche Food, Full Hearts, this savoury main course will allow you to take advantage of locally sourced acorn and butternut squash, as well as your favourite BC Pinot Gris. The recipe is also gluten- and nut-free, making it a perfect option for those who have allergies.

Dessert
While you'll find dessert recipes in all the previously mentioned cookbooks, there is no question that Out of the Orchard has the most options to pick from—too many in fact to narrow it down here! Your favourite fall fruits are used in pies, galettes, cakes, crisps, and more. Regardless of which recipe you choose, your tastebuds will appreciate you supporting local!

Where to Shop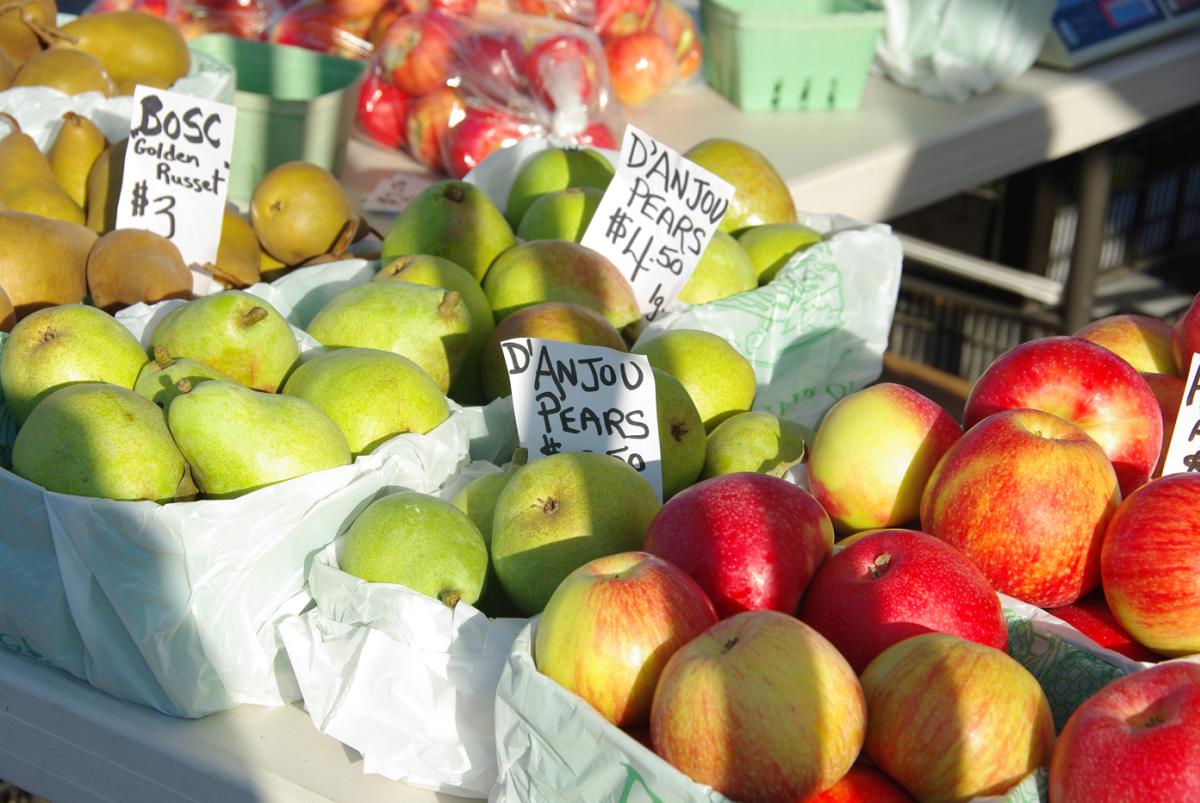 Kelowna Farmers' & Crafters' Market (Photo credit: Jose Antonio Lopez)
The abundance of local produce in the Central Okanagan makes it easy to find all the ingredients you'll need for these recipes and so many others. Visit the Kelowna Farmers' & Crafters' Market every Wednesday and Saturday (8 a.m. to 1 p.m.) until the end of October to choose from a variety of vendors like East Kelowna Fruit Market, Gambell Farms, and Graziano Orchards, all three of which also have physical locations you can shop at seasonally.
Other local markets like BC Tree Fruits Market, Don-O-Ray Farms, Kelowna Fruit N Veggies, or Paynter's Fruit Market will also carry an assortment of locally grown fruits and vegetables, pantry items, and other locally produced goods. The Okanagan Table storefront also carries an assortment of local and regional preserves, meats, and more, along with take-home meals for those days you might not be up for cooking. For fresh local garlic, head to Janzen Garlic Acres. Another local product I've been loving in the kitchen? Paisley Notebook's Edible Adventures Chai/Baking spice—a delicious blend of green cardamom, fennel seeds, and cinnamon that I often substitute in recipes that call for cinnamon (like the pancakes mentioned above).  
All the cookbooks in this post are available through the Okanagan Regional Library. They can be purchased at the Kelowna Visitor Centre (where you'll also find numerous local food products), from our Love for Kelowna online store, or from your favourite local bookstore. If you're looking to get a head start on holiday shopping, they make great gifts for the foodies in your life, too!
If you're not in and around Kelowna, you may be able to find BC produce at your local grocery store or farmers' market. Or substitute the freshest local produce available in your region to use in these recipes.
Be sure to comment below to let us know how these eats turn out for you or to share your favourite Okanagan recipes!