Impress your friends with these tasty summer cocktails made with local spirits, ciders, and farm fresh rhubarb.
In the same way that our local chef community focuses on showcasing Okanagan, farm-fresh products in their recipes, I am also committed to utilizing locally-sourced ingredients in my cocktails. 
The Kelowna Farmer's Market is the perfect one-stop shop, to grab all the fruit and herb ingredients needed to make summer-y cocktails. Conveniently located in downtown Kelowna, it's easy to stop in and see my friends at Okanagan Spirits Distillery for your spirits shopping list. Okanagan Spirits is BC's original harvest-to-flask distillery and has garnered acclaim on an international level. The Family Reserve Okanagan Vodka is an amazingly smooth apple-based vodka, making it perfect for recipes like these:

Strawberry & Rhubarb Cooler
Recipe
1oz fresh lime juice
1oz rhubarb syrup
4x strawberries from the Kelowna's Farmers Market
Top up with ginger beer
Garnish: 2 mint sprigs and lime wheel
Optional: 2 dashes of Angostura bitters
Rhubarb syrup
Finely chop 2 rhubarb stalks and add 1 cup of water with 1 cup of sugar to a pot. Stir without boiling for 10 minutes. Pour into bottle, syrup will keep for up to 2 weeks refrigerated.
Directions
In a glass, muddle 4 strawberries with a muddler (or a spoon if you don't have one). Once muddled, add enough ice to fill the glass and pour in the vodka, lime juice, rhubarb syrup and stir to combine. I recommend adding a little more ice to keep the drink cold and top up with some ginger beer. Garnish with some mint sprigs and a lime wheel.
Rhubrella
Recipe
Directions 
Fill a glass full of ice and add the Okanagan Spirits Vodka, freshly squeezed lemon juice, and rhubarb syrup. Stir with a spoon to combine and top up with a little more ice to keep the drink cool. Finish off by topping off with BC Tree Fruits apple cider and gently stir to combine. For the garnish add lemon zest. Share the leftover apple cider with friends.
Drink local!
Cheers
---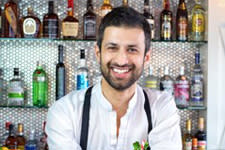 Harry Dosanj is a locally celebrated and award-winning mixologist, who loves supporting local businesses and creating seasonal beverages. Harry competed with contestants from 60 countries in the 2016 Diageo World Class Canada - West Regional Finals where he finished top 13 in the west and top 26 in Canada!
Check out Harry's work here:
Facebook: Bar Travelling Man | Instagram: @harrydosanj |