Out on the Start Fresh farm, walking through the rows is always exciting this time of year. The lush green plants remind me why we put so much effort into growing food. And the first time I see the deep red of a ripening tomato in between the vines I still get a little taken back, realizing the reward for all the months of anticipation. (This year we planted well over 200 tomato plants, far above our 50 plants of last year and a new record for the farm!)
Tomatoes are one of those things that you can find a use for all over the kitchen. Mountain Mama's canning method is a great way to ensure you have access to fresh tomatoes year round, but if you're anything like me, the freshness of a tomato that has just ripened in the sun is something that is best enjoyed fresh.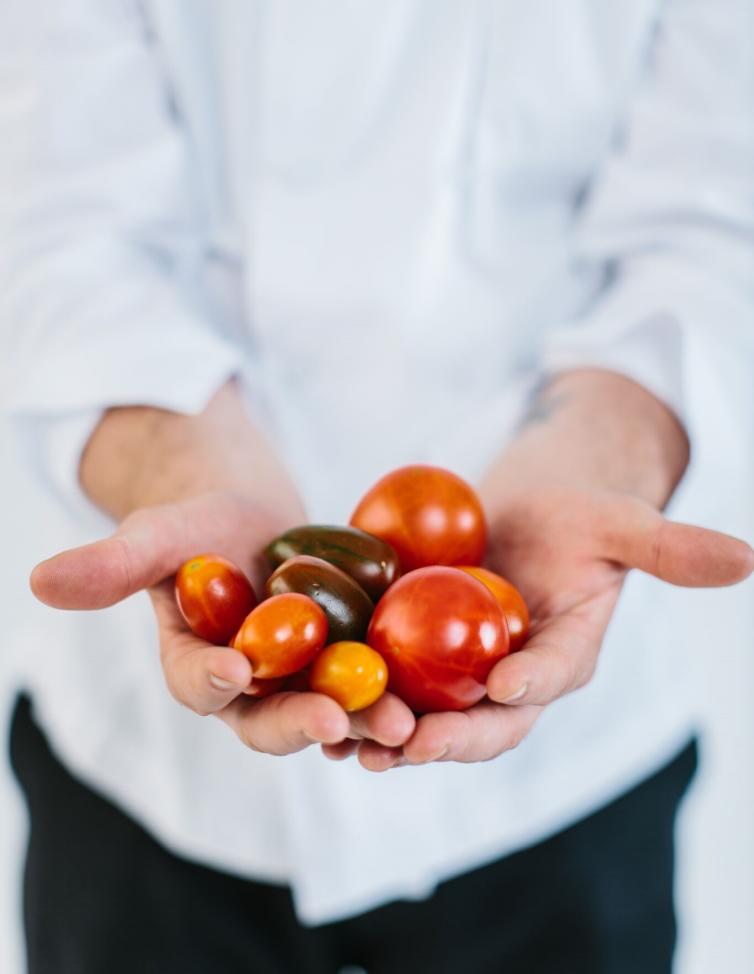 I am a huge fan of the classics, and finding ways to use fresh produce in them is something Chefs wait all year for. Since I entered the industry 20 years ago, I have been making the classic Caprese salad. It's as simple as a tomato and mozzarella salad sounds to make, I am going to give you a few tricks that will help transform this fresh summer favourite into the noteworthy Caprese.
The most important thing to remember when creating this dish is something that rings true for all cooking, and something we educate on during every cooking class at Start Fresh. You need to use great ingredients to make great food. Roma tomatoes from the grocery store and mozzarella from a bucket are simply not going to give you the results you're looking for. So I'll let you in on a few special places to visit.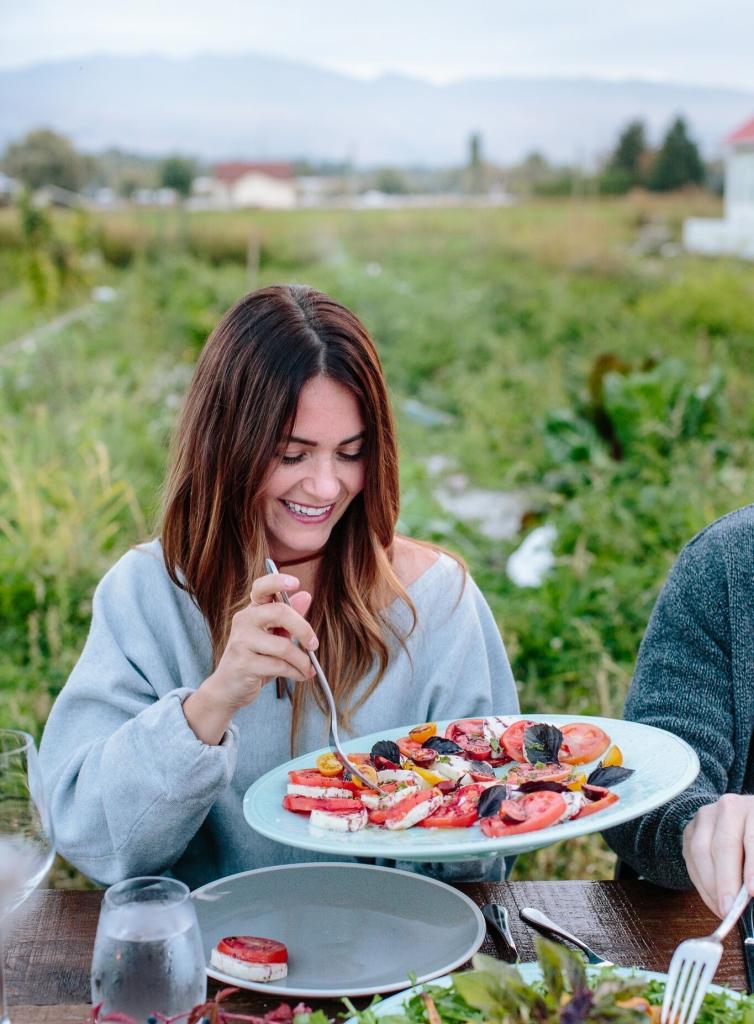 Gathering Your Ingredients
Tomatoes that were ripened on the vine are the first step to delivering superior results. Stop by the Kelowna Farmers Market, and see what John & Brenda from Wise Earth Farm have coming out of their garden. Their Saladete tomatoes or any of their heirloom varieties will be perfect. Pick up a small bag of basil as well, and you're halfway to the perfect salad.
Next, you'll need to source some good quality fresh cheese. Kelowna Mediterranean Market carries fresh Buffalo Mozzarella, and this will make a huge difference in both the flavour and texture of the dish, as buffalo is creamier and more flavourful than other mozzarellas. Pick up some Maldon salt while you're there for a finishing touch, and you will be in for a pleasant surprise!
The last stop on your journey is a balsamic reduction. Actually, since we are in the Okanagan maybe we can skip this step all together. I usually just get some beautiful Okanagan dry red wine that might have been opened a little too long and reduce it with a small amount of Arlo's honey. Cook it down until it becomes a thin syrup — remember that it will thicken as it cools.
Follow this recipe with your newly honed methods in mind, and you'll transform what could be an average salad into something that people will talk about for days, and will really show off those fresh tomatoes the way they shine best!

Okanagan Caprese Salad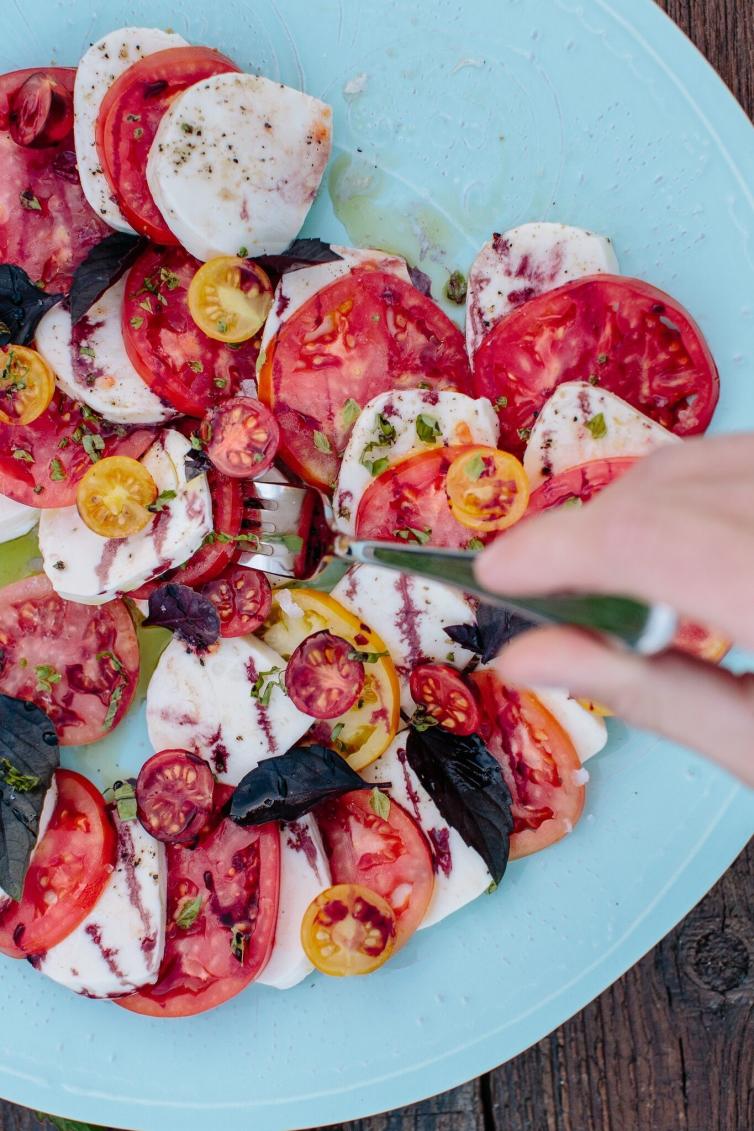 Ingredients
5 heirloom tomatoes
1/4 cup basil leaves
4oz fresh mozzarella cheese
4 tsp Okanagan wine reduction
1 Tbsp olive oil
TT Maldon salt
TT fresh cracked pepper
Method
Start by slicing the tomato in approximately 1/4 inch thick slices. Do the same for the mozzarella. Next, you'll alternate layers between the tomatoes and mozzarella. First, a tomato slice, then mozzarella slice, Drizzle with olive oil and Okanagan wine reduction. Season to taste with salt and pepper, and drop the torn basil over the top of the salad.
Explore Farms & Markets for Local Ingredients