Themed tasting tours are the most fun tasting tours – especially when the theme is pink. This is not just a wine tour; this sipping safari includes other blushing libations and also provides an opportunity to build some killer mixed cases for upcoming back yard festivities. Also, you will now officially get to say: Rosé ALL day baby!
Let's start in downtown Kelowna with something new and totally fabulous.
Broken Ladder Rosé cider! Made from apples and cherries, this delightful blend offers notes of hibiscus flower.
The prettiest pink can of beer you could imagine: The Love Potion Raspberry "Berliner Vice" - berry delicious and perfect for patios.
Onward to wine, and its Rosé fever in the Okanagan! There is a wide range of rosés to pick around the Okanagan; here are some choices that will make for a perfect bouquet to take home at the end of your tour.

Lunch anyone?
You will also need lunch along the way so I suggest if you are on the Kelowna side of the lake to pit stop at Summerhill Pyramid Winery for a bite with a glass of the Cipes Brut pink bubbly. If you are hitting the Westside, then onward to Quails' Gate Estate Winery's Old Vines Restaurant for a glass of their legendary Rosé with lunch.

More pink stops on the west side.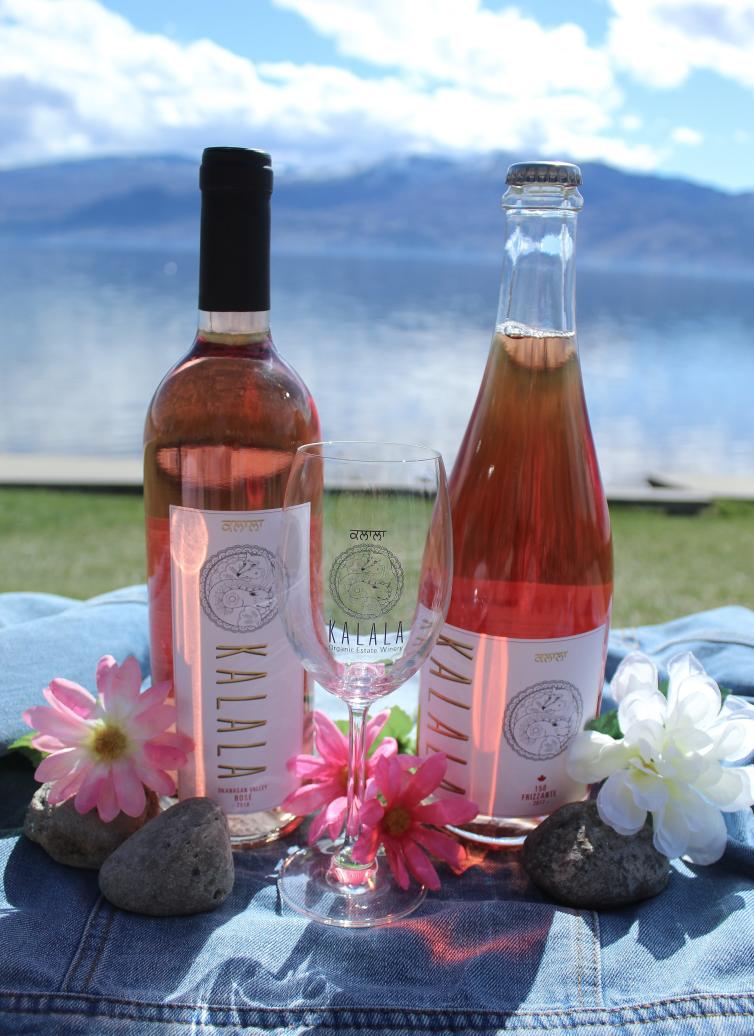 The 2018 vintage is a blend of Gewürztraminer, Zweigelt, Pinot Noir, and Merlot – and it is all organic!

The Hatch will give you the bird.
In the nicest way with their new 2018 Flipping the Bird Rosé.

Cruising over to Southeast Kelowna.

Pinot Noirists SpearHead Winery in Southeast Kelowna has a Rosé made from 100% Pinot Noir grapes. It is delightfully described as having the colour of the bright eye of a partridge with fresh and lively aromatics of wild strawberry and cherry and subtle notes of fresh herbs and red florals.
The 2018 Rosé is arriving on the scene in both a 750mL regular size and the biggie for the biggie Rosé lovers: the 1.5 L magnum (the mags are exclusively available at the winery).
From bottles of bubbles to Bling in cans, this glammy winery loves its Rosés.

Everything in Lake Country's Scenic Sip is coming up Rosés!
If you want to focus your tour in this hood alone, you are all set. Start at Intrigue Wines to pick up both the Social Rosé and the "I DO" sparkling – both delicious and both are at an incredible price point so you can get lots.
Purchase Rosé and you must do lunch here at the Garden Bistro to enjoy the outstanding cuisine of Chef Alex Lavroff. A glass of Rosé and a Lobster Pizza make for a mighty fine pairing on the patio. Just sayin'…
Aptly named Summerstorm that you will want featured on your picnic table all summer. Summerstorm is made with Zweigelt grapes with aromas of strawberry, rhubarb, and pink grapefruit and a nice dry finish. So pretty! You can also plan to park yourself on the patio to enjoy a glass and enjoy the to die for view of Okanagan Lake.
50th Parallel is also a great choice for lunch at their BLOCK One Restaurant, or if you are going for the full day of eating and drinking, this can be dinner.