With peach season upon us I thought I would share an all-time favorite dish of mine: Okanagan fresh Peach Cobbler (recipe thanks to my mother in-law).
The peaches are from the Kelowna Farmers' Market, the milk is from D Dutchman Dairy, and the vanilla gelato is from Artisto Gelato.
Recipe:

Filling
Mix together and set aside
Topping
½ cup cubed butter
½ cup sugar
¾ cup self-rising flour
¾ cup whole milk (from D Dutchman Dairy)
Pre-heat oven to 375 degrees.
Mix sugar, flour, and milk together till smooth and with no lumps. Place cubed butter into an 8 inch round pan that is at least 3 inches deep, or into multiple individual deep dishes and place in oven until butter is melted. Pour batter over melted butter, do not stir. Place peaches on top of batter, do not stir. Place in oven with baking sheet underneath the pan (just in case it rises over the rim) and bake at 375 degrees for 1 hour. (Oven times may vary, for example my convection oven at home only takes about 45 min.) Once batter is golden brown, take out of the oven and let stand for 10 min.
Top with unsweetened whipped cream, or just pour some heavy cream over the dish.
My favorite toppings includes a generous dollop of delicious vanilla gelato from Artisto Gelato.  Or on occasion...  I like a small crumble of blue cheese on this cobbler - that'll do the trick as well.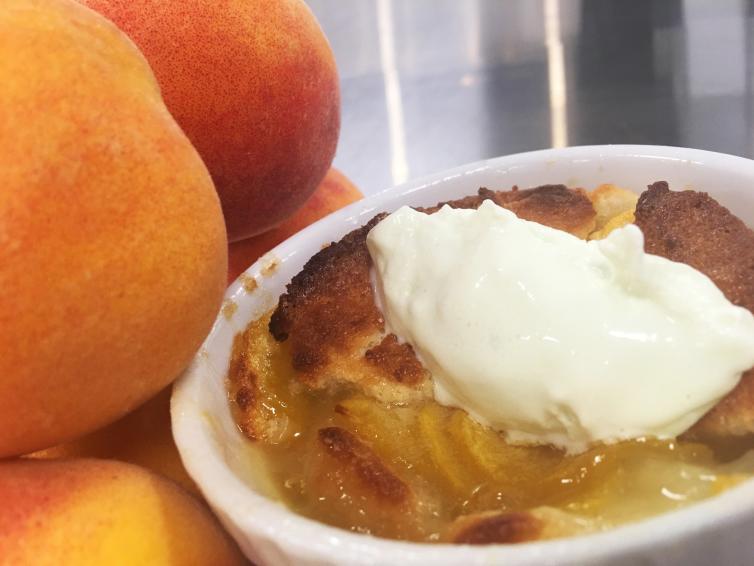 ---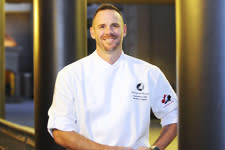 Chef Jeremy Luypen is an award-winning chef, with brilliant creative skills, extensive food & beverage experience and a reputation as one of the top chefs in the Okanagan. He is Executive Chef at Predator Ridge Resort, current president of the Okanagan Chefs Association, and an instructor in the Okanagan College's Culinary Arts Program. Jeremy's menus focus on Farm to Table with ingredients that feature local farmers, orchards, meats, and sustainable BC seafood.