The Globe and Mail recently called it one of the "hottest tickets across the country", and they're absolutely right. You don't want to miss your chance to see Ballet Kelowna's upcoming celebration of leading Canadian female choreographers - Elles: Extraordinary Dance Created by Women.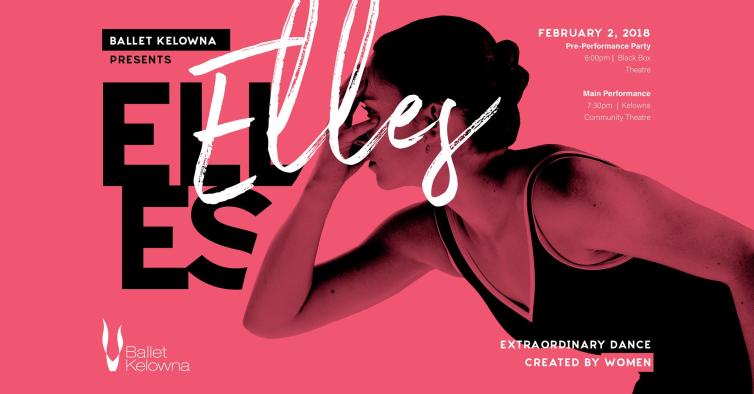 Photo by Michael Slobodian, Design by Steffanie Mackie
There's nothing wrong with your Nana's ballet, but this is not it. This is a cool, edgy, contemporary mixed dance program that will treat audience members to two world premieres by highly-regarded Canadian choreographers - Alysa Pires and Gioconda Barbuto. Think that sounds cool? There's even more...
In addition, attendees will also get to enjoy two previously commissioned works - Glas and Folie à Cinq - by Gabrielle Lamb and Heather Myers respectively, while there's also a very cool, very exclusive Pre-Performance Party to revel in as well.
The performance is taking place at the Kelowna Community Theatre (1375 Water Street) on Friday, February 2nd at 7:30 p.m. (this coming Friday), with the Pre-Performance Party happening in the Black Box Theatre (east side of the Kelowna Community Theatre) just prior to the show from 6 p.m. to 7:25 p.m.
Enjoy a sneak peek of Elles here:
Simone Orlando, Artistic Director and CEO of Ballet Kelowna and an award-winning choreographer herself, explains why Ballet Kelowna's upcoming show is especially important:
"In the world of ballet, female choreographers are rare," details Orlando. "As the very first choreographer commissioned to create a new work for Ballet Kelowna back in 2005, I am particularly proud of our company's history of promoting women. By supporting the artistic development of these female artists, we hope to inspire other companies to do the same. We want our audiences to know that amazing work is being created right here in Kelowna, and that our emphasis on supporting Canadian dance artists needs to be shared across the country."
Meanwhile, at the exclusive Pre-Performance Party, attendees can expect to hear Alysa Pires and Gioconda Barbuto reveal more about the world premieres they're about to experience, as they mix and mingle with family, friends and colleagues over a glass (or two) of Quails' Gate wine and hors d'oeuvres from Details Catering by Waterfront Wines. 
Ballet Kelowna is the only professional dance company in the BC Interior, and this is your chance to support what they do, while enjoying high-quality contemporary ballet from celebrated Canadian choreographers and a fun pre-party with great wine and food.
Tickets for the show start at $47.50 plus GST (with discounts available for seniors, students and children), while admission to the Pre-Performance Party is $25 plus GST (when purchased with your show ticket). You can buy your tickets online HERE, and you should, because you don't want to miss this. I hope to see you there!
The Pre-Performance Party is presented by Okanagan Skin Care and Quails' Gate Winery.