Asparagus season is here! And I plan to eat it each and every day while it is in season. My favourite way to prepare asparagus is lightly brushed with olive oil, grilled on the barbeque and then topped with Maldon sea salt and lemon zest or balsamic vinegar. Love it in pasta, perfect in a panini with goat cheese, excellent as a pesto or starring in a frittata or omelette. I am just mad about asparagus!
Our local chefs are working hard to create their new spring menus featuring these beautiful green spears. Chef Alex Lavroff at Summerhill Pyramid Winery's Sunset Organic Bistro has shared this delicious recipe to make at home. Asparagus and watercress can be found at the Kelowna's Farmers' Market and BC Tree Fruits Market, for the Italian flavours, locals go to Valaroso Foods on Sutherland Avenue.

Asparagus with Prosciutto San Danielle, Toasted Sourdough Crisp & Watercress
Note from Chef Alex: "This is a fantastic spring dish to cook for a group of friends. Easy to prepare, and easy to make, it looks beautiful. The trick is to manipulate perfect ingredients as little as possible. It's also nice to simply wrap the asparagus in prosciutto and cook it in a pan as one unit, letting the asparagus steam in the rendering prosciutto fat. If you know what you're looking for, watercress can be found on your evening or morning walks in the Okanagan quite easily. Usually found close to a water source, make an evening out of it by going for a little forage before you serve your supper. That is always a nice little conversation starter."
Don't feel like making it? You can order a similar dish on Sunset Organic Bistro's new spring menu!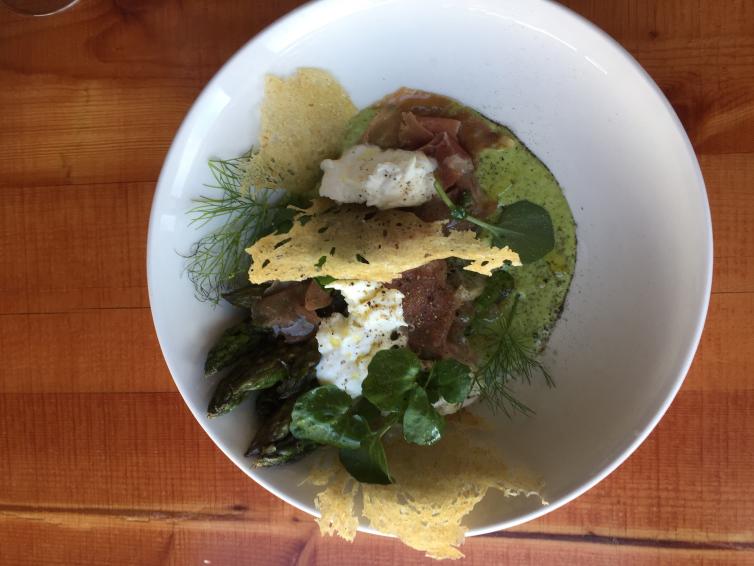 Recipe:
2 pounds asparagus
3/4 cup grapeseed oil
1 cup minced shallots
2 cloves minced garlic
1 1/2 cups heavy organic cream
2 tbsp butter
 
1 loaf organic sourdough bread (Okanagan Grocery)
 
150 g prosciutto
1/2 bunch burrata
1/2 bunch watercress
Directions:

Cut the tips off of approximately 2 pounds of healthy and sturdy asparagus and reserve stems. Sauté briefly in 2 Tbsp grapeseed oil with shallots and garlic, a splash of lemon juice and a finish with a knob of cold, salted butter. Set aside.
Cut reserved asparagus stems into 1-inch pieces. Heat ½ cup grapeseed oil in a large pot and sweat 1 cup of minced shallots and 2 cloves of minced garlic on low heat. Add asparagus and stir until asparagus turns bright green and is coated in oil. It will smell very fragrant and have a nice crunchy texture. This is when the asparagus is at its best. Harness the flavour by immediately adding approx 11/2 cups heavy organic cream. Add to blender and process until smooth. To finish, add a knob of cold, salted butter for a final blitz. Pass through a fine sieve and reserve in a warm spot. You can also chill and reheat.
Sourdough Crisp:
(Okanagan Grocery organic sourdough bread is recommended). Slice a few pieces of organic sourdough bread as paper thin as you can with a sharp knife.
Brush with organic olive oil and add a pinch of Maldon salt. Bake at 350 degrees in the oven until crispy. Remove and set aside.
To Plate:
Pour the warm puree on the bottom of a bowl. Place asparagus tips on top. Drape prosciutto over the warm asparagus. Add torn pieces of burrata and watercress. Finish with a beautiful olive oil, cracked peppercorns, and Maldon sea salt. Top with a slice or two of crispy sourdough and enjoy with a glass of Summerhill's perfect Cipes Brut.
Cheers!
---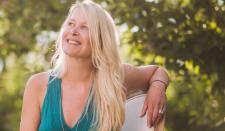 Jennifer Schell is a writer, editor of BC Food & Wine Trails Magazine and internationally award winning author of three cookbooks titled: The Butcher, The Baker, The Wine & Cheese Maker. Born and raised on an orchard in East Kelowna, Jennifer's family roots run deep in agriculture. An advocate for all things local, she focusses on shining the spotlight on the people of the food, wine and farm scene.