It's hard to visit Kelowna without being bombarded by our alcohol scene. Smack in BC's Wine Country, Kelowna is home to an incredible range of wineries, cideries, and microbreweries, meaning that tastings and drinking tours are always a top suggestion.
With all these great alcoholic options around every corner, it's easy to feel a little lost when you're trying to tour the city as someone who doesn't drink.

Whether your reasons for sobriety are medical, age-based, or simply a personal choice, don't let the alcohol-forward options dissuade you from having a great time. Kelowna offers several amazing alcohol-free tasting options so that anybody can enjoy everything that our great city has to offer!

Non-Alcoholic Tasting Rooms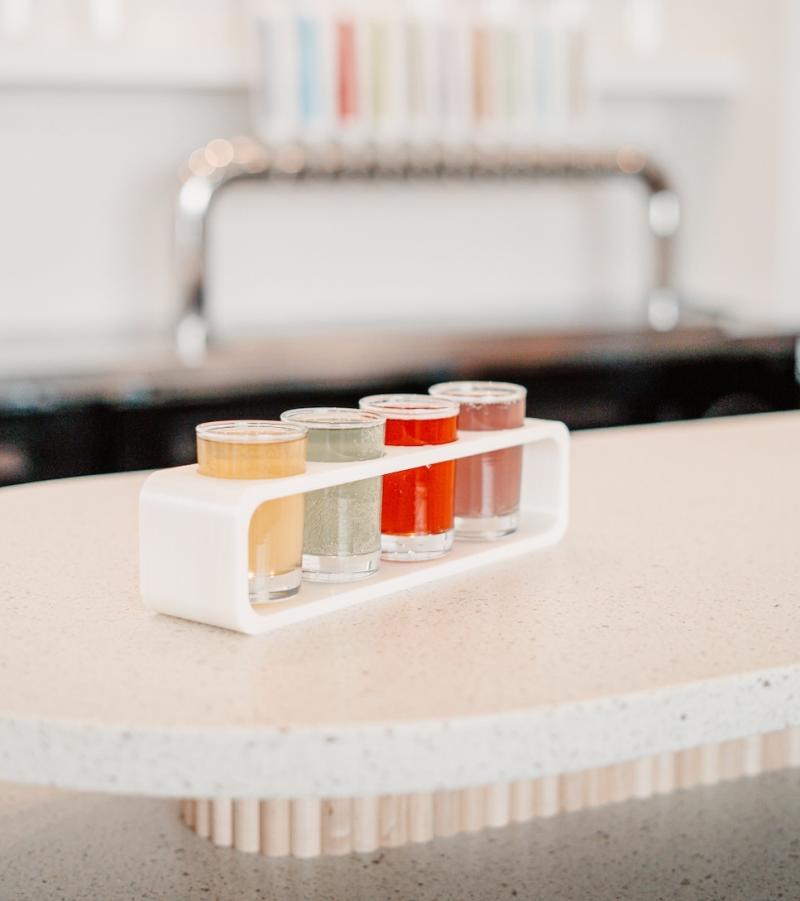 Tasting Flight at Motherlove Ferments
If you thought that the tasting room experience is only for alcohol, then you're in luck! Kelowna is home to a couple of amazing tasting rooms for non-alcoholic beverages, so you can still enjoy all the fun that comes with a full-tasting experience!
An all-natural, low-sugar, locally made alternative to artificial and high-sugar sodas and juices.
Farming Karma creates amazing fruit sodas and juices all with BC-grown fruits, no added sugar, and never from concentrate. Having started out with just their classic apple soda, Farming Karma since expanded their business to include a ton of other delicious fruit sodas and juices. They are all available to try at their beautiful tasting room, complete with a viewing window to watch the creation process right in front of you!
This kombucha bar is located right in Kelowna's North End where the majority of the breweries are, serving both kombucha and water kefir options on tap.
Both kombucha and water kefir options are packed with probiotics, enzymes, natural flavours, and gut-happy goodness. The kombucha bar also offers some great snacks, with sourdough pizza, vegan bowls from The Wagon, and yummy treats from Silver Star Chocolate Co. all available for purchase.

Alcohol-Free Food Tours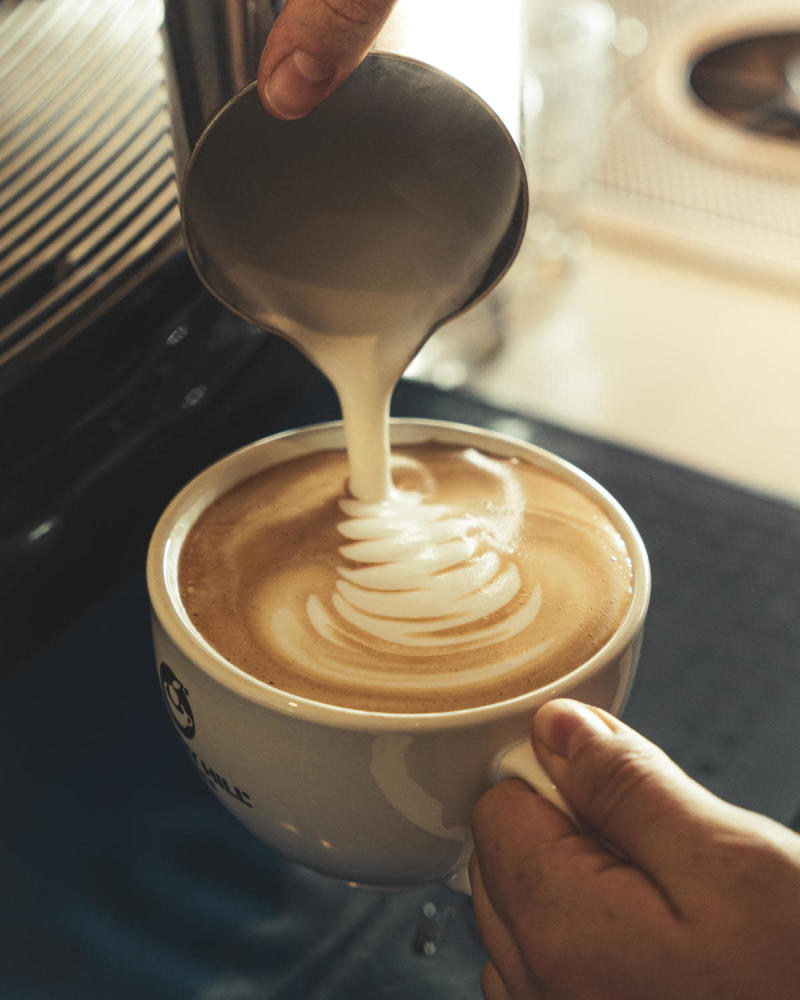 Latte at the Galley Cafe
Wine tours aren't your only option for a guided tasting experience here in Kelowna.
A Taste of Kelowna Food Tours, owned and operated by local Andrew Deans, takes you through downtown Kelowna's cultural district while teaching you all about our local history, food, and culture in a 3-hour experience.
Andrew takes his tours to the same seven stops, and while alcohol is available, he makes sure to include great non-alcoholic options at each location.
Chaibaba, Bliss Bakery, and The Galley are designated non-alcoholic tasting locations for everyone.
Other stops include Curious Cafe, who will supplement your tasting with a delicious mocktail, and Gather, who will swap out their usual smoked soba shot for fruit juice (but don't worry- the amazing staff at Gather will smoke your fruit juice as well, so there's no need to worry about missing out on any of the fun!)
Even the alcohol-forward stops of BNA Brewing Co. and Okanagan Spirits have non-alcoholic options available! Okanagan Spirits will offer up a taste of Fentimann's botanically brewed soda, and at BNA you can partake in your choice of Dad's Root Beer or a house-made non-alcoholic beer!

Wineries for Non-Drinkers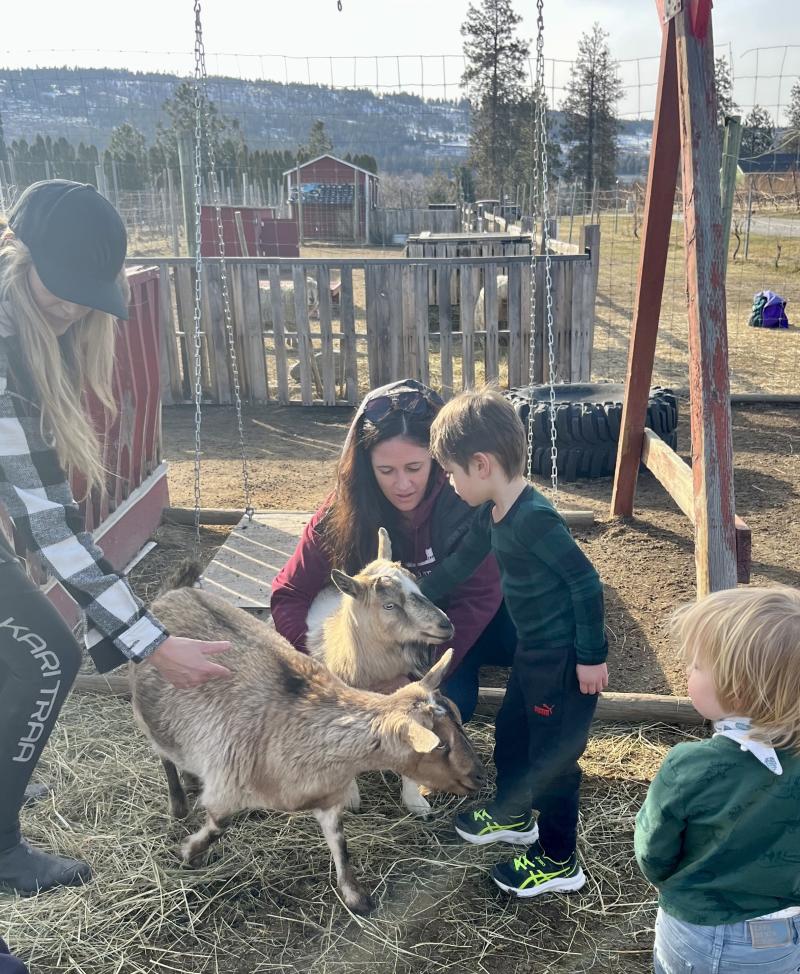 Goats at Off the Grid Winery
Not partaking in alcohol doesn't mean that you have to miss out on the winery experience. I personally have been visiting wineries alongside my mother and sister back when I was underage just to take photos, and even now, continue to visit them despite not drinking.
One of my favourite wineries. Tour the bee gardens or grab a bite to eat at their farm-to-table patio bistro. They're always hosting fun all-inclusive events as well, so check out their website to see what amazing packages they're offering next!
Vibrant Vine contains one of the most unique visual experiences you will encounter at a winery. Making a name for themselves by mixing wine, sound, and art, the atmosphere of The Vibrant Vine is one of psychedelic eccentricity.
Grab a pair of 3D glasses on arrival to be fully immersed in their artistic vision or stop by on a weekend for live music at Vibes at the Vine!
Off the Grid is a winery in West Kelowna with, wait for it…  farm animals! Feel free to stop in for a bite at their pizza truck and chill with the adorable goats, sheep, chickens, and bunnies. You can even buy some treats for $5 to feed the animals for a real family farm experience.

Want some more suggestions? Stop by the Visitor Centre and a member of our Community & Visitor Engagement Team will be more than happy to help you plan the perfect alcohol-free visit!