For some of us, it has been a long time since we have had a family gathering in Kelowna. If you're planning a family reunion this holiday season, keep reading to see some great suggestions on accommodations and activities that can be done in a larger group!

Accommodations
Finding a place to stay can sometimes be tricky for a large group. Luckily in Kelowna, there are many types of hotels, motels, vacation rental homes, and bed & breakfasts that can fill anyone's needs! 
For visitors who are looking for their next home away from home, the centrally located Delta Hotels by Marriott Grand Okanagan Resort has both hotel rooms and suites with full kitchens. With suites up to 3 bedrooms, there is more than enough room for a family to stay all in the same suite. If you want a bit more room you can upgrade to a luxury suite with separate living areas and a balcony. Staying in the heart of downtown Kelowna has its perks - not only will you wake up right beside the lake every morning, but you can also find everything you need within a walkable distance.
Imagine waking up pouring yourself a fresh cup of coffee in a chef's kitchen and then viewing out the window to vineyards and an extinct volcano (Mount Boucherie), all within steps from world-class wineries. This is possible at Mt. Boucherie Winery's estate vacation homes. With three separate guesthouses that have up to 7 bedrooms to choose from, you can be sure that everyone can get together comfortably, no matter how big or small your family is. 
If you're looking for more for a resort type of stay that is outside of downtown, but still is lakeside and has panoramic views as far as your eyes can see. Then the Eldorado Resort is a perfect choice and is great for family members that are both young and old. Experience the romance and nostalgia of a landmark boutique hotel dating back to 1926, with an indoor pool and hot tub that is ideal for a winter vacation with children, while the onsite restaurant makes it easy for the family to have a delicious meal together. Check out the famous Eldorado Sunday Brunch with an omelette, waffle, carving stations and so much more, including many tasty desserts, it's a must brunch to try this holiday season!   
The Prestige has large suites available to accommodate a big family. Swim in the indoor pool or soak in the hot tub that are open year-round. This hotel is also currently has a winter promotion where guests who stay two or more consecutive nights from now until March 31, 2023, will get an additional night to stay for free. Your complimentary night can either be added as a third night to your stay, or you can even choose to receive a voucher that gives you a free night at any Prestige property that can be used before April 30, 2023.
There are also many bed and breakfasts to choose from! One of the many selections includes the Hillcrest Bed and Breakfast. Depending on the number of guests, you could book one or both of the available suites to suit your needs. The suites are located above a farm market and boast spectacular views of the city. Although the market is currently closed for the winter season, visitors are able to enjoy a luxurious and affordable stay through the quieter months of the year.

Activities
Ski & Snowboard
Kelowna is famous for its Okanagan powder! Why not hit the slopes for a day or two with your relatives. Not only will everyone get to enjoy some fresh mountain air, but skiing is also a great social activity. Catch up with your group on the chairlift and then glide down the mountain for an apres-ski at the lodge. With both Big White Ski Resort and SilverStar Mountain Resort are only about 60 minutes away, there are plenty of runs where you and your family can ski or snowboard.

Skate Lakeside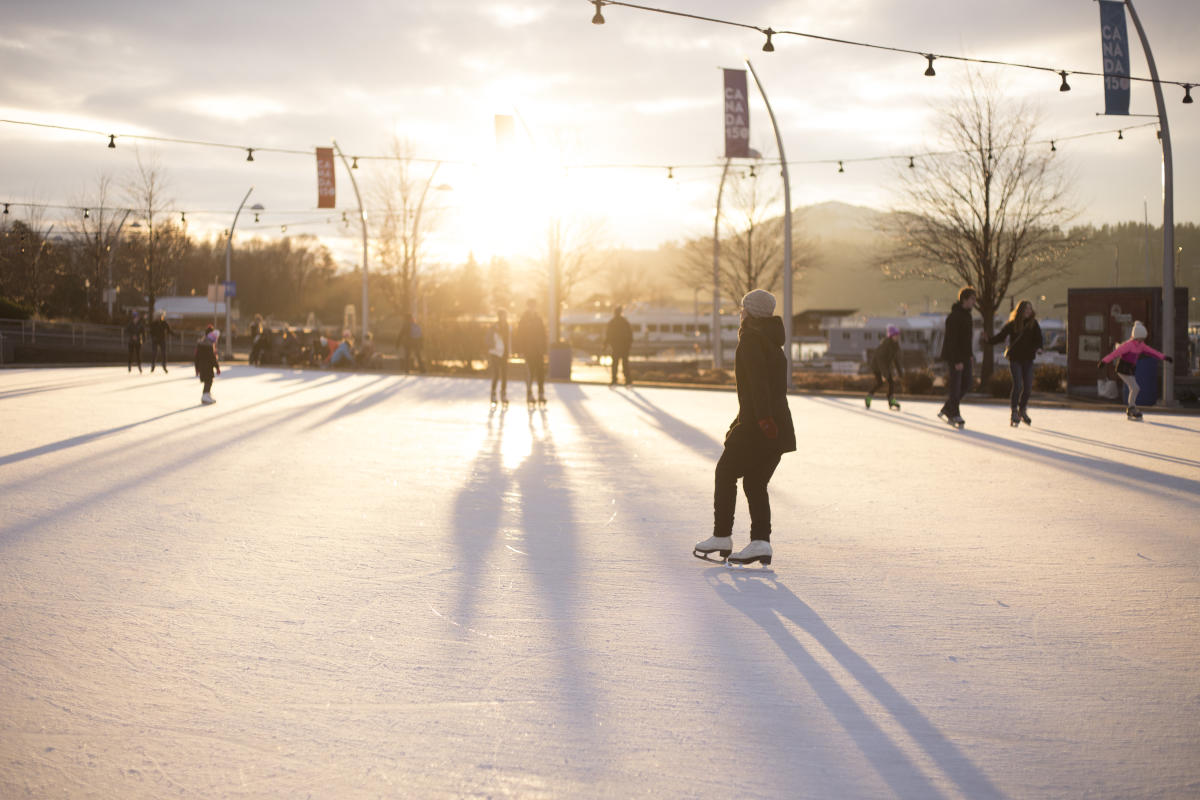 Photo by: Matt Ferguson Photography
Another fun group winter activity is free and right downtown! Sharpen up your skates and head to Stuart Park for a drop-in public skate. No reservations are required this season, but we recommend checking the live webcam before heading out to make sure it is open in case of poor weather conditions or maintenance. Skate rentals are available for a fee from 11 a.m. to 8 p.m. daily except for Christmas Day. A food truck is also onsite during peak hours if you're feeling like a rink-side snack.
Get competitive with your cousins and check out Whiski Jack's Pins and Pints, the area's newest bowling facility and public house. What's ideal about this place is that it offers both ten-pin and five-pin bowling so almost anyone in your family can take part. Open for lunch, dinner, or just drinks, you can have a meal in the dining room or order something to eat and drink while you go for that strike.

Food & Drink
Looking for a place to have a meal with the whole family? Known for its comfort food, craft beer, wood-fired pizza, and weekly live music sessions, The Curious Cafe on Ellis Street can accommodate large groups. For breakfast and lunch groups larger than 10 people, you can even request a custom family-style menu for your party. Just makes sure you book your reservation in advance. 
BNA Brewing also has your choice of fun games and an eatery. Located on Ellis Street in downtown Kelowna, enjoy a craft beer and a meal while checking out one of their boutique bowling lanes or bocce ball courts on the second floor. Children are welcome until 10 pm, and there is even a special kids menu for the little ones. Large groups are encouraged to call ahead to make sure there is available space.

Runaways Lounge
If you're having a large family reunion, Runaways Lounge might be the place to host the event as they can accommodate very large groups. Connect with your loved ones over a game of pool in their relaxing and casual atmosphere. Feeling like an afternoon nibble? All of their share plates are discounted by 20% during their daily Happy Hour which runs from 3 p.m. to 6 p.m.