Variety is the word that comes to mind when describing the breweries which make up Kelowna's Uptown beer hood. From a much-loved beer and bowling city staple to a near campus haunt and a small space with big ambition, there's something for every beer lover.

Freddy's Brewpub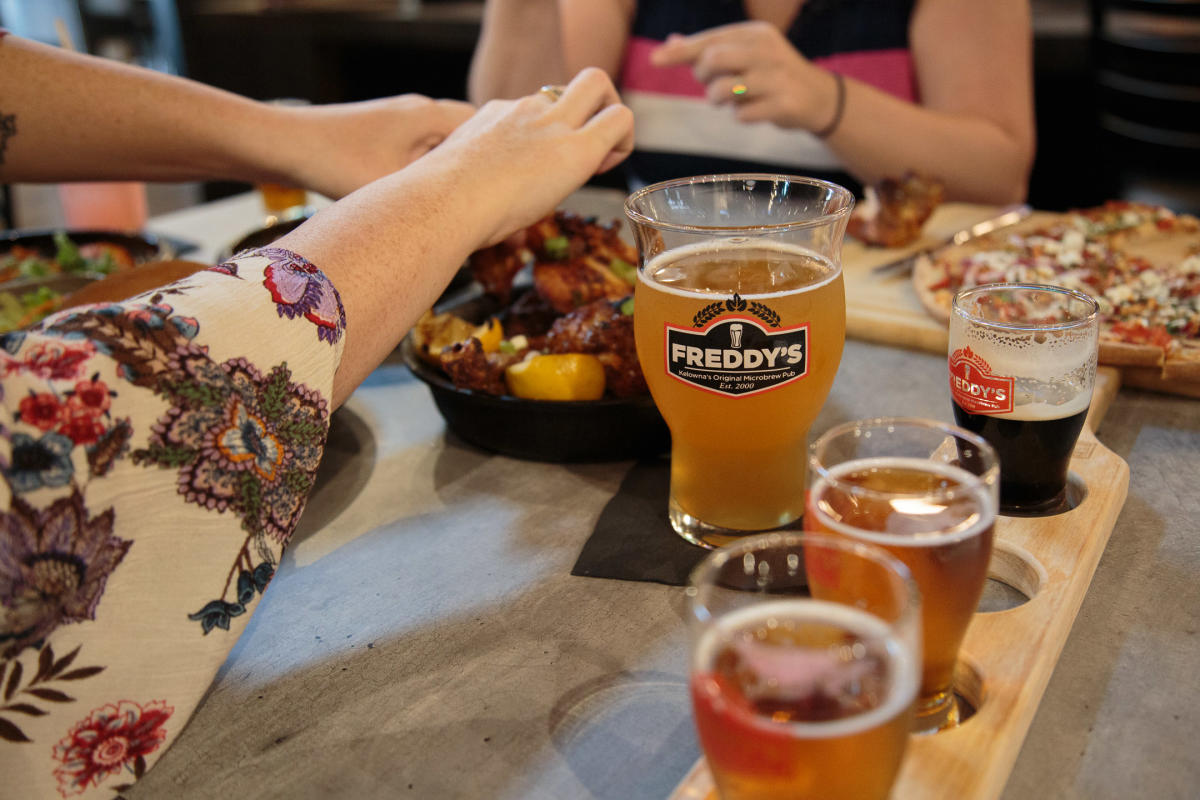 Photo credit: BC Ale Trail
Kelowna's original microbrewery, Freddy's Brewpub has been brewing and serving up pints for over 20 years. This well-established beer destination is loved for its casual atmosphere and entertainment on-site, McCurdy Bowling Centre. Whether you're looking for a place to watch a game, catch a comedy show with friends, or play a few frames with the family, Freddy's is the ultimate go-to for all ages.
With up to 14 rotating in-house taps, Freddy's has a beer for all drinkers. Those looking to throw back a classic will appreciate one of Freddy's originals, aptly named The Lebowski Lager, 100% pilsner malt makes it a crisp sip. Beer drinkers with a curious palette might choose the Monkey Wrench Hefeweizen, cocoa nibs are infused in the brew, and it has an aroma of banana and clove. For a beer with a local spin, knock back The Pollinator, a light ale made with local honey. Freddy's also shows some love for their neighbour Upside Cider with a rotating selection of ciders on tap.
Freddy's Brewpub recently went through kitchen renovations and kicked off a new menu full of drool-worthy dishes you'll have trouble choosing between. Snacking? Sample the Drop Kick Corn Dip or Thai Garlic Prawn Tacos. Looking for a burger or sandwich? Get your hands on a Fajita Burger or their Smoked Brisket Philly. How about a beer bestie, pizza? Made in-house with malts and grains, fire back the Trunkin Dropic or Fire Chicken. Finish with a sweet treat? Of course! Peach and Citrus Pie for the win.
Freddy's has bowling on site, but there's plenty more activity to check out nearby. Situated in McCurdy Corner, Freddy's Brewpub has some great neighbours. Catch a flick at Landmark Cinema's Grand 10 theatre, play a round of laser tag at EnergyPlex, or go virtual at Arcadia Virtual Reality Arcade.

Wild Ambition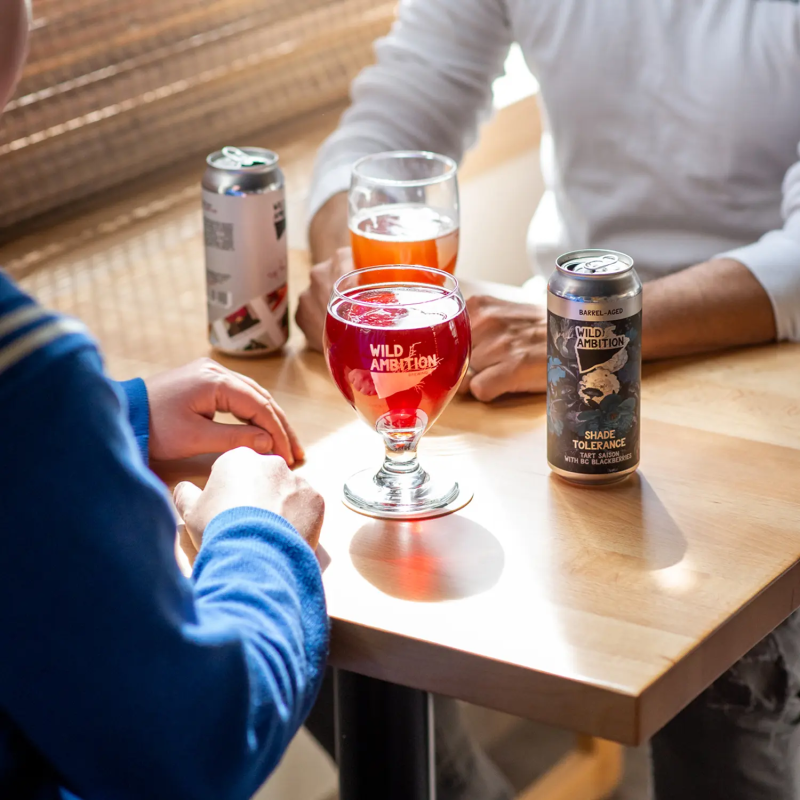 Wild Ambition strikes a balance between timeless brew techniques and modern ingredients and innovation. Touting a desire to stay wild and creative in their process, Wild Ambition is the only brewery in BC's interior focused on bottle-conditioned mixed fermentation ales. Their creative spirit spills into their Belgian brew café inspired tasting room; recently renovated in the spring of 2022. Their warm and welcoming space is inviting to all, offering lounge chairs by the fire, tables for groups of all sizes, and bar seating for a front-row view of all the pours.
Wild Ambition aims to use local ingredients in their brewing wherever possible. Their recent seasonal pour, Plum Pudding Model, was fermented using whole plums picked in Oyama, and their Boundary Brewing Co collaboration, Barrel Aged Sour Gruit, was infused with locally foraged botanicals like juniper and wormwood. Wild Ambition brewers ferment with multiple microbes, including wild yeasts, and all brews are naturally fermented in the bottle, can, or keg.
For those looking for a nosh during their visit, the brewery offers up a menu of excellent handhelds. Delicious paninis, grilled cheese sandwiches, burritos and wraps are served up to pair with a pour and include a variety to cater to all tastes including plant-based and kids. Looking to sip a pick-me-up along with your flight? Wild Ambition serves up both hot and iced coffee options with beans roasted by local favourite Bright Jenny Coffee.
Whether visitors to Wild Ambition are fueled by beer or espresso, when they're ready to explore more, the brewery's central location provides an adventure for any interest. Those looking for a challenge will love the thrill of Axe Monkeys. If variety is needed, try Scandia Golf & Games for a game of mini golf or arcade games galore. Art seekers should visit Geert Maas Sculpture Garden and Gallery or play a round of golf at Kelowna Springs Golf Club, weather and season permitting.

Kelowna Brewing Company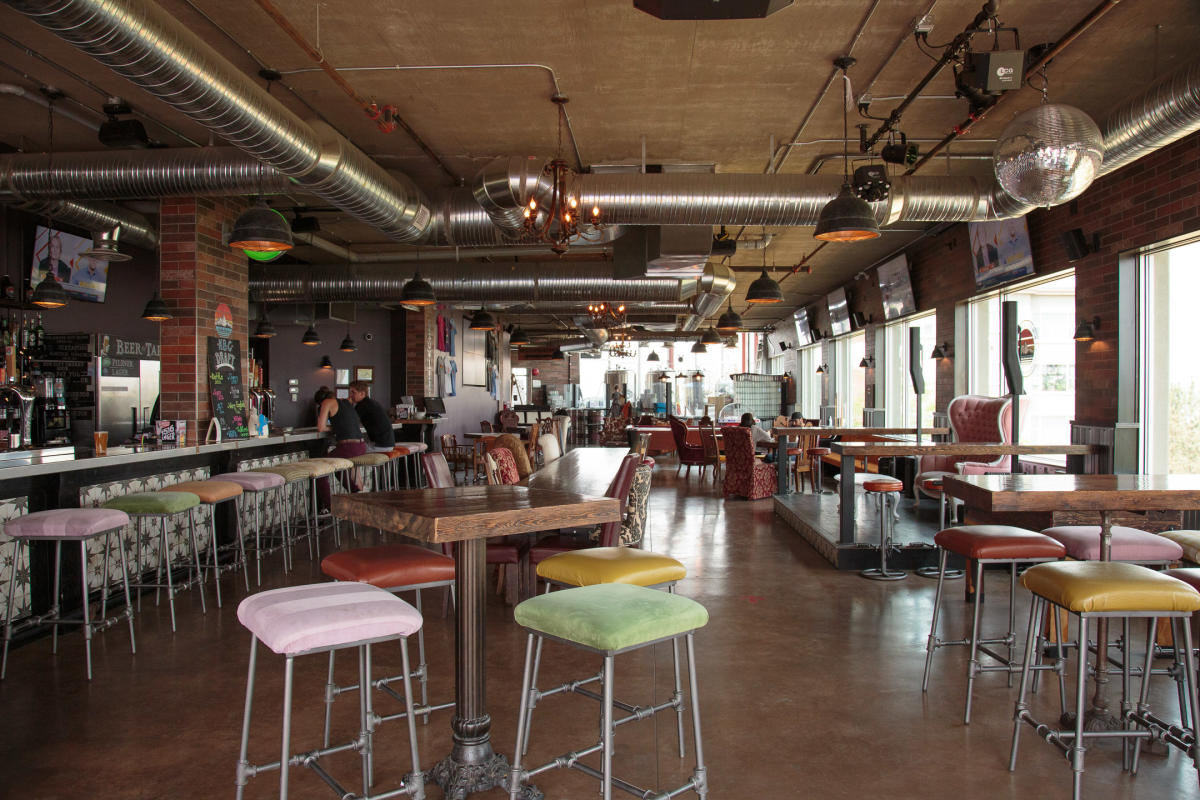 Photo credit: BC Ale Trail
Attracting students, neighbouring residents, and beer drinkers out to discover something new, Kelowna Brewing Company welcomes all.  Located just off the UBC Okanagan campus, the brewery has created a laidback space with an industrial, modern, and eclectic flair. Colourful seating makes for a playful scene, and large windows fill the pub with natural light and showcase expansive views, who wouldn't want a beer here?
The brewery hosts a variety of weeknight specials and weekend activities, ensuring there's always a reason to stop in for a brew. Canucks fans are treated to five free wings with their pint during game nights, so order a Traders Cove IPA (the West Coast style is well-balanced with a bite of hops) and start cheering. Taco and Tequila Thursdays call for a Hazy Colada, with notes of coconut and pineapple you'll be sure you're sitting on a beach. DJ sets on the weekends bring beer drinkers to the dance floor fueled by pints of Two Five Oh California Commons, juicy and complex flavours, and a smooth finish, just like those dance moves.
Kelowna Brewing Company is also a go-to for good food. Their kitchen doles out pub favourites such as nachos, lettuce wraps, burgers, and enchiladas, as well as a variety of lighter fare (salads and tofu bites), and hearty faves (mac and cheese and steak sandwiches). Breakfast lovers are in luck, Kelowna Brewing Company also serves up brunch on weekends, try their eggs benedict or avocado toast, and pair it with a Beermosa, Sunday Funday!
After your flight at Kelowna Brewing Company take flight at the KF Aerospace Centre for Excellence. Opened in August of 2022, the museum is a first in the valley. Visitors will surely be in awe of the hanger construction and immersive experience in aviation history and beyond.