Kelowna's beer scene has been established and growing for years. In downtown Kelowna, two breweries have proven to be anchors of the scene. Kelowna Beer Institute, an evolved and long-standing brewery with a small batch philosophy, and BNA Brewing, a beer-centred hot spot known for its love of all things local.

Kelowna Beer Institute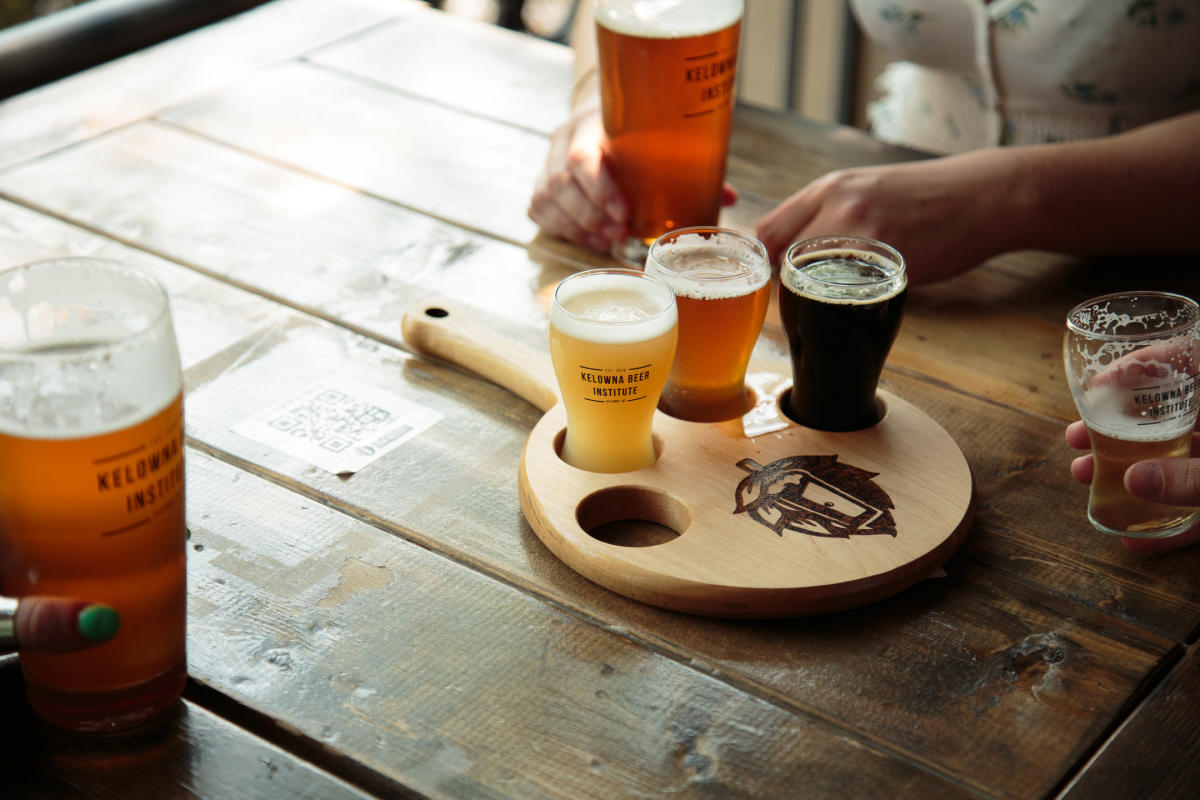 Photo credit: BC Ale Trail
Proud beer educators, Kelowna Beer Institute aims to share their love for what they produce with all their guests. Highlighting how it was made along with the inspiration behind it. Endlessly creative, Kelowna Beer Institute keeps things fresh with seasonal pours and weekly cask features. Thanks to Cask Thursdays recent guests may have sipped on the ESB, an easy-drinking and complex malt, or the Shipa-Azacca, a pine-forward single-hop IPA with notes of bright tropical fruit.
A visit to the brewery might include a taste of their Crusher Pale Ale, Juicy IPA, or the Giv'R, a blonde ale brewed to support the work of Gospel Mission. Great beer, great cause! Not feeling a pint? Try a beer-tail, cocktails all incorporating house brews in the mix. The Beer Institute has you covered if all that tasting has you famished. Their wickedly tasty pizzas are a staple, and the kitchen takes a waste-not mentality, using the spent grain from the brewing process to make the dough. Canadian favourite poutine, classic beer companion soft pretzels, tacos, wings, and more casual favourites are always on hand, and Wednesday nights are popular for their weekly burger feature.
Coming up at Kelowna Beer Institute is a lineup of fall events that can't be missed. Brewphoria, a three-day showcase of Okanagan breweries Nov 3-5, Kelowna Beer Institute's ever popular Stachion Show on Nov 26 supporting the Movember movement, and their Cask Advent calendar to highlight the holidays, 24 casks in 24 days, Nov 29 through Dec 22!

BNA Brewing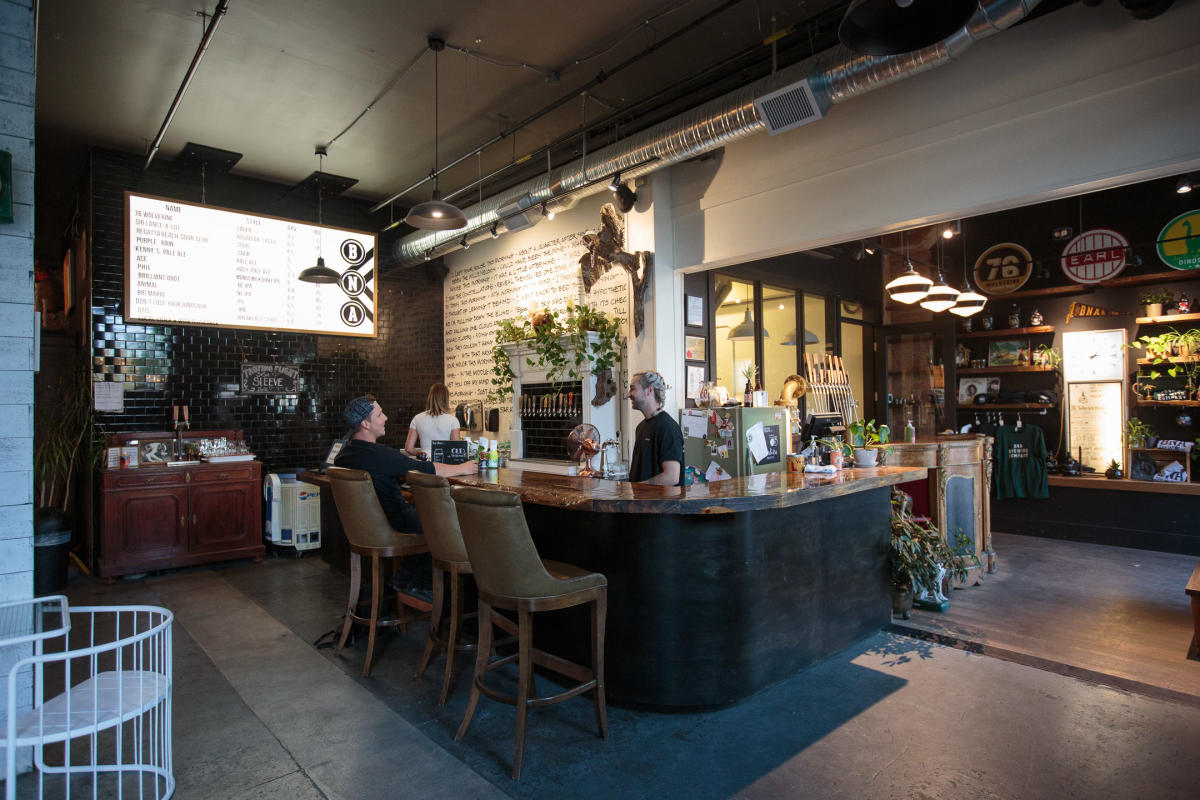 Photo credit: BC Ale Trail
Resident cool kids, BNA Brewing blends craft beer culture with a hip tasting room, local eats, and plenty of opportunities to play. A six-lane boutique bowling alley, bocce court, and classic arcade games adorn the eatery, while throwbacks like Skee Ball and dart boards bring the fun into the tasting room; prompting guests to stay for more than a flight. The tasting room at BNA serves up popular pours such as OTIS, a rich malt-flavoured oatmeal stout (newly available in cans) and Purple Rain, a perfectly tart kettle sour, as well as rotating features like the on-point for October Festbier, a German-style lager with straw grain colour, grassy notes, and biscuit aroma. Boxcar Kitchen brings the bites into the tasting room, with a flavour-packed menu including Bahn Mi, steamed buns, and the delectably loaded Boxcar fries.
Of course, beer reigns at BNA's eatery as well. Find all their house brews on tap, as well as thoughtful local wine curation and cocktails for all tastes. Their scratch kitchen food philosophy proves to pair perfectly with their craft beer ideals. Focused on house-made, the eatery showcases a balanced menu of staple dishes, like the popular from day one pork steamed buns, seasonal rotations, such as their zucchini or portobello fries, and chef features sure to make you drool.
Be there this weekend to close out the inaugural Kelowna Beer Week. BNA will be host to the breweries of the Central Okanagan Brewers Association. Eighteen breweries under one roof, pouring their favourites, with music from DJ Ghostcurb, and a pop-up shop from Cannery Vintage. This mini beer fest runs 12 pm-3 pm on Saturday, Oct 8, tickets are $20 and include two drink tickets!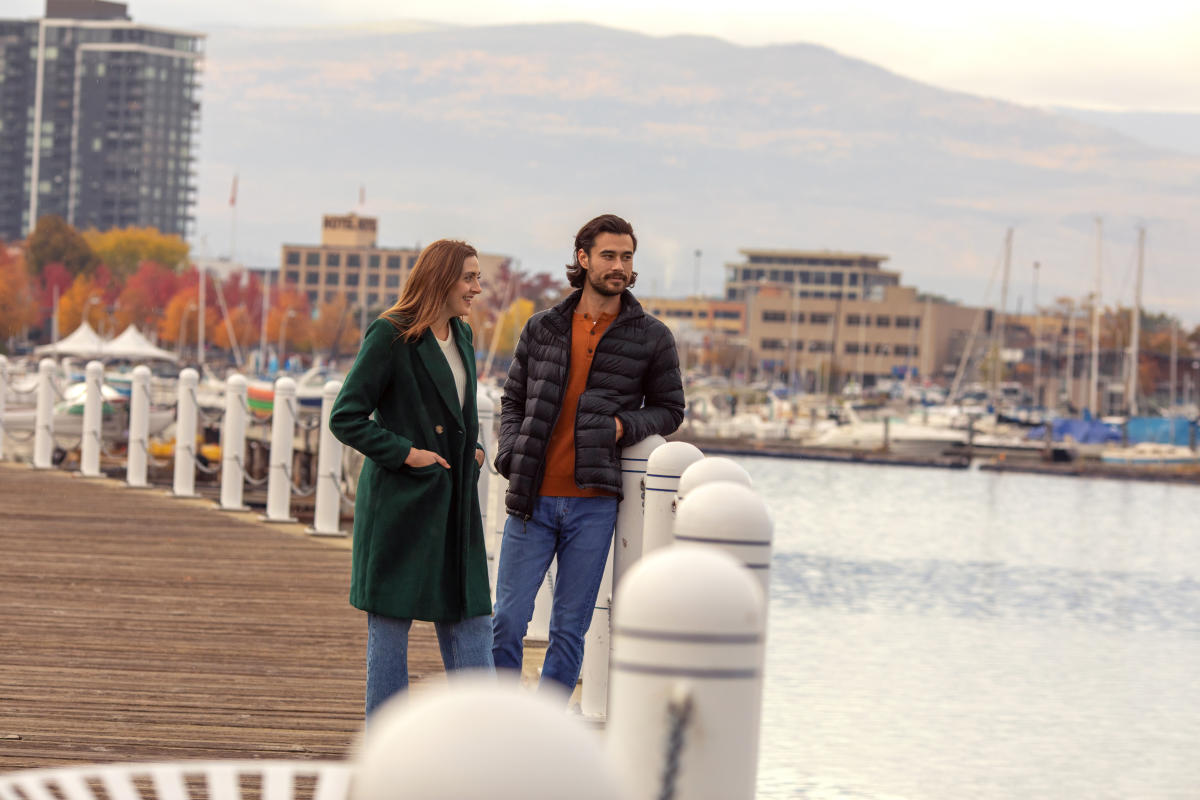 Waterfront Park Boardwalk. Photo by: Darren Hull Studios
BNA and Kelowna Beer Institute are in close proximity making beer hopping a breeze. Finish a pint at Kelowna Beer Institute and stroll the boardwalk of Waterfront Park. King Taps and Oak + Cru might tempt a pit stop for another appetizer or glass of lakefront wine. Take in the scenic pathways the park offers and consider taking the long way to your next sipping spot by stretching your walk to include Rotary Marsh; bird watching and beer is the next big thing, right? Cruise past The Shoppes at One Water St. including Analog Coffee for a quick pick-me-up before your next pour.
Turn down Water St. instead of taking the boardwalk and explore some of Kelowna's best arts and culture venues between brews. Packed into a few blocks between Kelowna Beer Institute and BNA lies the Kelowna Art Gallery, Rotary Centre for the Arts, and The Laurel Packinghouse; a corridor of exhibits, local history and intimate events. Comb Cannery Lane for locally focused apparel from Okanagan Lifestyle or wander down Ellis and peruse Hambleton Galleries and Lakehouse Home Store. There's so much to explore you may forget you came here for the beer.