When Andrea Weeks wrote a post about travelling with disabilities for her friends' accessibility blog and shared it on social media, she never dreamed it would lead to a gig as a content creator for Tourism Kelowna.
Andrea's wife, Cara Gerow, uses a wheelchair, so the couple is well-versed in accessibility when it comes to travel.
"Cara and I travel together so I know all the ins and outs of travelling in a wheelchair," Andrea explains. "Plus, I like to write."
Now, the duo behind the Instagram account @wheelationshipgoals will be chronicling their experiences around town on the #exploreKelowna blog.
Born and raised in the Okanagan Valley—Andrea in Summerland and Cara in Kelowna—the couple loves the city for its excellent food scene and many wineries, beaches, and trails. But with Cara as a wheelchair user and both of them members of Kelowna's LGBTQ2+ community, they see the city from a slightly different perspective.
Andrea has already written about their accessible staycation at Hyatt Place Kelowna and blogged about some of their favourite LGBTQ2+-friendly eateries and watering holes, but they've barely scratched the surface on all of the inclusive spaces in Kelowna. From an annual Pride Week every June to an LGBTQ+ curling club, Kelowna is a welcoming community.
"There seem to be tons of events, drag shows, and just openly friendly businesses that post it on their windows," says Andrea. "Obviously Friends of Dorothy is a great place—there never used to be somewhere like that in Kelowna, so that's really upped the game, I think."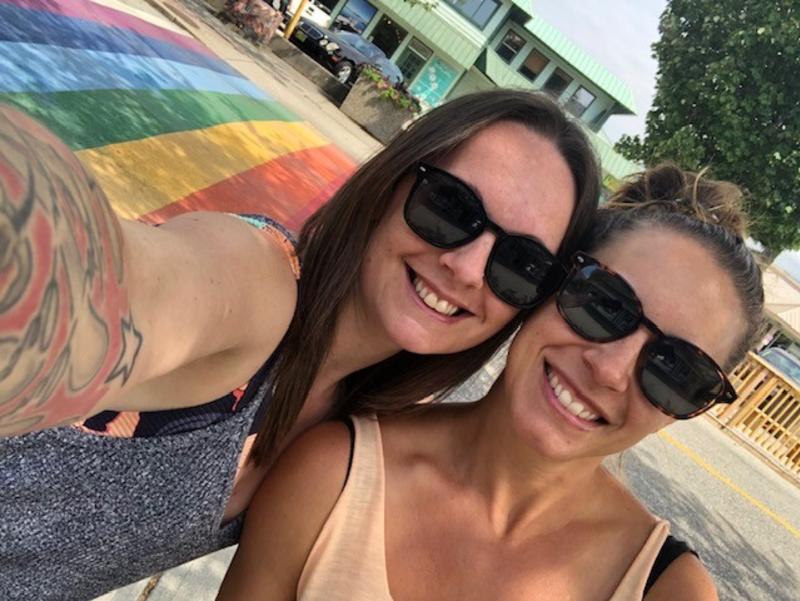 At the same time, the city has become more accessible to residents and visitors with mobility challenges, which is a huge lifestyle consideration for Cara.
"I find Kelowna is just so ahead of the game for accessibility. I don't really find many instances where I'm stuck (wheelchair-wise). If there is an obstacle, everyone who works here or lives here is so friendly and helpful," says Cara, who has been carried up the stairs at Earls by staff more than once. "And even at the beaches...Gyro and Rotary beach parks have ramps down to the water because obviously getting through sand is one of the trickier things being in a wheelchair."
She's also a fan of Gyro's waterproof wheelchairs, which have big wheels to handle the sand. "All of that kind of thing is really awesome."
The newly opened Okanagan Rail Trail is also completely barrier-free, with accessible washrooms along the route. And when it comes to getting off the beaten pathways, there's CRIS Adaptive Adventures, a company that specializes in helping children and adults with mobility, sensory or cognitive challenges access the great outdoors.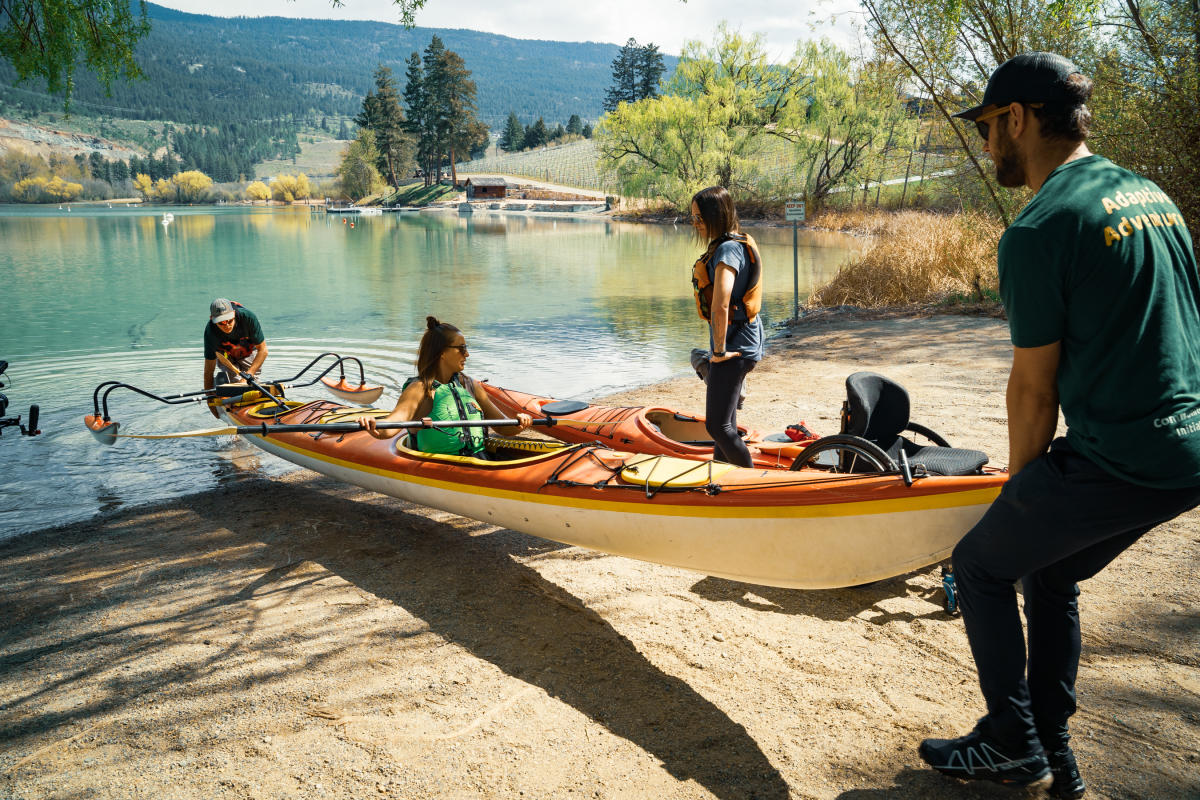 Cara and Andrea went on an adaptive hike with CRIS to the John's Family Nature Conservancy and blogged about Cara's experience in an all-terrain "trail rider" that was navigated by two guides.
"I had no idea this beautiful place existed," says Cara. "And I would never have been able to see those sights if it wasn't for the cool contraption that they had me on."
When friends and family visit, the couple wow them with their own twist on a Kelowna summer itinerary, including lunch at Summerhill Organic Bistro for the wine and views, a walk along the Waterfront Boardwalk downtown, and a visit to the accessible Myra Canyon trestles. They also love showing off Skinny Duke's Glorious Emporium, with its retro vibe and excellent Asian-fusion food, or the newly expanded (and super accessible) Red Bird Brewing.
Says Andrea: "It's always nice to showcase Kelowna."