When visiting the beautiful, bountiful Okanagan, the quest for many is to immerse into our vibe and totally "go local". Surrounded by farms and vineyards, the heart of our local culture scene here is our food and wine world. Local, sustainable food, farmer's markets, amazing wineries, breweries and drinkeries all present the chance to immerse yourself in our delicious world.
Here are nine of our top restaurants that offer the best of our local, sustainable cuisine.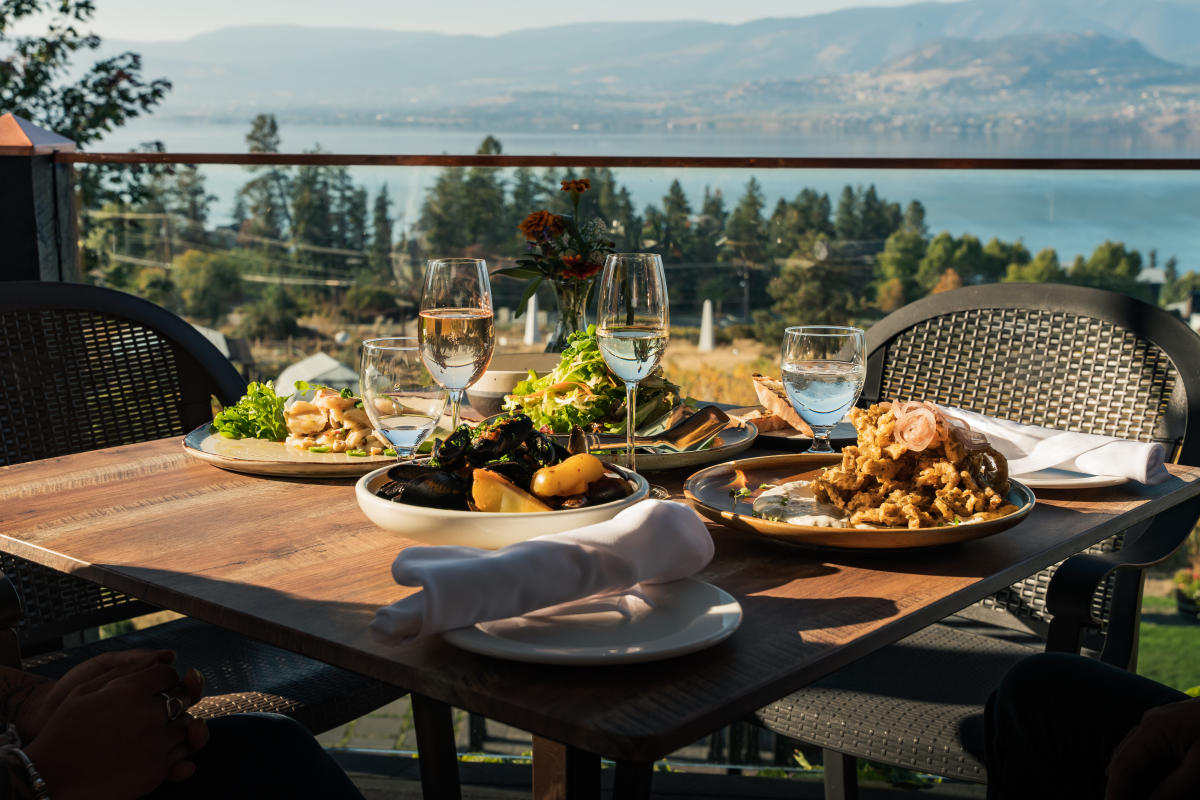 Photo by: Ken Hagen
Summerhill Pyramid Bistro at Summerhill Pyramid Winery ticks all the boxes. Organic food, organic vineyard, organic wine and here you can also enjoy a beautiful organic view of our sparkling Okanagan Lake while sipping a glass of their award-winning sparkling wine. Here you can also book wine tours, and tastings (including a tasting inside their incredible for reals pyramid!)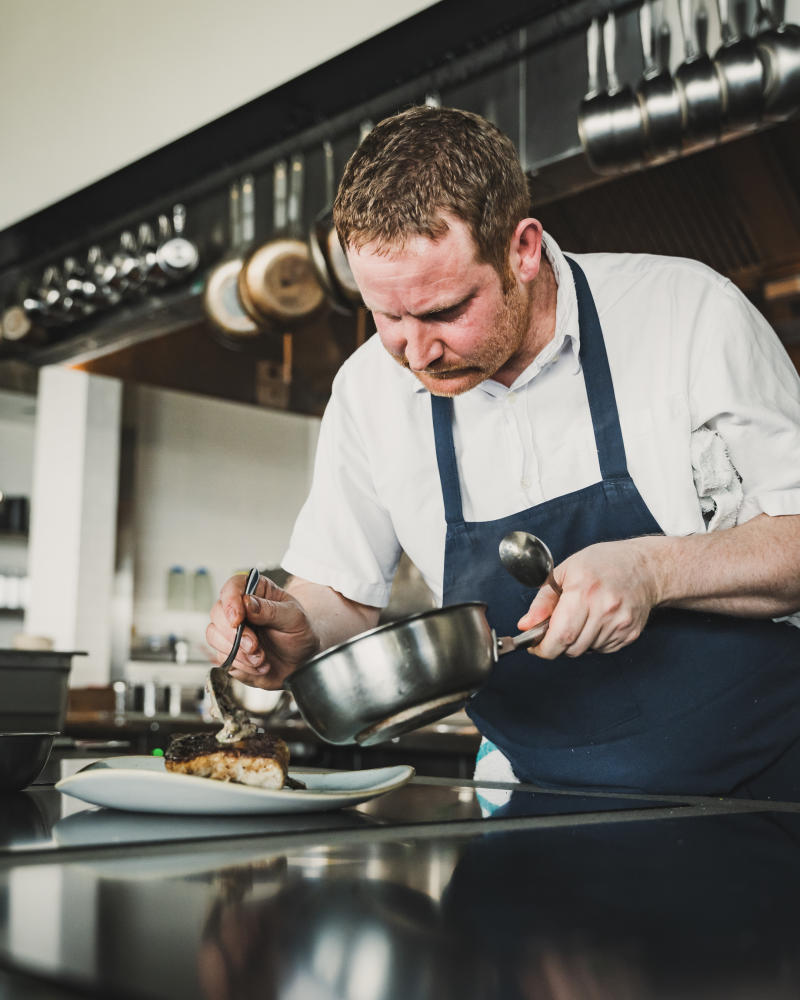 Photo by: Ken Hagen
One of our top destinations for five-star cuisine served alongside one of our most renowned wine labels is at Home Block at CedarCreek Estate Winery. Also offering incredible lake views over organic vineyards, CedarCreek Estate Winery is a member of one of Anthony Von Mandl's family of wineries that have all gone organic. Chef Neil Taylor has created a stunning menu that evolves around his philosophy of sourcing and promoting local, sustainable, seasonal food and has also crafted perfect food and wine pairings with winemaker Taylor Whelan.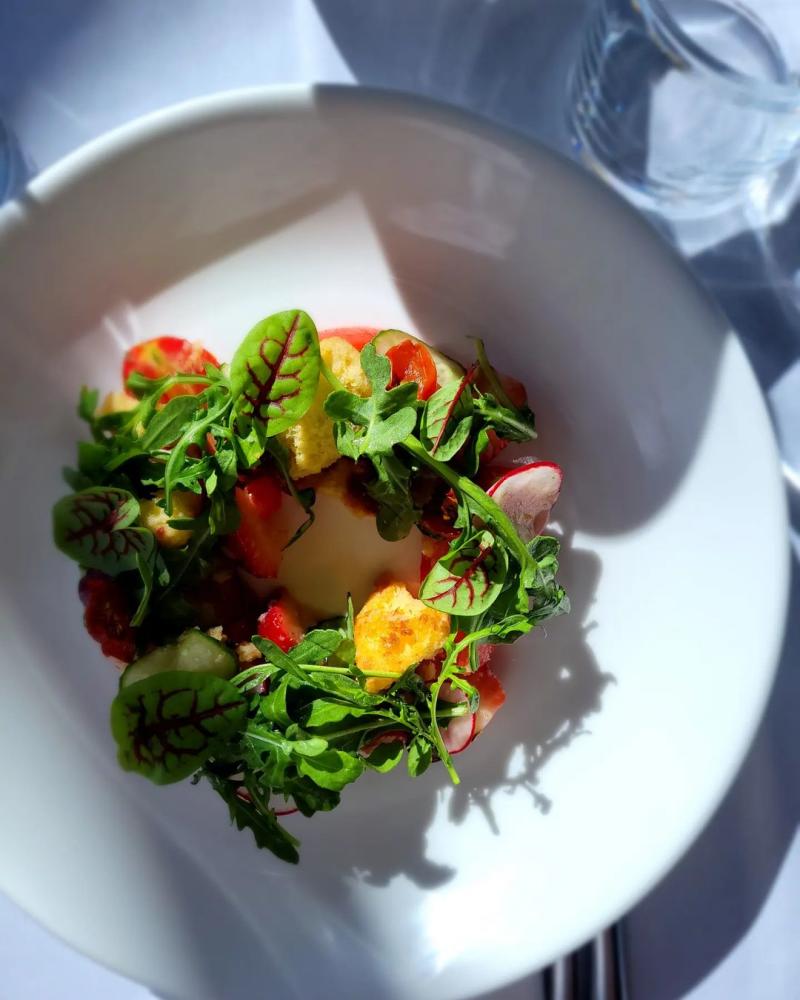 Tomato Strawberry Panzella
Erica Jane is Kelowna's newest, hottest restaurant ticket and the man behind the kitchen helm is Chef Chris Braun. Celebrated for his fine, innovative cuisine, Chris himself was born and raised on an Okanagan farm and his philosophy of farm-to-table eating was fully integrated into his life from a young age.  The menu here is high-end, sophisticated and has been receiving rave reviews.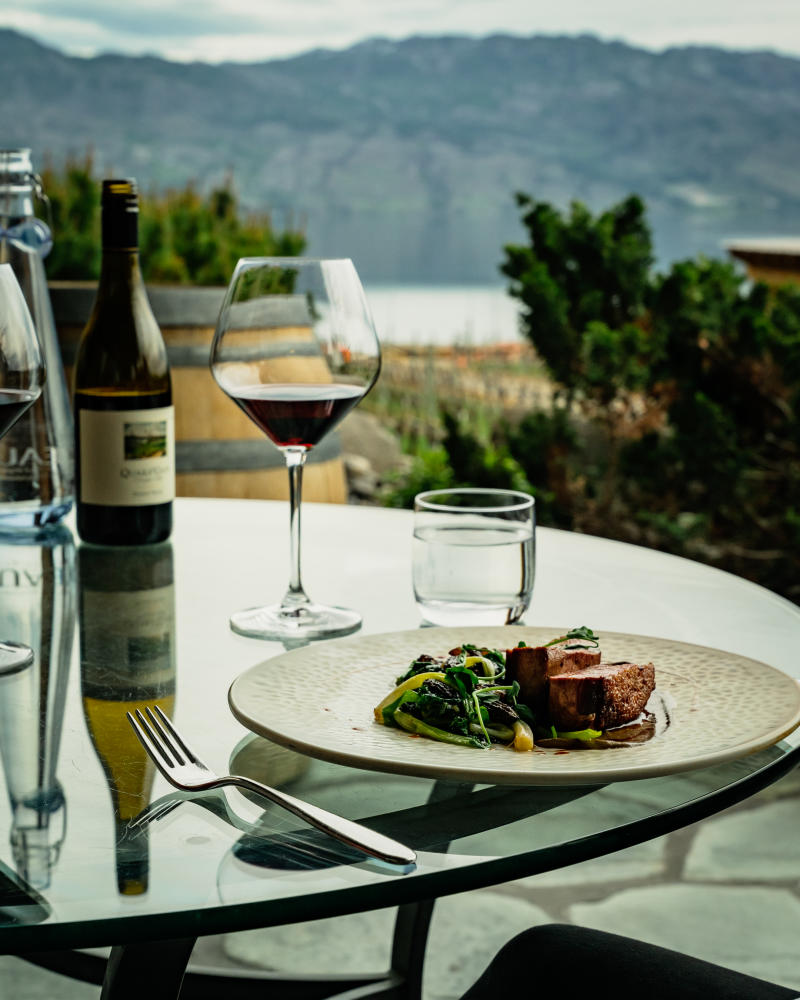 Photo by: Ken Hagen
Quails' Gate Winery's Old Vines Restaurant has long been one of our ultimate local food and wine experiences. Beautifully set amongst Quails' Gate's historical vineyard, Executive Chef Roger Sleiman was a pioneer in creating a menu sourced from local producers as well as having his own winery garden. Here you will get lost in the charm of wine country and can stroll through the lake viewed rows of grapes before or after your exquisite meal.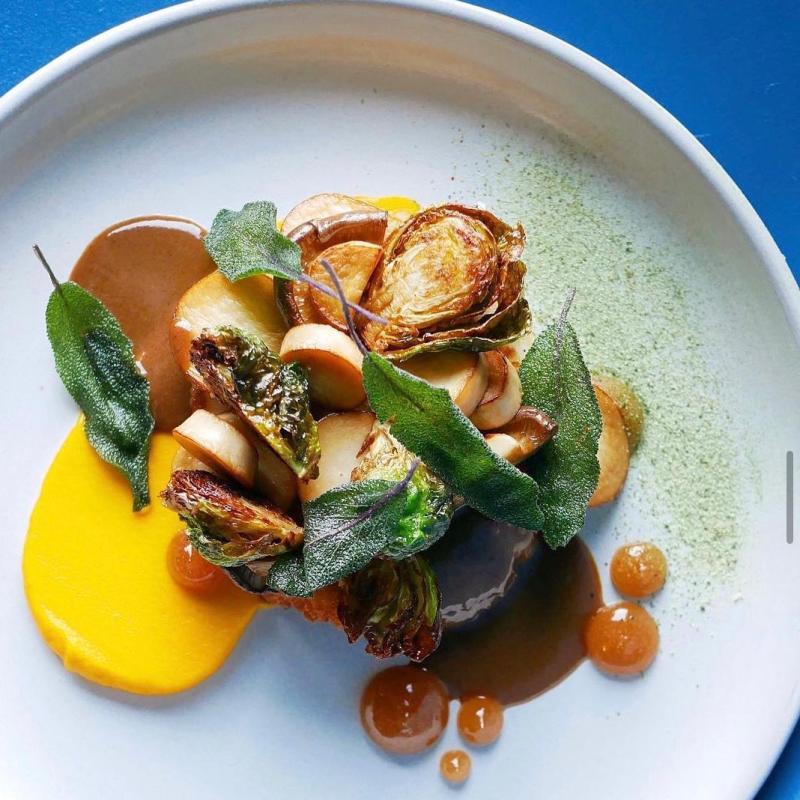 Chef Mark Filatow is and always has been radically local. Named the Okanagan's Best Restaurant 11 years running, Waterfront Wines has the feel of a neighbourhood restaurant with a high-end menu.  Also a sommelier, Chef Filatow's menu is created with wine pairings in mind and the wine list here offers some of our best wines - including those from the hard-to-source small producers.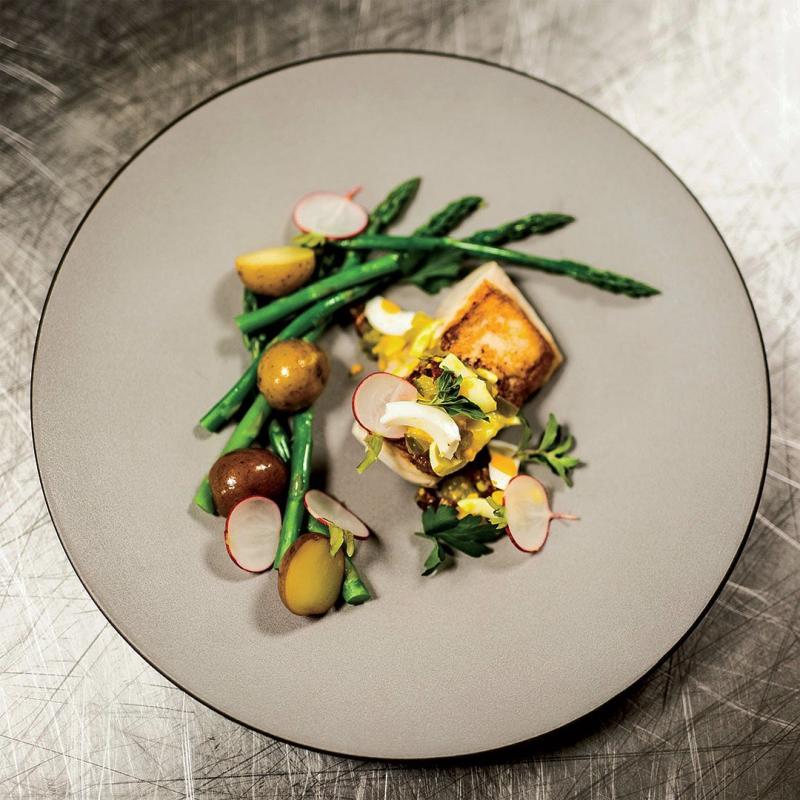 Halibut and tender spring asparagus
Raudz Regional Table was led to glory by one of B.C.'s first chefs to source local, owner Chef Rod Butters. His illustrious career has always been around the local farmers, foragers, fishers and producers -from Island to Okanagan. Located in the heart of downtown Kelowna, Raudz is a go-to for local food and drink.

Oyster Po' Boy
The Broken Anchor — formerly The Table Café — is a small seafood restaurant in Kelowna with a 100% sustainable seafood policy. Located literally right beside our local fishmonger, Codfathers Seafood, here you can enjoy Chef Ross Derrick's delicious fish and chips or fish tacos or dive into his classic West Coast Seafood Stew.
Big Brunch Bowls
Casual, hip and fun, Krafty Kitchen + Bar is located in a cool brick building in downtown Kelowna. Complete with a patio and a block from City Park, this bistro feeds their crew of regulars locally focused, farm-to-table cuisine and a dynamite list of cocktails and bevies. The Hiphop brunch is not to be missed with a killer menu featuring Big Brunch Bowls and Benedicts.