Here are two simple warm drinks that you can make at home and stay warm and cozy.  Whiskey is always been my winter spirit and I love using coffee and tea in this season as well. 
The whiskey I'm using is made from grain corn harvested from Coldstream Valley, Okanagan Spirits introduced BC's first Bourbon-style Corn Whisky, BRBN. After a carefully monitored distillation process, the BRBN whisky is put down to rest and mature in carefully selected American toasted oak casks. The BRBN is available at Okanagan Spirits on Bernard Avenue.

Blossoming Hot Toddy
.25oz Lemon juice
.25oz Arlo's or Brainy Bees honey (according to your taste)
1 bud Chaibaba Blossoming green tea flower (jasmine, peach or any green tea can be used as a substitute) 
4oz hot water
Garnish lemon wedge and cloves
Directions
Steep the tea in hot water for 3 to 4 minutes to infuse. Note that I used a blossoming tea which flowers open, so measurements will change if you use other loose teas. In a glass, pour in the BRBN Whiskey, honey, and lemon juice. Then pour in the hot tea and stir to combine and garnish with a lemon wedge.
 

Okanagan Coffee
Directions
In a warm glass, pour in the BRBN Whiskey, sugar, and hot coffee, but leaving enough space for the whipped cream finish. Then give it a quick mix to combine the drink before putting whipped cream on top. Garnish the drink with freshly grated nutmeg to add some spice to the mix

Try these other delicious local cocktails:
---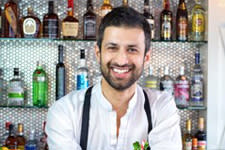 Harry Dosanj is a locally celebrated and award-winning mixologist, who loves supporting local businesses and creating seasonal beverages. You can find Harry mixing drinks as the Lead Barman at the Eldorado Hotel.
Check out Harry's work here:
Facebook: Bar Travelling Man | Instagram: @harrydosanj |