Le Dîner en Blanc was held for the fourth time in the Okanagan last week.

Taking place in more than 20 countries around the world, this annual pop-up picnic brings together people to share laughs and a sense of community. This year, over 1,100 attendees gathered in Downtown Kelowna beside the beautiful dolphin fountain in Waterfront Park.
There are a few key rules to the event - everyone must wear white and bring white table settings. Because the location remains a secret until hours before the event, all guests must meet at assigned departure locations before being escorted to the picnic by a table leader.

We captured some of the smiles and magic from this year's event…
---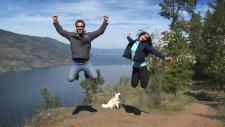 Wesla Wong & Duane English are meteorologists based in Kelowna. When not looking at weather charts, you will find the couple skiing, playing music or hiking with their dogs - enjoying everything that the Okanagan has to offer.