Nothing is as delicious as eating fresh, local food - so whenever possible I stop at local farms and orchards to grab my ingredients. In the winter, a great one-stop shop is the Kelowna Farmers' & Crafters' Market (outdoor market opening April 1, 2017) and Quality Greens (open 7 days / week).  
In celebration of St. Patrick's Day, try this Lamb Irish Stew.  It will stick to your bones and pair nicely with your green beers and Irish stouts.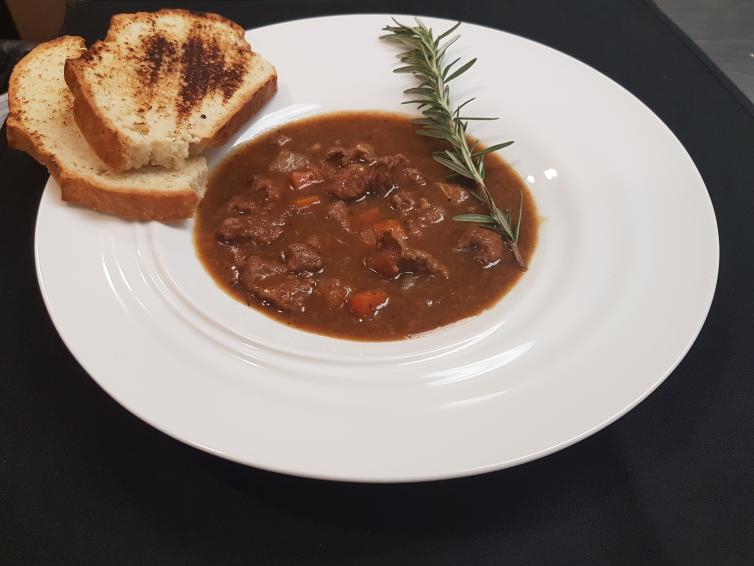 Recipe: 10 servings
Ingredients    
1 1/2 pounds thickly sliced bacon, diced (L&D Meats in Kelowna)
6 pounds boneless lamb shoulder, cut into 2-inch pieces (Kelowna Free Graze Lamb)
1/2 teaspoon salt
1/2 teaspoon ground black pepper
1/2 cup all-purpose flour
3 cloves garlic, minced
1 large onion, chopped 
2 large onions, cut into bite-size pieces
1/2 cup water
4 cups beef stock
2 teaspoons white sugar
4 cups diced carrots
3 potatoes
1 teaspoon fresh thyme
2 bay leaves
1 teaspoon fresh rosemary
1 cup Irish whiskey
1 cup local white wine
Directions
Place bacon in a large, deep skillet. Cook over medium-high heat until evenly brown. Drain, crumble, and set aside.
Put lamb, salt, pepper, and flour in large mixing bowl. Toss to coat lamb evenly. Brown lamb in frying pan with bacon fat.
Place meat into stock pot (leave 1/4 cup of fat in frying pan). Add the garlic and bite-size pieces of onion and sauté till they begin to become golden and caramelized. Deglaze frying pan with 1/2 cup water and add the garlic and remaining chopped onion mixture to the stock pot with bacon pieces, beef stock, and sugar. Cover and simmer for 1 1/2 hours.
Place Irish Whiskey in a pan on medium-high heat for several minutes to burn off alcohol and then add to stock pot.
Add white wine, carrots, potatoes, thyme, rosemary, and bay leaves to stock pot. Reduce heat and simmer covered for 20 minutes until vegetables are tender.

Garnish with rosemary sprig and serve with fresh baked soda bread.
Soda Bread
Ingredients
4 cups all-purpose flour
4 tablespoons white sugar
1 teaspoon baking soda
1 tablespoon baking powder
1/2 teaspoon salt
1/2 cup margarine, softened
1 + 1/4 cup buttermilk
1 egg
1/4 cup butter, melted
Directions
Preheat oven to 375 degrees F (190 degrees C). Lightly grease a baking sheet.
In a large bowl, mix together flour, sugar, baking soda, baking powder, salt and margarine. Stir in 1 cup of buttermilk and egg (reserve the remaining buttermilk). Turn dough out onto a lightly floured surface and knead slightly. Form dough into a round and place on prepared baking sheet. In a small bowl, combine melted butter with remaining 1/4 cup buttermilk; brush loaf with this mixture. Use a sharp knife to cut an 'X' into the top of the loaf.
Bake in preheated oven and check for doneness after 30 minutes. Continue to check periodically until a toothpick inserted into the center of the loaf comes out clean, Depending on oven, average time: 45 to 50 minutes. You may continue to brush the loaf with the butter mixture while it bakes.
Enjoy!
---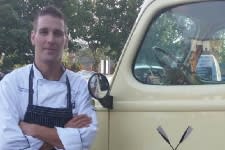 Chef Vince Van Wieringen is a red seal endorsed Chef, with creative culinary skills, extensive food and beverage experience and a passion for food. Vince's menus focus on Farm to Table and seasonal dishes with ingredients that feature local farmers, orchards, meats, and sustainable BC seafood. He is Executive Chef at Hotel Eldorado and the current President of the Vernon and District Metis Association.