The Kelowna area is home to several wine trails. This week we showcase the wineries on the Scenic Sip Wine Trail in Lake Country. Bring your camera - most of the wineries on this trail have great views of the lake and some of them even have nice patios for guests to enjoy a snack and a glass of wine. A few of the wineries also have picnic tables where visitors can bring their own lunch.

Stops along the Scenic Sip Wine Trail include Ancient Hill Estate Winery, Arrowleaf Cellars, Gray Monk Estate Winery, 50th Parallel Estate, and Intrigue Wines. 
---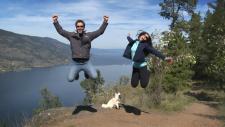 Wesla Wong & Duane English are meteorologists based in Kelowna. When not looking at weather charts, you will find the couple skiing, playing music or hiking with their dogs - enjoying everything that the Okanagan has to offer.