After a winter of exploring local with the family, it was time to drop the kids off with Grandma and Granddad for a weekend to explore some of the many adventures Kelowna and the Okanagan have to offer. This staycation was the perfect combination of spontaneous adventure, local eats, and a few beverages with a view.
The first order of business almost always includes coffee. Our travels led us to a local gem in the Lower Mission, It's a Bakery. Although we were in for a coffee to enjoy on the way to our next stop, we ended up loading our backpack with cookies, pastries, and sandwiches to bring along for a picnic lunch in the afternoon.
Our next stop was to John's Family Nature Conservancy, a 400+ hectare regional park with several trails, sweeping views, and a few extra points of interest. While hiking along the Crags Trail to catch some views of Okanagan Lake, we could hear a few voices off in the distance. Upon further investigation, we noticed several small groups of climbers scaling the side of Cedar Mountain. We spent some time watching in wonder as lead and top rope climbers scaled the Kelowna Crags. We continued along the trail to the summit of Cedar Mountain where we found 360-degree views of Kelowna, Okanagan Lake, and the rolling hills below. A bench made of stacked rocks became the perfect place to enjoy our picnic lunch while taking in the view.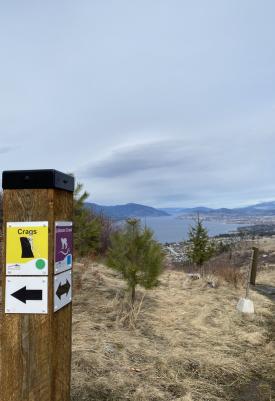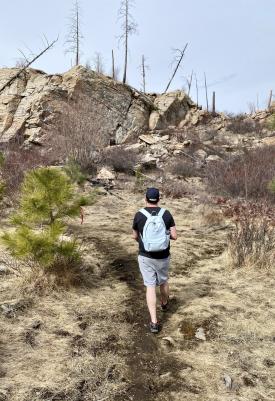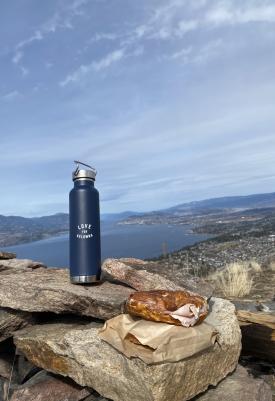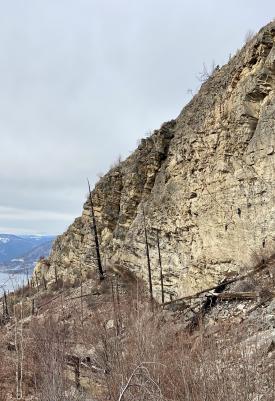 *Note spring is a time to use caution and observe for Rocky Mountain Wood Ticks and other species.
After completing our hike we pulled in to the Eldorado Resort to check in to our night's accommodation. The helpful staff at the 24hr desk in the Manteo informed us we would be staying in a Heritage Room at the Hotel Eldorado. Our room was charming and elegantly decorated with historic photos and heritage style furnishings. We dropped our bags and then took in the view of the Eldorado Marina and Okanagan Lake from the private balcony. While checking in we had booked a one-hour timeslot at the indoor pool and hot tub where you will find floor to ceiling windows facing the waterfront boardwalk, and an antique rowing skull hanging from the ceiling.
We made dinner reservations in advance at Summerhill Pyramid Bistro, just a short 15-minute drive from the Eldorado Resort. To get us there safely and in style, we booked transportation with Current Taxi who boasts an all-electric Tesla fleet including the model 3, S, and X, at the same price as a regular cab fare. As we were dining during earth hour we were happy to hear that our round trip with Current Taxi saved 2.2 KG of CO2e.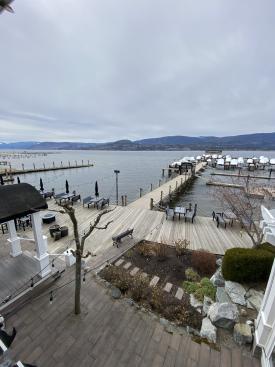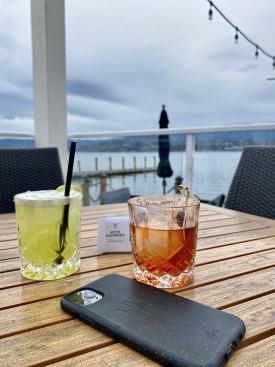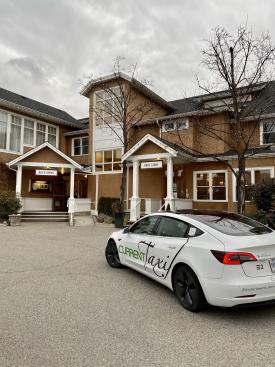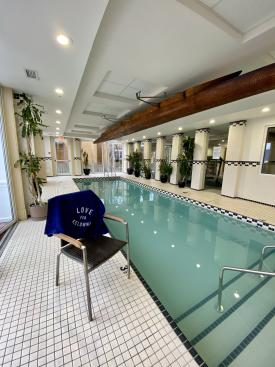 With a fully organic menu packed full of vegan, gluten-free, and savoury options all to be paired with organic wines, cocktails, or other beverages there is something new, or familiar for everyone. We tried our first vegan calamari dish and I can tell you, it did not disappoint! Made with breaded and seasoned oyster mushrooms, if we weren't told it was vegan, we could have been easily fooled into thinking it was traditional calamari. Paired with a bottle of 2020 Summerhill Syrah Malbec Rose Krysta chose the Pork Belly Gnocchi while I continued the vegan theme and enjoyed a Tofu Saganaki.
After a ride back to the hotel in a Tesla Model S with Current Taxi, we realized our Sunday morning alarm clocks were still staying the night with their grandparents and we weren't quite ready to call it a night. Instead, we enjoyed the famous "El" Smokeshow Old Fashioned and an "El" Diablo at the Lakeside Dining Restaurant while watching the boardwalk and city lights glisten off of Okanagan Lake.
The next morning we enjoyed a stroll along Gyro Beach into the Pandosy Village where we window shopped and supported local including a new sustainable discovery for us at Fill – Kelowna's Refill Store. From there we stopped by Diner Deluxe where reservations are politely declined but you can put your name on the waitlist online or in person. If brunch with mimosas or Irish coffee is your thing, this is your place. The stuffed French toast with brie, apple jam, Canadian bacon, on egg dipped sourdough isn't so bad either.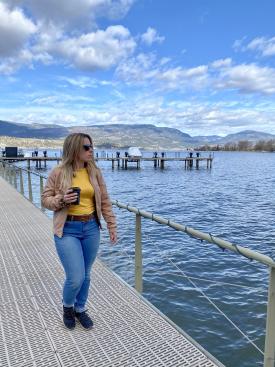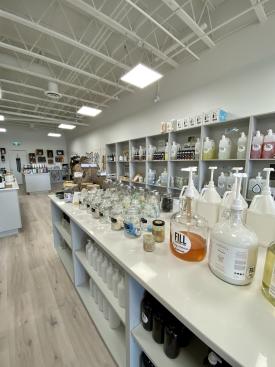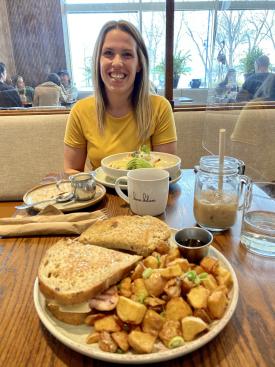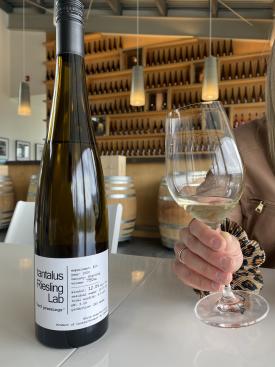 The final stop of our weekend staycation was Tantalus Vineyards on Dehart Road. This 40-acre LEED (Leadership in Energy and Environmental Design) certified winery is on the shortlist as one of Canada's very best Riesling producers. Their gallery-style tasting room has picturesque views of Kelowna and Okanagan Lake. On April 1st they will be releasing 12 new wines and opening tasting appointments, bookable online or by phone, for the 2021 season.
Although we were only 20 minutes from home and our staycation lasted two days we were able to discover several new-to-us experiences and get a much-needed break from the daily grind.