Kelowna's winter folk festival, Fireside Sessions, is back for 2018. Each year, the buzz and reputation of this event seems to intensify, and many in the local music scene are already talking about the upcoming festival.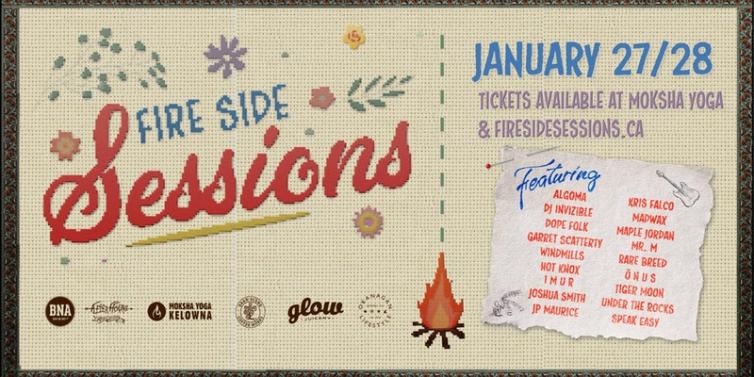 Fireside Sessions began as a house concert, but over the five years since its inception, it has grown into something much more substantial - it will span two days this year. Aaron DeSilva is the man behind the event, and he believes it's the culture around the festival that makes it so special:
"Fireside Sessions was created to bring like minded artists and businesses together to enjoy live music and delicious food and drinks in the heart of the winter. It's now a full weekend event with live acoustic music at the downtown Bean Scene on Saturday afternoon, kick off party at BNA Saturday night and all day event on Sunday."
Fireside Sessions 2018 will take place over Saturday, January 27th and Sunday, January 28th, 2018. The music you will hear will be predominantly folk influenced, but you'll also be treated to performances from DJs, a hip-hop act and more. The weekend schedule is as follows:
Saturday, Jan 27th
12:00 pm - 4:00 pm at downtown Bean Scene (no cover) - 371 Bernard Avenue
8:00 pm - 1:00 am at BNA Brewing Co. & Eatery - 1250 Ellis Street
Sunday, Jan 28th
2:00 pm - 12:00 am at BNA Brewing Co. & Eatery
With coffee, craft beer, awesome food and some of our region's best folk artists, there will no shortage of things for locals and travellers alike to enjoy at Fireside Sessions 2018.
Please note all ages are welcome at BNA until 10 p.m. Kids (16 and under) get into the BNA portion of the festival for $15, while adults can get in for $50 (admission for both the Saturday and Sunday). There's no cover at Bean Scene. Tickets can be purchased HERE. They can also be bought in person at Moksha Yoga (2900 Pandosy St #206).
Here is the artist line up for Fireside Sessions 2018 (in alphabetical order):
Algoma - Kelowna, BC
Deepsounds - Kelowna, BC
DJ Invizible - Kelowna, BC
Dope Folk - Kelowna, BC
Garrett Scatterty - Kelowna, BC
Hot Knox - Kelowna, BC
I M U R - Vancouver, BC
Joshua Smith - Kelowna, BC
JP Maurice - Vancouver, BC
Kris Falco - Kelowna, BC
Madwax - Kelowna, BC
Maple Jordan - Kelowna, BC
Mr. M - Kelowna, BC
Õ n u s - Kelowna, BC
Rare Breed - Kelowna, BC
Speak Easy - Kelowna, BC
Tiger Moon - Kelowna, BC
Under the Rocks - Kelowna, BC
Windmills - Vernon, BC
Thank-you for reading my column. It's my pleasure to write about the fantastic musical people, events and venues in our community. I wish you a healthy, happy and successful 2018! Cheers.