As a strong culinary destination that has hosted many events over the years, Kelowna has become well known across the country for its exceptional food scene. Long renowned as an agricultural paradise, Kelowna has attracted a premium crop of passionate growers and chefs whose close-knit partnerships create a true Farm to Fork dining experience.

Curated Culinary Gardens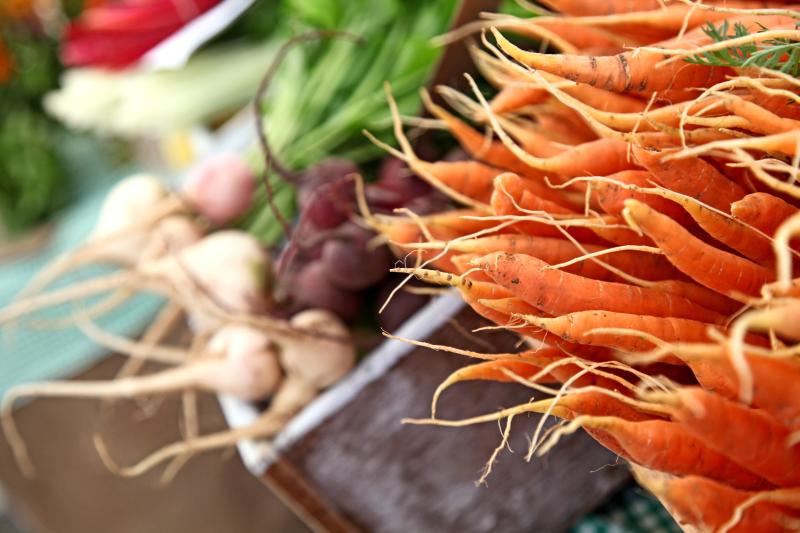 Photo by: Salt Food Photography
Just as wine is only as good as the grapes grown, a dish is only as good as the ingredients used. In Kelowna, we are fortunate to have an abundance of fresh, local produce at our fingertips including independent farms, restaurant culinary gardens or at local markets.
At Summerhill Pyramid Winery's Organic Bistro in South Kelowna, the Cipes family were pioneers of the organic movement in the Okanagan and their organic and biodynamic philosophies extend into the culinary program as well. The kitchen and garden team work together to bring their guests organic vegetables and herbs year-round in a variety of ways – fresh, preserved, canned and fermented.
Block One Restaurant at 50th Parallel Estate Winery also boasts a one-acre culinary garden where Executive Chef Kai Koroll (who represented Kelowna at the 2020 Canadian Culinary Championship in Ottawa) and his team create seasonally inspired dishes that showcase the splendour of the Okanagan and a truly local farm to table experience.
Unforgettable Experiences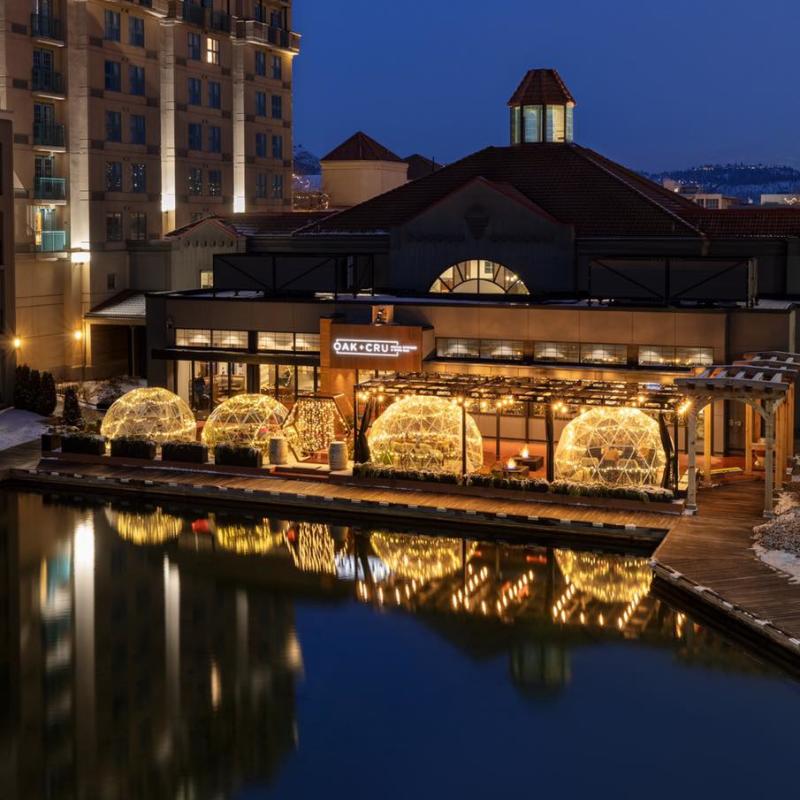 Oak + Cru's Luminescence 
Whether you're looking to wow a client, showcase local flavours to your visiting delegates or just simply have an exceptional night out, Kelowna has a broad range of experiences ready to impress.
In the heart of downtown, Chef / Co-Owner Rod Butters and Co-Owner Audrey Surrao of RauDZ Regional Table have been at the forefront of farm to table cuisine for 20 years – long before it was trendy. With an ongoing commitment to community and sustainability, RauDZ keeps things as local as possible with 92% of their food coming from local suppliers and 100% of their wines by the glass list is from BC.
At Oak + Cru Social Kitchen & Wine Bar (located at the Delta Hotels by Marriott Grand Okanagan Resort), their menu is inspired by the Okanagan. Executive Chef David Foot and his team create modern, globally inspired dishes with a farm to table twist. The restaurant's spectacular waterfront patio offers the perfect backdrop for year-round culinary adventures – from soaking in the summer sunshine, to savouring the magic of their Luminescence outdoor culinary experience in a heated dining globe.
Located walking distance from Oak + Cru, Waterfront Wines Restaurant offers an intimate dining experience that is sure to impress. Recently inducted into the Vancouver Magazine Restaurant Awards Hall of Fame, there is good reason that Executive Chef/Sommelier Mark Filatow and his team have been named Best Okanagan Restaurant 11-years running. Their upscale comfort food is hand-made with care using fresh, seasonal Okanagan flavours perfectly blended with international influences which, when paired with their perfectly curated local wine list, is a match made in heaven.

Learn more about Kelowna's Farm to Table dining experiences or for information on how to incorporate these exceptional dining experiences into your next meeting or event, contact us today.