Kelowna stood in for Sonoma, Calif. in the winery romance Raise a Glass to Love. Crystal Mountain in West Kelowna played the Alaskan wilderness in Daughter of the Wolf. And K-town was both New York City and small-town America in Sweet as Pie.
The Okanagan Valley's uncanny ability to be a chameleon location across four seasons—there are cities, lakeside resorts, forests, vineyards, mountains, quaint neighbourhoods, a desert, and snowy ski areas—has increased its allure as a filming location in recent years.
'Recon' film production. Photo credit: Okanagan Film Commission
A whopping 36 productions were shot in the area in 2021, and the projection for 2022 is even higher, at 40, says Okanagan film commissioner Jon Summerland.
"The thing about British Columbia is it can play anywhere," says Summerland. "Osoyoos has been Mexico. We've been Europe—the North Okanagan was Italy in World War II. We're Northern California all the time. We were Alaska in August."
The valley is often associated with meet-cute romance stories. Hallmark has filmed a number of movies here including A Winter Princess, shot at Big White Ski Resort, and the aforementioned Raise a Glass to Love, which featured southeast Kelowna's Mirabel Vineyards. 
But that reputation is starting to change. Thrillers and gritty crime dramas have been filmed here, too.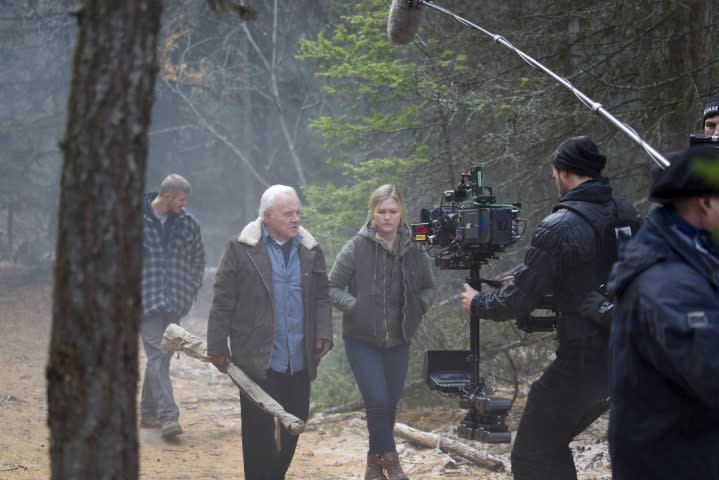 'Blackway' film production. Photo Credit: Okanagan Film Commission
"When you're making movies, you're not always looking for beauty," says Summerland. "We're looking for ugly all the time."
Rick Dugdale, president and CEO of Enderby Entertainment, is very familiar with Kelowna's ugly side. He shot the thriller Blackway here in 2014. In the movie, Kelowna is a remote Pacific Northwest logging community where a woman (played by Julia Styles) is being stalked by an ex-cop turned crime lord (Ray Liotta). Rather than sparkling lakes and inviting vineyards, viewers see dark nights, remote forests and dive bars.
"Leave it to me to bring the darkest (movies) to the Okanagan," Dugdale says with a laugh.
More recently, Enderby Entertainment filmed WWII drama Recon in Enderby, Vernon and Kelowna. The suspension bridges at Kelowna Mountain have a starring role in the action.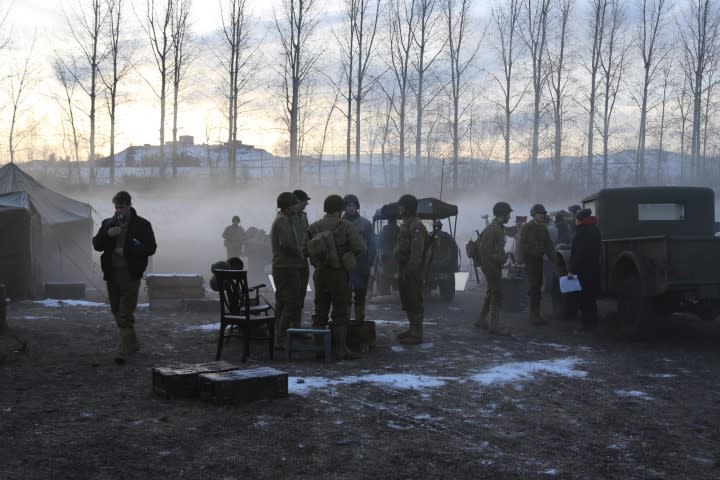 'Recon' film production. Photo credit: Okanagan Film Commission
"People asked me how much it cost to build the set with the bridge. It was all already there," says Dugdale. "We shot there after scouting in Serbia, Slovenia, and Italy. The North Okanagan is actually where Canadian forces trained for World War II."
Born and raised in Enderby, B.C., Dugdale has a personal connection to the region and wants to help boost the local economy through his productions. In fact, Enderby Entertainment opened a Canadian production office in Kelowna during the pandemic.
"We want to champion the area and we figured we could do it with our own production volume," says Dugdale. "Everything we do will shoot (in Kelowna)."
Other production companies have also set up shop in Kelowna, including Mind's Eye Entertainment. Independent producer Costa Vassos, who's worked on 20 films in the area in the past couple of years, loves it so much he moved here.
"I've been here for two years now. I think it's such a beautiful town," says Vassos. "The lake in the summer, the vineyards, that's really what attracted me. It's a brand new palette or canvas (for filmmakers), if you will."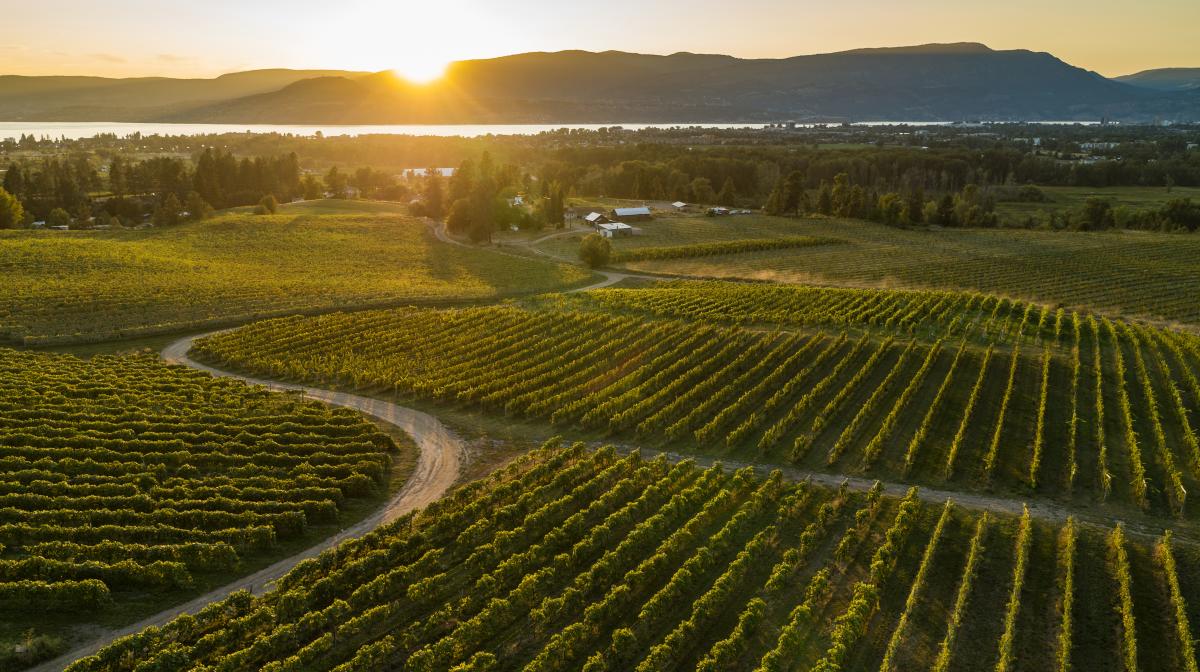 Sperling Vineyards. Photo by: Shawn Talbot Photography
In addition to the variety of locations and the valley's fantastic light for filming, another draw for productions is the local crew that's been built up over the years. 
"When you come out here (to film) you're not putting a crew into hotels," explains Summerland. "More money is going to end up on the screen when the crew is local."   
So what's in store for the city on the big (and small) screen? Lots.
"We're looking at (shooting) a couple of TV series. What we want is sustained, quality volume," says Dugdale. "It will ultimately bring eyeballs to the Okanagan."
There's also talk of a studio opening in town.
"Netflix, Amazon, Apple, are all interested in coming up if there was a studio," says Vassos. "I think (Kelowna's) potential is huge. I know a lot of Vancouver filmmakers and crew who have reached out to me. They want to raise their families and live in Kelowna. If we build (a studio), they will come." 
In the meantime, Vassos just finished a second movie and is reading a script for a third. He's looking at working on up to 10 movies for Reel One Entertainment, in addition to helping with some Hallmark movies and a potential western.
And though Summerland is not yet at liberty to name names or figures, he says to get ready to see more of the valley's picturesque lakes, vineyards and streetscapes on TV and in movies. Says Summerland: "Big productions are coming." 
Sources: Jon Summerland, Costa Vassos, and Rick Dugdale.