On April 22nd, the world celebrates Record Store Day. The 2017 edition of RSD is the 10th anniversary of the event which, according to the event's website, was established to "celebrate the culture of the independently owned record store."

Fittingly, April 22nd also marks a big birthday for Kelowna's Milkcrate Records, as the downtown record shop is set to turn five years old. To help celebrate this landmark, they're throwing a big party - complete with live music and some vinyl too (of course) and you're invited!
There will be live performances from Matt Niemann (Little Jungles), Elk the Moose, Charlie Handsome and Speak Easy, as well as a DJ set.
Check out the music of Elk the Moose here:
The party starts at 8 p.m. and will take place at the Kelowna Forum (a fantastic new downtown Kelowna venue at 1317 Ethel Street - you have to check it out). It's an all ages show, so the whole family can attend. In addition to the music, there will also be a silent auction as well as some special guests. The CrAsian Food Truck will be on hand to keep everyone well fed, and there will also be a bar for those who are thirsty. Advance tickets are available at Milkcrate Records (1551 Ellis Street) for $5 or there will be a select number of tickets available at the door for $10.
This promises to be a night of great fun in support of an awesome Kelowna record store - if all goes well, there's even talk that Milkcrate may host monthly concerts at Kelowna Forum going forward! 

As Richard Rafton - the store's owner - puts it: "After all, who doesn't love a good birthday party… especially when it's to support Kelowna's community record store!"
Learn more about Record Store Day here.
Find out more about Milkcrate Records by visiting their website.
---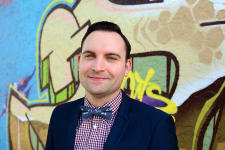 Vince Jones is a Bachelor of Arts graduate from UBC Okanagan and a passionate supporter of local and independent music. In the past, Vince was featured on 102.7 The PEAK in Vancouver, contributed to CBC Radio West and KelownaNow as a music columnist. He has hosted and contributed to indie music podcasts, and has booked, emceed and promoted numerous shows. He is currently the Marketing Manager for Kelowna's Walker Real Estate
To connect with Vince, you can find him on Instagram, Twitter or LinkedIn.