Kelowna is a year-round playground, and the winter season is one of the best times to visit. 
The Okanagan Valley gets cold enough for soft fluffy snow, but not too cold that you have to leave your winter parka on the whole time you're here for a visit.

The Weather 
Here is a summary of what the daytime high-temperature averages are through the winter months in the Okanagan to help give you an idea of why we think Kelowna is one of the best Canadian winter vacation destinations.
Average highs are just a bit above freezing in December and January. As our snow doesn't go through regular freeze-thaw cycles, muddy melting days are not too common here as the snow will often stick around for at least a few days before it starts to disappear, if it does at all, even for the low-lying areas by the lake.
In February, a cold snap is possible, but by the end of the month, we will sometimes get a stretch of weather that stays above freezing for several days. The average daytime high in February is 3.6C.
Once we get to March, spring skiing is usually in full swing, and you might even see a few skiers and boarders out shredding in their t-shirts! The average daytime high takes a big jump in March up into the double digits at 10.1C.
The number of different winter activities in Kelowna is endless - from skiing to wine tasting, the region is a fun destination for every member of your family whether they prefer to be outside or inside during their stay. Here are a few of our favourite things to do in the winter.

Ski Resorts 
With two world-class ski resorts within a short drive, visitors come to the Okanagan to ride the champagne powder year after year between late November and mid-April. Both resorts have something for everyone, whether you ski or just prefer to enjoy the winter wonderland views from a hot tub.
With an average of 750cm of snowfall each season, catch a ride on one of the Big White Ski Resort's 16 lifts to start your day on the slopes. Then sit back and sip on an après while watching the regular fireworks show or participate in other weekly family-friendly activities. 
SilverStar Mountain Resort is where you will find a charming mid-mountain village with a small-town feel that is easily accessible from most of the accommodations on the mountain. Ski or snowboard on both sides of the mountain before going skating under a starry sky or playing shinny hockey on Brewer's Pond, the resort's 2.5 acre natural rink.

Winter in Wine Country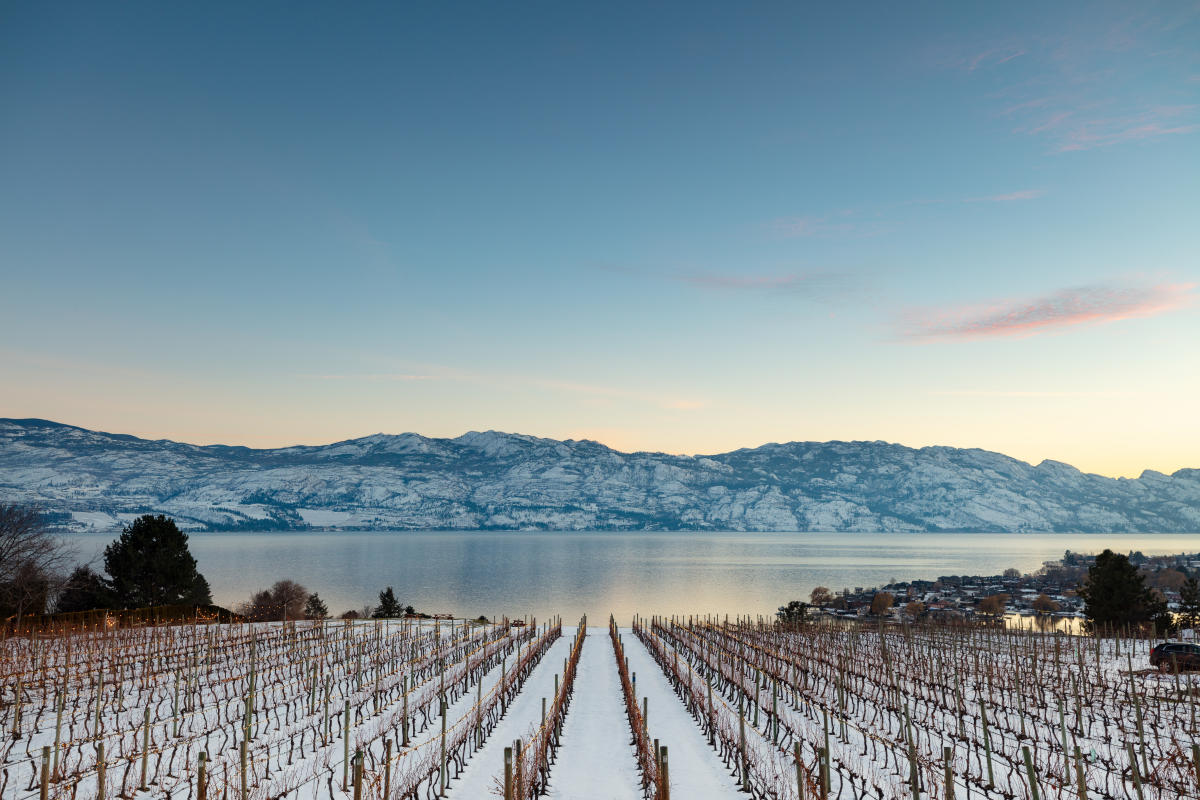 Quails' Gate Winery. Photo by: Shawn Talbot Photography
Don't miss a winter wine-tasting tour! Wander through the snowy vineyards before chatting with one of the winemakers to learn how it is all made. The best part about visiting the local wineries during the winter season is that you may get to experience a more intimate and relaxed environment compared to other times of the year. 
"Delight your senses with a sensory wine tasting in our Wine Shop all set against the backdrop of stunning snow-covered mountains," suggests Carie Jones of Quails' Gate Winery. "It's a magical experience and one you wouldn't encounter while touring in the summer months."
With fewer guests waiting at the tasting bar, this is the season to try some of the world's best wines without waiting in any big line-ups.

Snowshoeing and Hiking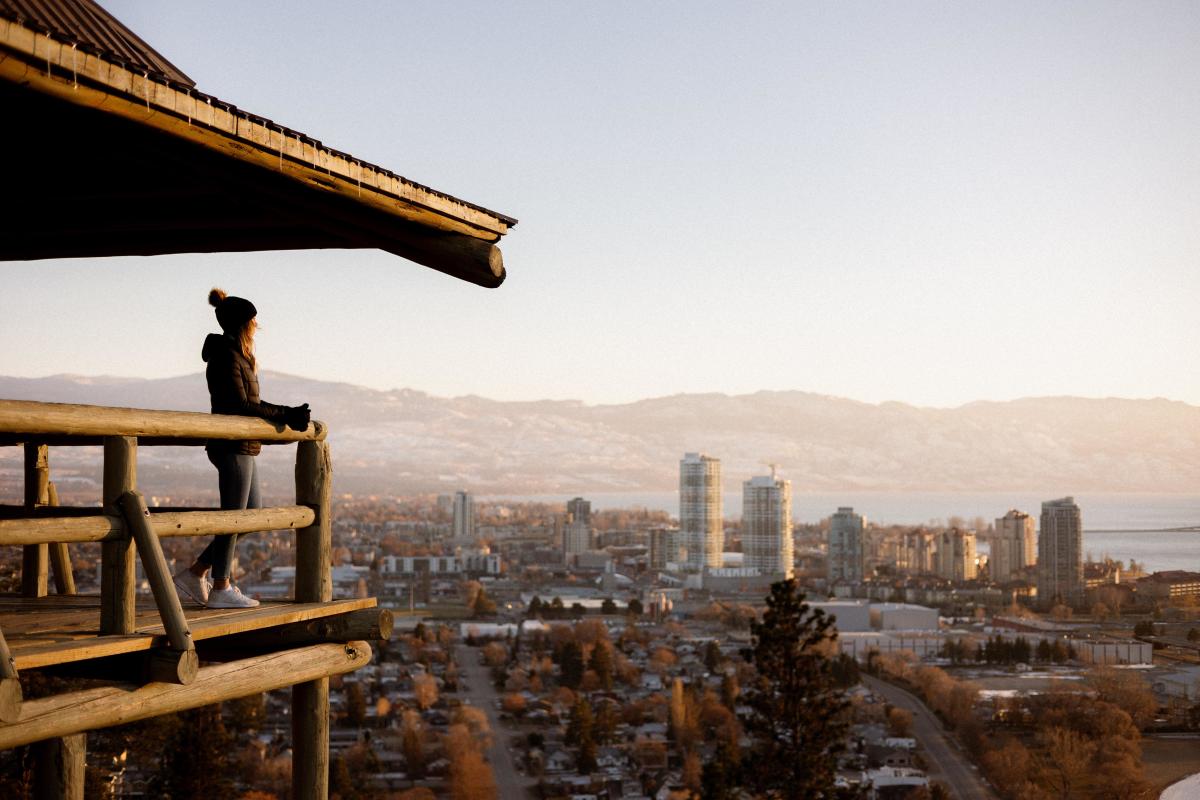 First look out at Knox Mountain Park. Photo by: Danika Lee Photography
Winter hiking is a great way to get some exercise. If enough snow is on the ground while you're in town, you can also strap on the snowshoes to get some fresh air while taking in beautiful valley views. 
The Telemark Nordic Club in West Kelowna is a great place to go if you're a beginner snowshoer. Not only are there 60km of trails to explore, but if you are unsure of investing in a pair of snowshoes, you can rent snowshoes at the day lodge. 
Pincushion Mountain in Peachland is a 1.8km trail that boasts one of the nicest vistas at the summit. Be prepared to gain about 250m in elevation during your adventure so pack a snack and don't forget your camera. Look for the Canada Flag at the end of the trail!
Knox Mountain is just minutes from downtown and a convenient place to see breathtaking views of the city and the lake. The climb to the top is 300m, and you also have the option to trek on the main road that takes you to the peak as the road is closed to vehicle traffic through the winter season. If you are planning to head out in a larger group, this might be a great choice for your party as the closed road makes for a wide and gradual trail.