Duane and I love animals. Big, small, fluffy, chatty - we love them all. And that is why one of our favourite places to go is the Kangaroo Creek Farm.

This is a must-do for whenever we have guests from out-of-town. Visitors are often surprised at the sight of Kangaroos in the Okanagan.

Although most of the animals are used to having people around, remember to make sure children are always accompanied by an adult.

If you're lucky, the staff at the farm will hand out treats for you to feed the animals.

We recommend that you allow yourself at least an hour or two for your visit, because there are lots to see and do. You might also want to arrive early because it can get quite busy on certain days.
---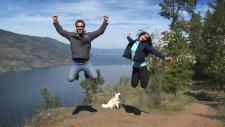 Wesla Wong & Duane English are meteorologists based in Kelowna. When not looking at weather charts, you will find the couple skiing, playing music or hiking with their dogs - enjoying everything that the Okanagan has to offer.