If you're a music fan, now is a great time to visit Kelowna. As you may know, the 47th annual JUNO Awards are taking place in Vancouver on Sunday, March 25th and the JUNO Host Committee want to share the JUNO experience with other parts of the province, including Kelowna.
A special show has been organized at the Kelowna Community Theatre during JUNO Week - the week leading up to the awards - for locals and visitors to enjoy.
There will be performances from The Boom Booms (indie soul from Vancouver), Little Destroyer (danceable pop from Vancouver) and JUNO winner and 2018 nominee, DJ Shub (previously of A Tribe Called Red and from Six Nations of the Grand River). The Okanagan's Andrew Allen will open the show with some of his pop tunes.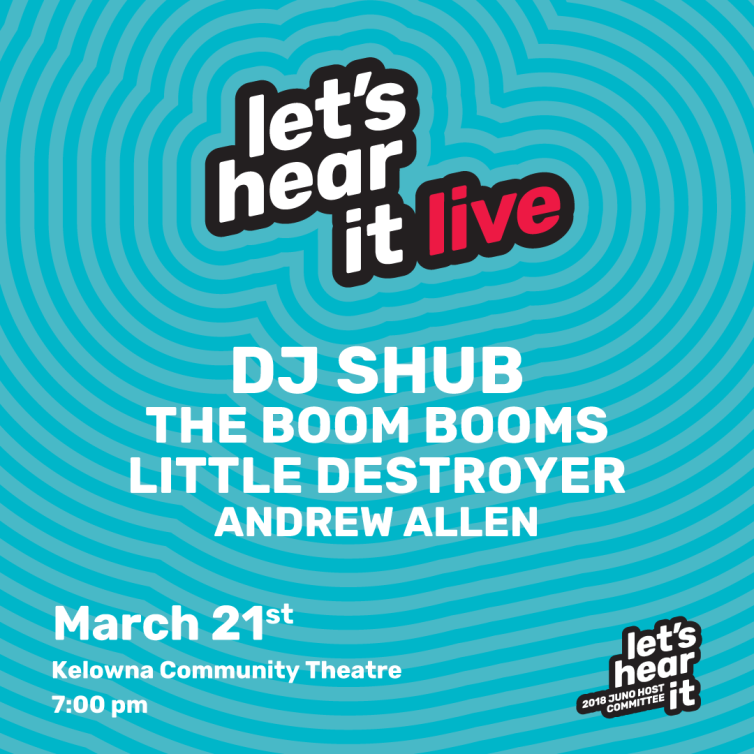 The show called - Let's Hear It! LIVE - is happening on Wednesday, March 21st at 7:00 pm. Tickets are $15 and you can purchase them HERE. The Kelowna gig ties into a similar concert that is happening in Victoria (there's also one in Vancouver), and Nick Blasko, Co-Chair of the 2018 JUNO Host Committee has revealed why the organizers wanted to take the event on the road:
"Music is not metropolitan-centric. We have burgeoning pockets of musicality all throughout this province and it's important that Canada's largest music awards ceremony be able to touch as many Canadians as we possibly can."
Kelowna is certainly one of those 'burgeoning pockets of musicality', and as a result, there's no shortage of local acts and great gigs to check out year round, including next week. Don't miss your chance to enjoy some excellent and diverse acts, and revel in the JUNO spirit, at Let's Hear It! LIVE. I hope to see you there!
Check out the official music video for "All Day All Night" by The Boom Booms:
You can learn more about the JUNO Awards HERE.