There's nothing quite like the tranquillity nature provides to help you relax, recharge, and get centred. For those visiting Kelowna and its surrounding communities, which include Lake Country, West Kelowna, Westbank First Nation, and Peachland, there is an abundance of outdoor spaces to explore.

Lake Country
Starting at the north end of the region in Lake Country, you can access several lakes including Okanagan Lake, Wood Lake, and Kalamalka Lake, a well-known marl lake whose colour changes to a vibrant turquoise during the warmer summer months. Cycle the Okanagan Rail Trail—bike rentals are available nearby from Pedego Oyama—alongside Wood and Kalamalka Lake to discover the area. Or, hit the trails at Spion Kop to get a view of all three lakes once you reach the summit.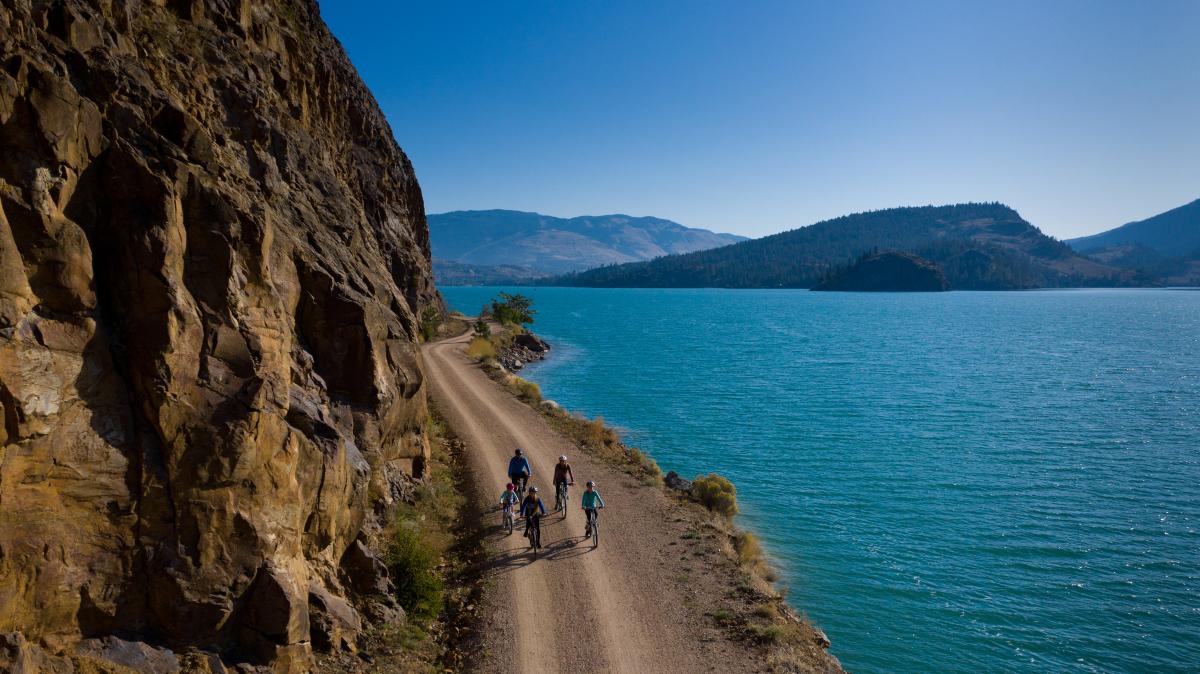 Biking on the Okanagan Rail Trail next to Kalamalka Lake
To get off the beaten path, adventurers can set out to discover Wrinkly Face Provincial Park, which can be accessed by parking off Beaver Lake Road, which is mostly gravel, at the High Rim Trail head then hiking for about an hour. Those who make the trek will be rewarded with some amazing views of the Valley. As you plan your adventures, you can refer to helpful tips and reminders about outdoor safety here. 
If you want to continue with a more secluded, rustic experience, nearby you'll find Beaver Lake Resort, which is home to a campground, log cabins, and a full-service lodge—there are also numerous outdoor activities like fishing, hiking, and canoeing. You'll also find Oyama Lake Eco Lodge in the area, offering all sorts of accommodation options including a lodge, cabins, a tiny house, and even glamping yurts. Both sites are located about 20 km (12 mi) outside of Lake Country.  

Kelowna
Those who've started planning a trip to Kelowna or who've visited before will likely have heard of popular trails like Knox Mountain, Myra Canyon Trestles Trail, and the Waterfront Boardwalk, but there are many other spots offering hikes of all levels, with stunning views to boot!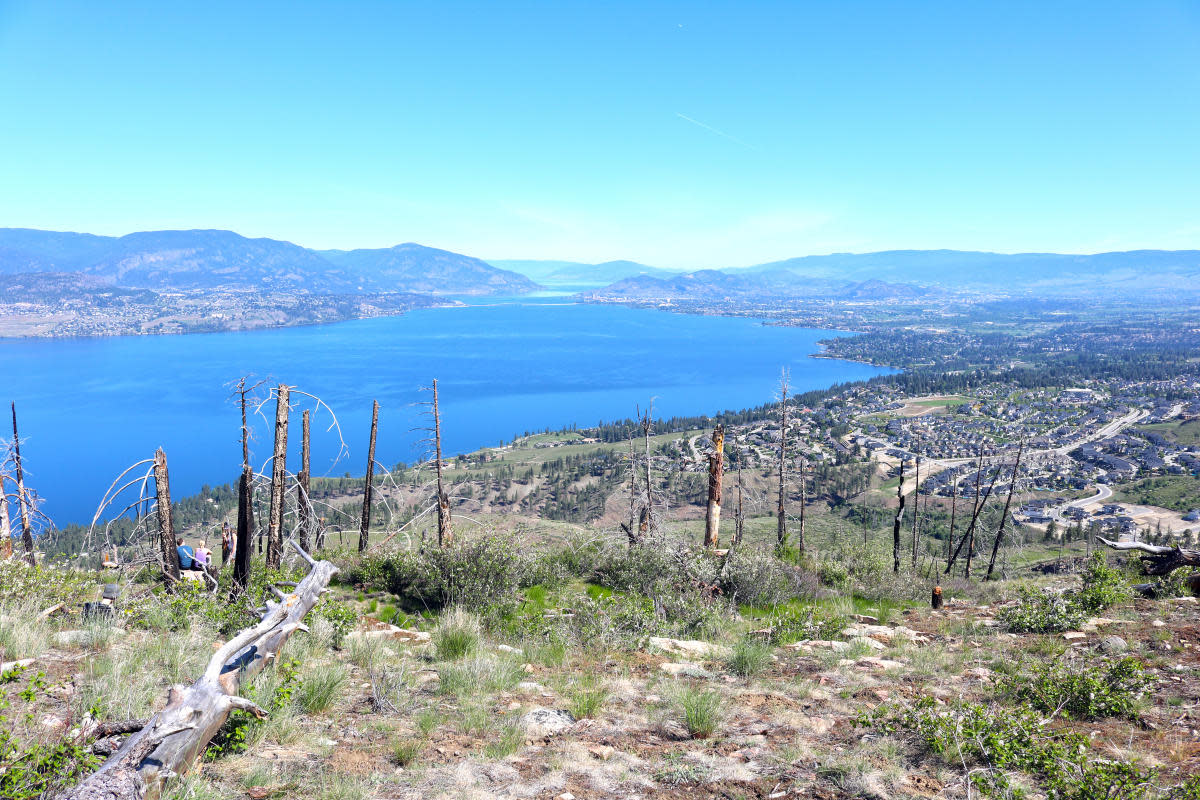 Johns Family Nature Conservancy. Photo Credit: Hiking Addiction
At the south boundary of Kelowna, you'll find Johns Family Nature Conservancy Regional Park, where you can admire the expansive views up and down Okanagan Lake. This 400-hectare park offers an easy to moderate trail system as well as access to The Crags—still often referred to as Cedar Mountain by locals—a popular sport climbing spot that offers very high walls, a few multi-pitches, and a good variation of difficulties for climbers. Access to the park is via Upper Mission Drive, which turns into Chute Lake Road—the parking area is about 3 km (1.9 mi) from the beginning of the gravel portion of the road. You can also hike into the park from Lebanon Creek Greenway Regional Park, though the connecting trail has an elevation gain of 450 m.
Nearby, you'll find Okanagan Mountain Provincial Park, which offers numerous hiking trails as well as wilderness camping at Baker Lake and Divide Lake, backcountry camping, and boat-in campgrounds for those seeking a more immersive outdoor experience. From Kelowna, you'll want to travel along Lakeshore Road to access the north boundary parking lot (the road beyond the parking lot is private property and does not lead to any additional parking). As the camping is walk-in only, be sure you're prepared and informed about the conditions before setting off on your journey. The Camper's Code is a fantastic reminder about how to respect nature while enjoying your surroundings and staying safe. During the hot summer months, stay informed about campfire bans and follow all necessary steps to prevent wildfires.
TIP: If you want to experience Okanagan Mountain Park but are overwhelmed by its expansiveness and choice, book a half-day or full-day guided tour with Sagebrush Tours—on the full-day tour you'll enjoy lunch, as well as a stop at CedarCreek Estate Winery and Carmelis Farm. 

West Kelowna/Westbank First Nation
In West Kelowna, you'll find one of the area's newest regional parks, Goats Peak. This 52-hectare park, situated at the south end of the city, is suitable for more experienced hikers as the trails are rated moderate to difficult, with a rocky landscape throughout. Sitting alongside Okanagan Lake, the views from the peak will have you marvelling at the beauty of our region.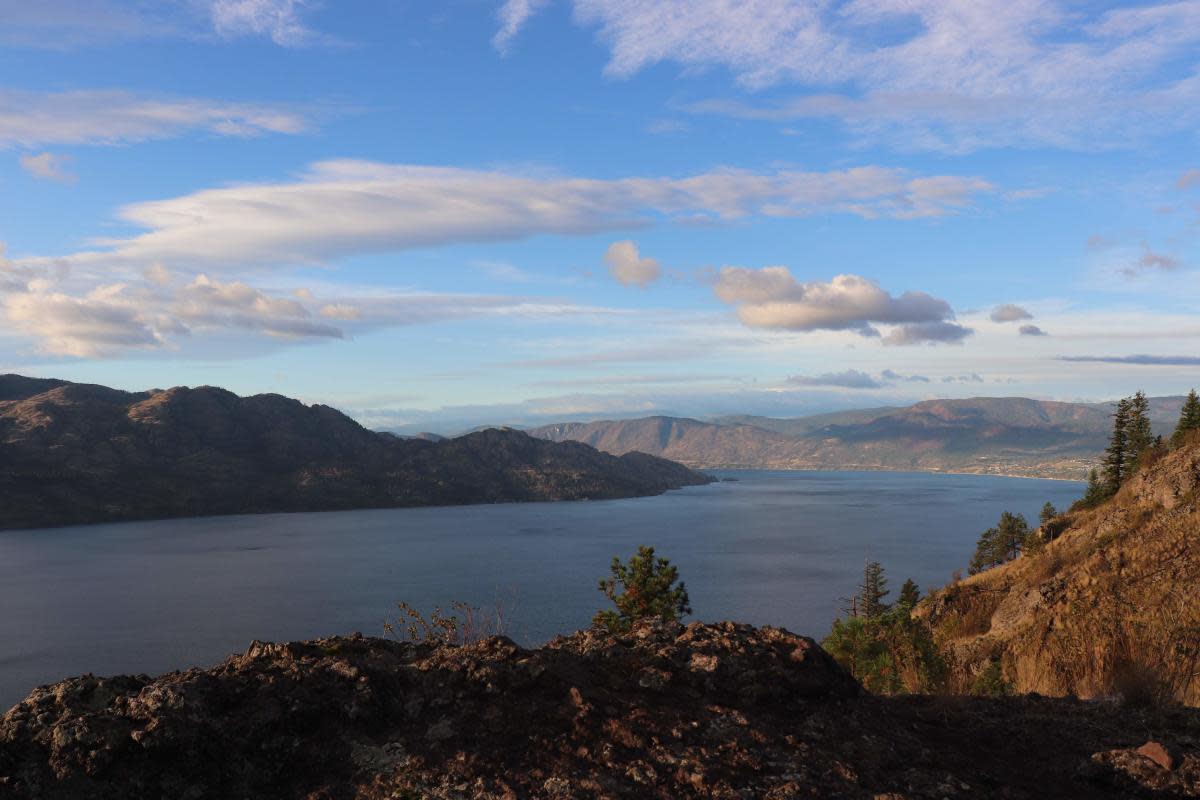 View near the peak of the Mountain Goat trail in Goats Peak Regional Park. Photo Credit: Steve Small
Further into the city, near Shannon Lake, you'll find Carrot Mountain Bluffs, a difficult, 4 km hike not for the faint of heart. If you can push through the steep inclines and reach the summit, you'll not only feel accomplished but you'll once again be rewarded with stunning lake (and city) views. 
Find out more about Westbank First Nation and the traditional, ancestral, and unceded territory of the syilx/Okanagan people by booking the Ancestral Path Experience offered by Moccasin Trails. During the six-hour tour, you'll learn more about syilx culture by immersing yourself in the natural world as an Indigenous knowledge keeper teaches you about traditional and medicinal uses for plants native to the regions. As part of the tour, you'll also visit Sncewips Heritage Museum to discover the heritage and natural history of the syilx people, savour the delicious bannock and Indigenous-inspired eats at Kekuli Cafe, and stop at Indigenous World Winery, where you can add on a wine tasting to your day of learning and discovery.

Peachland
Accessibility is a key feature of Hardy Falls Regional Park in Peachland, with a short, flat trail that is suitable for strollers or those outdoor adventurers with mobility aids. The park is also quite shaded, so it's perfect if you're looking for a cooler spot to enjoy nature. At the end of the 0.45 km (0.3 mi) trail, which runs alongside Deep Creek, you'll arrive at Hardy Falls—the sound of the rushing water and the birds chirping is reinvigorating. If you're visiting in the fall, be sure to return to Hardy Falls to see the Kokanee salmon spawning in the creek.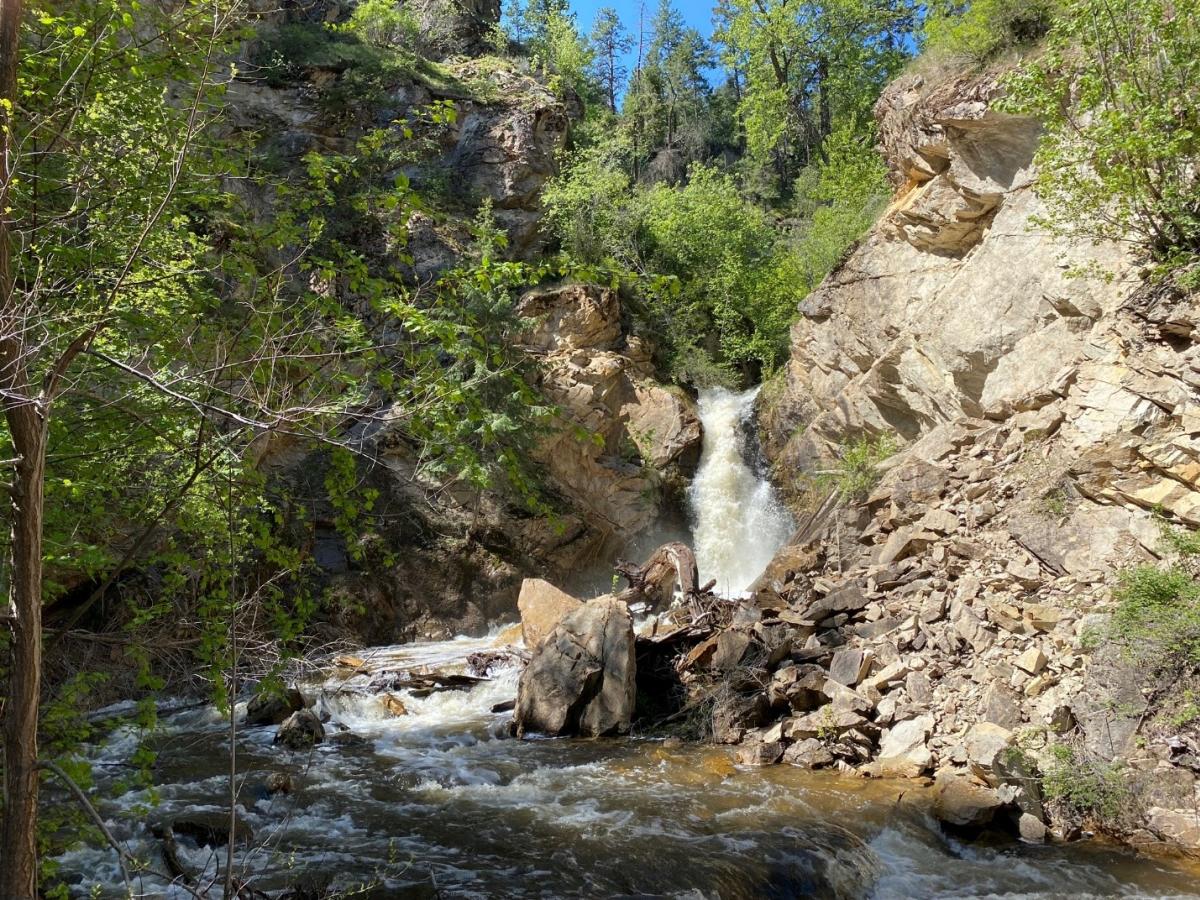 Hardy Falls. Photo Credit: Melissa McCluskey
For a slightly more challenging adventure in the area, head to Trepanier Creek Greenway Regional Park, where you'll find a 3.9 km (2.4 mi) trail partly surrounded by ponderosa pine and Douglas fir, which continue their recovery from a 2012 wildfire. The south entrance to the park can be accessed off of Clements Crescent in Peachland—starting at this end will take you through the most challenging portion of the trail first, with a continuous climb and steep spots for the first 1.5 km (0.9 mi). From there, the trail flattens out as you make your way to the north entrance off of Trepanier Road.
With the exception of Wrinkly Face Provincial Park and some areas of Okanagan Mountain Provincial Park, your pup can join in the outdoor adventures, too, as dogs are allowed on all of the trails listed above, so long as they are on leash. 
After you've immersed yourself in the nature experiences in and around Kelowna, be sure to share your adventures by tagging us on social media (@tourismkelowna on Facebook, Instagram, and TikTok) and using #exploreKelowna.