Wine touring is one of the most popular Okanagan activities, and with over 40 wineries in Kelowna alone, including a stunning range of deep, full-bodied reds to light and sparkling whites, there's something here for every kind of wine-lover!
Going on a wine tour is a must-do here in Kelowna. And if you don't have a car, that is not a problem. Taking transit is cost-effective and a great way to lessen your carbon footprint. 
Bus Route 20 in West Kelowna drives along Boucherie Road, and right past many of the Westside wineries! Pick up a transit day pass from a location nearest you (or pick one up at the Kelowna Visitor Centre) and you're on your way to a fun wine tour experience!
Regardless of which side of the bridge you're starting your tour on, step one is to hop on Bus Route 97 and head over to Boucherie Mountain Exchange. Next, transfer over onto the 20 Lakeview - To Westbank… and that's it! Only one transfer! From here on out, Bus Route 20 is going to be your best friend.

First Stop: Grizzli Winery

Photo by: Shawn Talbot Photography
Hop off for your first stop at Hudson/Boucherie, where you're only a two-minute walk away from Grizzli Winery.
Grizzli Winery offers daily facility tours, so book ahead and experience a behind-the-scenes tour of winemaking in the Okanagan! While there, why not check out their art gallery as well? Grizzli art gallery rotates shows by the season, so there's always something new to take in.

Second Stop: Mt. Boucherie Winery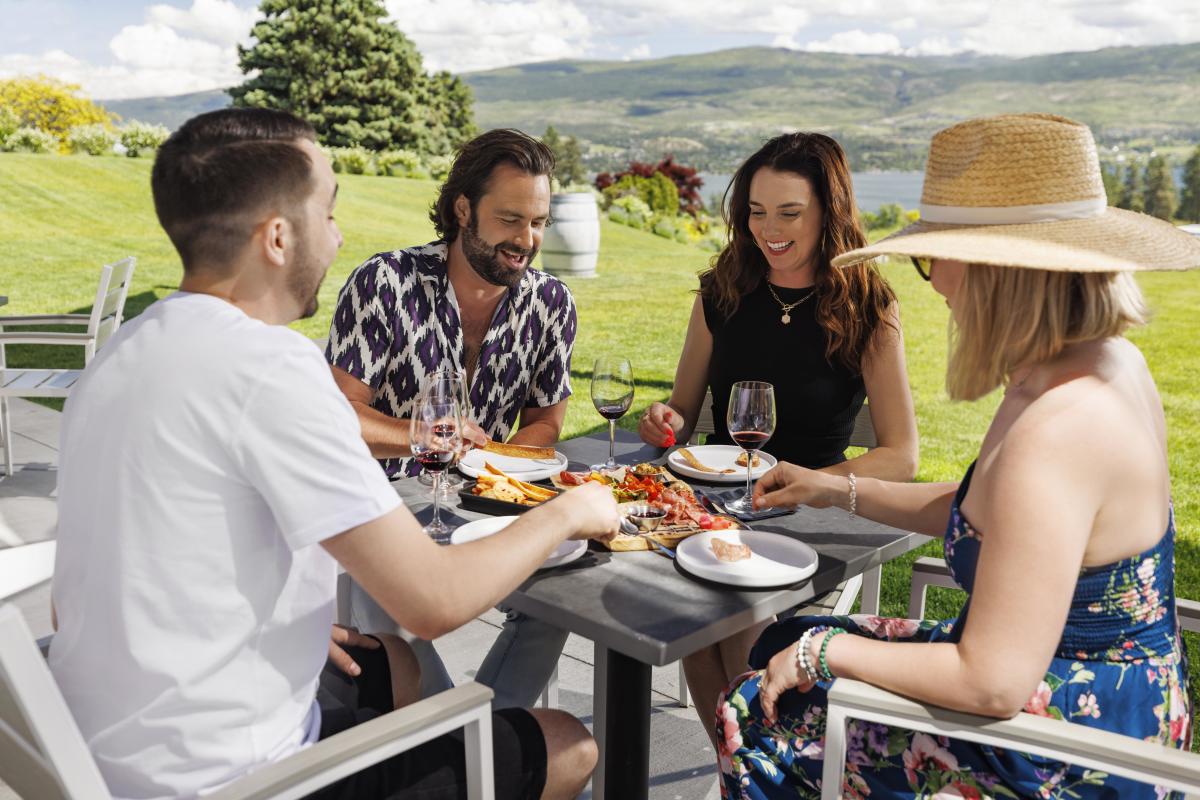 Photo by: Shawn Talbot Photography
Back on the 20 for another three stops, get off at Thacker/Douglas to start the five to six-minute walk up Douglas Road to Mt. Boucherie Winery.
Owning five vineyards across the central and southern Okanagan Valley, Mt. Boucherie boasts wines that are "uniquely British Columbian". With an amazing building and stunning views over the vineyards and Okanagan Lake, you'll want to have your camera on hand for this one.

Third & Fourth Stop: The Hatch and Quails' Gate Winery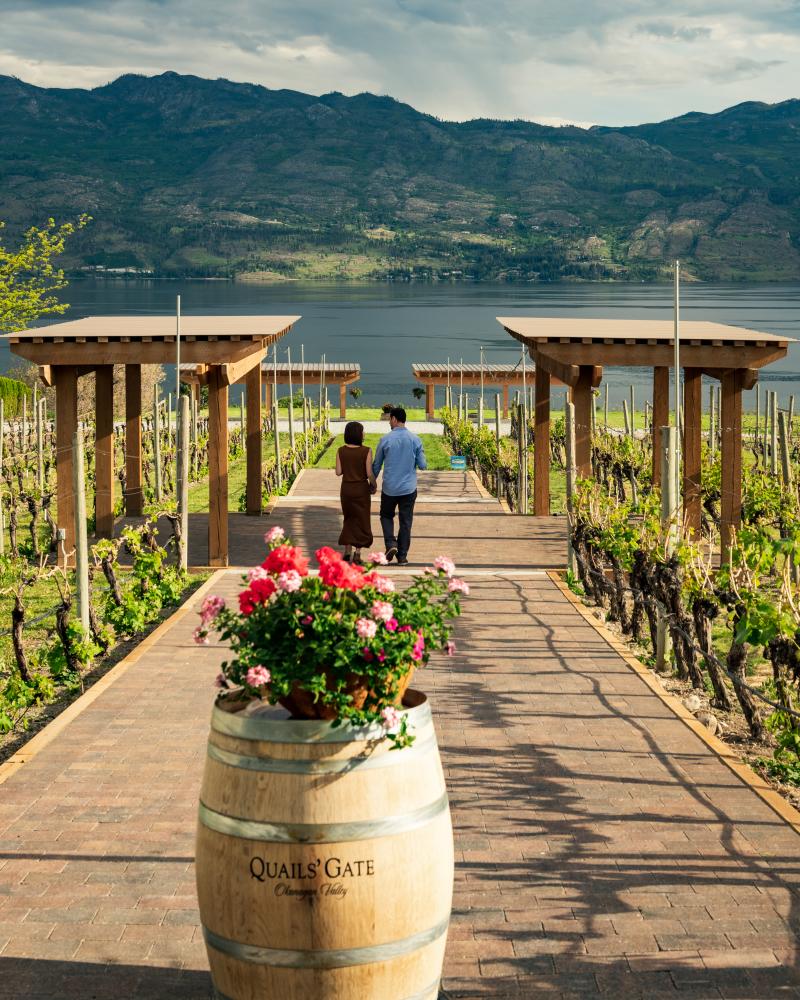 Photo by: Ken Hagen
Hop back on for another five stops, and you'll end up at Boucherie/Gregory- directly across the street from the hatch. 
A laid-back location focused on injecting a little fun into your wine experience, the hatch is great if you're looking for good wines with a casual and creative vibe, and as one of the many Jason Parkes Customs locations across West Kelowna, they host tons of fun events. Check their calendar for the day of your tour to see what's going on.
From here, you can either catch the bus again for one stop or, if it's a nice day, Quails' Gate Winery is only a 10-minute stroll down the road.
Quails' Gate is one of the most well-known wineries in the region, and for good reason! Popular for their high-end wines and outstanding views, Quails' Gate is a must-visit on any Kelowna trip. If you have a little extra time before your next bus, stop by The Market for some freshly baked goods, artisanal cheeses, and delicious coffee.

Fifth Stop: Frind Estate Winery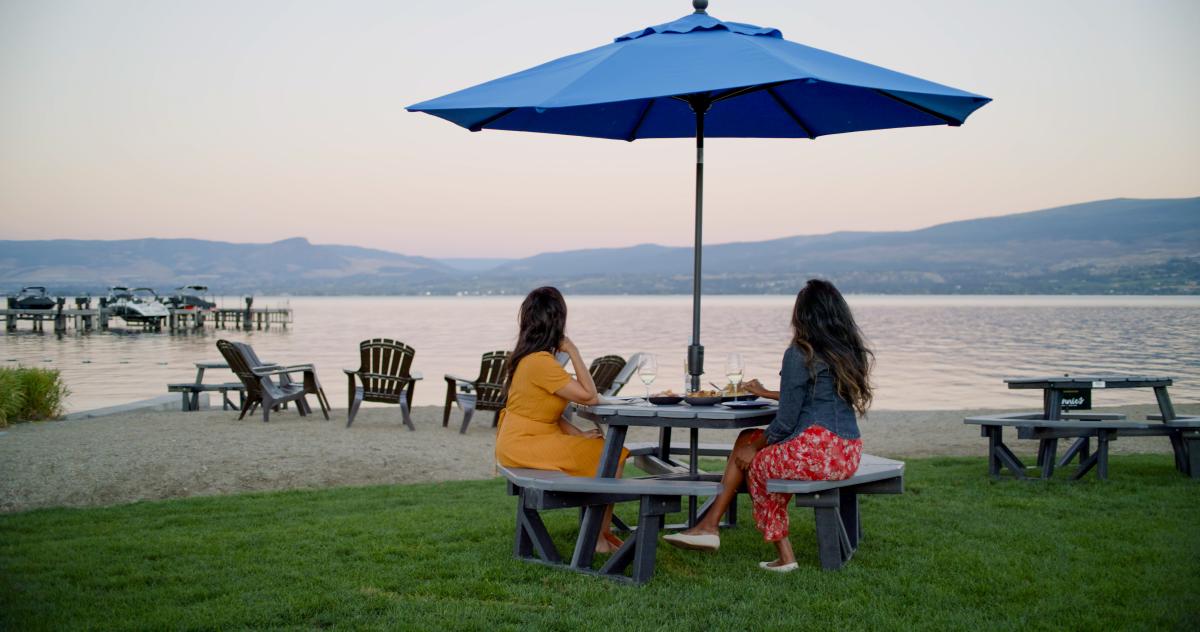 Your final stop of the day will be three stops down at Boucherie/Green Bay.  
Frind Estate Winery sits a 10–12-minute walk away but is worth every step! Kelowna's only beachfront winery (and North America's first, as a matter of fact!), Frind Estate is a great place to cap off your tour. Their attached restaurant, Annie's Beach Cafe, is a must-see. One of their house-made wood-fired pizzas makes for a wonderful late lunch to share before or after your final tasting of the day.

Tips for your tour
Download the Transit app on your phone to see where the next bus is in real time, and to help plan any future trips.
Sit or stand near the bus exit doors, since you will only be on the bus for short periods of time. Be aware of the people trying to enter/exit the bus around you.
Remember to try only a small amount at each tasting. Be courteous to the other bus patrons and drivers, and avoid overt inebriation.
Thank your bus driver when you get off at each stop.
Have fun!