The Okanagan Valley is a natural wonderland, filled to the brim with stunning lake views, challenging climbs, and breathtaking adventure, making it a first-rate hiking destination here in BC. And did you know that you can enjoy Kelowna's natural landscape while also taking steps to sustain it? Believe it or not, many of Kelowna's best hikes are easily accessible by public transit!
By hopping on the bus in place of driving yourself, you reduce the usage of fossil fuels, lessen your carbon footprint, support our local transit system, and get a cheap ride!
For ease of instruction, all transit directions will be presented with Orchard Park Exchange as your starting point. For information on transit routes view the Kelowna Regional Transit Schedule and Maps page and/or download the Transit app.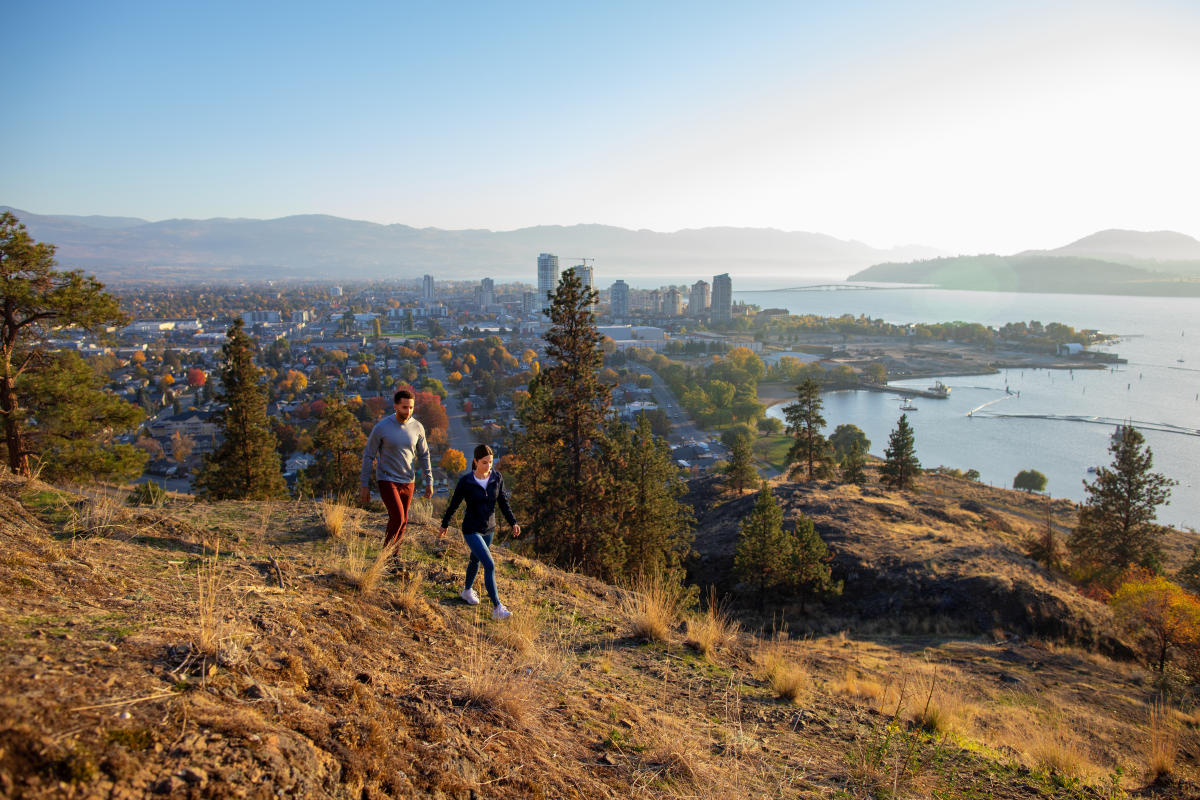 Photo by: Darren Hull Studios
Knox Mountain Park is one of Kelowna's most popular hiking spots. It is right downtown, has plenty of trails covering a wide range of difficulties, and offers incredible views overlooking the Kelowna skyline and down Okanagan Lake. Considered a generally mid-level hike, the popular Apex Trail has some challenging inclines, stairs, and a stunning panoramic view with a gazebo and benches for resting at the peak.
Looking for something a little easier? Head down Paul's Tomb Trail for a chill out-and-back experience along the side of the mountain and following the lake shore. Ending at a lovely swimming spot with some hidden coves along the way, bring a swimsuit and towel for a great summer day well-spent.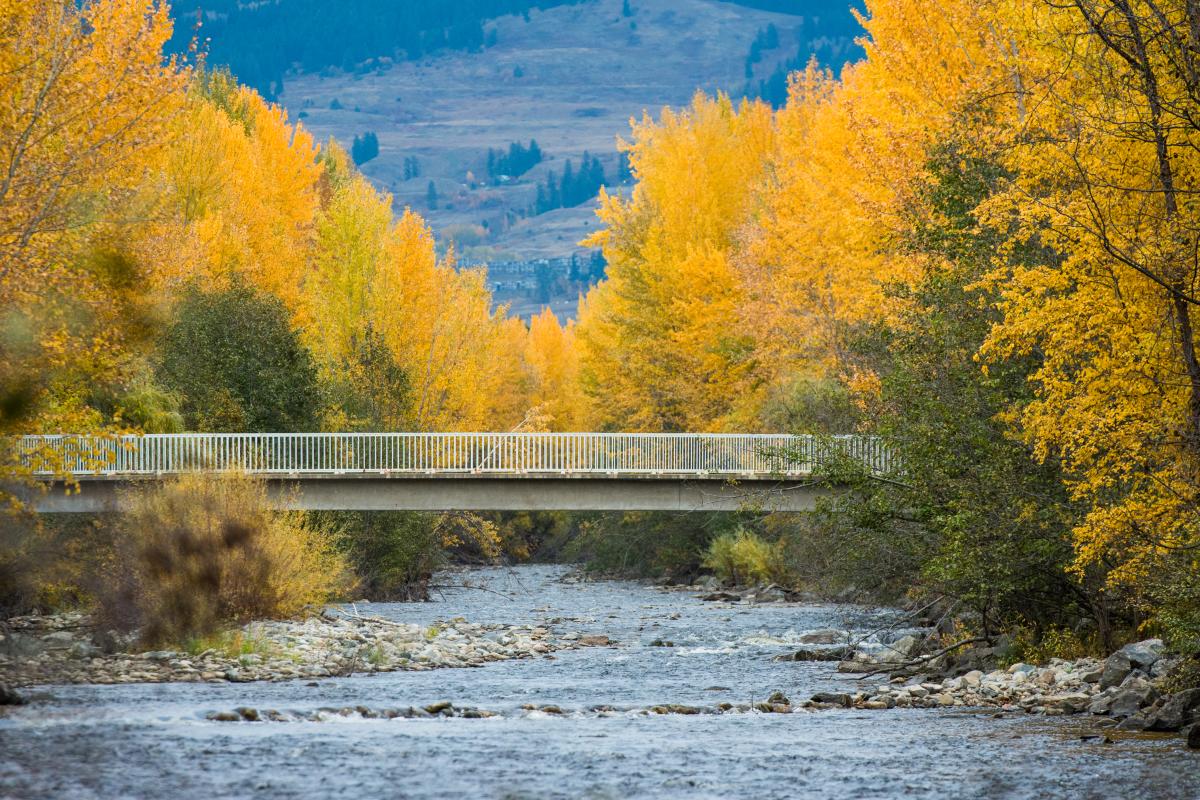 Photo by: ©RDCO & Michael Hintringer
Mission Creek Regional Park, located near the middle of Mission Creek Greenway, is a fantastic, family-friendly hiking option with easy-mid-range trail options and plenty of fun activities. With a playground, plenty of picnic tables, educational boards scattered about, and right next door to the Environmental Education Centre for the Okanagan, you can hike, play and learn all at once.
The main trail is a quick walk up some stairs and a steady incline leading directly to a small turtle pond, or you can head off onto one of the many side trails to wander the natural landscape. This hike is great for hot summer days, as it is heavily shaded and the proximity to running water keeps it cooler than the other trails around town.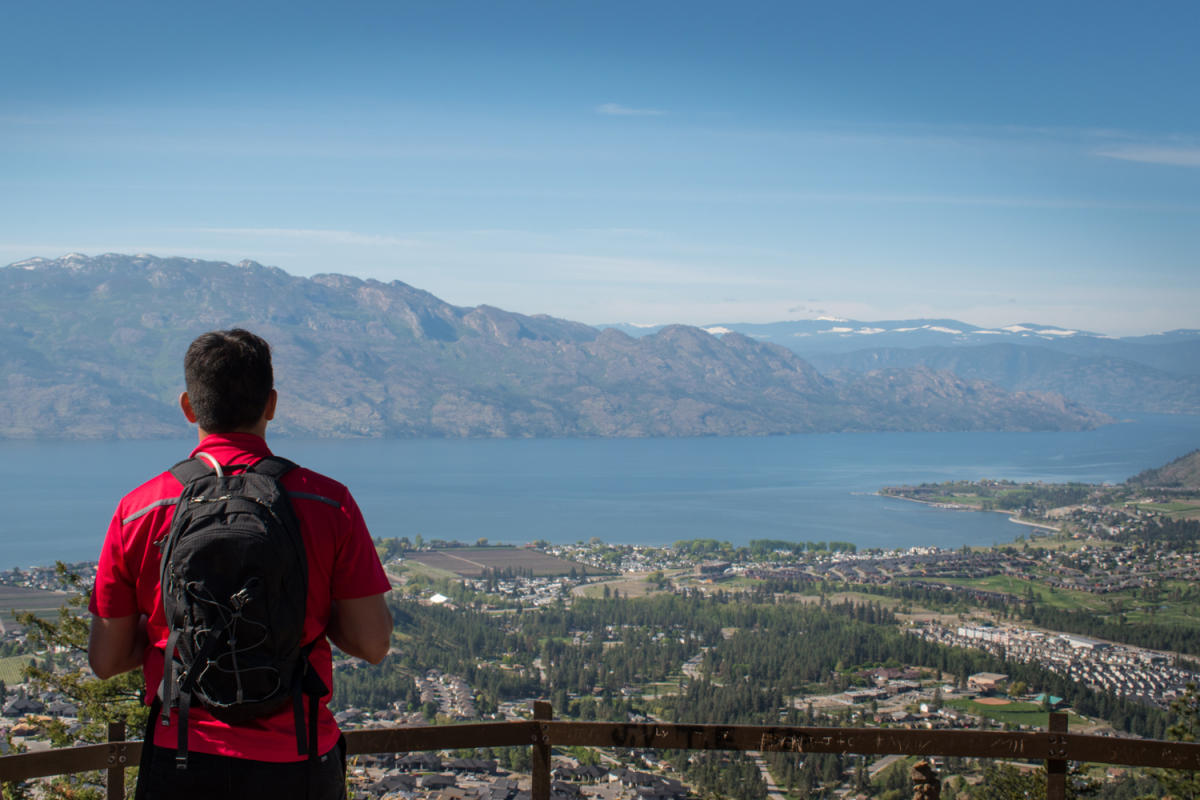 Photo by: Rebecca Bollwitt (Miss604)
Mount Boucherie Rush is a moderately challenging trail, following many switchbacks up the side of the nearly 60-million-year-old dormant volcano. Boasting stunning views over Okanagan Lake, the westside vineyards, and the city of West Kelowna, this trail is beloved by locals and visitors alike.
A picnic table at the top makes a wonderful location for a bagged lunch, so taking some extra time to pack some food and savour the views from the peak is highly recommended. Make sure you bring your sunscreen and water, as this trail has minimal shade to keep you cool. The out-and-back hike takes an average of 2 hours to complete with minimal stops, so ensure you carve a solid chunk of time out of your schedule to thoroughly enjoy this one.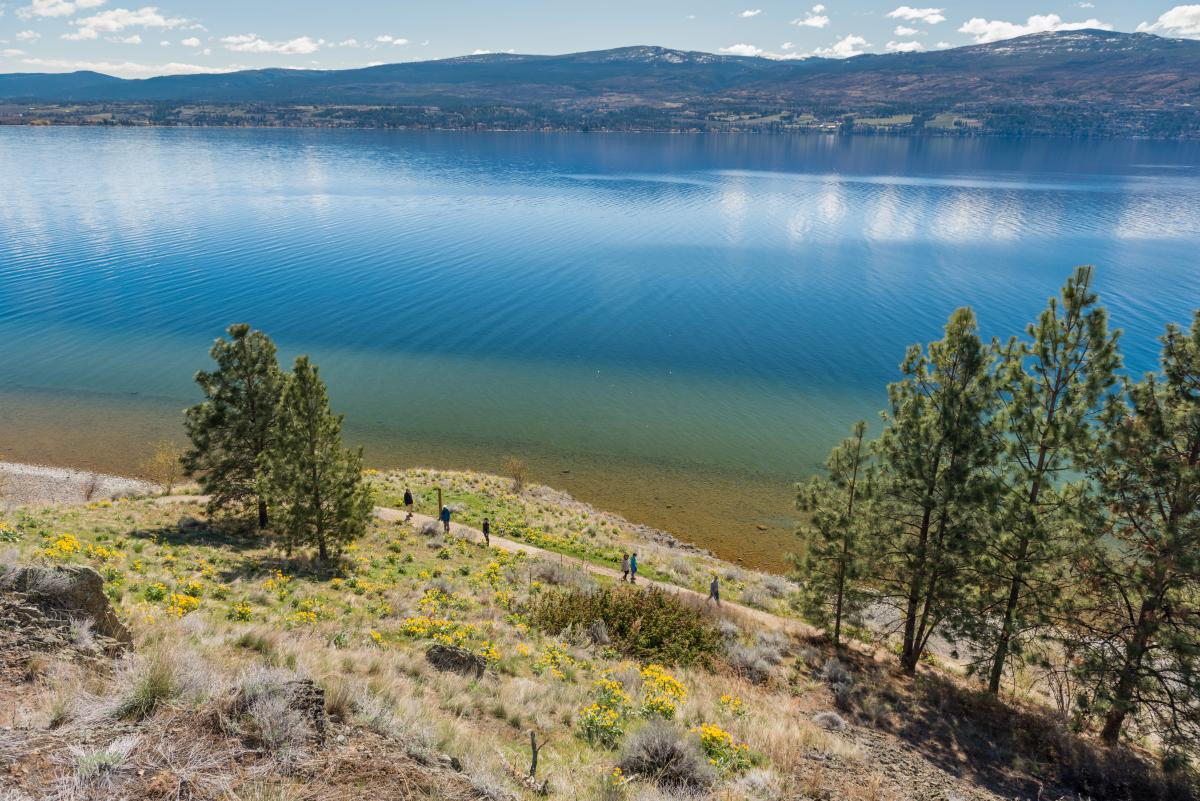 Photo by: ©RDCO & Michael Hintringer
Kalamoir Regional Park is perfect for anyone looking to enjoy an easier hike, extended lake views, and beach accessibility.
The 3.5 km loop follows the lakeside in West Kelowna and takes on average an hour to complete with non-stop lake views along the whole trail. With plenty of beach access, this is a trail you should bring your swimsuit to and enjoy the warm water and scenic views of Okanagan Lake.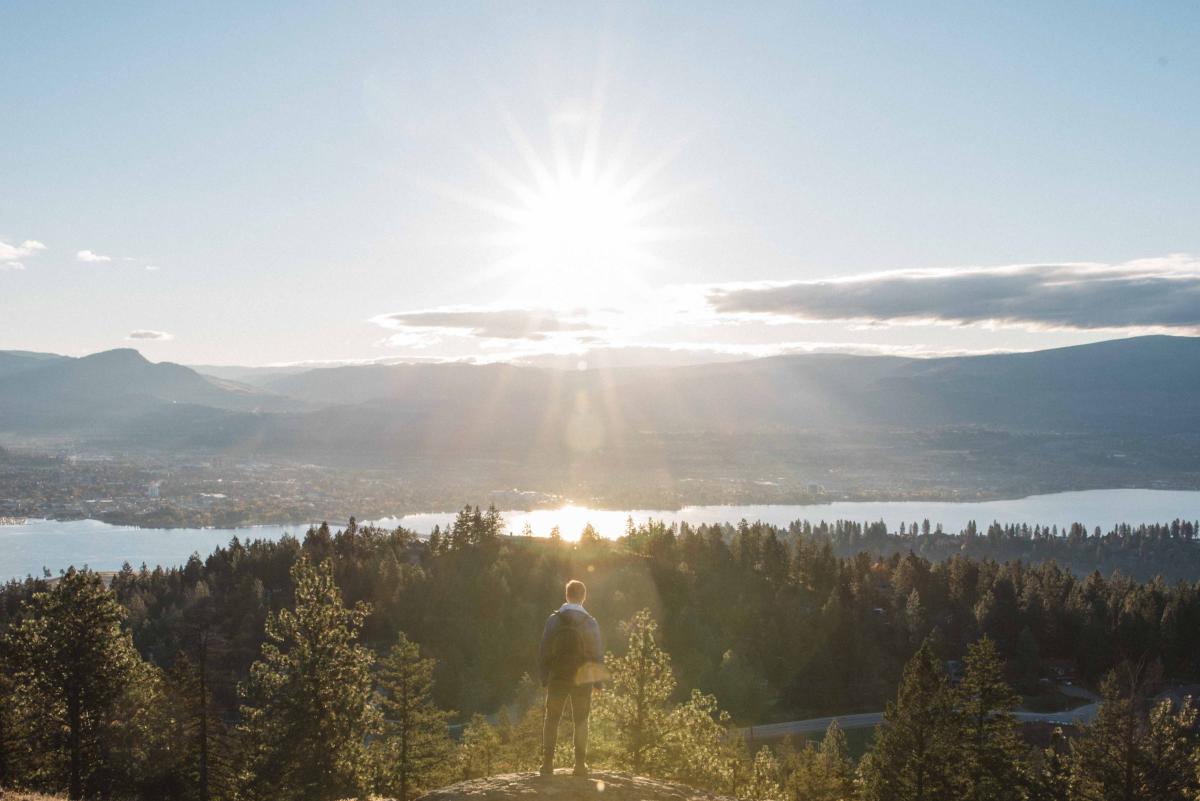 Photo by: Scott Bakken Productions
Rose Valley is a stunning regional park in West Kelowna, well known for its extensive trail network weaving every which way throughout the entire park. Luckily, two main trailheads are accessible by bus, so you can pick which trail works best for you!
Bitter Root Trail is an 8 km loop with a good variety in difficulty and terrain. Incredible multi-lake views await you at the top, with Rose Valley Lake visible to your left and Kelowna and Okanagan Lake sprawling out to your right.
The Rose Valley Lake Loop is a 12.7 km loop made up of several different trails within the park. This loop takes an average of just under 4 hours to complete.
Keep in mind that the many trails of Rose Valley Regional Park make it very easy to get turned around, so it's highly recommended to bring one of our Outdoor Trail Guides or download AllTrails to help you stay on the right path!

Tips for your trip:
Download the Transit app to see where your bus is in real-time, and to help plan any future trips.
Hold any backpacks or other bags on your lap and keep the seats next to you free for other passengers.
Thank you bus driver when you get off at each stop.
Have fun!