Article originally published on ZenSeekers by Rebecca Bollwitt (aka Miss604).
Ogopogo is B.C.'s very own Loch Ness Monster, turned friendly water creature, the legend hunters have been trying to capture on film for the past half century. It's seemingly a part of our heritage, until you find out the true meaning behind the serpent-turned-cartoon-statue and you become, as the kids say, woke - with a sudden understanding of the spirit of what Ogopogo truly means.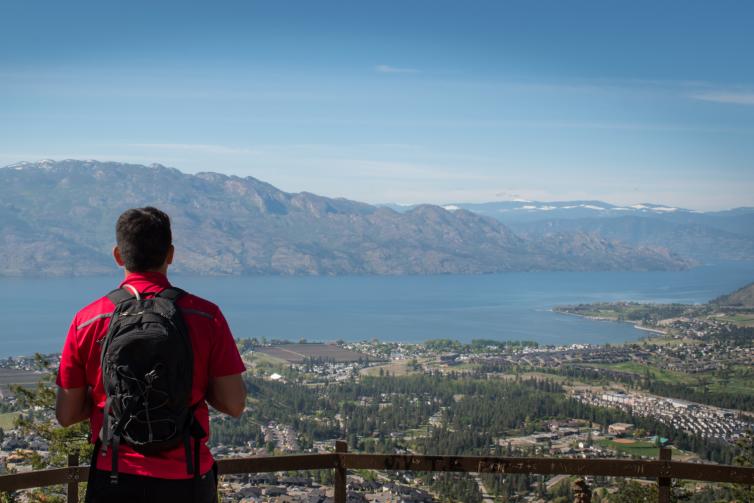 Photo by: Rebecca Bollwitt
Ogopogo is a name that's been used to refer to boats, a kid's book, and a 1924 English music hall song called, "The Ogo-Pogo: The Funny Fox-Trot."  However, if you're looking for the meaning behind a spirit of Okanagan Lake, you have to learn from the Okanagan First Nations, and the best place to start is at the Sncewips Heritage Museum.
At the museum you will learn that the Okanagan Valley is home to Westbank First Nation, one of eight First Nation communities that comprise the Okanagan Nation. The Syilx traditional territories extend from the south-central interior of British Columbia to north central Washington State. There are displays featuring the culture and heritage of the Westbank First Nation as well as resources for exploring the region. You might also catch the exhibit about Misappropriation of Culture, featuring a few cartoon renditions of dear Ogopogo as well.
My next stop was the Boucherie Rush trailhead on Mount Boucherie - the remnants of a former stratovolcano created nearly 60 million years ago and also one of the most prominent landmarks in the Kelowna area. Standing about 300 metres (900 feet) above the lakeside landscape, it features a few trail options, including a Grouse Grind equivalent that takes you straight up the monument.
Video by: Chris Wheeler Media
Sncewips Heritage Museum curator Jordan Coble was my guide for this trek. He does the hike regularly with his young family and has always felt a connection to the land here. You might even spot the photo of his beloved grandmother in the museum.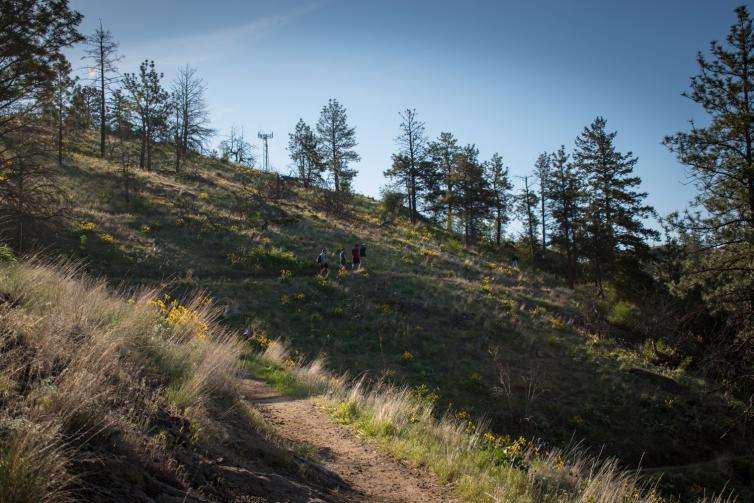 Photo by: Rebecca Bollwitt 
Ascending the Boucherie Rush Trail on Mount Boucherie in West Kelowna
"Personally, I have so many feelings when I do this hike," Jordan said, while stopping near a sign about rattlesnakes in the area. "I love the Okanagan because of the beauty of the land; it's where my people are from. It has an interconnected beauty that we celebrate."
Along the mountain's switchback ridges he pointed out indigenous plants like the bright yellow arrowleaf, balsamroot, juniper, and bitterroot. He explained that in the Syilx culture, Boucherie is referred to as a sleeping bear, referencing the dormant volcano. "The balance we strike comes from not wanting to wake the resting grizzly bear beneath us."
After three kilometres, the trail opens up to a panoramic view of Westbank, Okanagan Lake, and all the way south to Peachland and Summerland. It was at this impressive lookout where Jordan told me about the true spirit of Ogopogo.
"You'll see Rattlesnake Island," he said, pointing to the southeast. "Just on the mainland side of that is Squally Point, which is referred to as the home of Ogopogo. In our language it's n'ha-a-itk, the spirit of the lake. To me, when you talk about n'ha-a-itk it's the spirit of the water. It's everything in our life, everything revolves around it."
Standing on top of Mount Boucherie, looking out at Rattlesnake Island and the mountains behind it, Jorden explained how everything is connected. The water comes from the mountains, and everything else comes from the lake.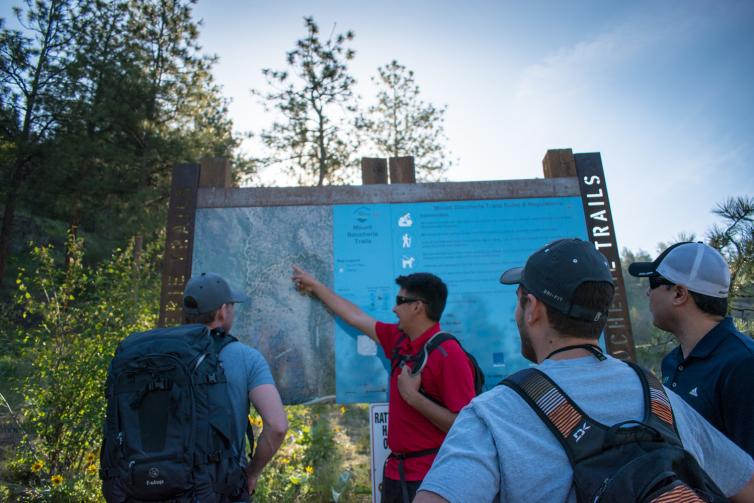 Photo by: Rebecca Bollwitt
"It's not just the water, it's the water bugs, the fish, the plants, everything that it flows in and out of, and that's what n'ha-a-itk to me is. So, when people come and ask, 'where can we find Ogopogo?' I say well you're looking at it. Everything you see here is Ogopogo."
From this vantage point, where centuries ago Syilx scouts would observe the area and send messengers out across the land, Jordan feels a great connection, that he wants - and feels an obligation - to share. "We're all guests on this land. Even me. I'm borrowing it from my grandchildren."
I descended the hike with the new knowledge that Ogopogo isn't a monster or a demon. As Jordan says, "It's something we have to respect, revere and give thanks to every day."

Indigenous World Winery & Red Fox Club
Post-hike you'll want to refuel, and nearby Indigenous World Winery offers award-winning wines, northern vistas, and the Red Fox Club patio - perfect for sunny Okanagan lunches. What makes the Red Fox Club unique is Chef Andrea Callan's commitment to indigenous flavours.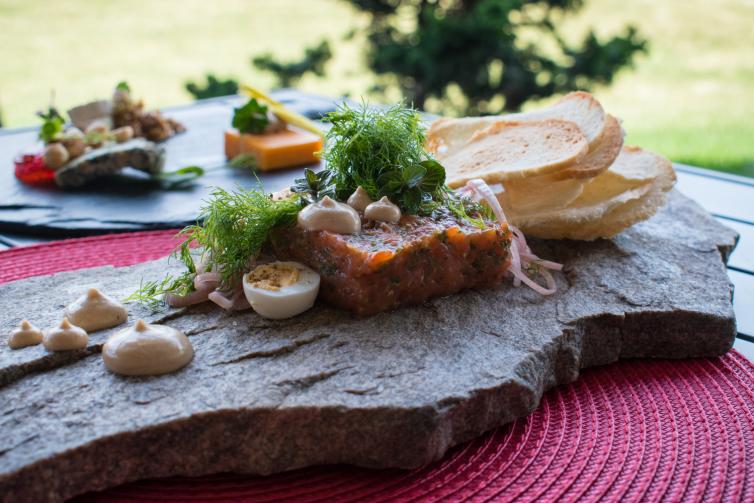 Photo by: Rebecca Bollwitt
Salmon tartar at the Red Fox Club
"If you lived on the land centuries ago, what would you be eating?" Chef Andrea said as I polished up my salmon tartar and spring greens picked from her garden that morning. Whatever you can forage, fish, hunt, preserve, ferment, or whip up as a local cheese, she's got on her seasonal menu that changes every month. She also consults with the Westbank First Nation to respect the culture and heritage of the land so that she can introduce her diners to modern First Nations cuisine.

Kekuli Cafe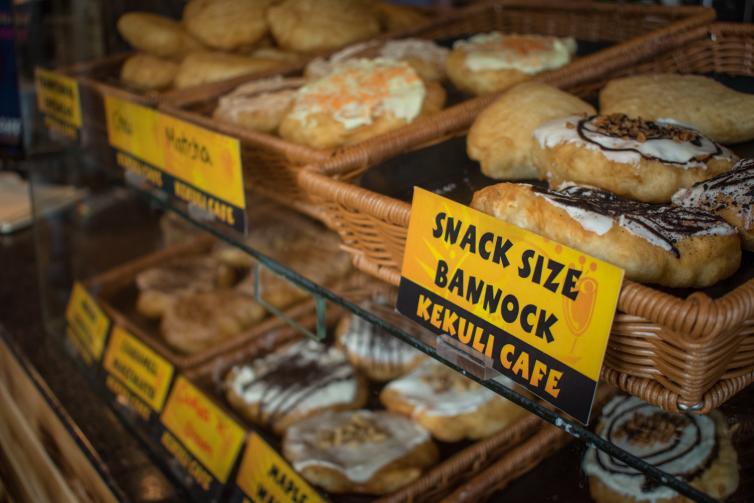 Photo by: Rebecca Bollwitt
Don't panic, we have bannock!" the sign outside reads. Kekuli Cafe in West Kelowna is one of two locations of this amazingly delicious bannock cafe that can give any doughnut shop a run for its money. Owner Sharon Bond-Hogg started with a snack stand by the local carwash and now she has two locations (the other is in Merritt), and is soon opening up to franchising.
Venison bannock tacos, wild salmon breakfast bannock, bison burgers, Saskatoon berry smoothies and mocha and candied icing-covered bannock. Sharon's mission was to create a traditional indigenous ambience - with pow wow music, art, jewelry, and of course, cuisine that reflected the region's bounty. Sharon is also an award-winning entrepreneur and author of the Bannock Blog .
Exploring the history at the museum, the walk on the land, and savouring the flavours of the region, I feel that I got to know Ogopogo, and the people who respect, live, and celebrate its spirit every day.

If You Go
Need help with your itinerary? Learn more here.
The Sncewips Heritage Museum is a great place to learn about the First Nations people of the Okanagan region.
Learn more about the Syilx First Nation, its people, land and winery at the Indigenous World Winery & Red Fox Club.
Kekuli Cafe is a must stop for all things bannock and more.
Uncover more about the Okanagan's offers for adventure. Check out ZenSeekers #OkanaganExploring Expedition page to see how you can have an adventure like this.
Rebecca Bollwitt is a Seekers' correspondent and award-winning blogger based in Vancouver. Follow her travels on Instagram and Twitter @Miss604.
Article originally published on ZenSeekers.