Your best friend has decided to tie the knot and you've gleefully agreed to be her Maid of Honour. Now you've got a bachelorette to plan and you want the event to be something she'll never forget.
A weekend getaway to Kelowna and the Central Okanagan, coupled with a creative theme that reflects the bride's interests, allows you to do just that and more – help the bride escape the stresses of wedding planning.
If the details are too much to handle, take the stress out of your destination event planning and ask one of Kelowna's full-service event planning companies to help with all the necessary negotiations and logistics. Check out Cantrav or Synergy Events to make planning easy.
Here's a sample of the Kelowna fun you can plan for the bride-to-be.
Travel in style – book a limo
From when you first arrive – be it by aircraft, automobile or just gathering the gals at a favourite meeting place – to goodbye hugs before the big day, travel in style by reserving a limousine to whisk you between activities. Kelowna is home to a number of limousine companies, with many of them offering package and tour deals. Having a limo to shuttle you around makes visiting wineries super easy, too.
Friday evening

Image: Playa Del Sol Resort / Facebook
Book a suite at one of Kelowna's quality hotels or resorts – we suggest the Delta Grand or the Playa Del Sol Resort – and freshen up before heading out to enjoy cocktails and dinner. You'll find Kelowna's restaurants and lounges are a great way to gear up for an evening out. Check out Waterfront Wines for a refined experience or SmackDAB for a lakeside treat.
Or make it an early night; grab room service and a bottle of your favourite local wine and enjoy a low-key night after a day of travel with your best girls.
Saturday morning
Here's where it's important to consider the bride's interests.
If she likes to shop, wander Downtown Kelowna and visit the more than 130 unique shops and a multitude of cafes. In the mood for a sweet treat? Try Moo-Lix Ice Cream. Want an extra boost of energy? Grab a coffee at The Bean Scene Coffee Works.
If shopping isn't on the agenda, Kelowna has a multitude of cultural and recreational opportunities to get the party going Saturday morning – like stand up paddleboarding, ziplining or how about a low-key visit to the beautiful Kelowna Art Gallery instead? Visit Tourism Kelowna for a comprehensive list. And if all else fails, make it a beach day and enjoy the lake and some Okanagan sun.
Saturday afternoon
You're in wine country – now's the time to put the limo to use and take a tour of the many wine-tasting opportunities Kelowna offers. Stop by Summerhill Pyramid Winery for a unique "sparkling wine tasting and pyramid tour" experience or Mission Hill Family Estate Winery for a breathtaking view and even more unforgettable meal. Don't forget your cameras and to stock up on a few bottles to take home!
Saturday evening
What's a bachelorette weekend without a bachelorette night out? Dress up and make the most of Kelowna's warm evenings with a limo ride downtown and a visit to one (or more!) of Kelowna's more than 30 clubs, pubs and nightspots. Whatever mood you're in, you'll find plenty of opportunities to have a blast.
Sunday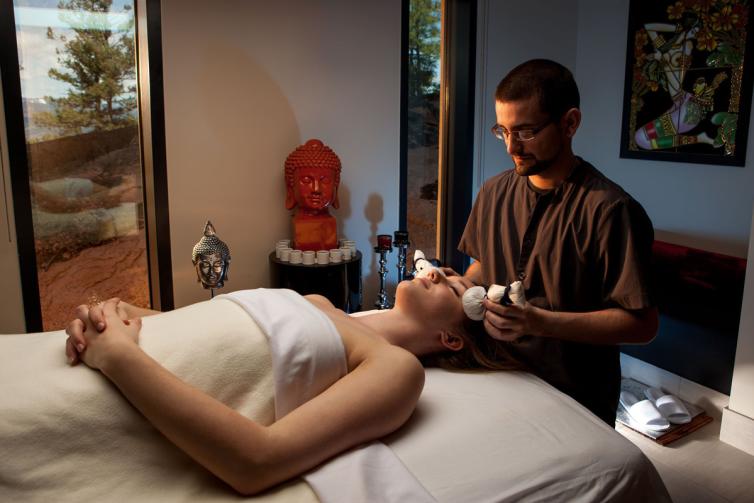 Sparkling Hill Resort
Sleep late, but not too late. We've got some spa time booked. It's a given – manicures, pedicures, facials and even mud wraps are key to a relaxing weekend, especially after a night out. Luckily, Kelowna is home to some of the very best in day spa experiences – check out Beyond Wrapture's red or white "vinotherapy" indulgence massage for example.
Heading home
And that's it – you're done. You've provided your bride-to-be with a perfect escape from the pre-wedding madness. Relax as you head home and take a few moments to reflect on your weekend. After all, her big day is just around the corner.
---
Originally Posted on VanCityBuzz