Last year over winter break my husband and I hiked into Myra Bellevue Provincial Park with sleds and our two kids in tow and spent a couple of hours zooming down snow-covered trails normally used for hiking. It required a bit of effort but the payout was awesome: our family was rewarded with adrenalin thrills, lake views under blue skies, and a pileated woodpecker making a racket at the top of a tree.
We still remember that day and wonder why we don't play outdoors even more; after all, Kelowna's winter days usually come with mild temperatures and a side of soft snow. There are the obvious ways to enjoy that light Okanagan powder (skiing, anyone?), plus a bunch of other fun things to do and a few that are free (minus the sweat equity I was talking about, of course). Here are some of our favourite ways to spend winter days in Kelowna.
1. Sled at a local park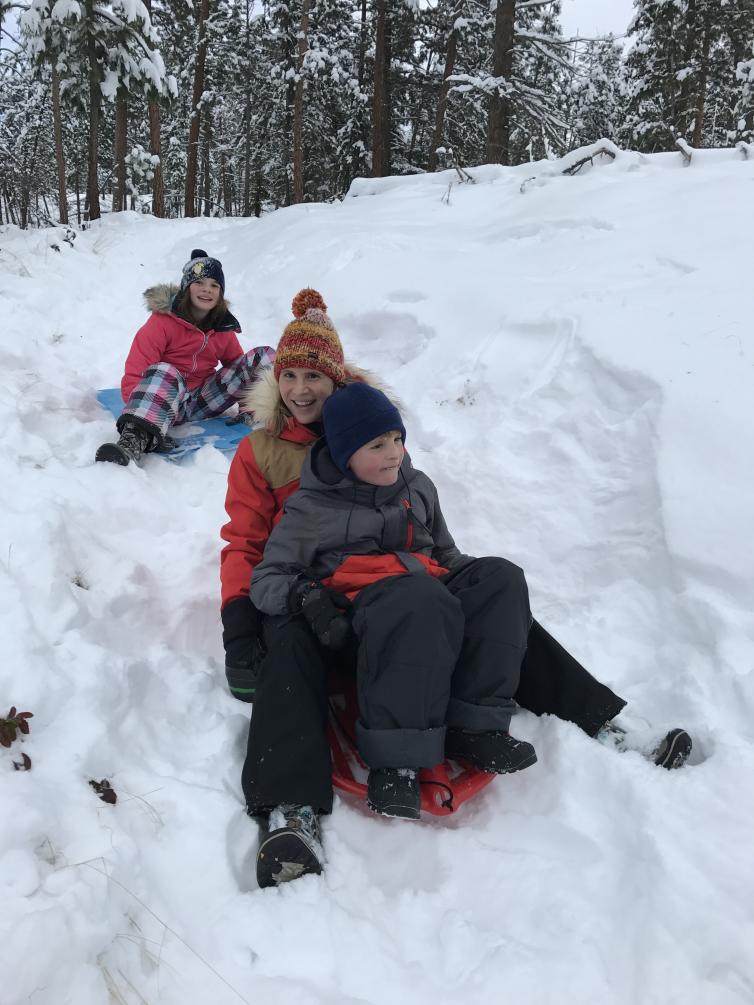 Pack a crazy carpet or two into your car or suitcase and hit the hills in parks around town. Kelowna locals all claim to know the best spots for careening downhill like Clark Griswold on his oiled saucer sled in Christmas Vacation, but we have the down-low on where to go. In Glenmore you can't beat Jack Robertson Memorial Park—its toboggan hills are complemented by a playground. Curlew Park in Kettle Valley, behind Chute Lake Elementary, boasts a steeper hill for daredevils and a more gradual slope for younger tots. In West Kelowna, Hudson Road Elementary has hills for sledding that graduate from easy to challenging. Finally, we've had a lot of luck in Myra-Bellevue Provincial Park in southeast Kelowna—any steep hiking path turns into a toboggan trail when the snow flies!

2. Snowshoe Myra Canyon Trestles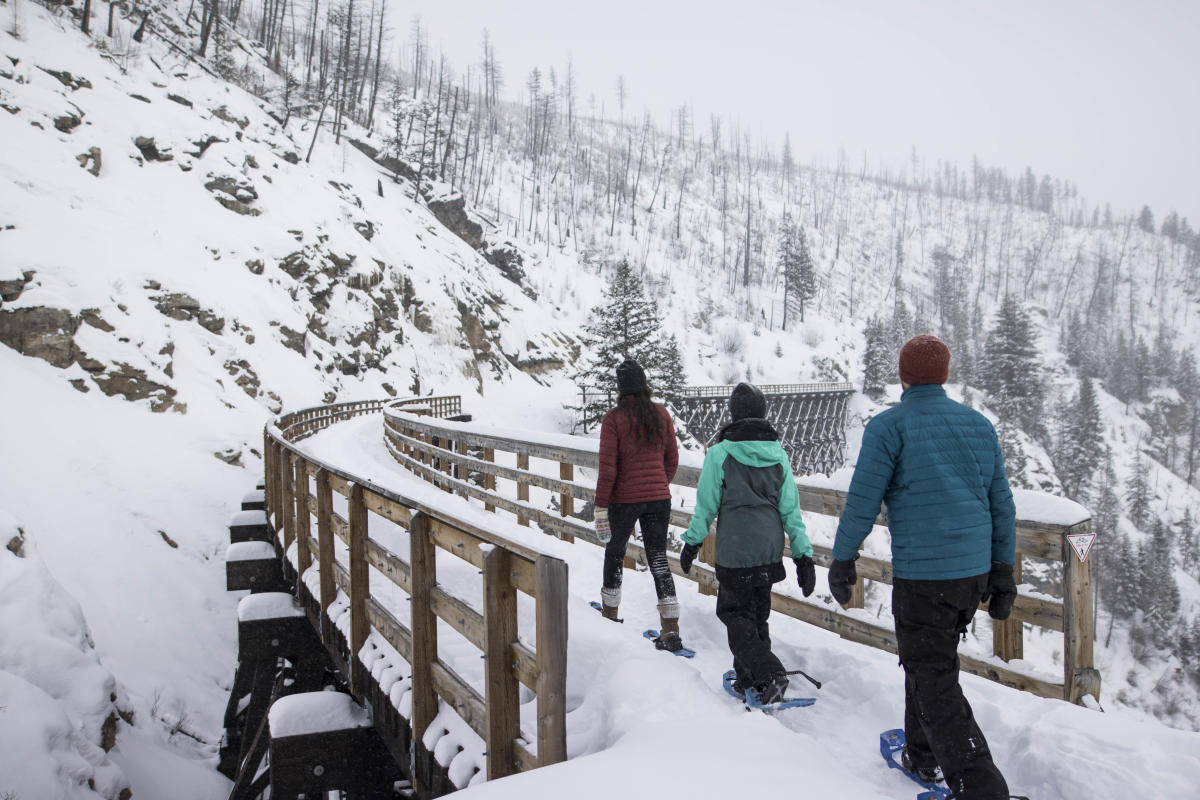 Photo by: Meghan Reading
Rent snowshoes from Fresh Air or MEC and drive up to Myra Canyon to snowshoe along the most spectacular part of the Kettle Valley Railway Trail, with views of Okanagan Lake and the snow-frosted trees in the valley below. The path is high above town and snow usually stays on the ground all winter. Start at Myra Station parking area, which is about 1km from the first trestle; you'll cross about 10 more trestles, plus pass through two tunnels, in about the first three kilometres. Older children should be able to make it this far (that's about 6 km return) and if you're worried about kids wearing the contraptions remember this: if they can walk, they can snowshoe. Tip: be a rock star parent and bring a thermos of hot chocolate and cups, and snacks, of course.

3. Hike to see frozen waterfalls
What kid doesn't love a giant mass of icicles hanging from a house's eave, or better yet, the edge of a cliff? In Bear Creek Provincial Park, over the bridge in West Kelowna, it's an easy hike to gape at frozen waterfalls. Just follow the Bear Creek Nature Trail on a 2.1-km loop that passes multiple viewpoints over Bear Creek. Not only will you get some great lake views, you'll also see waterfalls turned to ice as if Elsa from Frozen has touched them with her magic hands. The hike is steep in sections so wear boots with good treads or bring ice cleats or grips to wear over hikers in case the trail is slippery.

 4. Visit a winter resort to ski… or dog sled!
Both Big White Ski Resort and SilverStar Mountain Resort are a quick drive from Kelowna and great places to go downhill skiing. They offer lessons for kids and adults, plus all equipment rentals if you don't have the gear. What's more, they've rounded out the winter experience with other activities so you can go ice skating or tubing, or try cross-country skiing, snowshoeing or even fat biking (mountain biking on snow with really fat tires) right from the village. Big White even offers dog sledding or snowmobiling tours from the Happy Valley Adventure Centre.

5. Ice skate in downtown Kelowna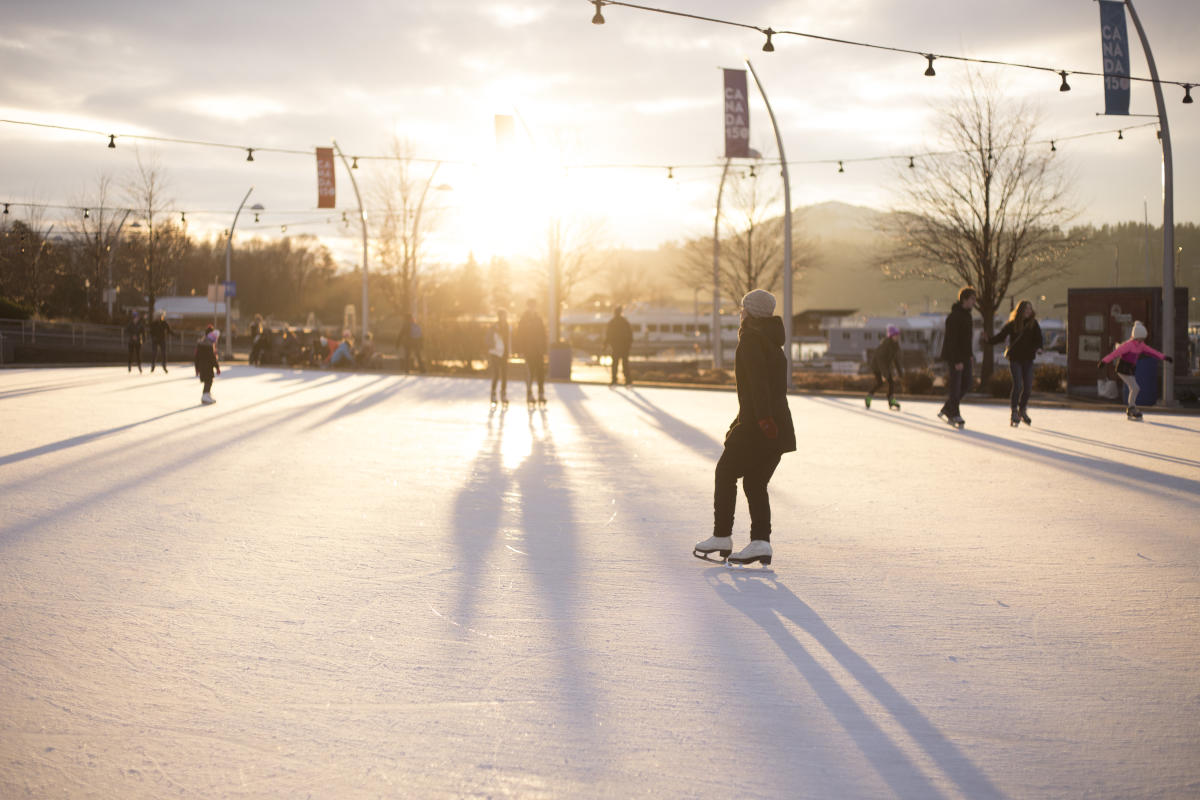 Photo by: Matt Ferguson 
From December 1 through late February, Stuart Park on Water Street transforms into an ice skating rink. Skate and helmet rentals are available from a mobile operator, Bladez Skate Rental, between 11 a.m. and 8 p.m. every day except Christmas (weather permitting). When little legs get tired, grab a bench seat, warm up with a coffee (parents) and hot chocolate (kids), and refuel with a snack, available from a nearby vendor.

6. Catch a hockey game at Prospera Place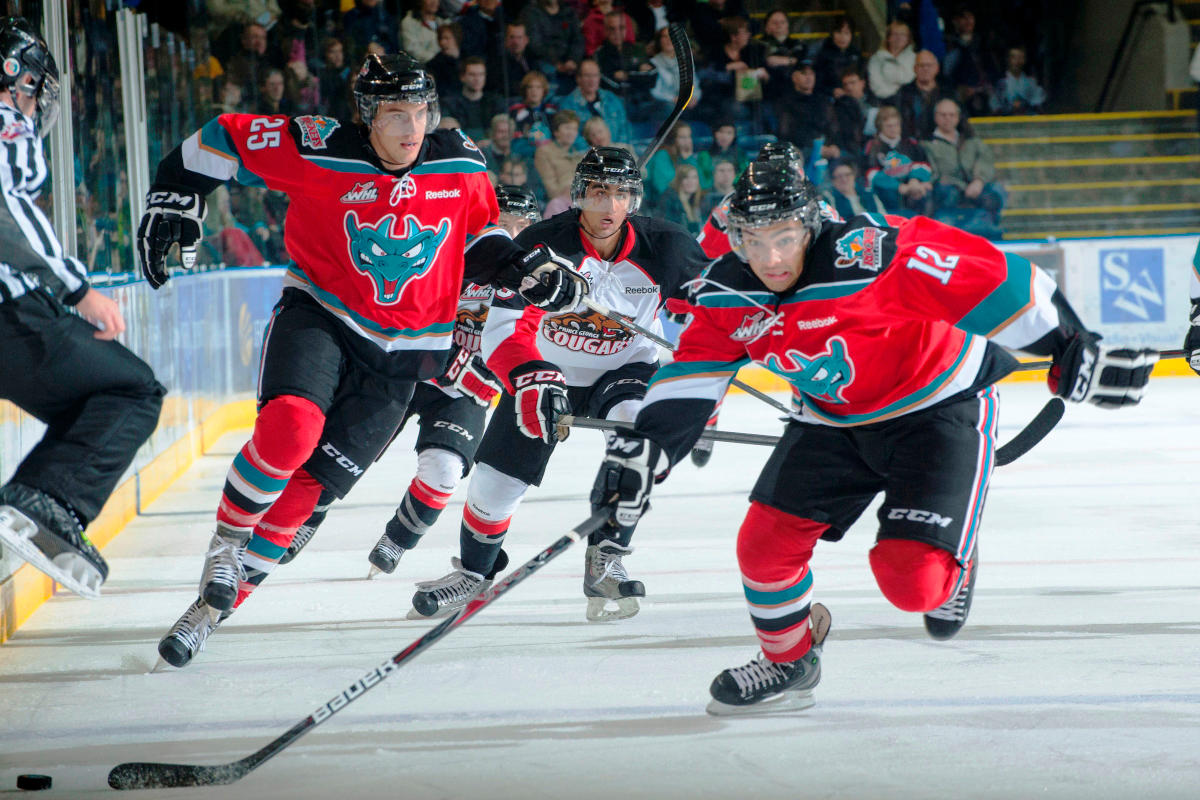 Photo by: Marissa Baecker
Okay, so this activity involves spectating rather than participating, but everyone in the family agrees that watching live WHL hockey is super exciting and the Kelowna Rockets are no exception when they're skating on home ice. Check their schedule here and get ready to cheer for the home team!