Myra-Bellevue Provincial Park has one of the largest networks of singletrack trails in the Kelowna area, the trail network is known as Crawford Trails, named after the nearby waterfall and quaint neighbourhood the park borders. Along the way to the trailhead, you'll see horses and farm stables nestled in the hills, orchards, and wineries.
Once you get to the top of Stewart road, you'll find a complete trail map just into the park. The entire trail system has been mapped and there is signage throughout the trails; a true luxury!  Many sections of trail are sponsored by local businesses who support the active community such as Valeo Health Clinic, Kelowna Cycle, or Wave Physiotherapy.
I highly recommend downloading the free app: Trailforks on your phone. It shows you all the trails, the elevation profile, difficulty level, direction best ridden, and you! As a blue dot.
For a big day on the bike, there are a few local routes up from the trailhead at the end of Stewart Road. My favourite loop and one of the harder ones is the Vapor Trail Loop. Link up Pink Highway-Fairlane-Grassy-Outhouse-Swamp Thing- Lost Lake-Captain Nemo for one of the best ways up to the Kettle Valley Railway (KVR). 
The KVR is notable for its 12km stretch of 18 trestles and 2 tunnels between Myra and Ruth Stations. The historic KVR help put Myra-Bellevue Provincial Park on the map along with Kelowna's favourite trail system Crawford Trails. There are numerous ways back down to enjoy the fruits of your climbing labour!
My favourite trail, Vapor Trail is one of the most challenging with steep chutes and rocky sections.
Video riding Crawford Trails:
If you're looking for a view of the spectacular Crawford Canyon, take the Crawford Canyon Trail down. 
You can even fat-bike Crawford Trails in the winter!

Angel Springs Trail
If you are up for a real adventure and want to experience one of the few rainforest-like micro climates, follow the KVR until you reach Angel Springs Trail. Angel Springs features incredible cedar trees, a musty deep dark woods feel, and even a local swimming hole at the bottom. It's also a popular spot for hikers to climb up the trail, so watch out for traffic!
Easier Loops 
Not everyone has to be an adrenaline junky or experienced mountain biker to enjoy the trails in Kelowna. For those new to the sport or who maybe just want an easy day, opt for the green and blue trails on the map. A nice loop is Pink Highway to Fairlane, up Salamander. You can choose to head back down on Wooley's Revenge or Boris/Earring Trail. Or, if you want to keep going, go up Lost Lake Trail to Lost Lake Loop and ride Piper's and Myra Bailout to Fairlane. A longer distance beginner to intermediate loop in terms of trail difficulty would be to ride Pink Highway to Flamingo Junction. Keep going on Pink Highway until you get to Obelisk Junction.  Turn left and take Doc Savage-Outhouse-Grassy and back down Pink Highway until you get to Galloping and cruise back on Fairlane.
What to do post ride?
You are in the heart of Kelowna's wine country. Stop at the food truck, Bare Taco at The Vibrant Vines Winery. Once you had your fill go for some free wine tastings and maybe even catch one of their weekly concerts. You'll also find farm stands nestled in the area for fresh eats.
Read more:
Why Kelowna is a mountain biker's paradise
---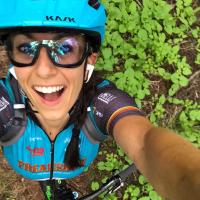 Sonya Looney is a World Champion Professional Mountain Biker based in Kelowna. When she's not riding all of Kelowna's great singletrack, she is hosting her podcast: The Sonya Looney Show and travelling and racing around the globe, and touring as a motivational speaker.
For more on mountain biking in Kelowna, follow my Instagram, Facebook or Strava page.