It's holiday party time! Wine is the libation of choice in our household, and we love to share our favourite local finds with our guests. Having a variety to suit everyone's taste is important so make sure to cover all areas from reds to sparkling and yes, rosé in the winter. Rosé is a wonderful party beverage—the colour is very festive, it's an easy sipper, and it pairs well with food (plus it's an excellent pairing with turkey).
Cheese pairs perfectly with wine and I love to put together a big cheese and charcuterie board loaded with treats. Along with the usual array of cheeses and meats, I add different delights to the board like blue cheese-stuffed olives (it's just that easy – stuff large pitted green olives with blue cheese) or dates stuffed with goat cheese and pistachios (or blue cheese and walnuts). The original version of this dish is called Devils on Horseback for some bizarre reason and the dates are also wrapped in bacon and baked. Wrapping the stuffed dates in prosciutto is also delicious!
Cheese balls are a classic retro appie and you may have forgotten how delicious it is. Make one big one or some small bite-sized balls to add to the board or share on the side. Another idea, to make a wheel of brie more festive, top it with a lovely cranberry sauce. You can warm it in the oven to get it slightly melty before serving but I find it is just as good just to let it sit out to get room temperature before your guests come. This is your chance to get a jump on your Christmas dinner by doubling your batch of cranberry sauce and saving half for the turkey.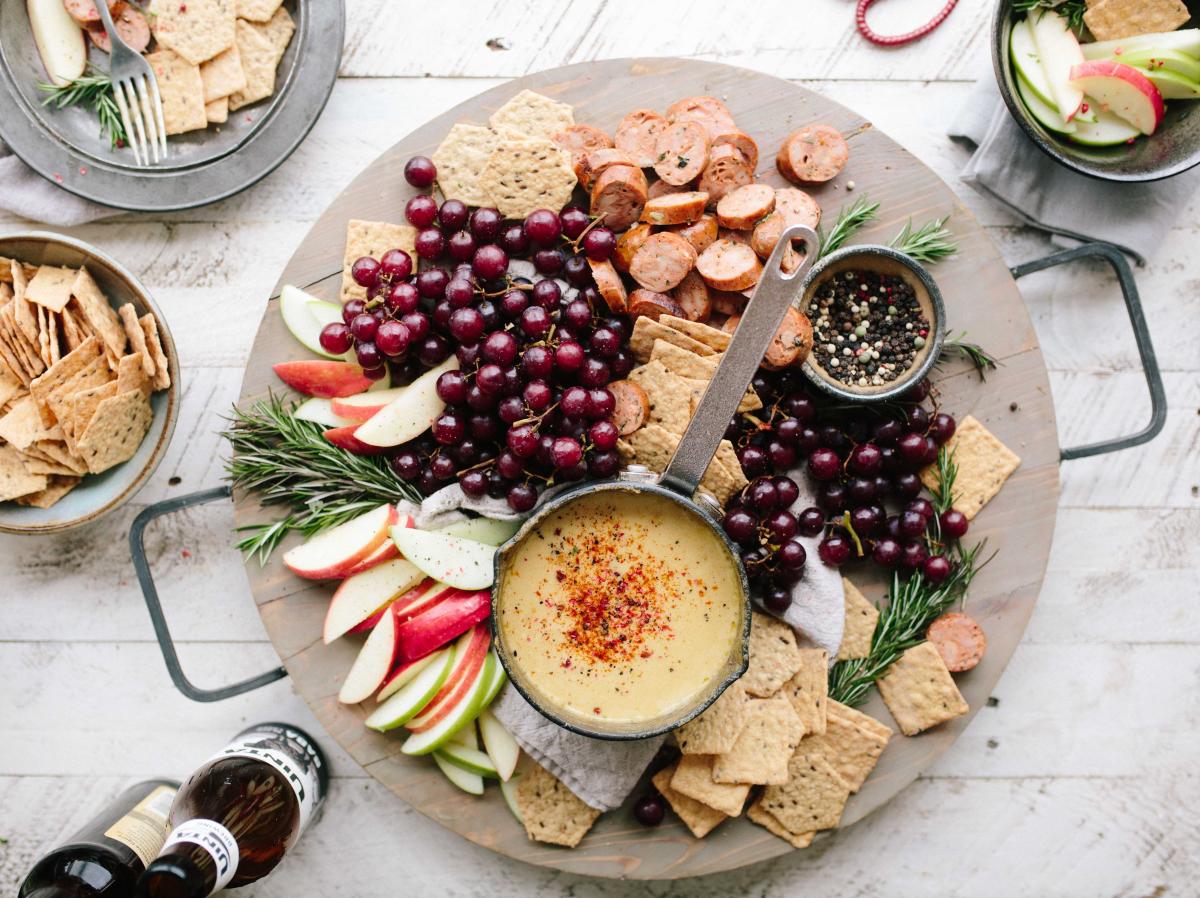 Holiday boards are so much fun to make so be creative. Add Christmas cookies, use Christmas cookie cutters to shape your cheeses or style your food in the shape of a tree or wreath – rosemary is a beautiful herb to use to create an edible holiday look.
Enjoy and cheers to good friends and good food!

Tammy's Cheese balls
Ingredients:
1 pkg cream cheese
½ cup sour cream
1 Tbsp grated Parmesan Cheese
1 ½ cups grated white cheddar or Monterey Jack
2-3 Tbsp green olives, chopped
1-2 Tbsp green onions, chopped
1 tsp Worcestershire sauce
½ cup parsley, chopped finely
½ cup walnuts, crushed
Directions:
In a large bowl, stir together softened cream cheese, sour cream, cheddar cheese, green onions and Worcestershire sauce until well combined. Stir in olives. Cover and chill for at least one hour. Remove from the refrigerator and form the cheese mixture into a ball shape or roll the mixture into bite-sized balls. Roll in crushed walnuts or chopped parsley (or a bit of both) coating completely. Wrap in plastic wrap and chill until ready to serve.

Amazing Cranberry Appley Sauce
Ingredients:
3 cups cranberries
1 cup BC apple cider
1/4 cup maple syrup
1/2 cup sugar
1 tsp orange zest
½ cup diced B.C. apple
1 cinnamon stick
Spring of rosemary
Directions:
Add all ingredients to a medium saucepan and bring to a boil and stir to make sure the sugar is melted. Turn down the heat and simmer, stirring occasionally for 25 minutes or until the sauce thickens to the preferred consistency and the cranberries have popped. Enjoy.

Six Holiday Wines to Pair: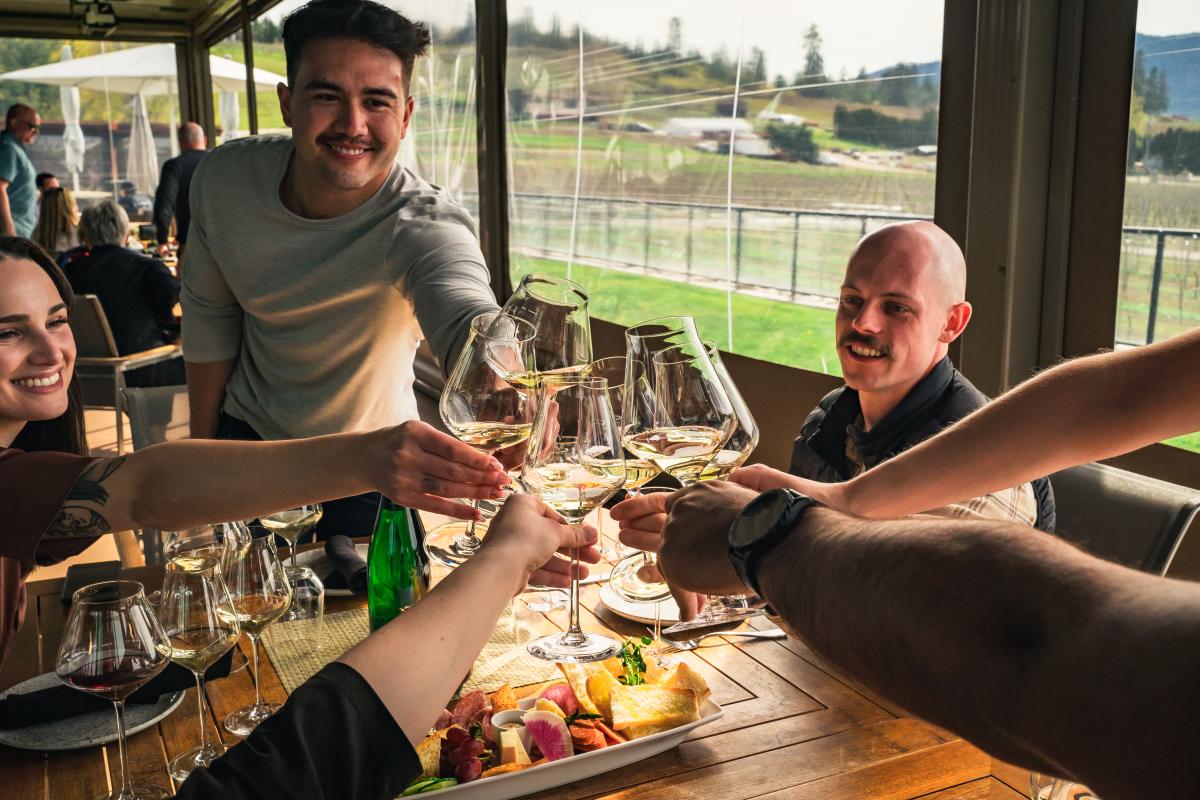 Photo by: Ken Hagen
The 2021 vintage opens with aromas of sour cherry, raspberry, cassis and cedar. On the palate, rich and elegant flavours of red fruit and baking spice.
2021 Broken Granite Gewürztraminer
More fruity than floral with a delicate hue of lime green this Gewürztraminer has intense tropical fragrances of papaya, peach and lychee, reminiscent of a fruit cup packed in syrup. Perfumed with just a delicate kiss of nutmeg and rose water with a long lingering dry finish.
This Rosé begins with lovely notes of melon, red currant, pomegranate, red berry, and a touch of earth. A dry, smooth yet refreshing wine with fruity flavours of red berry, Rainier cherry, and melon. It finishes with notes of Rainier cherry, melon, pomegranate, and redberry tea.
 
A blend of their trademark Pinotage with Pinot Noir and Riesling. This elegant, dry, sparkling has notes of crisp green apple, citrus and subtle minerality which dance on your palate with lively effervescence.
An Okanagan classic. On the nose, Honeycrisp apple, white flowers and lime zest. The palate is fresh and vibrant with juicy green apple, pear, lemon meringue and a hint of toasted brioche.
This cab has dark ruby red hues with aromas of blackberry, cedar and toast. Light - medium-bodied with blackberry, pepper and cassis flavours. Nicely balanced, forward tannins, lingering fruit during the moderate finish.