"They call it a boom because that's the sound it makes when it hits you in the head," Brad Hallam explains as we duck our noggins so he can swing the sail to catch the wind.
Noted. I add this term to my yachting lexicon and listen intently as he points out the difference between tacking and jibbing. Unfortunately, my notions of sailing have been informed by Pirates of the Caribbean movies, so while I'm eager to shout out directives like, "Stand back, ye scurvy dogs!" the really useful terms are beyond my ken.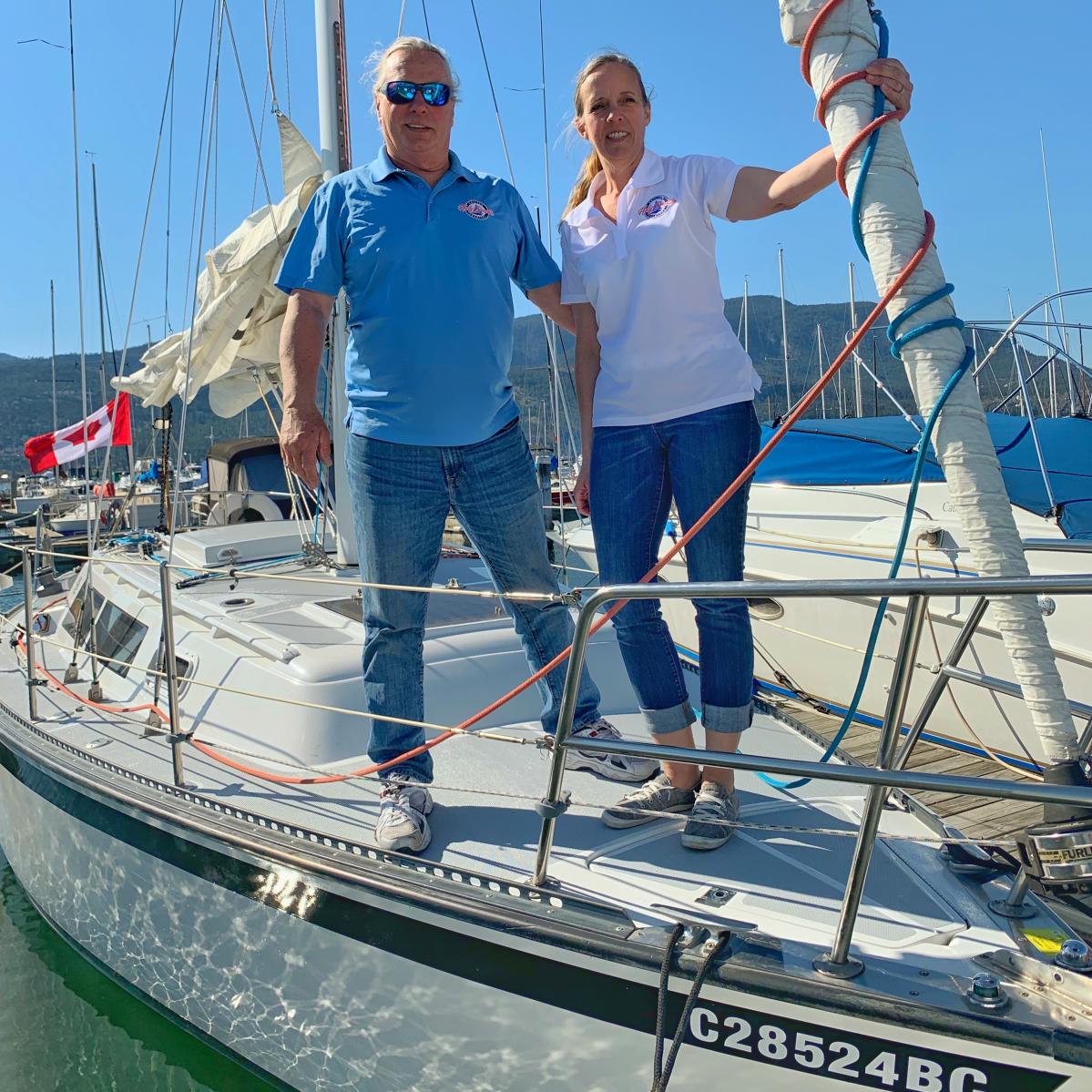 Brad & Lori Hallam of Holy Doodle Sailing Charters
We are serious landlubbers, but our family of four has been enticed onto the cobalt blue waters of Okanagan Lake for an afternoon sail aboard the yacht Adria with Holy Doodle Sailing Charters. Skipper Brad and his first mate, wife Lori Hallam, make our freshman foray into the yachting life a memorable one. Once the sails are hoisted the boat heels (translation: tilts onto its side) rather alarmingly—I might be able to touch the water if I lean my arm over the rails just so—but we soon get the hang of sailing and enjoy the thrill of skimming along the water.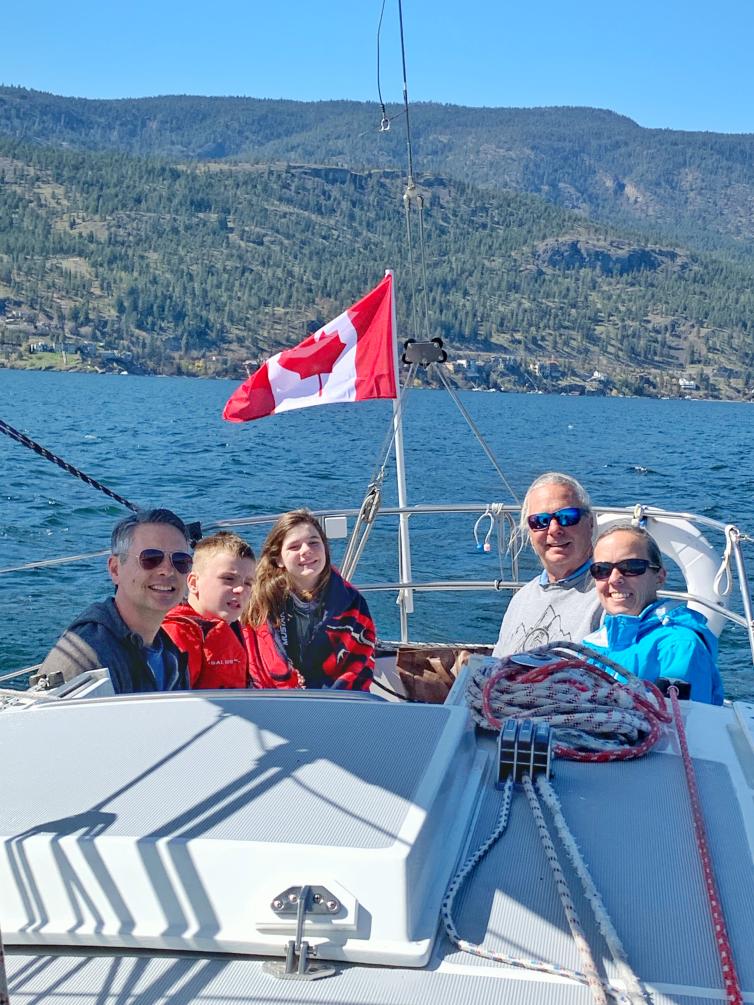 It's a different view of the city from the lake. We see splendid lakefront homes and their private docks up close, wonder that we never noticed the wetland adjacent to Tugboat Bay, and enjoy a feeling of camaraderie with the other boats out on the water on this sunny spring day. It's all the glamour of a regatta, without the champagne and caviar.
Instead, Lori heads below decks and returns with beer for my husband, a glass of rosé for me, and lemonade for the kids. I could get used to this.
Spring is the Hallams' favourite sailing season and I can see why: the sky is blue, it's not too hot and we have the lake almost entirely to ourselves.
"Spring is best because there's a breeze, the weather is nice, and the lake's not too busy," says Brad.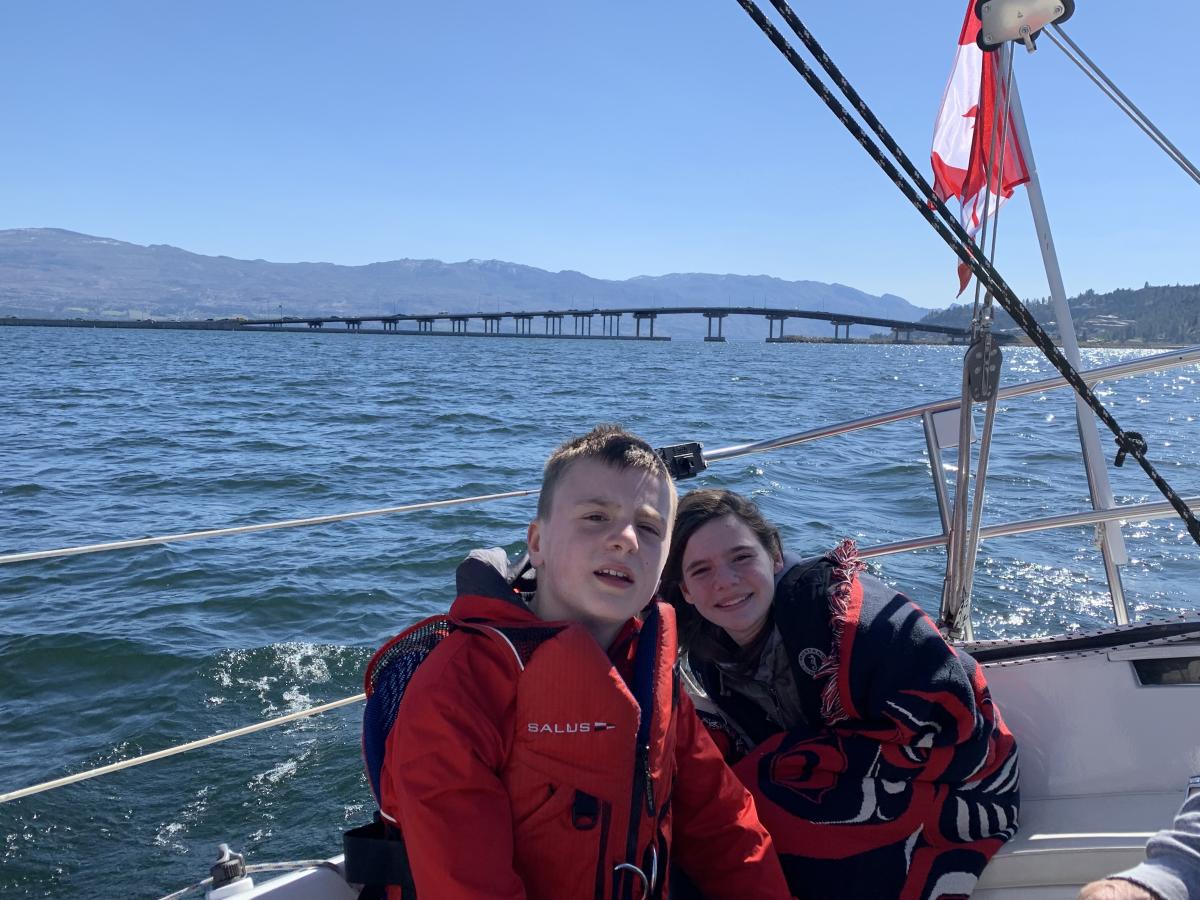 After a two-hour tour that takes us north to Manhattan Point, and then south under the William R. Bennett Bridge, Brad lets me take the tiller and point us back to the Kelowna Yacht Club marina. We weren't on the lake long enough to grow sea legs, but that just gives us an excuse to "trim our sails" (translation: adapt to new circumstances) again soon.
Want to get out on the water in Kelowna? Here are some options.