The end of October is quickly approaching, and with it, my personal favourite holiday- Halloween!
As a child, this favouritism was due to the elaborate costumes and boatloads of candy. These days, it's the cool weather, pumpkin flavoured everything, and an excuse to go out with my friends. One tradition has remained my absolute favourite throughout the years, however, and that is my annual visit to the pumpkin patch.
Between the vibrant colours, the fresh air, and the cozy vibes, nothing screams "Fall" quite like a pumpkin patch.
This list details some of the best local patches, along with pricing, distance from downtown Kelowna, and any other amenities that the farm may offer.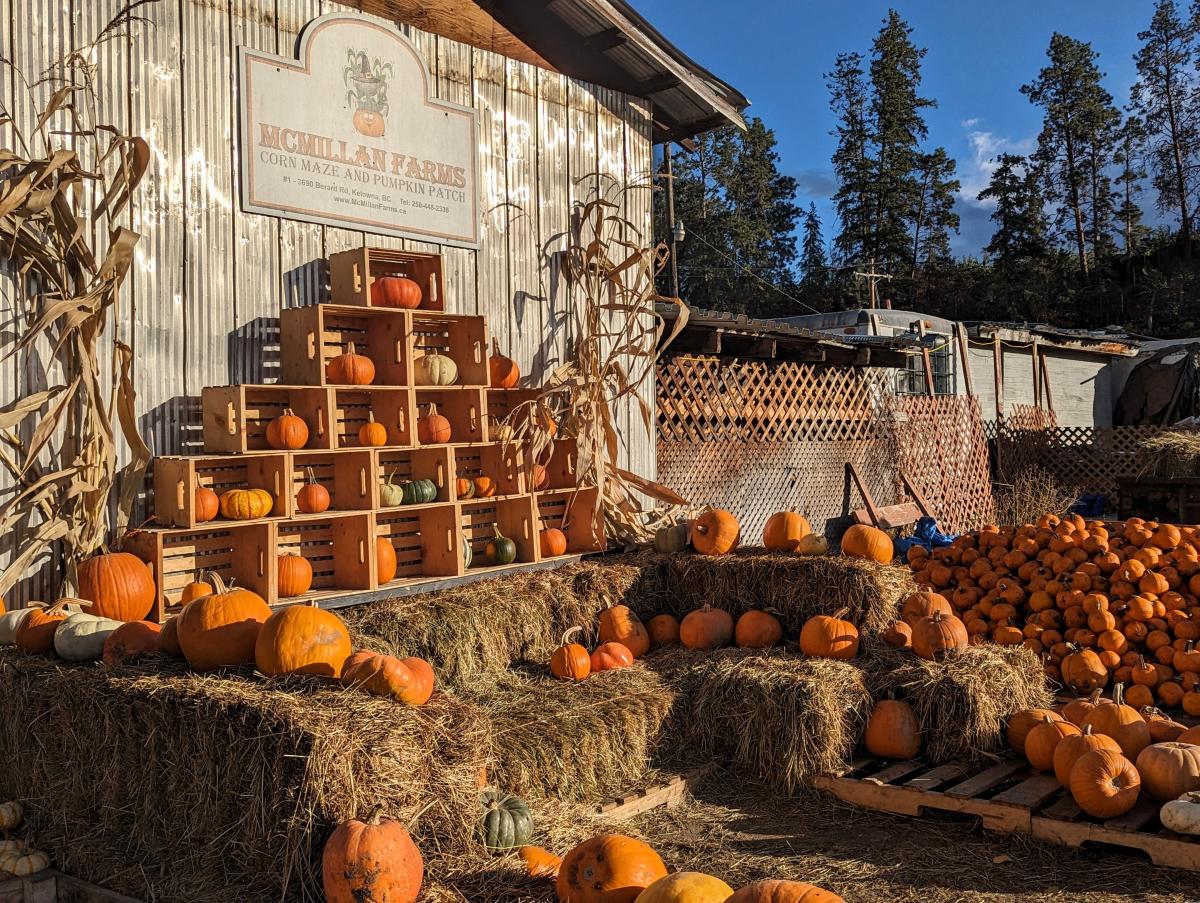 McMillan Farms is a go-to fall venue for families. While there is no charge to simply go in and pick up a pumpkin for purchase, buying the Fun Packs ($6 for children and $9 for adults) gives the opportunity for a hayride, corn maze, and a pumpkin slingshot. The venue also offers a concession, farm animal petting zoo, and fun Halloween themed decorations scattered about the property.
The pumpkins are pre-picked and laid out to choose from, but you can always expect a wide variety of sizes, shapes and colours!
Pumpkin Prices: Small $4, Medium $6, Large $7, XLarge $10
Distance from downtown: 7.7 km (15 minutes drive)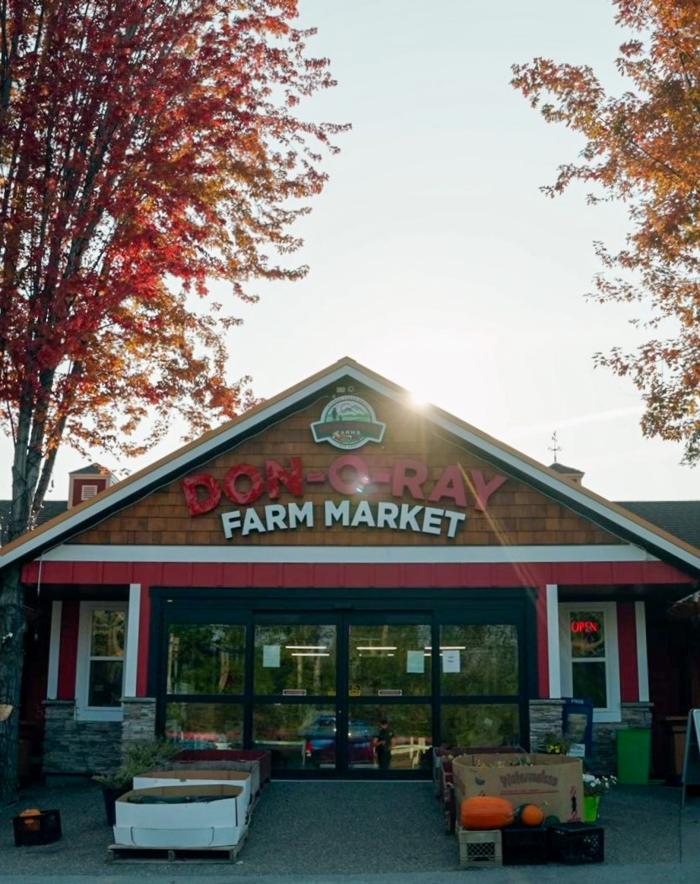 Don-O-Ray Farm Market remains one of the best farm experiences in Kelowna, made even better by their "Haunted Farm Adventure" taking place all October long!
This family-friendly spook-fest includes a fun Halloween twist on all their classic activities like the hedge maze, petting zoo, archery, airbrush tattoos and more. Pre-picked pumpkins are available in the farm market, so you can bring home the perfect jack-o-lantern to be.
There is no cover charge for entering the farm market, but the Farm Adventure will cost a reasonable $9.53 per person.
Pumpkin Prices: 75¢ per pound
Distance from downtown: 6.2 km (12 minutes drive)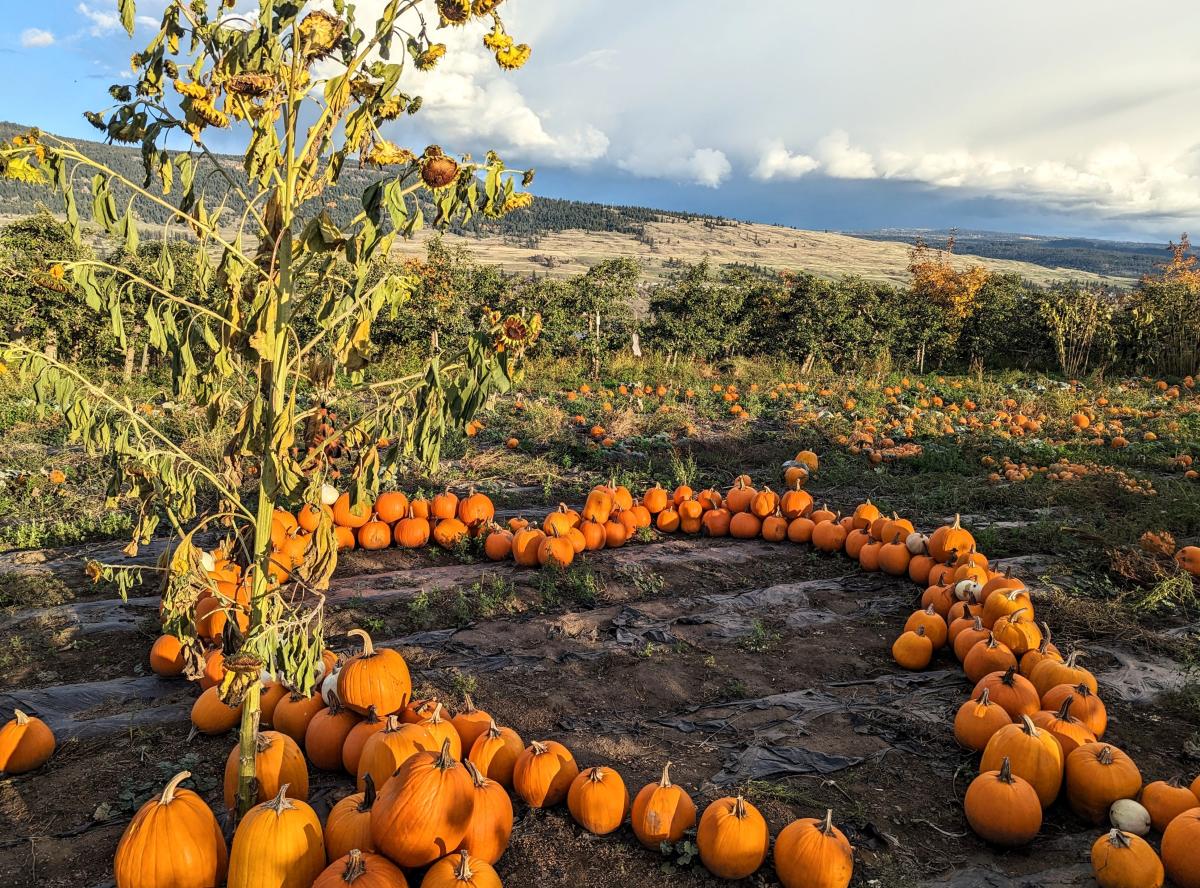 Gambell Farms is a sweet little family farm located in central Lake Country. They place a large emphasis on sustainable and healthy living, so you can feel good about what you buy.
Their 30-acre farm offers the first u-pick pumpkin patch on our list, so you can head out into the field and grab the perfect pumpkin right off the vine!
Pumpkin prices: Small $5, Medium $7, Large $10, XLarge $20
Distance from downtown: 23.6 km (30 minutes drive)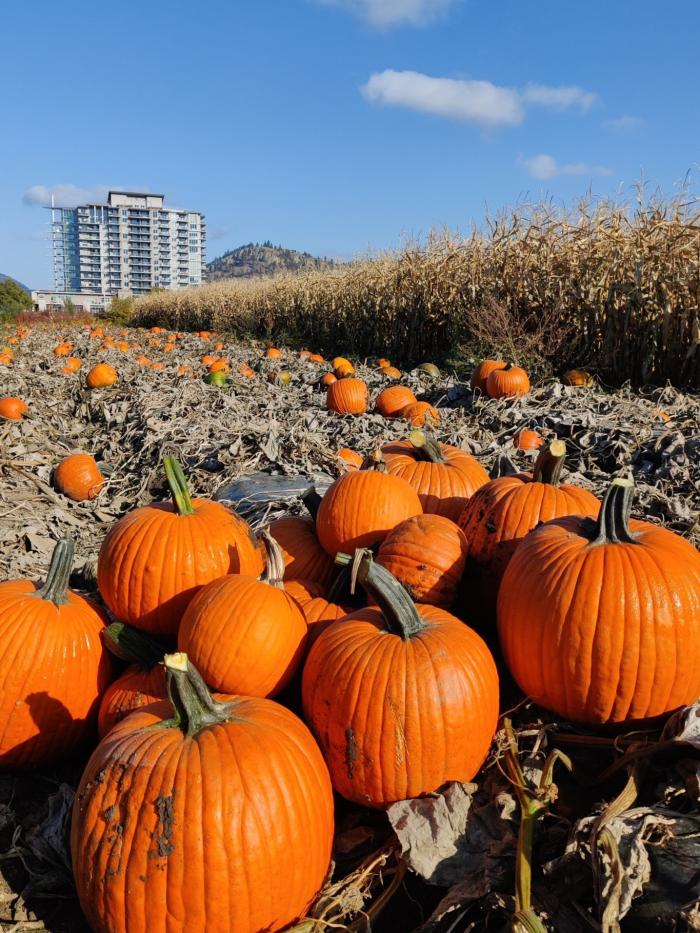 Photo credit: Kelowna Fruit N' Veggies
Centrally located right across from Orchard Park Mall, Kelowna Fruit N' Veggies is a convenient farm market right in town! Aside from their incredible fresh produce, they have the largest corn maze in the area, spanning a total of five acres and taking an average of 1.5 hours to complete, with admission ranging from free to $12.60 depending on age. If that's not enough, they also offer tennis ball air cannons priced by the bucket and a small concession and reception hall.
Pumpkins are pre-picked and available for purchase at the farm market, which comes with no admission fee.
Pumpkin prices: Small $3, Medium $5, Large $7, XLarge $15
Distance from downtown: 5.2 km (10 minutes drive)
Photo credit: Davison Orchard
Davison Orchards is the furthest option on our list, located in Vernon, but with the countless amenities and attractions, the longer ride is well worth it. Featuring an extensive market village that offers fresh produce, canning, sauces, toys, baking, and countless other gifts, alongside a cafe, petting zoo, playground, and more, you can make an entire day of your pumpkin picking!
At Davison, you can choose from the pre-picked pumpkins for sale at the market or take a tractor ride into the patch and pick one yourself. Tractor tours are $8 for children and $12 for anyone 13+.
Pumpkin prices: $6 for any size (in addition to the tractor tour price)
Distance from downtown: 56 km (55 minutes drive)

The perfect pumpkin can be hard to find, but with all these wonderful locations around town, you are sure to grab the best canvas for your future jack-o-lantern.
As a bonus, make sure you don't let any of those yummy pumpkin innards go to waste! Seeds can be baked and salted into a delicious snack, and any carved pieces of flesh can be cooked and pureed into a fibre-rich treat for your furry, four-legged friends!
Happy carving!