It's taco time! Who doesn't love a good taco? Kelowna has some delicious taco makers around town so get out there and plan a taco tour. Ole!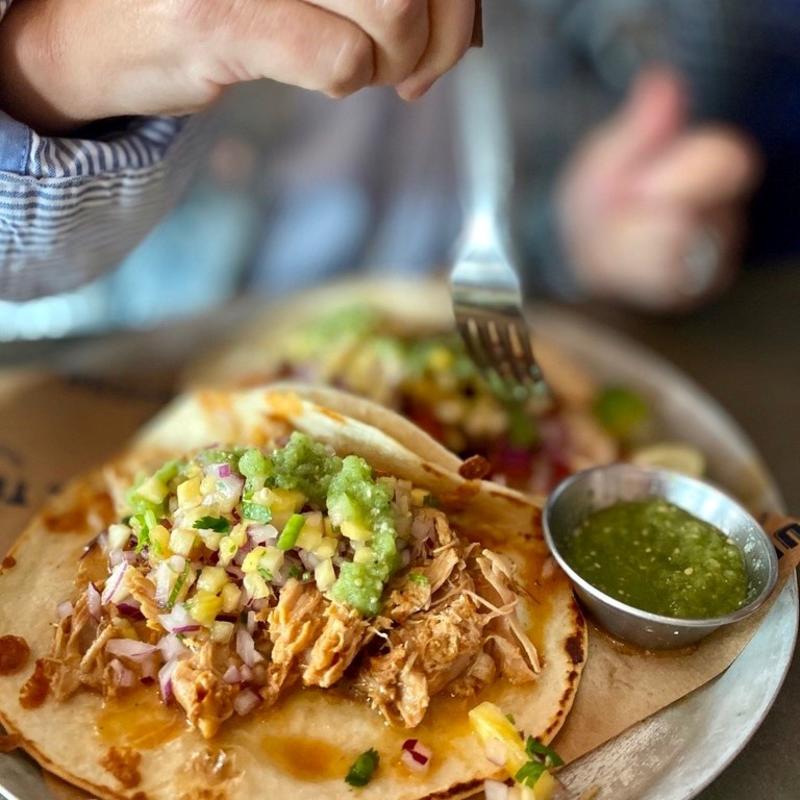 El Taquero on Ellis Street downtown! These authentic and delicious Mexico City street-style tacos have a local following for good reason. Mix and match your toppings to enjoy atop handmade flour tortillas.  La Pastor features achiote, guajillo chilli marinated pork served with pineapple pico or the Asada has hand-shredded beef onions and cilantro. Probably just order a platter with one of each.
For Mexican food lovers, you will be excited to find that they also have Birria and Tortas on the menu and so much more… like tequila.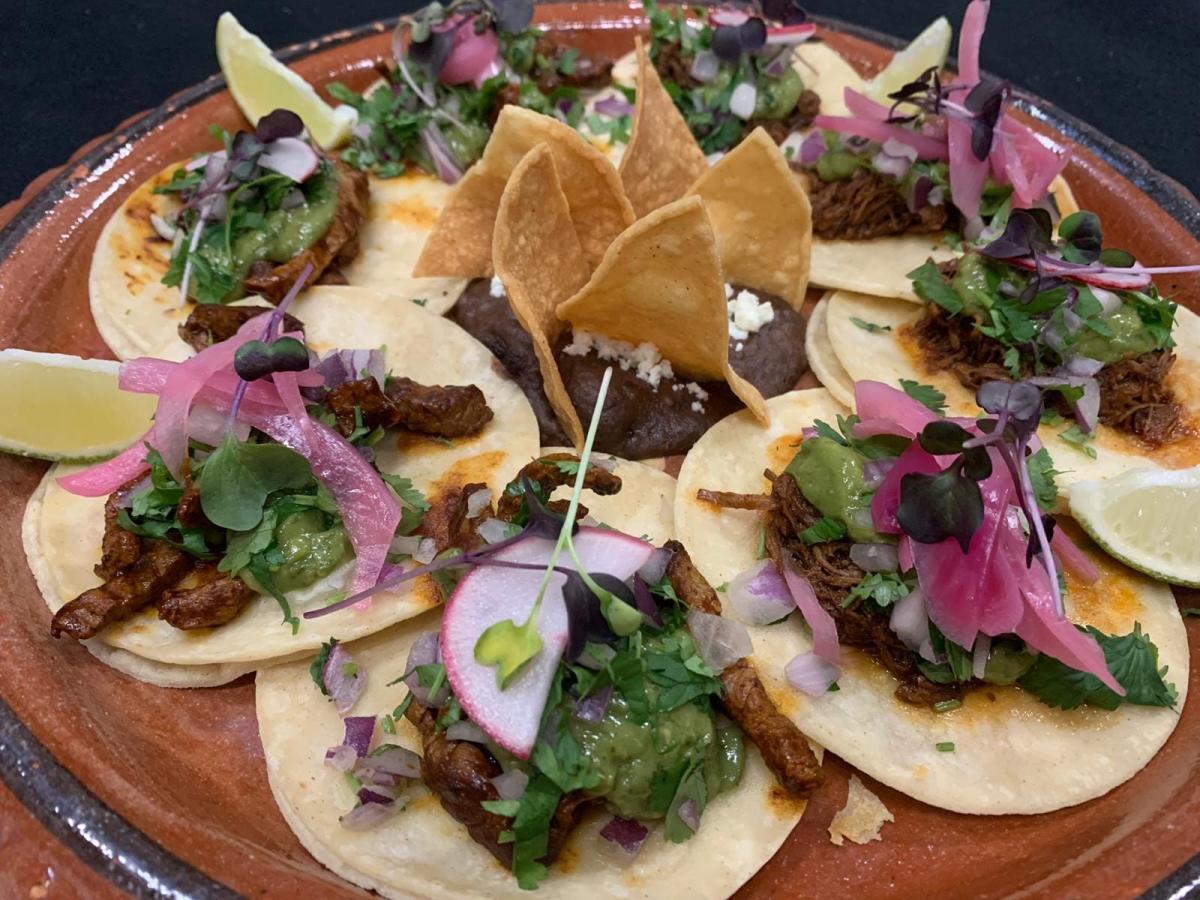 Hector's Casa is located in the hip Pandosy neighbourhood and is the OG Mexican restaurant in town. Besides a great authentic menu, Hector's has live music nights and an awesome patio in the back that will transport you to Mexico. The Taco Platter here comes with 4 corn tortillas topped with onions, cilantro and homemade salsa plus your choice of slow-cooked beef (Barbaoca), spicy seasoned pork (Pastor) or slow cooked pork (Carnitas) or chicken seasoned with housemade chipotle sauce. There is also a vegetarian option.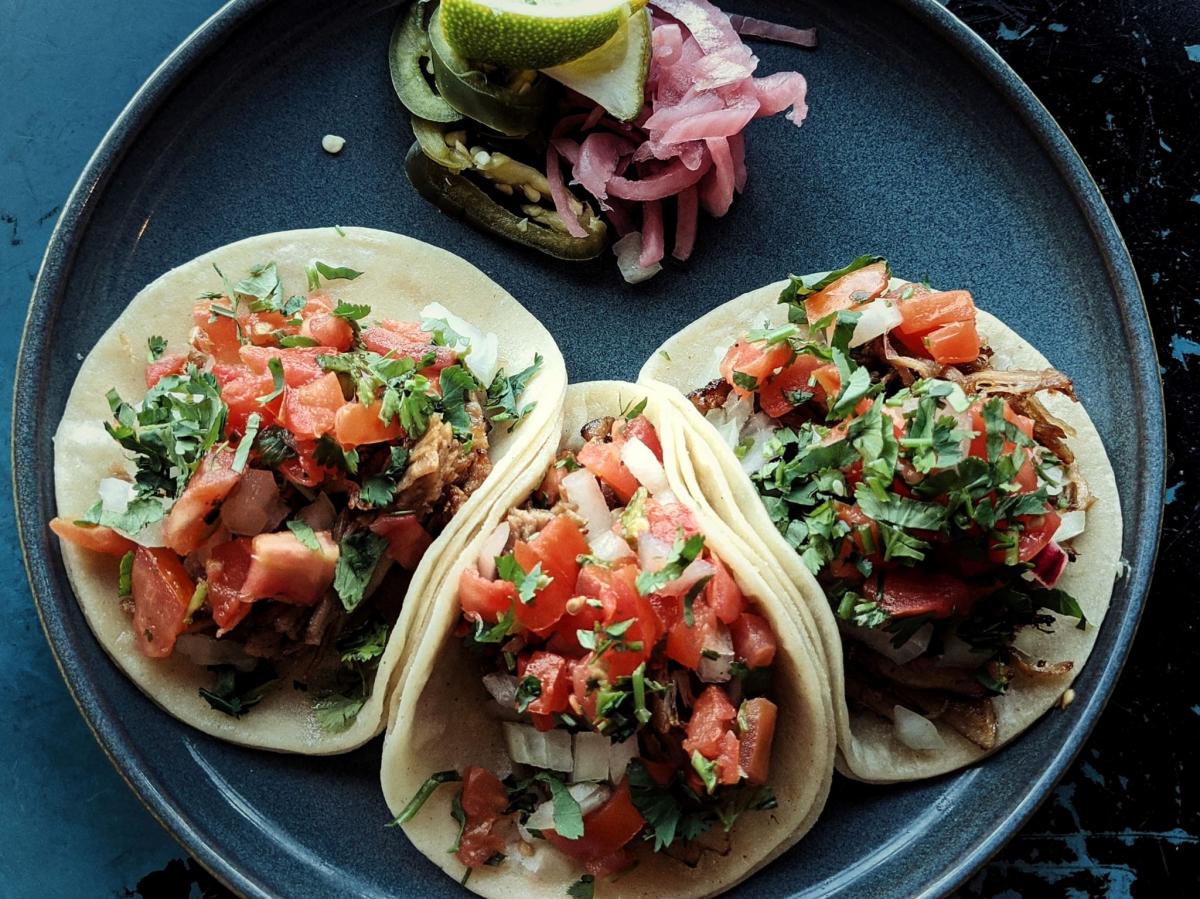 Cantina del Centro on Bernard Avenue downtown awesomely offers a #TacoTuesday and #MargaritaMonday deals. Here they have two different styles of tacos on the menu: Street Style that includes a fab sounding taco called "Oh My Gourd!" with Butternut squash, kale, fried cheese, pumpkin seeds, chimichurri, onions and cilantro AND it is gluten-free. And then there are the Baja Style tacos with your choice of Baja Carne Asado (char-grilled marinated Ribeye steak with all the fixings) or Baja Fish (beer-battered crispy fish) or Baja Shrimp (grilled chilli-dusted shrimp) – yes, please! And I'll take a Mango-Tango Margarita with that to por favor.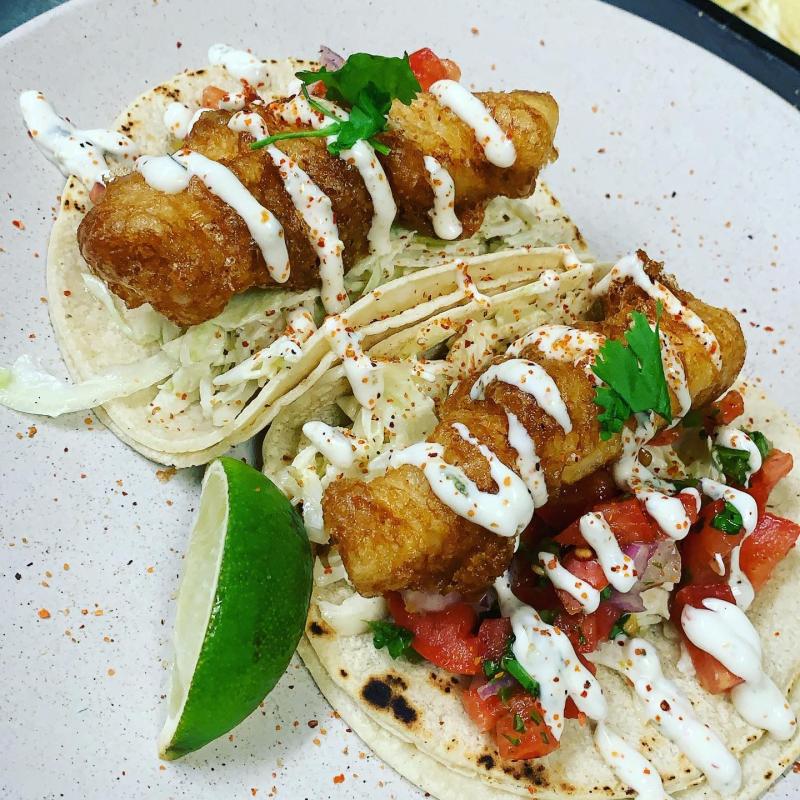 Local go-to fish & chip shop also has tacos! The Broken Anchor Fish Taco Platters are served "make-your-own" style with all the plus warm tortillas, spiced slaw, lime crema and freshly made daily pico de gallo. Choose between Crispy Fried Cod, Chili-Garlic Prawns, Tempura Avocados and Chili Rubbed BC Salmon. All sound amazing and all will be fresh and 100% sustainable seafood from Broken Anchor's neighbour, Codfather's Seafood Shop! Gluten-free folks can rest assured that the fried fish is all GF – and super delicious.
Located on Gordan Drive in Guisachan Village.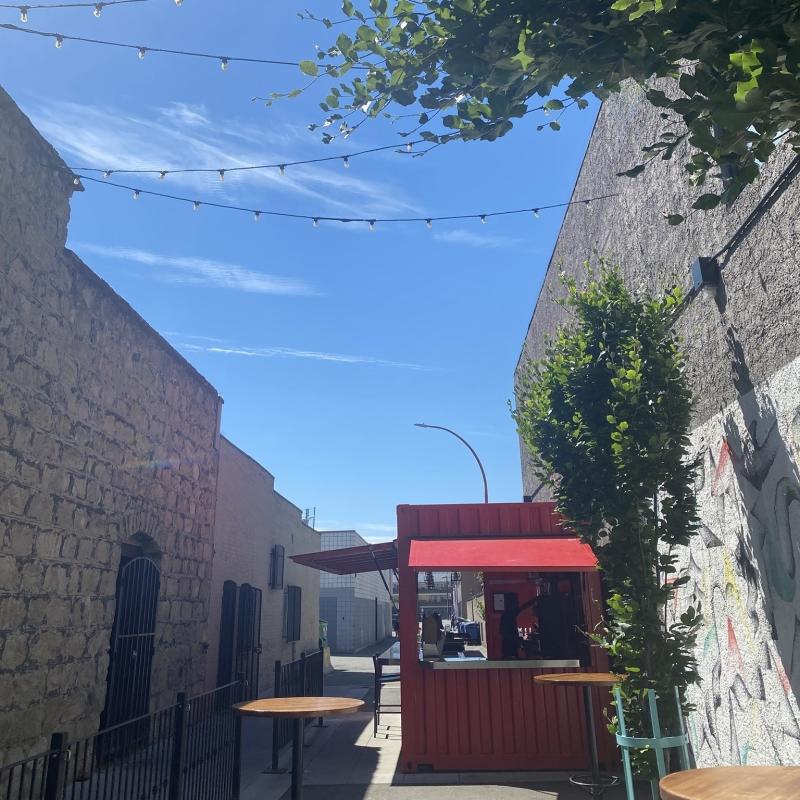 Located in the Bernard Laneway downtown is the so cute Laneway Canteen. Open seasonally, this is a real street-style taco stand with tacos, snacks plus cerveza and margaritas! You can take a seat (outdoor only) or take away. This is a super cool addition to our downtown food scene.  On the menu: Yucatan Chicken Taco, Prawn Taco, Tuna Taco (Ahi!) Veggie taco and they have Mexican Street Corn yay! Margaritas are Lime or Coconut Mint. You can walk your taco to the beach or marina.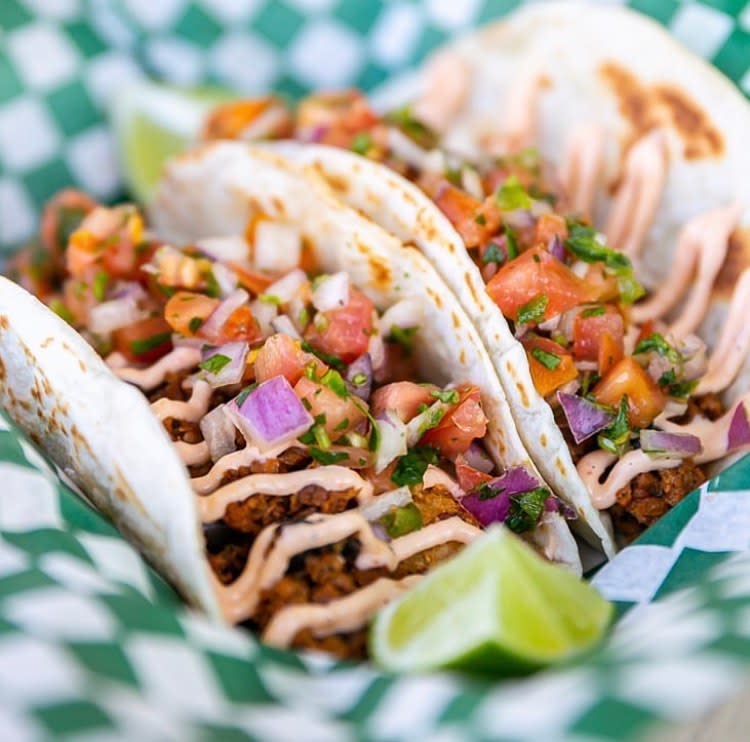 Fish taco food truck? Hells ya! Surf Side California is a food truck that roams around Kelowna offering classic fish tacos and more. On the seafood menu, they have Poké Surf with Ahi tuna, citrus soy marinade, wakame, cabbage, signature chipotle sauce and toasted sesame seeds. Or how about the unique Calamari taco with fried calamari, fresh cabbage, pico de gallo and tzatziki on a flour tortilla?  They also make a beef taco (carne asada) and zucchini for veggie people. The truck is parked at Rotary Beach in Kelowna from May 15 – September 15. Yeah! (PS they can also be hired for private events)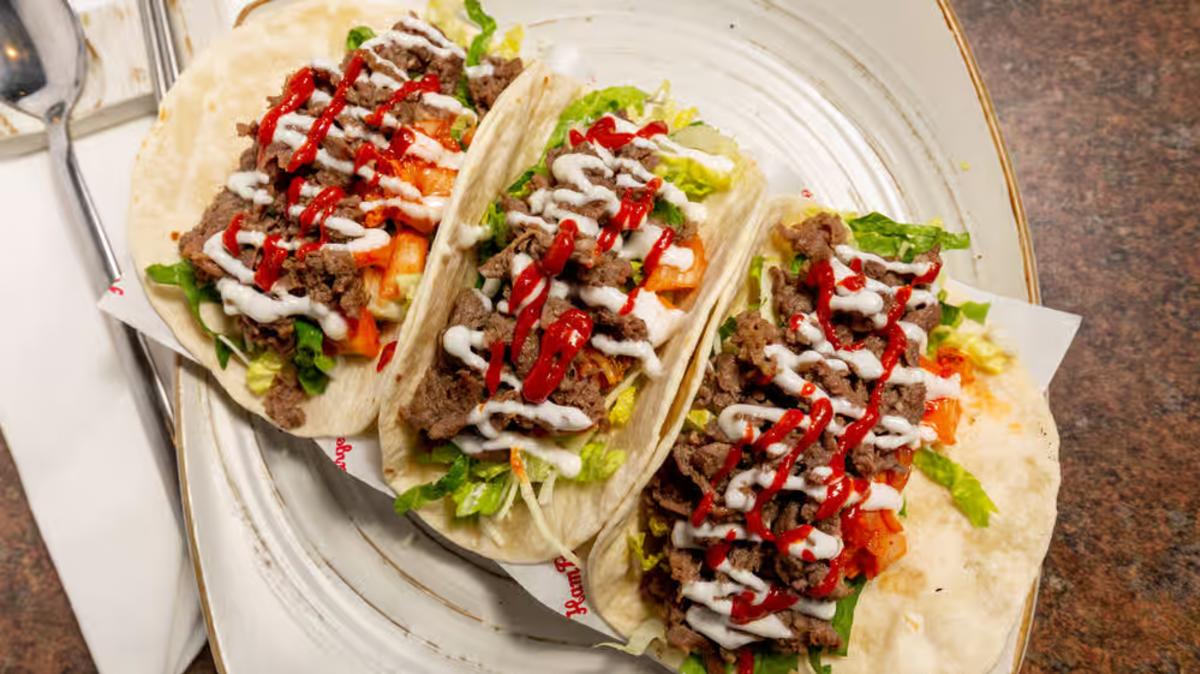 Soban Korean Bistro has AMAZING tacos!  Yes, you heard me right, a Korean bistro with a delicious spin on tacos with four mouth-watering choices: Korean BBQ Tacos with beef bulgogi and kimchi, Grilled Spicy Chicken Tacos with spicy mayo, Seafood Tacos with shrimp, scallop and spicy mayo and Beef Tacos with marinated beef with teriyaki sauce. Located on Bernard Avenue downtown, take-out is also available.