Who doesn't love pizza?! A winner for any occasion, every age group, taste, and even dietary restriction, Kelowna and area has a lineup of pizza joints that you just gotta try! Here are some favourites on our local pizza trail:

Peak Cellar's Garden Bistro
Let's start in Lake Country.  The Garden Bistro at Peak Cellars Winery makes a mean pizza pie in their big wood stone pizza oven. In the summer months, you can enjoy on the patio overlooking the vineyard and all year round you can start or end your meal with a wine tasting in the tasting room.
Try the Fun-Gi Pizza - Sautéed mushrooms, onion, garlic, mozzarella, parmesan, truffle oil and to stick to the winery theme, it is topped with warm grapes.

Pane Vino
Also in that neck of the woods is the now not-so-secret destination pizzeria, Pane Vino. Locally owned and as authentic as you can get, the restaurant is located between beautiful Kalamalka Lake and Wood Lake. Owned and operated by Martina La Melia and Patrizio Improta, Patrizio was born and raised in Naples, Italy and received his Italian Pizzaiolo diploma in Naples in 2011. This couple is passionate about their food and they have a gorgeous Italian menu complete with antipasti and pasta. The restaurant is located on Gatzke's Orchard and features ingredients grown literally steps away.
Try the Pistacchiosa Pizza - Ricotta, Fior di latte, pistachio pesto, mortadella, basil, lemon zest, evo

Antico Pizza Napoletana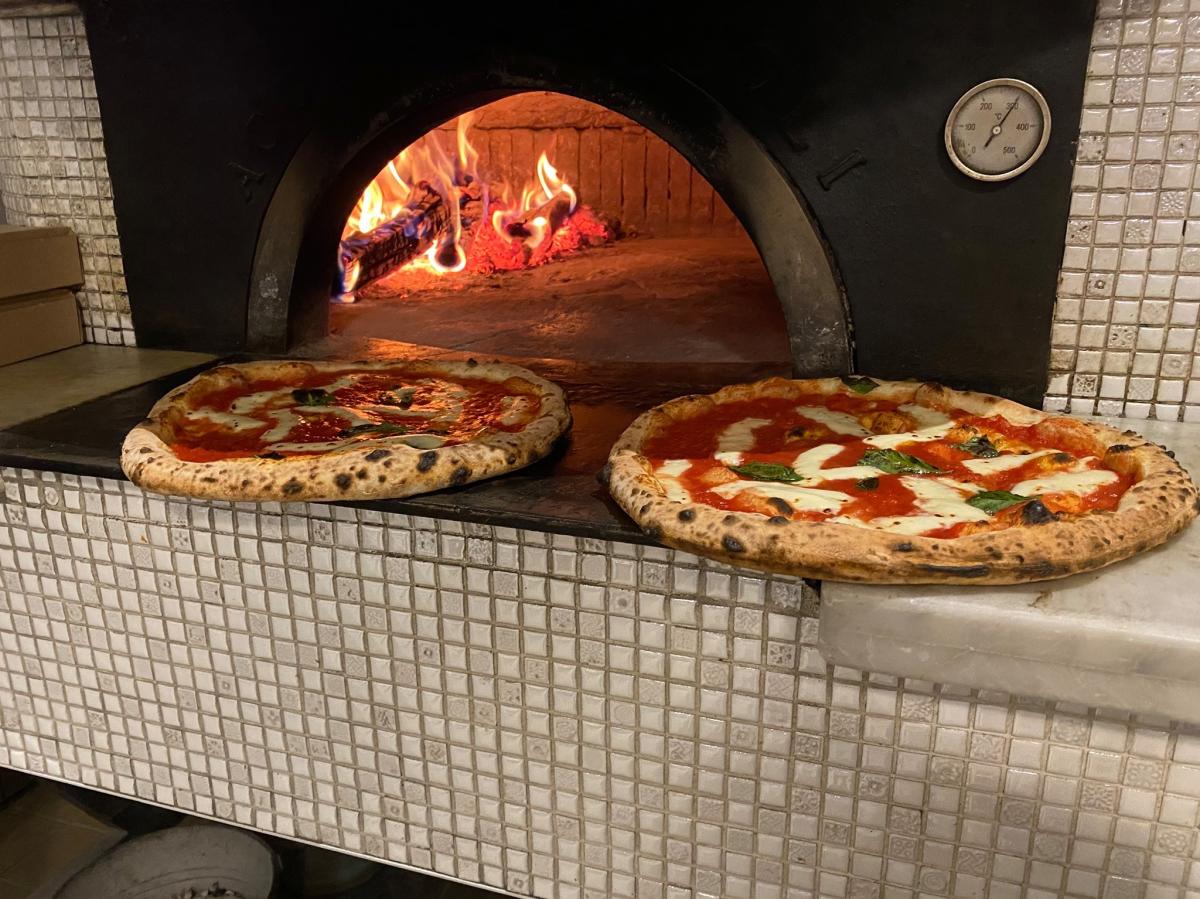 Downtown Kelowna has another popular pizza parlour called Antico Pizza Napoletana. As advertised, they have in-house Pizzaiolos that were trained in Italy to create an authentic Neapolitan pizza. Here they also offer vegan and gluten-free options inside or out on the patio when weather permits.
Try the Margherita Pizza - Classic Neapolitan tomato, cheese, basil pizza and you can add extra toppings to make it your own.

The Curious Cafe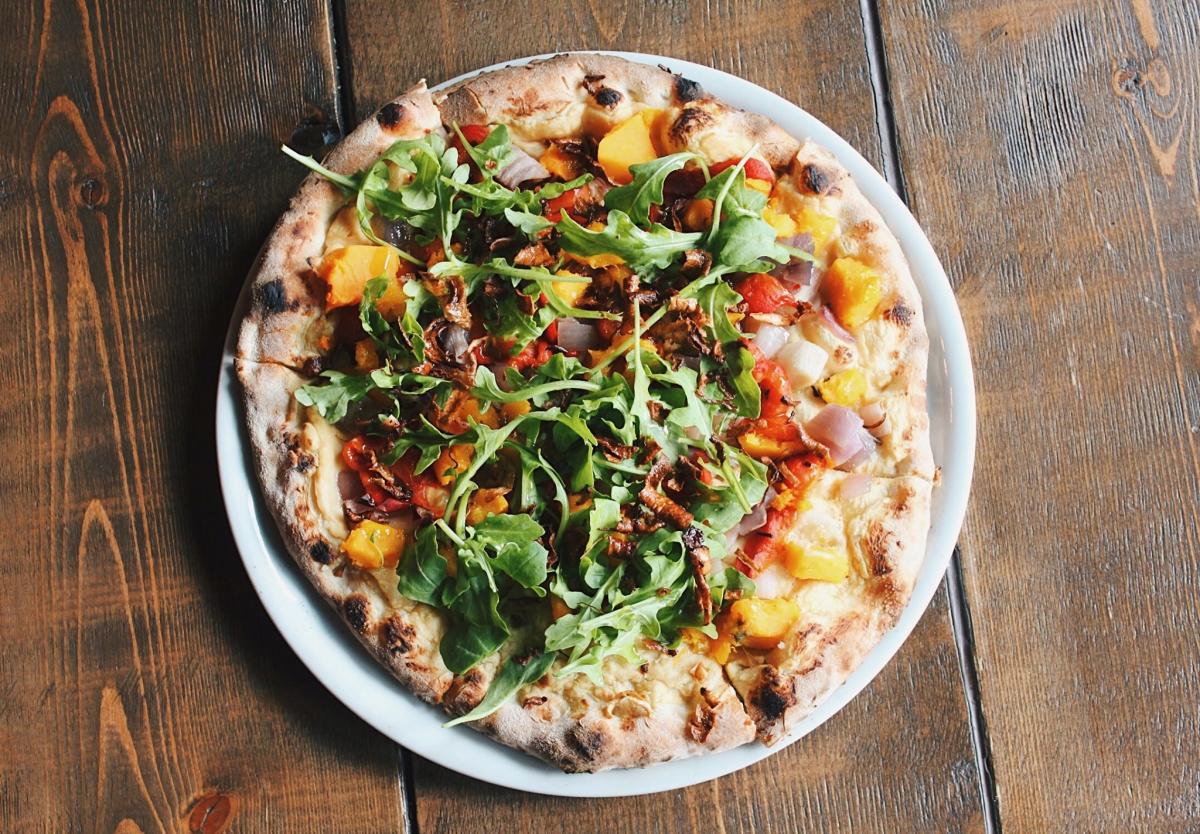 Also downtown you will find another pizza haven at The Curious Café where a brick forno pizza oven came direct from Napoli, Italy. The Curious also offers a gluten-free crust and a few fab veggie options. They also have great breakfast and lunch options to enjoy in their very cool space.
Try the Sas-Squash Pizza - Butternut squash, garlic oil, red onion, Parmesan, fior di latte, arugula, cashews &  curry ketchup. Make it vegan by subbing in the Black Sheep Vozzarella Cheese.

Annie's Beach Café & Lounge
Head to North America's only waterfront winery to enjoy pizza on the sand at Annie's Beach Café & Lounge at Frind Estate Winery in West Kelowna. Enjoy a tasting before grabbing a picnic table outside when weather permits. They also have the buzzed-about domes popping up again on-site during the colder months (check the website for details.) The regular pizza menu has all you could want, but also watch for the special features like this one.
Try the Duck Confit Pizza - Layered with goat cheese, pickled onions, peach BBQ sauce, finished with arugula and pine nut.

DunnEnzies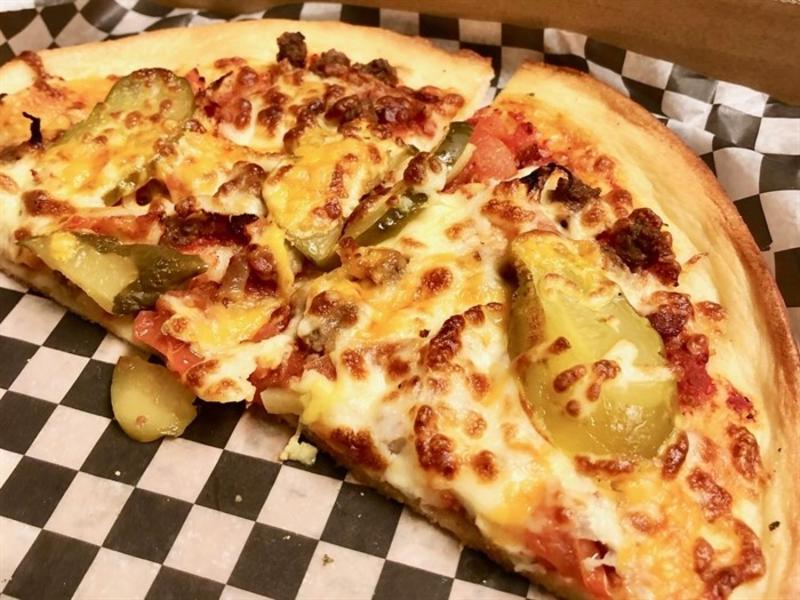 DunnEnzies does pizza. Winners in the Best of Kelowna pizza category, they have three locations to choose from: downtown (also a pub), airport, and the Mission where they have a gorgeous patio and live music nights. There are so many amazing, creative pizzas to choose from at whichever venue vibe you choose for the night.  They also deliver!
Try the Gambino Cheeseburger - Beef, bacon, onion, tomato, pickle (yes!), cheddar, Mozza.

Jackknife Brewing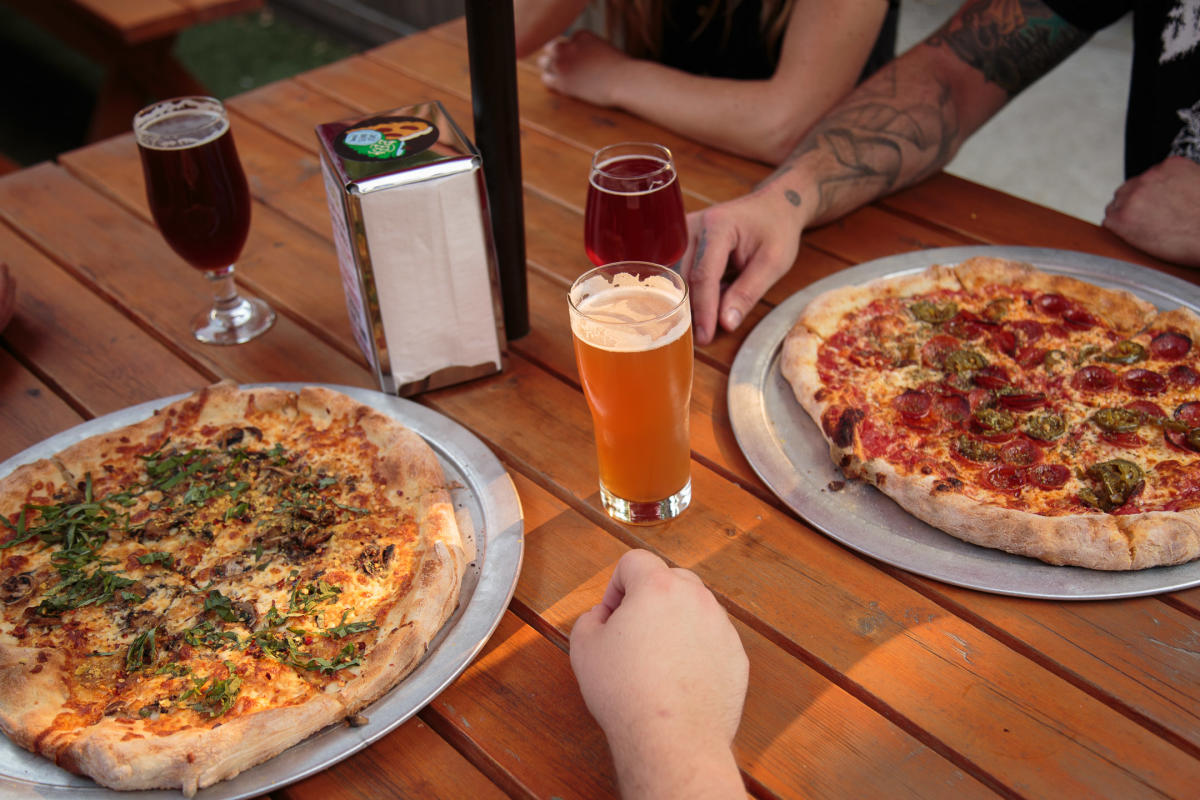 Photo by: BC Ale Trail
Jackknife Brewing is a local destination to get the classic beer and pizza combo. Located in the super hip Brewery District in Kelowna's north end, this brewery has a cozy room to enjoy indoors with a patio for warmer days. They are also the only ones in town that offer weekly 'Sunday squares', which are like Detroit-style pizzas and – you guessed it, square.
Try The Doomsayer -Meatball, roasted red pepper, onion, mozzarella, tomato sauce, finished with chili flakes and herbs.