Noodle soup has long been the soothing, go-to home remedy for all that ails you – body and mind. One of the top comfort foods out there, slurping up a big bowl of satisfying broth and noodles in your belly can really help put things right in your world- and there is no shortage of noodle options from all around the world in Kelowna! 
Many cultures and countries have their own delicious version of our classic chicken noodle soup. Here are seven places in Kelowna to grab a big, bowl noodle soup with the good mood food:
Hoang Gia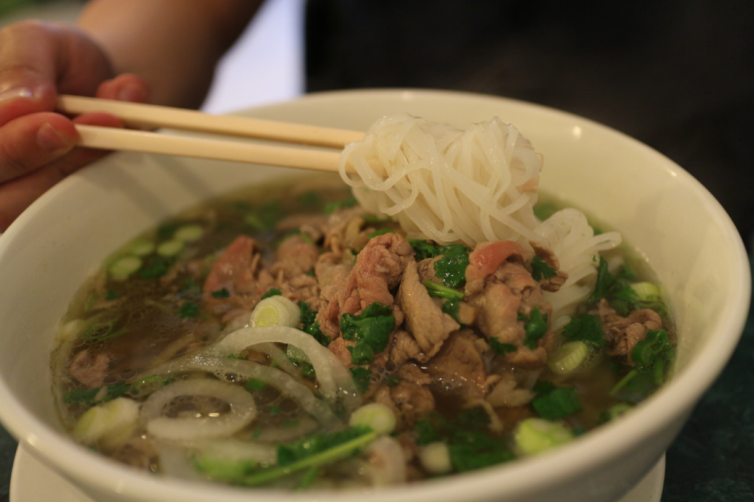 Rare Beef Pho at Hoang Gia
Hoang Gia has awesome Pho (pronounced FAH). Made in house by the Vietnamese owners, what makes good pho so special is the complex aromatic broth. Every bowl is loaded up with noodles and a protein of your choice. -they also offer a high-end broth made with special Wagyu beef. Pho is served with toppings like fresh bean sprouts, lime wedges, cilantro, hoisin sauce and chili garlic that take it next level.
Mad Mango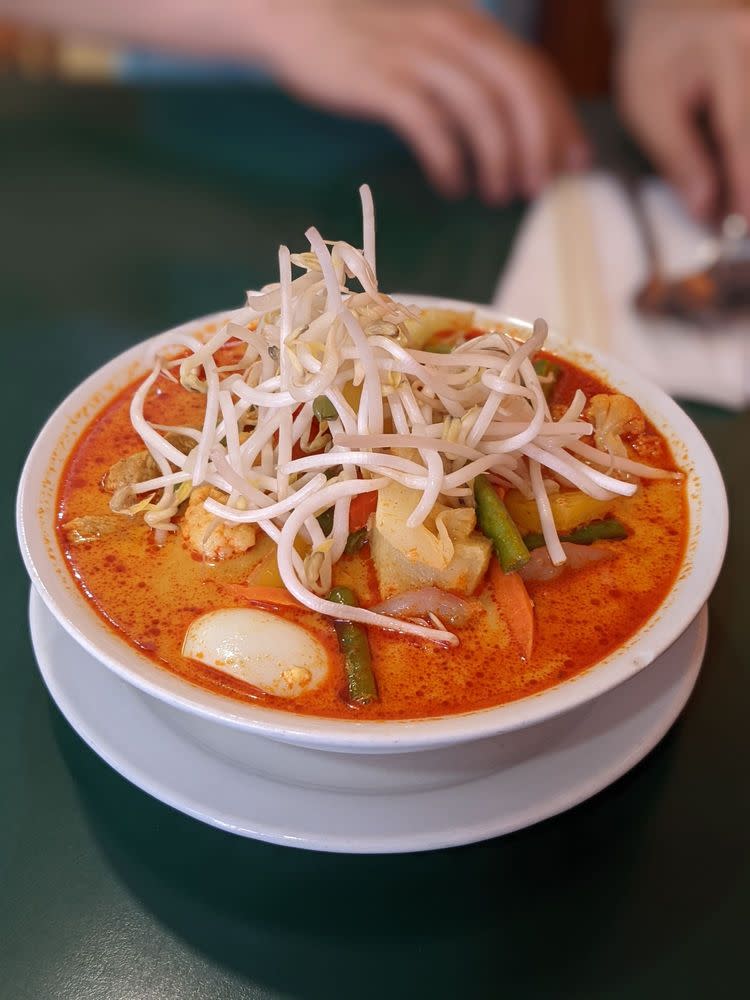 Photo via Mad Mango on Yelp - Laksa
Mad Mango is a locally famous for their Laksa soup. Laksa is the iconic Malaysian spicy coconut noodle soup that also comes with toppings like Pho – bean sprouts, lime wedges, cilantro but also commonly have fried shallots and fried tofu puffs. Belly warming and spicy, Mad Mango loads up their Laksa with vermicelli rice noodles, prawns, chicken, boiled egg, and a lot of fresh veggies.
Zabb Thai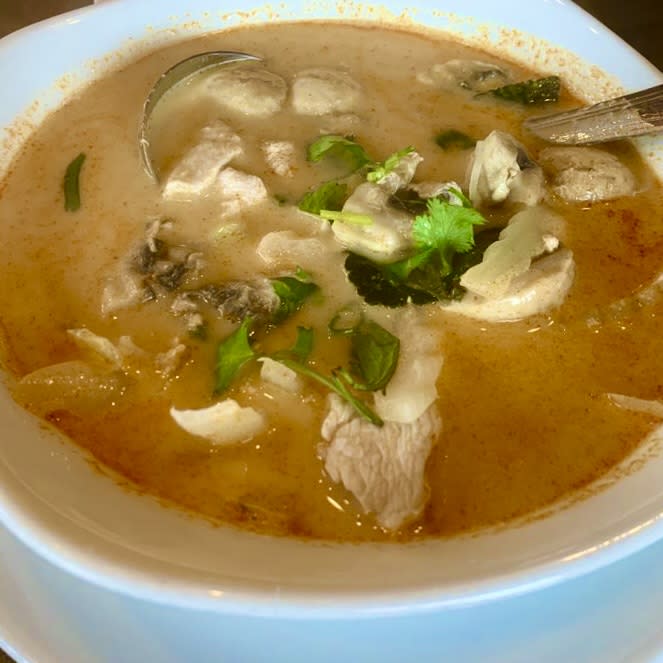 Photo Via Zabb Thai Yelp - Tom Ka Gai 
Zabb Thai makes a yummy, from scratch Chicken Galangal soup (aka Tom Ka Gai) that is a staple dish at many Thai restaurants. Tom means to boil, kha means galangal, and gai means chicken. Made with rich coconut milk, chicken, chiles, galangal, lemongrass, mushrooms, and lime leaves, this version is very authentic and sure to fill you with joy and love for life.
Wasabi Izakaya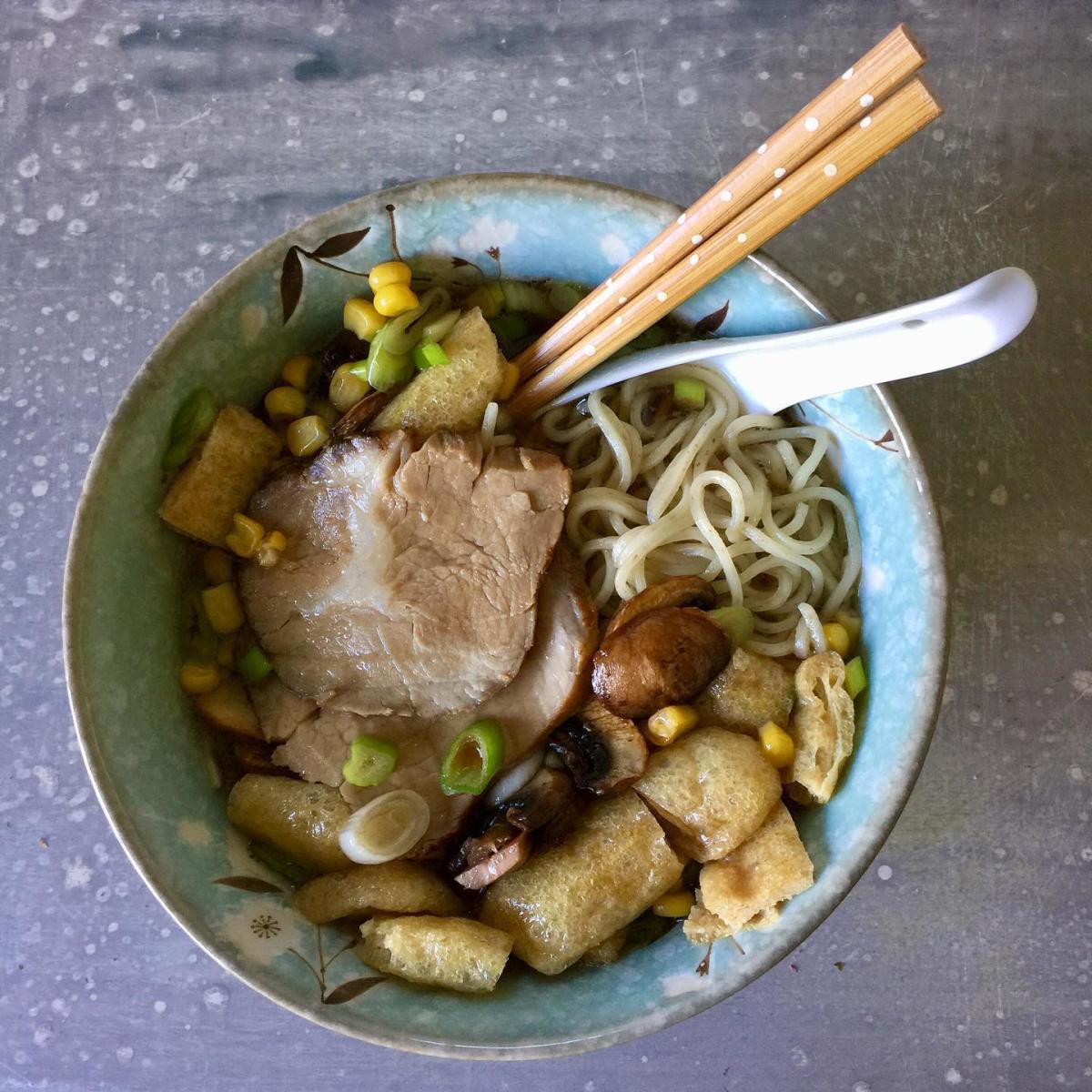 Ramen is the soul food of Japan and probably the most stereotypical survival food of the university student of all time. Handmade at Wasabi Izakaya every morning, both noodles and the luscious broth are a labour of love. The broth choices range from spicy to vegan speaking of student sustenance, they offer ramen kits to take home. Kits come with the housemade chicken bone broth so you will also be nourishing your brain with something healthy.
J's Cafe Kelowna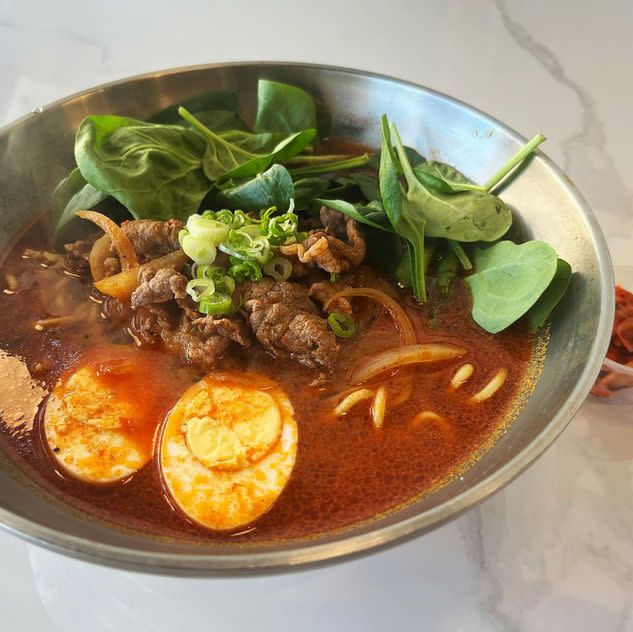 Jjam Bbong at J's Cafe
Those who like heat should jump into a bowl of Jjam Bbong. Jjam Bbong is a classic super spicy Korean style seafood ramen that is on the menu up by J's Café- Kelowna's Korean Fusion hotspot. They also offer a vegetarian and classic egg noodle ramen with different toppings like Korean beef at their two locations downtown or UBC Okanagan campus.
Yuzu Bowl & Bistro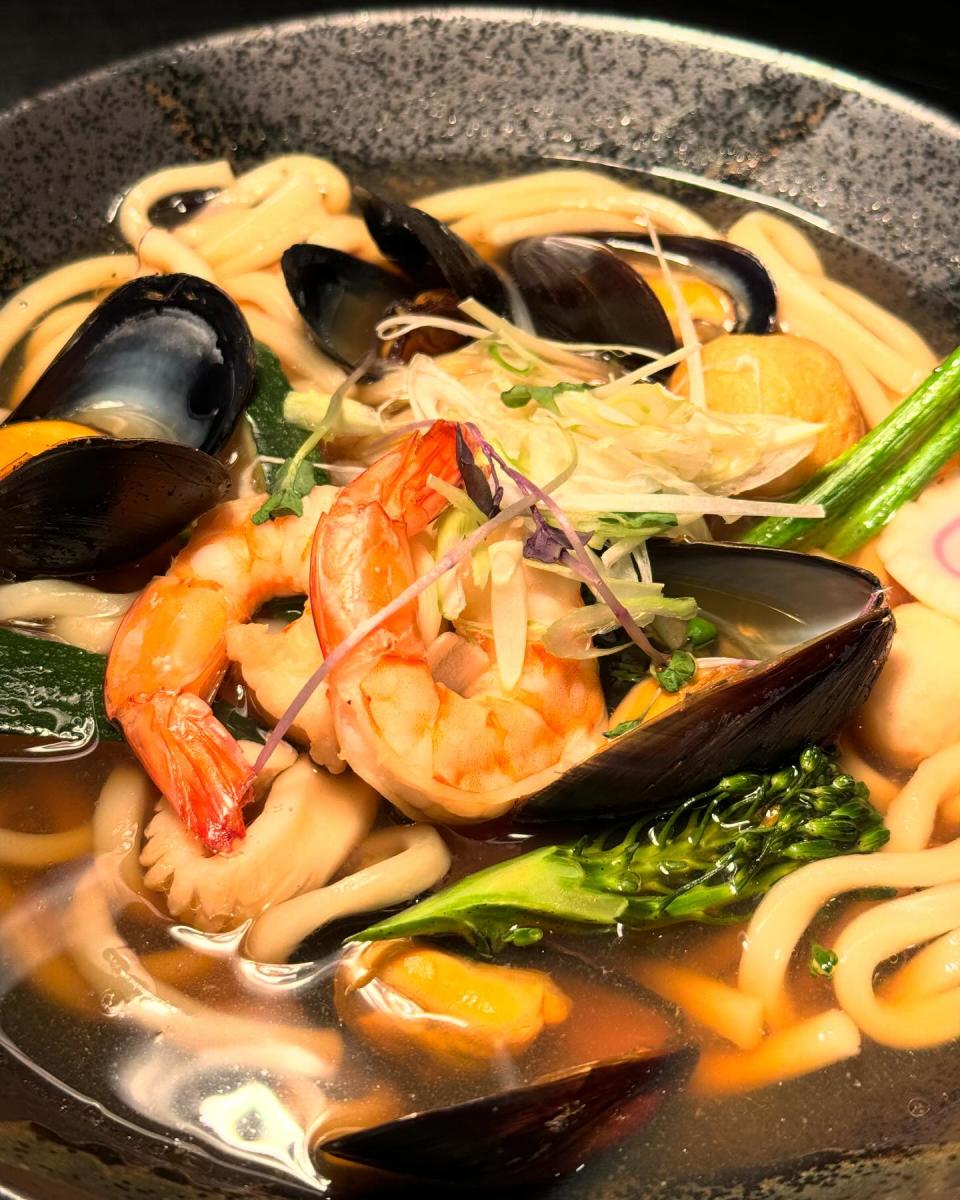 Seafood Udon at Yuzu Bowl & Bistro
The Udon noodles at Yuzu Bowl & Bistro get a lot of love but this place has all kinds of noodle soups to slurp on. Udon noodles are the thickest of the Japanese noodles and they are also eggless making them the choice of vegans. The Chicken Karaage Udon Soup sounds like a dream – fried chicken AND noodles yum.
Little TOKYO Ramen Trailer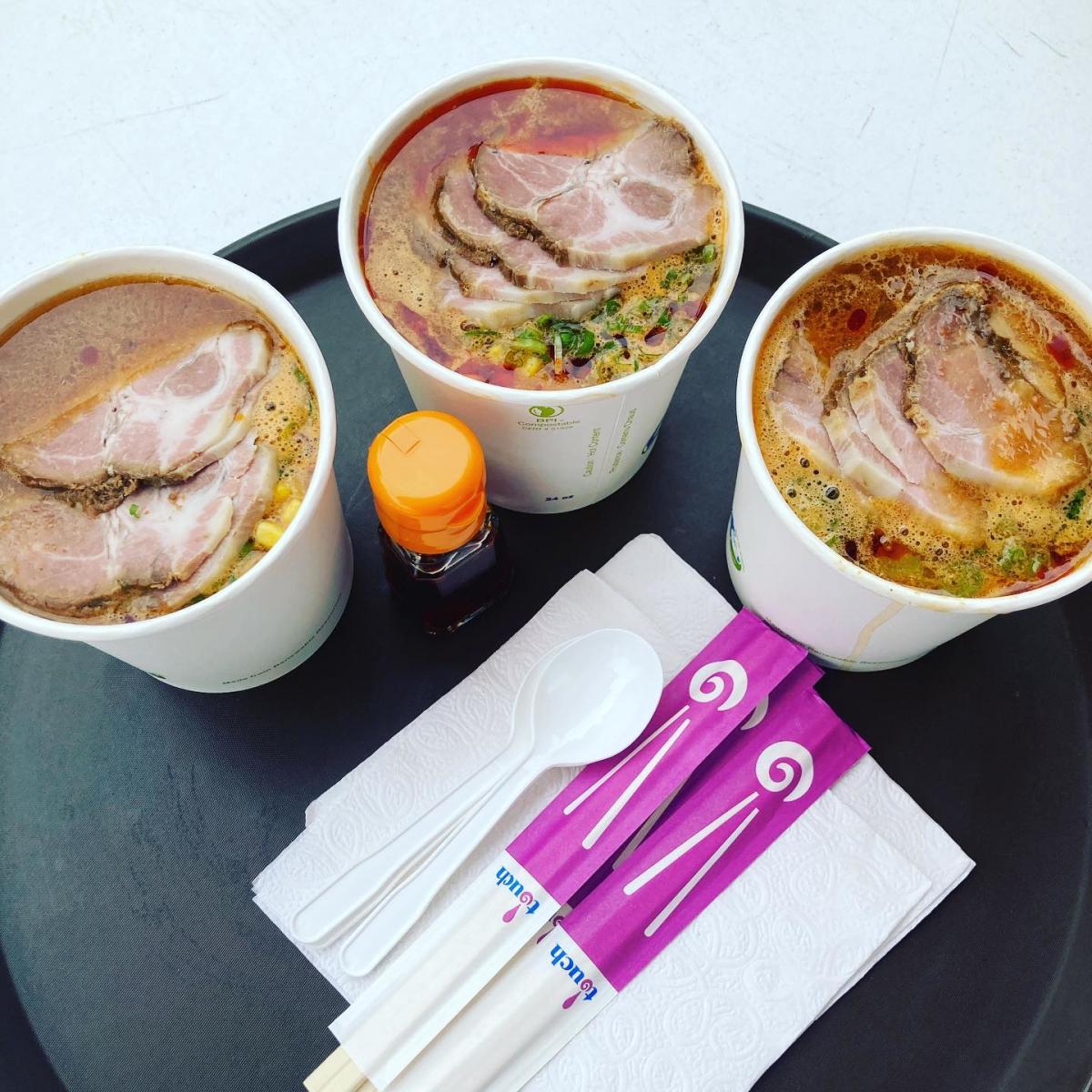 Ramen from Little TOKYO Ramen Trailer
More ramen can be found at The Little TOKYO Ramen Trailer. Usually parked at Barn Owl Brewing in the Mission, this food truck whips up handmade noodles and from-scratch broths to serve from their happy little trailer. They have built a loyal cult following in town because those noodles are just so darn good.