Kelowna and the surrounding area are home to countless large and small lakes, making it the perfect four-season fishing destination! A delicious salmon dinner can be found waiting amongst the kokanee on Wood, Okanagan and Kalamalka Lakes, and the sockeye that inhabit Osoyoos Lake in August. Not into salmon? Then be sure to keep an eye out for the many rainbow trout, bass, carp, perch and more that occupy Okanagan Lake.

The Basics
The first thing any visitor should do before a fishing trip is to purchase a fishing license and read over the regulations for the region.
Grabbing a license is a quick and easy process online, after which you can simply print it out to keep on hand. If you don't have access to a printer, you can also pick up a license in person at A&C Sports Ltd. or Postill Lake Resort. You can check out license requirements, notices, and more information on BC's provincial government site. And great news! Children under 15 do not require a fishing license, so feel free to turn your fishing trip into a fun-filled family vacation!

Planning your trip.
One of the best resources for all things fishing in Kelowna is TW Outdoors. Their fishing experts will be more than happy to help with any beginner or advanced questions while checking out any gear you may need. The folks there are passionate and helpful, and will sometimes even let you in on some of their secret fishing holes!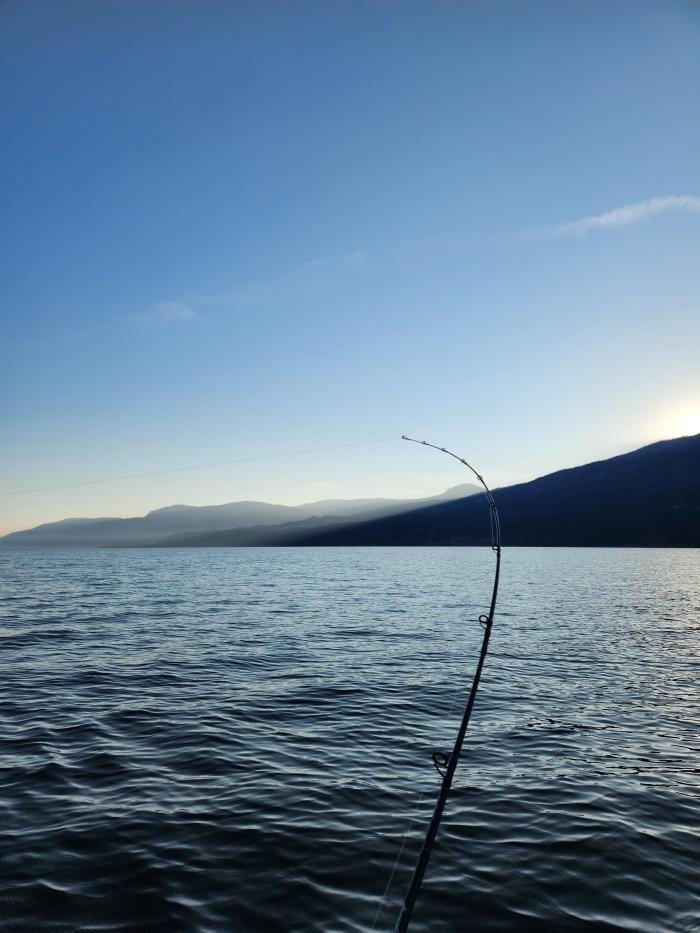 Some more info on Okanagan fishing can be found on Angler's Atlas, an online resource for local anglers. Detailed maps and plenty of great info are provided. Membership is free and entitles you to download their depth charts at no extra charge!
And hey, if you're excited about the prospect of fishing but not quite confident enough to go out on your own, no worries! Desert Salmon Charters and Rodney's Reel Adventures provide professional anglers to show you the ropes and tour you around Okanagan Lake.

Where to go
Now it's time to pick a lake!
There are plenty of year-round options for all skill levels, so the first step is deciding if you're looking for shore or boat fishing. To fish from a dock or shore, Bertram Creek Regional Park and Shannon Lake Regional Park are excellent locations with good fishing holes and picnic areas.
If you have access to a small boat, then there are a few more options available. Some noteworthy lakes suitable for small boats are Jackpine, Browne and Grizzly Lakes.
With a larger boat, Okanagan and Kalamalka Lakes are good options in the summer but are even better in Spring, Fall, and Winter when there is less boat traffic, and fish are biting. The quieter Wood Lake is the perfect spot for summer fishing with a variety of kokanee, rainbow, perch, pike minnow, and the occasional whitefish.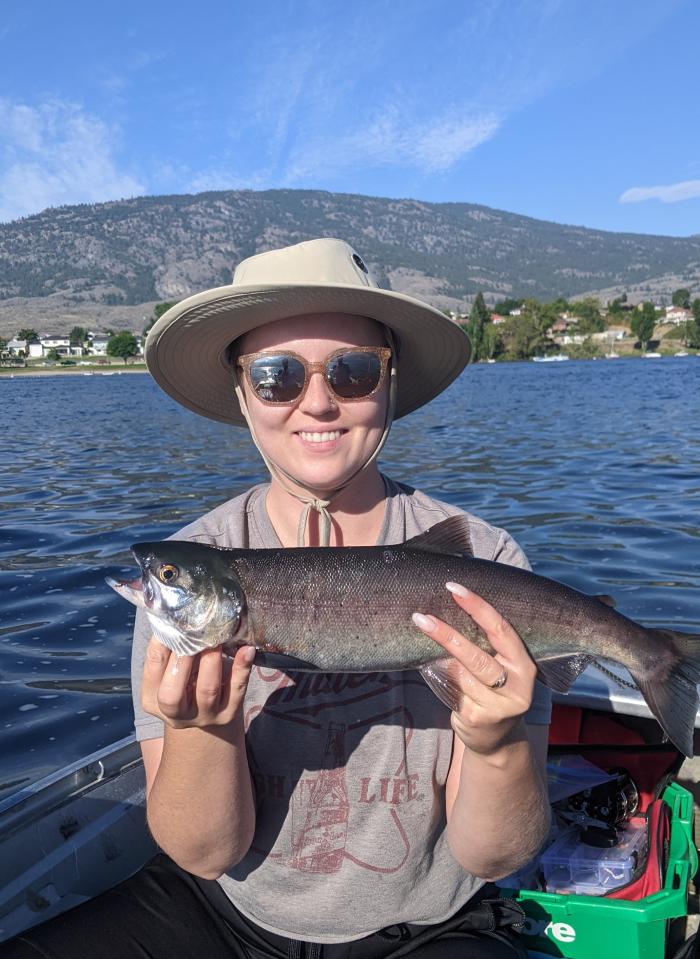 West Kelowna has some great walk-in fishing spots in Rose Valley and Shannon Lakes and with Shannon Lake frequently being stocked, it is the perfect place to bring your kids for nearly guaranteed bites! Further south in Peachland, you'll find Headwaters and Peachland Lakes, or if you're heading north, Lake Country is aptly named with Beaver, Crooked, Deer, Island, Dee, Doreen and Flyfish Lakes all nearby.
Interested in ice fishing? Lambly, Echo, and Jackpine Lakes are known to fully freeze over and are perfect spots to spend an afternoon.

Staying safe
Whether you are heading out on a boat, fishing from shore, or off a dock, ensure you read up on our important lake and boating safety measures before you go.
There are extra precautions needed when ice fishing. Ice thickness should be at least 3 inches if you're walking out on foot. Check multiple areas for ice thickness as you head further onto the lake, as some areas may be deceivingly thicker than others. If you are bringing a vehicle such as a snowmobile onto the ice, refer to this ice thickness safety chart. Because ice-fishing lakes are typically further out than boating lakes, check drive BC and local news sites in advance to avoid any potential road closures.
Also keep in mind that, regardless of how cold it may get out there, any size of fire can structurally damage the ice that you're sitting on! Wear layers and bring blankets in place of campfires to avoid potentially falling through.
Remember to carry out anything you take in, respect all wildlife, and only bring home what you need when deciding to keep or release a catch. If you need some info on how to safely release an unwanted catch, check out some great tips here.
Use these tips to have fun and stay safe while you #exploreKelowna!

Authors: Jade Smith and Hanna Lowe, Tourism Kelowna, Community & Visitor Centre Specialists.