Downtown Kelowna gets a lot of attention when it comes to arts and culture experiences in the city, and rightly so. The downtown neighbourhood is home to a wide variety of events, venues, festivals, activities and institutions. It is also home to Kelowna's Cultural District.
The Cultural District occupies about six square blocks in the downtown core, spanning from Prospera Place in the north to the Queensway bus loop in the south and Water Street at its western boundary to Ellis Street at its eastern edge. This walkable stretch is Kelowna's arts and culture hub, where you will find the Kelowna Community Theatre, the Kelowna Art Gallery, the Okanagan Regional Library, four Kelowna Museums sites and the Rotary Centre for the Arts.
But culture exists all over the city, and there are great activities and experiences throughout our vibrant community. Join me as I highlight some of the other great creative adventures on our journey throughout Kelowna.

Geert Maas Sculpture Gardens and Gallery 
Address: 250 Reynolds Road, Kelowna
Website: geertmaas.org
Admission: By donation
Geert Maas is an internationally-acclaimed artist, and his work is held in public, corporate and private collections around the globe. Maas' work has also been shown in prestigious exhibitions worldwide, including in Paris, London and New York. 
In Kelowna, you can get up close and personal with Maas' art, with more than 350 artworks, paintings, sculptures and one of the nation's largest collections of bronze sculptures available for viewing at the Geert Maas Sculpture Gardens and Gallery. Guests are invited to enjoy a self-guided indoor and outdoor tour showcasing a variety of pieces by Maas.
If you can't make it to the Geert Maas Sculpture Gardens and Gallery, you can see some of Maas' bronze art in downtown Kelowna thanks to the City of Kelowna's Public Art Program. In Waterfront Park (1220 Water Street), you'll find 'On the Beach,' and in City Hall (1435 Water Street), you'll discover 'Spirit of Kelowna.'

Uptown Mural Project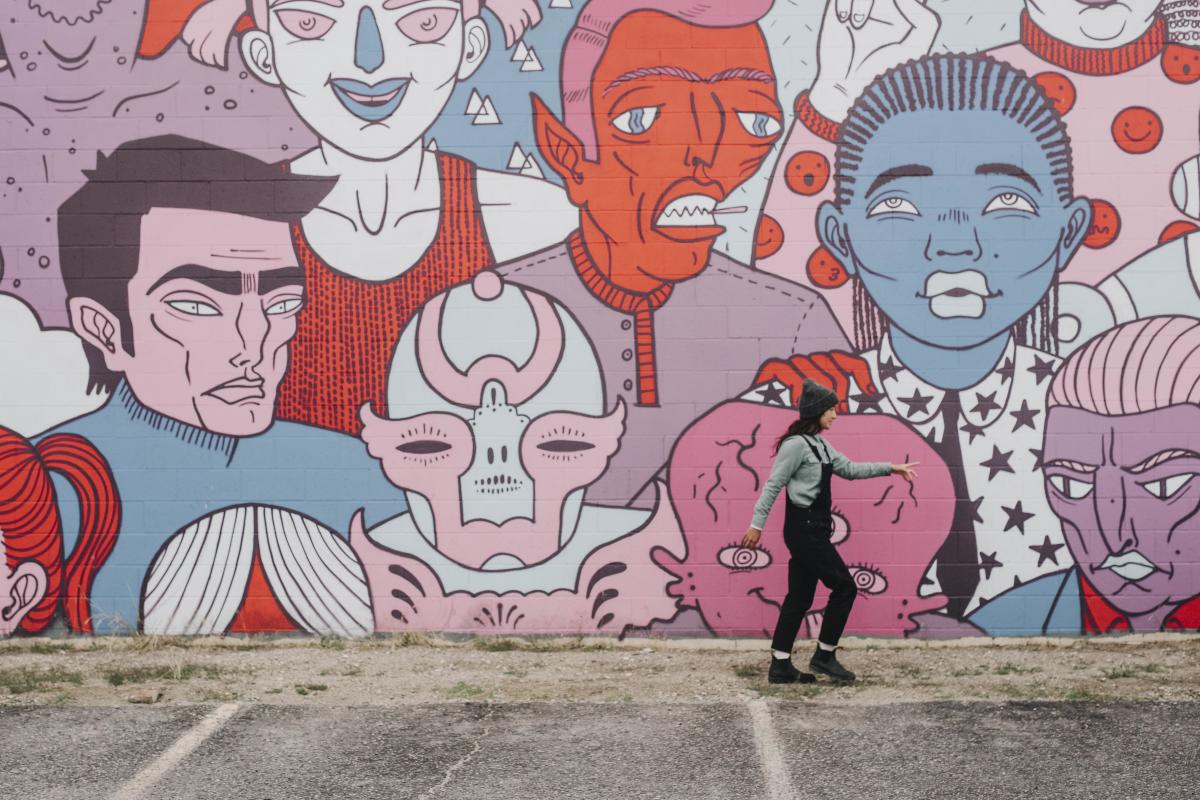 Mural by: Mono Sourcil. Photo by: Nathaniel Atakora Martin (@nathanielatakora)
Address: Various locations in Kelowna's Rutland community
Website: uptownmurals.com 
Admission: Free
Supported by the Uptown Rutland Business Association (URBA) and showcasing some of Canada's best mural artists, the Uptown Mural Project continues to bring vibrant large-scale murals to the Rutland community of Kelowna. The project aims to foster local artistic development, inspire youth, increase walkability and revitalize the Uptown Rutland community through inclusive, fresh contemporary public art.
There are now nearly 20 stunning, diverse murals that are part of the project, and they can all be viewed within a short walk. Treat yourself to a self-guided tour by using the mural pass. In the warmer months, keep an eye on the Uptown Mural Project website for your chance to join a free, guided walking tour.

Guisachan Heritage Park
Address: 1060 Cameron Avenue, Kelowna
Website: kelowna.ca/parks-recreation/parks-beaches/parks-beaches-listing/guisachan-heritage-park
Admission: Free
This is one of my favourite spots in all of Kelowna and somewhat of a hidden gem! Tucked just off busy Gordon Drive, Guisachan Heritage Park is a beautiful park that features some of the best gardens in the city.
Previously owned by Lord and Lady Aberdeen, Guisachan means "pine forest" in Gaelic. Guisachan House, which is located on-site, was built in 1891 and is now home to a restaurant. Lord Aberdeen served as Governor General of Canada from 1893 - 1898, and the Aberdeens played a significant role in the European settlement of the area.
In later years, the Cameron Family purchased the property. Beginning in the 1920s, Elaine Cameron planted the Edwardian gardens that we can enjoy today. Many of the trees, roses and perennials initially planted by Mrs. Cameron can still be seen and appreciated.
Worth a stroll at any time of year, Guisachan is a popular spot for weddings, and when you see it, you'll understand why! There are also various plaques on site sharing further details on the history of the property and the park's flora and fauna.

KF Aerospace Centre for Excellence

Address: 5800 Lapointe Drive, Kelowna
Website: kfcentre.ca
Admission: By donation (minimum of $5 per person or $10 per family)
The Okanagan has a rich history of achievement when it comes to Canadian aerospace, and now there's a new facility to celebrate this heritage. Opened in 2022, the KF Aerospace Centre for Excellence is a 60,000 sq. ft. attraction that celebrates Okanagan aerospace and aviation. Guests are invited to tour a state-of-the-art aviation museum, an exhibit of vintage aircraft, and more. There's even a chance to hop in the cockpit with a flight simulator!
In addition to the fabulous features and interactive activities inside the building, the Centre's architecture is shaped to mimic the wings and fuselage of an aircraft. This ground-breaking new facility is sure to leave you informed and inspired, regardless of whether you're a seasoned plane spotter or an aviation novice.

Sncəwips Heritage Museum
Photo by: Mirae Campbell (@miraecampbell)
Address: 525 BC-97 Unit 260, West Kelowna
Website: sncewips.com
Admission: Self-guided tours by donation. Guided tours are also offered. Guided tours are $15 per guest and require pre-booking.
What we know as 'Kelowna' is located on the traditional, unceded territory of the syilx people. The syilx people have lived on this land since time immemorial and have a rich and vibrant culture. At the Sncəwips Heritage Museum (just a short trip over the bridge in West Kelowna), you can learn more about syilx traditions, customs and history.
The staff at Sncəwips Heritage Museum are knowledgeable, welcoming and happy to answer questions. A visit to Sncəwips Heritage Museum is a must for anyone who wants to get a greater understanding of the culture and history of this region. Sncəwips Heritage Museum invites visitors to experience the Okanagan from a syilx perspective.
The Sncəwips Heritage Museum was honoured for Arts and Entertainment Excellence in the 2022 Kelowna Chamber of Commerce Business Excellence Awards — it's well worth a visit! If you'd like to learn more about the Indigenous history of the Okanagan, check out my previous piece.

Father Pandosy Mission
Address: 3685 Benvoulin Road, Kelowna
Website: fatherpandosy.com
Admission: $2 per person
While the syilx people have lived in the Okanagan since time immemorial, European history in the area is much more recent. At the Father Pandosy Mission, you can visit Kelowna's first European settlement, school church, and large-scale agricultural and ranching operations. The Mission provides visitors with insights into how the first European settlers lived.
Set in a park-like setting, Father Pandosy Mission is also home to various artifacts and pioneer buildings that have been moved to the site. The Mission is open seven days a week, year-round, during daylight hours. However, access to the interior of the buildings is available on snow-free days from 9 am – 5 pm, seven days a week between March 1st and October 31st. There's a brochure on site to help guide visitors.

SOPA Fine Arts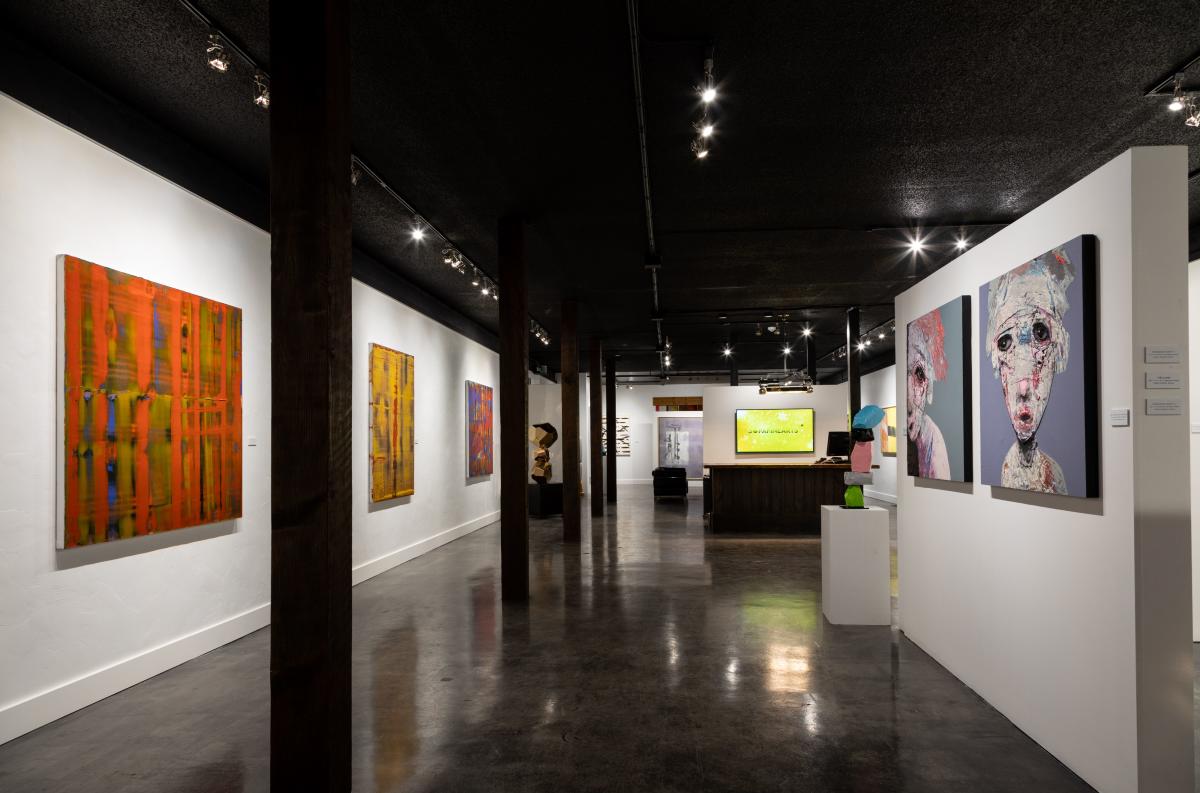 'Gold Edit' Exhibition 
Address: 2934 Pandosy Street, Kelowna
Website: sopafinearts.com
Admission: Free
SOPA Fine Arts is a contemporary art gallery where "viewing is welcome, discovery is encouraged." SOPA is located in Kelowna's Lower Mission and carries a selection of abstract, thought-provoking art in various mediums.
SOPA's current exhibition, 'Gold Edit,' features seven artists from across Western Canada. Offering 2,600 sq. ft. of exhibition space, there are regularly new exhibits to enjoy at SOPA. SOPA Fine Arts is also an Art Dealer and provides art consulting services to corporate and residential clients.
If you're a contemporary art lover, set aside some time and visit this gallery in Pandosy Village!

Creekside Theatre
Address: 10241 Bottom Wood Lake Road, Lake Country
Website: creeksidetheatre.com
Admission: Varies by production/event
Co-located with George Elliot Secondary School, Creekside Theatre isn't technically in Kelowna; it's a smidge to the north in Lake Country, but it's a great little venue that should be on your radar. The 250-seat theatre offers a wide variety of high-quality performances throughout the year, from comedy to theatre to music. 
Programmed by musician and long-time promoter of local arts and culture Ryan Donn, Creekside offers an intimate setting, great views and excellent sound. Subscribe to their newsletter to stay in the know as new shows are regularly announced.

UBC Okanagan FINA Gallery
Address: 1148 Research Road, Kelowna
Website: gallery.ok.ubc.ca
Admission: Free
With more than 11,000 students and nearly 22,000 degrees conferred since 2006, UBC Okanagan, the Kelowna campus of the University of British Columbia, continues to grow and prosper. 
The UBC Okanagan Gallery, managed and located within the faculty of Creative and Critical Studies, seeks to engage the public on local and global social issues and showcases emerging artists, students, alumni and faculty artwork. In addition, the Public Art Collection at UBCO now contains over 700 works. The UBC Okanagan Gallery is also happy to offer tours of the collection for visitors.
The UBC Okanagan Gallery has organized and hosted several exhibitions over the years, most recently in the fall of 2022, and it's worth keeping an eye on their site to stay in the loop about new exhibitions, lectures and events. 

Kelowna offers a mix of high-quality art and entertainment experiences in the Cultural District and beyond, and the creative community continues to bloom, getting more vibrant, robust, exciting and fun all the time. So whether you're a local or a visitor, you're sure to find art and cultural experiences in Kelowna to delight and surprise you!
Do you have a favourite that hasn't been mentioned? Please feel free to share it in the comments to help spread the word.