Throughout 2023, we'll be connecting with Kelowna and area residents to discover more about the people who call this region home, to learn about their favourite places, and to find out how tourism impacts their lives, while also highlighting the benefits a strong tourism sector creates for Kelowna and its surrounding communities.
Follow along to learn more about Kelowna from those who know it best—locals.

Kirsten Chuli
Self-described as "another Ontario girl that fell in love with the Okanagan and never left," Kirsten Chuli has called Kelowna home since 2018 when she moved to the city for a five-month summer contract. During that first summer in BC, Kirsten spent a lot of time driving throughout the Okanagan and the Kootenays, quickly falling in love with the province's natural beauty and easily accessible outdoor activities. 
"I love how accessible the outdoors is [in Kelowna]. There are great beaches and hiking trails accessible by public transportation," says Kristen. "If you have a car, you can be in the wilderness, out of cell service, in under an hour."
Kirsten certainly isn't the only one to have fallen in love with the region when travelling or moving here. With her relocation in 2018, Kirsten contributed to Kelowna's population growth rate of close to 14% from 2016 to 2021 (noted in Statistics Canada's updated census data), making the region Canada's fastest-growing Census Metropolitan Area.
Lots of visitors flock to the region, too—nearly 2 million unique overnight visitors in 2022, to be exact. In 2023, for the second year in a row, Kelowna made it on Leading Places' 100 Most Loved Destinations list, which ranks destinations from around the world based on sentiment analysis of online content and conversations, ultimately measuring each destination's ability to generate positive word of mouth about its tourism offerings, including numerous locally-owned and operated businesses. 
"Tourism provides that critical mass that allows small businesses and independent restaurants to thrive. The economic surge in the summer provides a boost that gives them the ability to operate year-round, which allows locals to enjoy them in every season," she says, adding that tourists provide an energy and vibrancy when they come to discover and explore Kelowna.
She observes how tourism provides "diversity and creates demand for services and spaces that accommodate a broader range of people." While living in the region, she has seen a rapid shift from Kelowna's "small vacation town" roots, noting that the city can "accommodate people and families with varied cultural, accessibility, and personal needs, improving the livability for us all."
"I don't think we become complacent as locals, but we get used to the sights and the beauty around us," notes Kirsten. "Seeing the splendor of our surroundings through new eyes and watching other people discover our favourite things brings back some of the luster that we lose when we experience them so often."
Though she doesn't really like wine or hiking (which she jokingly says may be taboo to say), Kirsten certainly makes the most of her surroundings, spending time "riding horses, growing flowers in my community garden plot, and trying to get the cats in my neighbourhood to like me."
With her love of outdoor activities—aside from the aforementioned hiking—it's no surprise that Kirsten went all in when her friend introduced her to the Kelowna Paddle Centre. While she started on a stand-up paddleboard, Kirsten now typically heads out on the water in an outrigger canoe. It was partly through this new-found passion that Kirsten grew her Kelowna community.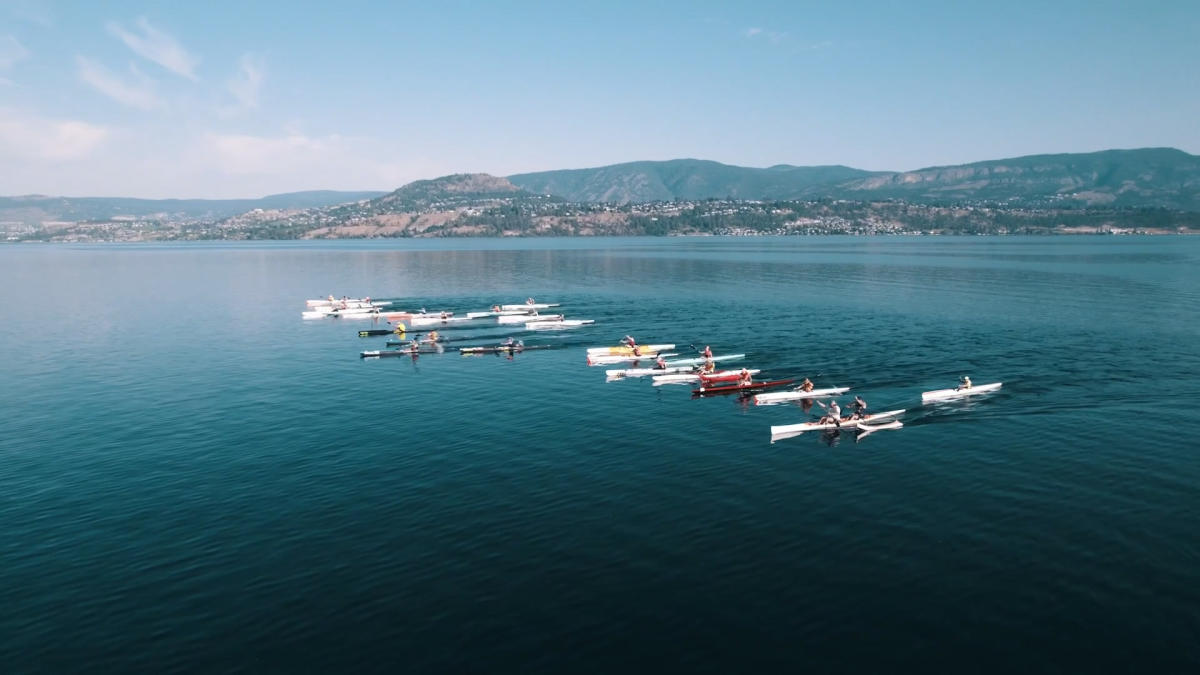 Morning group paddle with the Kelowna Paddle Centre
"There is a solid community of people who enjoy the outdoors here and they exist on the spectrum from those who like sitting on the beach with a beverage to those who want to scale a mountain at dawn to watch the sunrise," she says. "Sometimes it takes a while to find your people, but they're worth searching for."

Here are a few spots Kirsten recommends for visiting family and friends when they visit Kelowna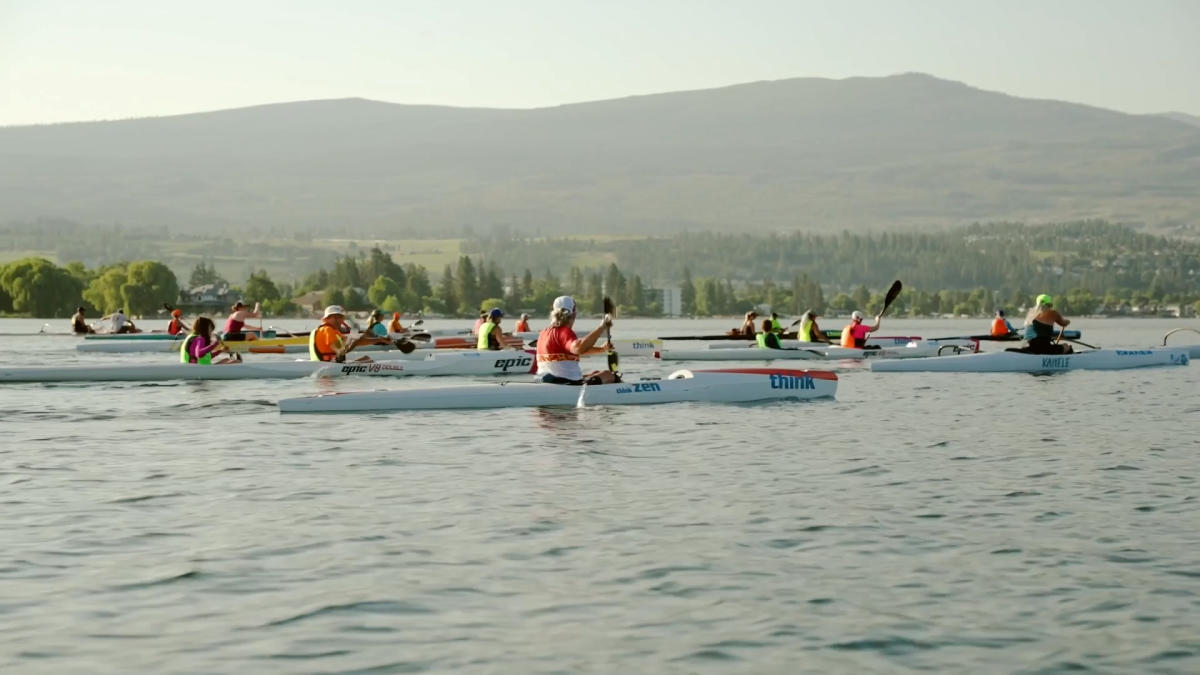 Morning group paddle with the Kelowna Paddle Centre
"It's a great spot to launch a paddleboard, and they provide all the gear, so you don't have to worry about putting a board on your car roof or inflating something when you get to the beach."
"Best ice cream in town, hands down! They have excellent flavours and huge cones. It's definitely worth waiting in line for!"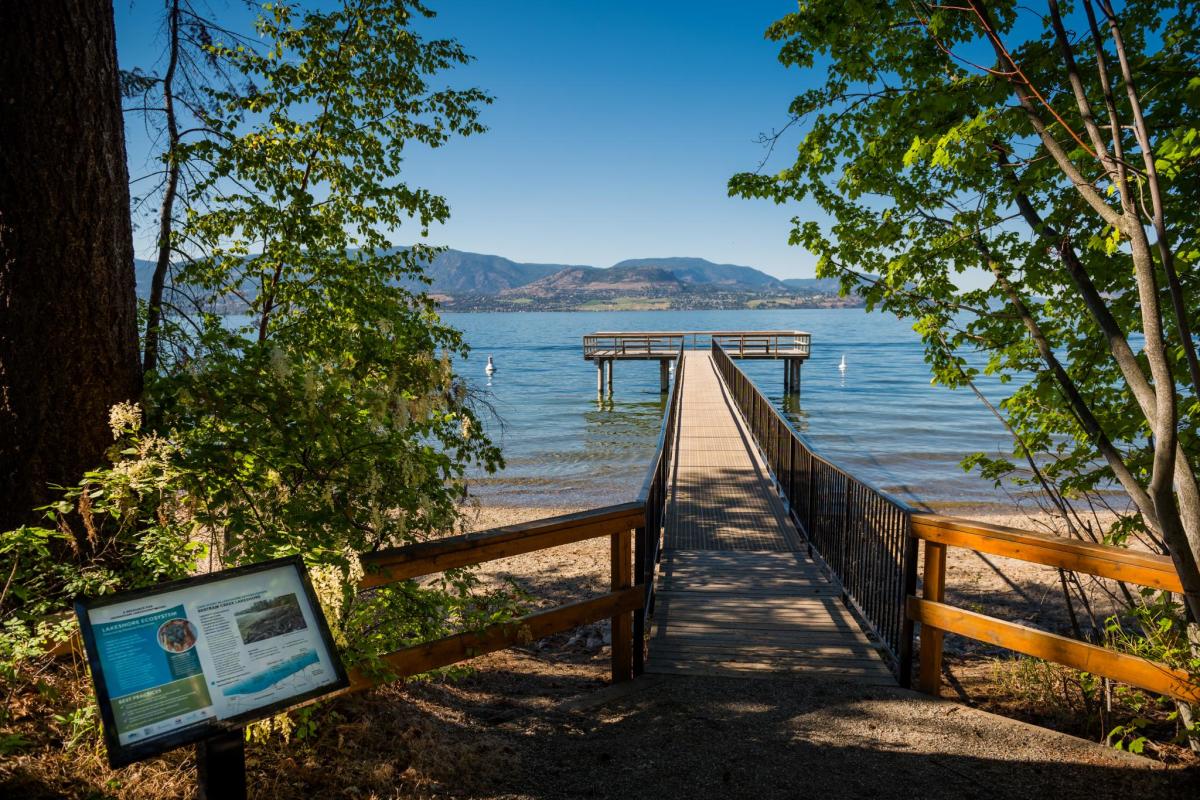 Bertram Creek Regional Park. Photo credit: ©RDCO & Michael Hintringer
"It's far enough away that it isn't too crowded, but the beach is beautiful, and there isn't much boat traffic, so you can swim out and enjoy a great view from the water. I love to pick up a pizza on the way there, meet some friends, and eat and swim while the sun sets."

View more of what Kirsten loves about Kelowna 

Kirsten is wearing a belt PFD when out on the water. Whether novice or expert, please follow all safety rules and procedures to be water safe. You can find information on the Lake & Boating Safety page.