One huge benefit of the Kelowna lifestyle is the availability of fresh produce and fruit at countryside markets and fruit stands. The Okanagan climate provides a long, hot growing season well suited to tree fruits, vegetable gardens and vineyards.
Okanagan producers have taken advantage of these conditions to build a thriving farm-to-table industry, not only supplying local restaurants and grocers but also offering their produce and other goodies—much of it organic—directly to consumers.
Want to experience an amazing grocery shopping day? Gather the clan and head out on a foraging adventure.
Southeast Kelowna Farm Market Tour
You'll find high-quality fruit, vegetables and herbs and other farm products on this eight-stop journey through Kelowna's fertile farm country.
Start your hunt for fresh-picked produce on Gordon Avenue at Old Meadows Organic Farm. From there, pop over to the Carmelis Goat Cheese Artisan on Timberline Road. Although it's a bit off the route, it's well worth the stray just to sample the goat's milk Gelato. Double back to the Okanagan Lavender and Herb Farm and the nearby Arlo's Honey Farm.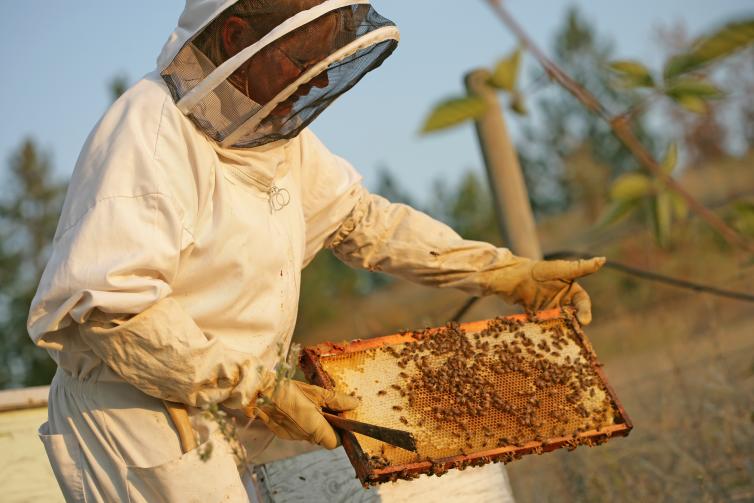 Along Benvoulin Road, pause for a tour of the Father Pandosy Mission and Museum and a look at 19th-Century farm life. Just down Benvoulin, you'll find the Pioneer Country Market and Don-O-Ray Fruits and Vegetables.
The Highway 33 East Kelowna Happy Dance
Hwy 33 connects in Kelowna at Hwy 97. Head east for a handful of farms, orchards and cider producers that will quickly make for a complete meal of nutritious (and thirst quenching) Okanagan staples.
Start with a visit to the Hillcrest Farm Market, located on Hwy 33 as you begin to climb toward Black Mountain. Along with a nice view of Kelowna, you'll find a large selection of farm fresh fruits and vegetables and even a late breakfast or brunch. Just try their butter chicken pizza once – you'll be hooked!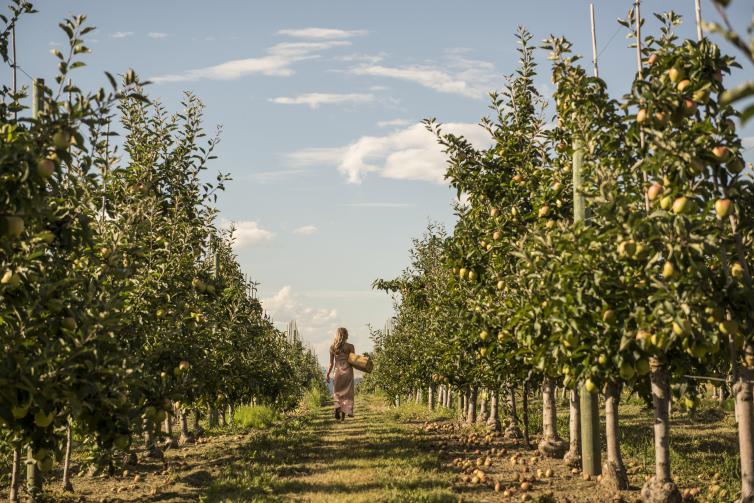 Photo by: Kari Medig
Our last stop before heading back to town is at Meadow Vista Honey Wines. You'll find honey introduced into a passion for farm-fresh ingredients that creates a unique wine experience. You'll also find artisan honey and other related products.
A Lake Country Lollygag
Just north of Kelowna, along Hwy 97, Lake Country has developed its own culture of fresh and locally grown. You'll find plenty of fruit and produce and even pies, jams and baked goods.
In Lake Country, you'll find Claremont Ranch Organics, a certified organic fruit and vegetable farm. From there, check out Food Networks' You Gotta Eat There feature The Jammery as well as Duggan and Gambell Farms, where you can also purchase fresh, mouth-watering pies, scones and preserves.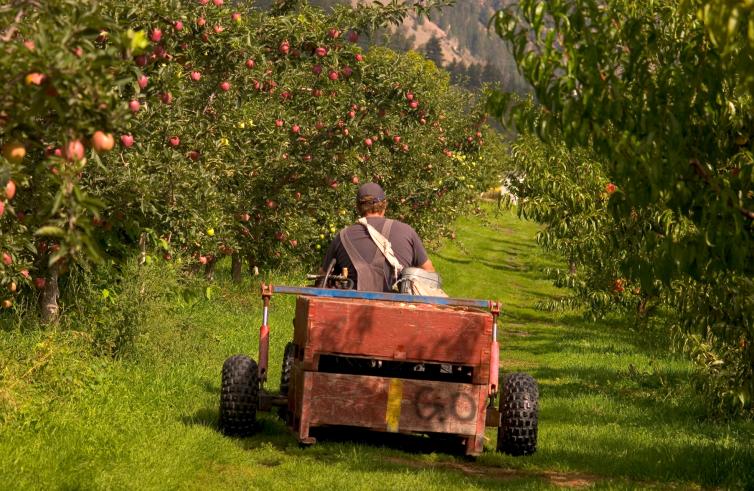 Jump on to the Pelmewash Parkway in Oyama and head north along the shore of Wood Lake to Palomine Orchards. There you can enjoy seasonal fruit, including peaches in late July and early August. You'll find even more fruit at Sunshine Orchards a few blocks away.
Your shopping tour won't be complete without a stop at Gatzke's Farm, located back along the Pelmewash Parkway. Bring your camera for photo snaps of the antique tractors and other cool things around the property.
Looking for even more Farm to Table fun?
Check out these farmers markets:
Wednesdays and Saturdays, you can forage for local delights with a stop at the Kelowna Farmers' and Crafters' Market. The Westbank Farmers Market has vendors selling their wares on Saturdays, and the Lake Country Farmers Market welcomes everyone on Fridays.
Want even more? Go to our Farms to Table page for a comprehensive listing of local farms and artisans and even restaurants where farm-fresh produce and fruit are the main ingredients.
---
Article previously appeared on VanCityBuzz
*edited for accuracy August 10, 2017