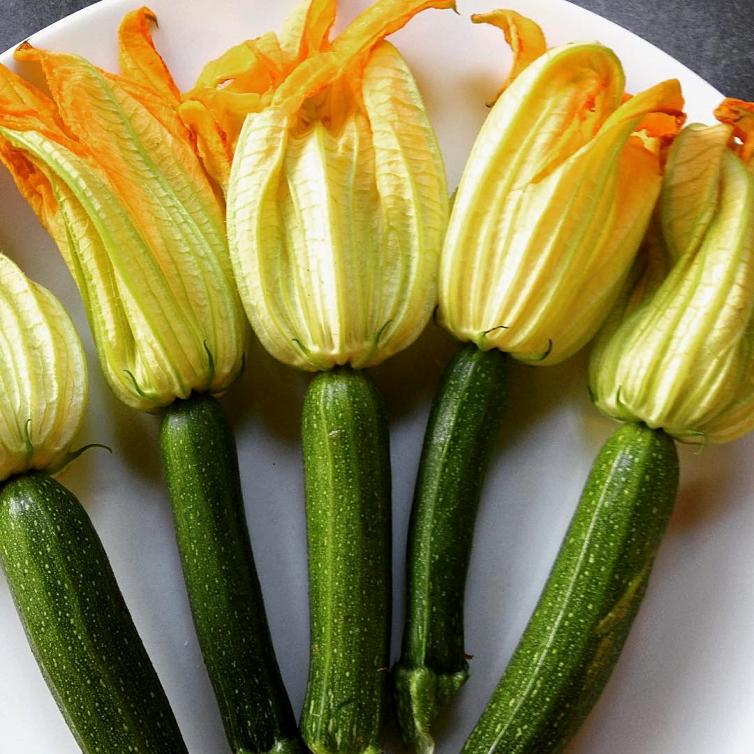 There are a million ways to utilize the humble zucchini but did you know that one of the tastiest parts is actually the blossom? Some look at me like I am crazy, but if you have ever been to Italy you will have seen that fried zucchini blossoms are a common item on the menu. Not available in many stores, I used to request them from local farmers that I knew (again, some looking at me like I was crazy) but now can easily access them at the Farmer's Market from Matthew at Morning Dove Gardens!  
These pretty yellow blossoms can be stuffed with a variety of cheeses and herbs but this version is my favorite.
Morning Dove Gardens is a four-acre, biodynamic farm in Kelowna near Mission Creek. An absolutely bucolic setting, the Hildebrandt family is dedicated to lovingly tending their fertile soil surrounded by marshland, forest and running water. Their farm offers an array of beautiful vegetables, fruits, raspberries, strawberries, grapes and nuts, as well as practicing good animal husbandry with heritage breed chickens, a small herd of milking goats and bees. They are a model of sustainability and the future of farming.
Deep-Fried Zucchini Flowers
10 zucchini flowers (I like the bigger ones)
1-cup soft goat cheese 
½ tsp or to taste of red pepper flakes
2 Tbsp chopped basil
zest of one organic lemon
1 Tbsp capers, drained and chopped
salt & pepper
2 large eggs, beaten
1 cup *NextJen Gluten-Free flour (or regular flour)
salt & pepper
olive oil to deep fry
Optional serve blossoms with a fresh tomato sauce or with individual shots of gazpacho!
Fresh Tomato Sauce
1-pound golden or sweet heirloom cherry tomatoes (in season now)
½ cup extra virgin olive oil
2 tablespoons red wine vinegar
8-10 fresh basil leaves chopped
Mix together goat cheese, red pepper flakes, basil, lemon zest and s & p in a bowl (can be made earlier in the day and kept in fridge). 
Directions
Make sauce: Roughly chop tomatoes and place in blender with olive oil, basil leaves, vinegar and salt and blend until smooth. Pour through strainer into bowl and set aside.
Gently open blossoms, remove stamens, shorten stem and check for bugs. Scoop a heaping teaspoon or more (depending on the size of your blossom) and form into a small log. Insert into the blossom, close and then dip into egg and then flour. Heat 2-3 cm of olive in your pan and heat until almost smoking. Drop in each blossom, making sure not to crowd them and cook 2-3 minutes per side until golden brown.
Remove to a paper towel to drain.
Present them on a platter drizzled with tomato sauce and prepare fall in love.
* NextJen Gluten-Free flour blend and other GF NextJen products are available at Codfathers Seafood Market!  Made in Vancouver, these products are a delight whether you are gluten intolerant or not. I choose to use the flour for frying as it naturally creates a crispier texture. nextjen.ca
---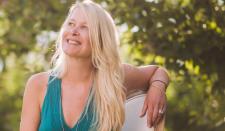 Jennifer Schell is a writer, editor of BC Food & Wine Trails Magazine and internationally award winning author of three cookbooks titled: The Butcher, The Baker, The Wine & Cheese Maker. Born and raised on an orchard in East Kelowna, Jennifer's family roots run deep in agriculture. An advocate for all things local, she focusses on shining the spotlight on the people of the food, wine and farm scene.