Nagging Doubt Winery | 4513 Sallows Road, Kelowna, BC 41W 4C2 | 250-764-0610

Tasting room visits by appointment.  
Want an insider's track on what's new and up-and-coming? Food, wine and farm-lover Jennifer Schell paid a visit to Nagging Doubt winery in Southeast Kelowna and had a quick chat over coffee with Rob Westbury and his dog Clover (in a to-go cup because they're very much 'on the go' right now) and to see how the baby grapes are coming along.
Here's what she learned.
Learn more at naggingdoubt.com.
---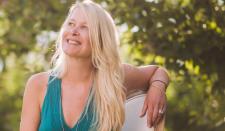 Jennifer Schell is a writer, editor of BC Food & Wine Trails Magazine and internationally award winning author of three cookbooks titled: The Butcher, The Baker, The Wine & Cheese Maker. Born and raised on an orchard in East Kelowna, Jennifer's family roots run deep in agriculture. An advocate for all things local, she focusses on shining the spotlight on the people of the food, wine and farm scene.